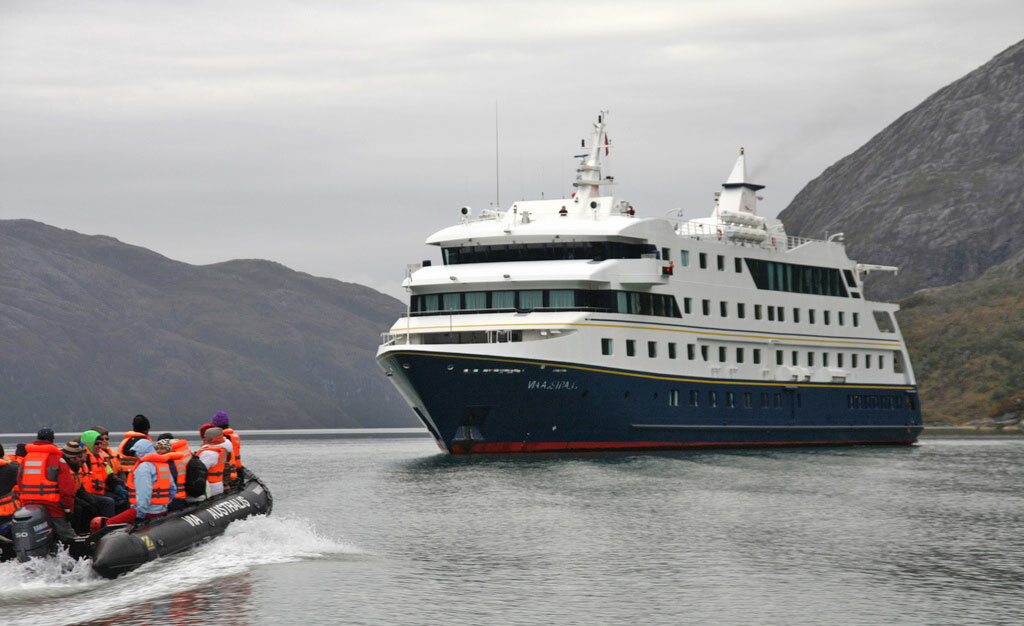 Lindblad buys Via Australis
Lindblad Expeditions has bought the cruise ship Via Australis to replace its ageing National Geographic Endeavour in the Galápagos Islands. The company paid $18 million (£12.2 million) for the ship and will spend a further $10 million (£7 million) on refurbishments before it is put into service next summer. Endeavour was originally built in 1966
Lindblad Expeditions has bought the cruise ship Via Australis to replace its ageing National Geographic Endeavour in the Galápagos Islands.
The company paid $18 million (£12.2 million) for the ship and will spend a further $10 million (£7 million) on refurbishments before it is put into service next summer.
Endeavour was originally built in 1966 as a North Sea trawler and at one time sailed as expedition ship Caledonian Star.
Via Australis (above) was owned and operated by Chilean company Cruceros Australis, sailing short voyages around Cape Horn between Punta Arenas in Chile and Ushuaia in Argentina. It will find itself sailing in Galápagos waters alongside its former sister ship, Mare Australis, which became Santa Cruz II in 2015.
Sven Lindblad, president at CEO of Lindblad, said: "The Via Australis will be the ideal platform for our Galápagos expeditions far into the future. Opportunities to acquire high quality expedition ships on attractive terms are infrequent so we seized this one.
"The most important elements of a Galápagos experience are the islands, the animals and the sea that surrounds them, so the ship that provides access to these things matters greatly," Lindblad added.
"The Via Australis is ultra-efficient to operate and was built with the same sensibility that matters so much to us, with a focus on the world outside. To that end, she has great viewing from all public spaces. Her ability to launch and deploy landing craft is fast and seamless. She is exceptionally quiet and maneouvrable, a great asset when approaching marine life. I'm particularly pleased that this ship will be well received by our crew who work very hard and are critical to expedition success."
The news follows the announcement that Lindblad has ordered two 100-passenger newbuild vessels to operate in US coastal waters.
Via Australis will be renamed to carry the National Geographic name. Its key features, after refurbishment, include:
50 cabins: 46 double cabins and 4 single cabins. Maximum capacity of 96 guests.
The open top deck provides an unparalleled location for gathering, dining, relaxing and star-gazing.
A spacious main lounge and a forward-viewing additional lounge with large windows and immediate access to the outer decks provide guests many comfortable options to relax, read or view the wildlife and scenery.
A fleet of Zodiacs and sea kayaks outfitted to transport guests easily into the wild, remote places being explored. The Zodiac loading platform can deploy two boats at the same time in order to safely and swiftly put guests ashore, in the water, or on a cruise through the surrounding landscapes
A fully equipped fitness room and a wellness spa.
Well-appointed and improved crew quarters.
UPDATE: Australis plans to build a new ship which will replace Via Australis. It will offer more cabins in a streamlined, modern vessel, comparable to the Stella Australis. The new ship should be completed by the end of 2017.
(Picture: © JOHN HONEYWELL)