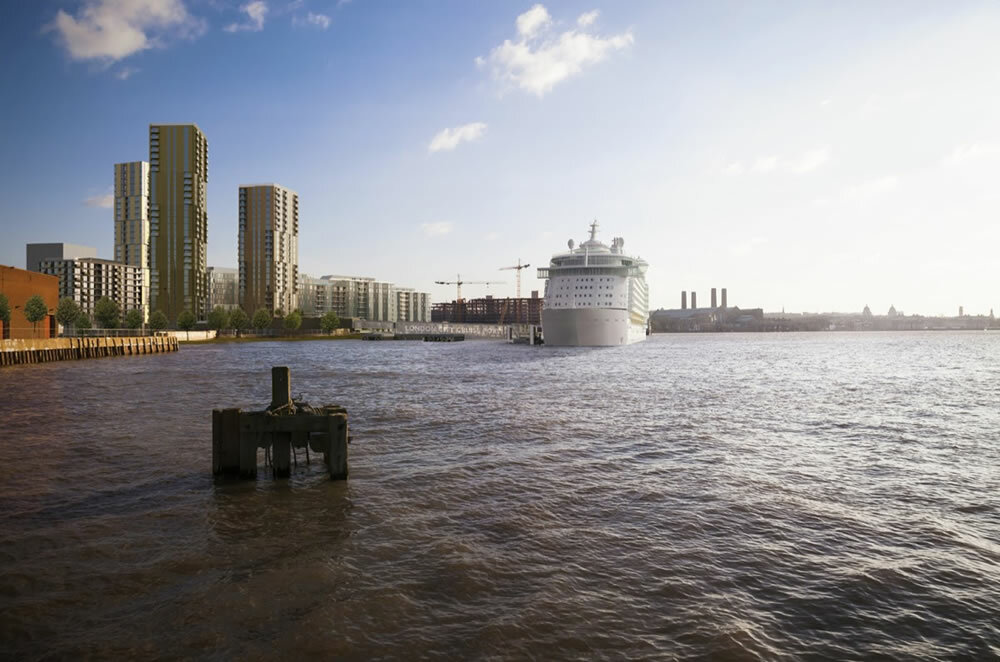 London Greenwich city cruise terminal given the green light
The Mayor of London yesterday gave the go-ahead to a controversial project to build a passenger cruise terminal in Greenwich. The project planned for Enderby Wharf, Christchurch Way, London, SE10, will include a new cruise liner terminal, 1,154 new homes, educational facilities, and retail spaces including restaurants, bars and cafés. 500 full-time jobs are expected
The Mayor of London yesterday gave the go-ahead to a controversial project to build a passenger cruise terminal in Greenwich.
The project planned for Enderby Wharf, Christchurch Way, London, SE10, will include a new cruise liner terminal, 1,154 new homes, educational facilities, and retail spaces including restaurants, bars and cafés. 500 full-time jobs are expected to be created, although 432 of these will be generated indirectly through expenditure by passengers, crew and the cruise lines. 43 jobs will be created directly at the cruise terminal.
The development has spent several years in the planning system so far. In March 2012 planning permission was granted for 770 residential units, a Cruise Liner Terminal, a 251 room hotel, retail outlets, a Skills Academy, a crèche, and a gymnasium. Extensions to historic Grade II listed Enderby House were also granted. Since then a number of amendments have been made to the plans. Minor amendments were granted in August 2014 before a revised and updated scheme was approved by the Royal Borough of Greenwich's Planning Board last month. Changes included additional turn-around facilities at the cruise terminal; construction of two new residential towers in place of the consented hotel adding an additional 263 homes; and a revision of one tower block adding a further 121 homes.
Councillor Danny Thorpe, the Royal Borough of Greenwich's Cabinet Member for Regeneration and Transport, said: "This is a very important step forward, not just for Greenwich, but for the capital. Greenwich's heritage and its river-front already ensure that the Royal Borough receives millions of visits by tourists each year, contributing some £1.1 billion to the local economy and supporting 16,000 jobs. This landmark cruise liner development will bring many thousands more visitors to the borough, and provide a major boost to tourism."
Concerns had been raised over the air quality as a result of the development. Local campaigners had claimed that the area would see an increase in nitrogen dioxide emissions as ships burned up to 700 litres of fuel every hour to power their on-board electricity generators. £400,000 has now been set aside for air quality monitoring.
The new terminal is expected to open in 2017 where it will welcome up to 55 cruise ships each year. The facility will accommodate mid-sized cruise ships up to 250 metres (820 feet) in length and with a capacity of up to 1,600 passengers. The average capacity of ships to dock at the terminal is expected to be approximately 658 passengers.
Most passengers visiting the London City Cruise Port will be expected to embark on shore excursions; walk to Greenwich's historic centre; walk to North Greenwich to view the O2 Arena (formerly the Millennium Dome) and to then take the Tube into central London; or take the Thames Clipper into central London.
Currently, only small cruise ships can embark and disembark passengers on a small floating pontoon in Greenwich or at Tower Bridge. The nearest dedicated facility is London Tilbury Cruise Terminal in Essex which is predominantly used by Cruise & Maritime Voyages and Fred. Olsen Cruise Lines.
Artist impressions of the new cruise terminal can be seen below.