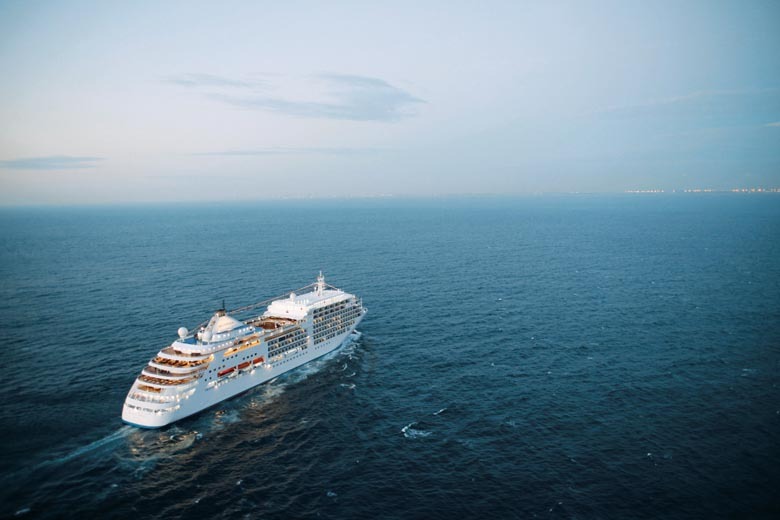 A guide to luxury cruise lines
Luxury is a phrase that is bandied about easily when it comes to cruising, but what does it really mean? Gary Buchanan finds out Should we believe the popular press, every passenger ship afloat offers a life of unashamed sybaritic pleasure, with any reference to cruise ships prefaced by the world 'luxury'. The truth is
Luxury is a phrase that is bandied about easily when it comes to cruising, but what does it really mean? Gary Buchanan finds out
Should we believe the popular press, every passenger ship afloat offers a life of unashamed sybaritic pleasure, with any reference to cruise ships prefaced by the world 'luxury'. The truth is somewhat different. Not all cruises are luxurious. Fact.
In an attempt to sell anything and everything, the term leaves us with a sense that true luxury has retreated. Luxury is not about excess. Nor is it about cost. It is uniquely personal, and for the most part it is about essential values. It is always rarefied, well-earned, and carefully considered.
Diamond-studded Rolex watches, Jimmy Choo heels, or the latest iPhone all too often define luxury. Fortunately there's a clutch of ships that offer a grown-up, bling-free version of luxury, which at sea comes in various guises. For the most part the stellar array of stars bestowed on a few delightful ships really does promise opulence, decadence – and even luxury.
Seagoing 'luxe' is the prerogative of companies such as Crystal Cruises when it comes to larger ships (conveying 500 to 1,300 passengers). Boutique-style luxury is a hallmark of cruise lines like SeaDream; Seabourn; Silversea and Hapag Lloyd (accommodating up to 500 passengers).
In general, smaller vessels offer a haven of hospitality that is impossible to deliver on larger ships. However there are larger, mass-market ships which have higher echelons of accommodations in an exclusive 'ship-within-a-ship' concept. These include Grill-grade accommodations on Cunard Line ships; the 'Yacht Club' on MSC vessels; the 'Haven' on NCL's leviathans, and suites aboard Celebrity Cruises fleet – where passengers opting for this enhanced level of pampering would regard their experience as 'luxurious'. Other cruise companies offering a near-deluxe experience with less expensive price-tags include: Azamara Club Cruises; Oceania Cruises, and Compagnie du Ponant.
Stifling formality used to go hand in hand with luxury at sea with brochures enhancing an image of immaculately dressed couples elegantly parading around the promenade deck during endless days at sea. Having undergone a radical transformation, cruising is now more egalitarian, catering to a generation that appreciates affordable, 21st century luxury.
SeaDream Yacht Club
The twin vessels of SeaDream Yacht Club attract the cognoscenti of cruising who prefer their ships intimate, their pleasures unbridled, and who balk at the idea of bow ties and ball gowns. At just 4,253-tonnes and conveying a maximum of 112 guests, SeaDream I and II have redefined the cruising genre, combining the mobility and intimacy of a private yacht with the esprit de style of an elegant club.
The SeaDream experience is about as sociable it gets – a private idyll for those who know how to enjoy themselves and who seek unsurpassed levels of pampering. The all-inclusive life aboard these boutique bateaux offers an intimate milieu where the crew often outnumber passengers. At just 344-feet, they put into islands barely charted, nose into exclusive marinas, insinuate themselves up rivers and nudge into secret harbours where larger craft pass so blithely.
7-night cruise aboard SeaDream I from Rome to Athens, departing 20 September 2014, costs from £3,228 per person, cruise-only.
Seabourn Cruise Line
This trio of recently-launched 32,000-tonne vessels have been heralded as 'game-changers'. Spectacular without being overblown, they are without doubt spacious for just 450 passengers. Seabourn Odyssey, Quest and Sojourn are seriously classy ships with eye-catching features, staffed by a crew of 330 who tread a perfect balance between attentive and deferential.
Restrained luxury at sea has been elevated into the stratosphere as epitomised in the recherché Restaurant 2 with its 7-course tasting menu, or dinner on private verandahs served course-by-course. Appealing to contemporary tastes and lifestyle, the Seabourn experience is all about personal space and time. Nowhere is this more in evidence than the delightful Pool Terrace where guests enjoy complimentary massages. There's also a water-sports Marina offering, amongst other diversions, complimentary waterskiing from the yacht's own speedboat.
Drawing a younger and sassier crowd, these all-inclusive ships have established a new paradigm in the world of cruising: that modernity and youth are not necessarily incompatible with opulence and class.
7-night cruise from Athens to Venice aboard Seabourn Odyssey, departing 16 August 2014, costs from £2,199 per person, cruise-only.
Silversea Cruises
The über-opulent ships of Silversea Cruises offer a sassy vibe shot through with sophistication. Passengers can choose between two intimate ships conveying 298 guests; another duo of larger ships accommodating 388 guests, and the highly-rated 540-passenger Silver Spirit.
By their very nature ships are large and complex, but this mini-navy of graceful ships fully meets all the expectations of architects and passengers. Judging by the accolades bestowed on Silversea Cruises' ships, they are as close to perfection as can be found on the high seas.
For a cruise line for which mediocrity has no meaning, guests enjoy a new canvas of on board lifestyle that includes such luxuries as personal butlers. They revel in the all-inclusive spirit of indulgence that permeates each vessel whose ambiance is geared to private people who pine for peaceful ports.
In response to the desire to be a 'traveller rather than a tourist', Silversea Expeditions' approaches adventure cruising from a different quadrant. Silver Explorer, Silver Discoverer and Silver Galápagos offer another dimension to hi-octane forays into parts of the world few other ships ever reach – the zenith of luxurious, expedition-style cruising.
7-night cruise aboard Silver Spirit from Athens to Venice, departing 4 August 2014, costs from £2,350 per person, cruise-only.
Hapag Lloyd Cruises
Few recently-launched ships have garnered more universal acclaim than Hapag Lloyd Cruises' Europa 2. This sleek vessel has raised the guest experience to a whole new echelon of experiential luxury. At 40,000-tonnes and accommodating 516 passengers, this is no anodyne, five-star resort at sea staffed by unsmiling, Versace-suited robots. It transcends the stereotypical interpretation of a seagoing ivory tower.
This virtuoso of a ship stands alone in the cadenza of ultra-deluxe ships, combining the very best of contemporary design concepts in an informal style of cruising. The credo of 'relaxed luxury' is enshrined throughout all eight passenger decks of this ship, nowhere more so than in the superlative dining choices and unrivalled spa. The shipboard sensitivity on board Europa 2 emphatically proves that sumptuous minimalism is not an oxymoron.
7-night cruise aboard Europa 2 from Istanbul to Athens, departing 20 September 2014 has a special two-for-one fare from £3,410 per couple, cruise-only.
Crystal Cruises
The 'Crystal Difference' starts with the company's mission statement: to be the best in the luxury service business, not just the luxury cruise industry. Certainly no one who sails aboard the 960-passenger Crystal Symphony or the 1,100-passenger Crystal Serenity can be in any doubt about the refined beauty of these paragons of the sea.
In the opinion of cruise industry's sages the two ships of the all-inclusive Crystal Cruises' fleet are touchstones of excellence. Indeed this cruise company's passion for taking care of guests has earned them more 'World's Best' awards than any other cruise line, resort or hotel in history.
Whether it's sumptuous penthouse accommodation, impeccable cuisine, unparalleled service, sublime entertainment, enthralling enrichment, or innovative land-programmes, no arbiter of fine living at sea can deny that Crystal Cruises is a tour de force when it comes to luxurious life at sea.
7-night cruise aboard Crystal Serenity from Lisbon to Dover, departing 25 July 2014, costs from £1,913 per person, cruise-only.