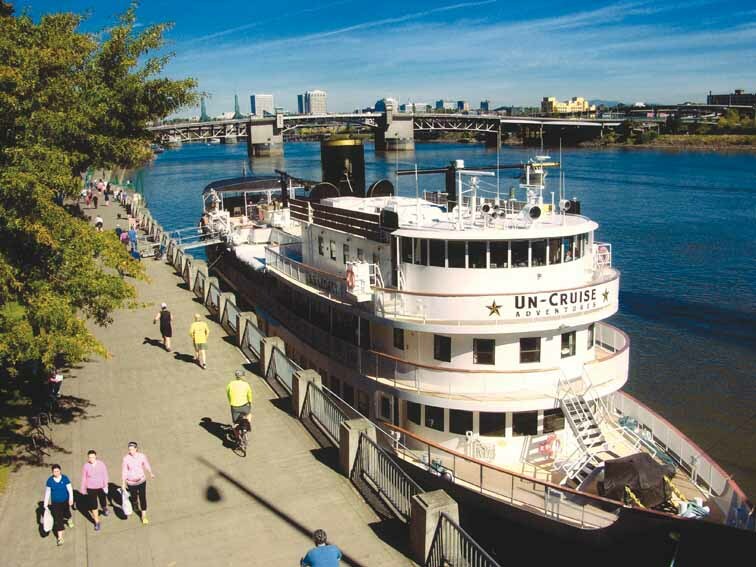 Magical history tour along the Columbia river
A cruise along the Columbia and Snake rivers is a journey through America's past, especially when the crew is in character. Ginger Dingus takes a lesson What do the Wild West gunslinger Doc Holliday, wealthy San Francisco socialite Alma Spreckels, Washington State's eccentric art collector Sam Hill and World War II's shipyard pioneer Wilma the
A cruise along the Columbia and Snake rivers is a journey through America's past, especially when the crew is in character. Ginger Dingus takes a lesson
What do the Wild West gunslinger Doc Holliday, wealthy San Francisco socialite Alma Spreckels, Washington State's eccentric art collector Sam Hill and World War II's shipyard pioneer Wilma the Welder have in common?
Each plays a colourful role on the newest cruise to ply the Columbia and Snake rivers flowing between Oregon, Washington and Idaho. The cruise, inaugurated in September 2013, unfolds aboard the refurbished, 88-passenger SS Legacy. The replica coastal steamer, formerly Cruise West's Spirit of '98, now sails as Un-Cruise Adventures' sole Heritage-style vessel.
Think of the cruise as a magical history tour, where the magic comes to life by means of steamboat-era characters. They appear without warning at fitting points along the river, rather like Mickey and Minnie popping up unexpectedly on Disney ships. The Legacy's cast of characters includes the ship's entertainment staff as well as occasional greeters ashore. Dressed from head to toe in period costumes, they convincingly tell first-person tales of bygone days.
Interestingly, Un-Cruise has chosen not to portray the most well know Columbia and Snake River characters, the explorers Lewis and Clark. Their gruelling expedition in search of a water route to the Pacific in 1805 and 1806 is typically the prime subject of cruise lines in these waters. During the week-long river cruise, Legacy's time travellers visit museums, cultural centres and historic sites, each shedding light on a different aspect of local history. The trips take place in autumn and again in spring. Each seven-night adventure covers nearly 1,000 miles while sailing round-trip from Portland, Oregon. It's another departure from the one-way only Pacific Northwest cruise norm.
To kick off our October cruise, my partner John and I chose to stay at Portland's historic Heathman Hotel. Built in 1927 and returned to its former grandeur in 1984, the Heathman has played host to the rich and famous for almost a century. Its Mezzanine Library showcases a collection of 3,000-plus first editions signed by renowned writers and former US presidents who stayed here.
Upon our arrival, a doorman clad in a red and gold British Beefeater uniform greeted us, a sign of the costumed ship's crew soon to follow. As he welcomed us to the richly polished wood-walled lobby, we immediately felt transported to a more genteel age.Moving from the Heathman to the Legacy, therefore, was a smooth transition, not to mention within walking distance. The riverboat is compact and her draft shallow enough to dock on the Willamette River in the heart of downtown Portland.
At the pier, we were introduced to a cast of characters we would soon recognise by their costumes. A glass of bubbly and evening hors d'oeuvres preceded a three-course dinner in the Victorian dining room. Everyone was tucked into bed early, as Captain Jill Russell traveled full steam ahead most nights and docked early for morning excursions.
Having passed through the first locks at Bonneville Dam at dawn, Legacy tied up within view of the Bridge of the Gods, roughly 40 miles east of Portland. The day's trip included a visit to Multnomah Falls, which at 620 feet is the second highest year-round waterfall in the United States.
Monday proved a lazy river day, ideal for taking advantage of the complimentary massage. While others attended a geology talk or joined a poker tournament in the Pesky Barnacle Saloon, John and I lounged in one of two hot tubs on the upper deck. From this vantage point, we watched as we left the fertile Columbia River Gorge and entered golden, treeless Palouse wheat country.
By day four we had turned from the Columbia to the Snake River, been raised 740 feet by eight locks and were docked in Clarkston, Washington. At 465 river miles from the Pacific Ocean, Clarkston and neighboring Lewiston, Idaho are the West's most inland seaports. They are also the gateways to Hells Canyon.
North America's deepest canyon, Hells Canyon is a scenic, largely uninhabited stretch of the Snake. The only way to reach it is by boat. For us, that meant a jet boat driven by Eric who encouraged us to be on the lookout for wildlife. On the 100-mile round trip we spotted a bald eagle, bighorns grazing on the ridgeline and a beaver dam. Fishermen held up steelhead, showing off their catch.
Centuries ago, the Nez Perce carved petroglyphs in flat rocks along these shores, and Eric pulled in close for photos. At the highest, narrowest point of our journey, he pointed out the eerie remains of a copper mine abandoned in 1909. Amazingly, steamboats once ferried supplies to the 300 miners living in this remote wilderness.
Turning downriver we returned to the 21st century by means of Washington's contemporary wine scene. We sampled chardonnay and cabernet at Dunham Cellars, an eclectic winery housed in a World War II airplane hangar. At Fort Walla Walla Museum, a life-size diorama brought to life the meeting of Lewis and Clark with Chief Yellepit of the Walla Walla tribe. Another full-size display depicted a 33-mule team working the wheat fields. The museum featured a living history settlement created from authentic pioneer cabins.
The local sheriff, gambler Doc Holliday (famous for his era rather than this particular spot) and town floozies warmly welcomed passengers to The Dalles (rhymes with pals). Back in the day travellers disembarked here for a train transfer around the raging Celilo Falls. Then they boarded a second steamer to continue their trip east. All week, Sam Hill, dressed to the nines, wandered about Legacy. The real Sam Hill, a wealthy entrepreneur, had Maryhill estate built in 1914, intending it to be his residence. Instead, the mansion overlooking the Columbia became an art museum showcasing his personal collection as well as art donated by sugar heiress, Alma Spreckles. The room of Rodin sculptures alone is worth the visit. You'll see Native American beadwork, baskets and furniture belonging to Hill's friend, Queen Marie of Romania. The top floor is devoted to 1940s Parisian fashion dolls, acquired thanks to Spreckles.
Sam Hill's replica of Stonehenge stands on a windswept bluff four miles east. A memorial to World War I soldiers who died in battle, it was Hill's way of recreating what he believed to be England's ancient monument to human sacrifice. Near the end of our journey, we, like Lewis and Clark, reached the end of the Columbia River, the most treacherous river mouth on the Pacific. The Columbia River Maritime Museum in Astoria explains in detail why this area is known as the graveyard of the Pacific.
While enduring the cold, damp winter at their winter camp Fort Clatsop, it's said that Lewis and Clark's Corps of Discovery survived largely on a diet of elk. Back on board Legacy and feeling warm and cozy, we celebrated our final meal in the dining room with Captain Jill sitting among us. No elk here. We dined on a choice of seared king salmon, herb roasted beef tenderloin or a wild mushroom shepherd's pie. Wine or beer, from Oregon or Washington, flowed freely. It's complimentary throughout the cruise as are cocktails and draft beer.
The riverboat left Astoria after dinner, cruising upriver to Portland for our morning disembarkation. I'm sure I spotted Wilma the Welder from the Kaiser Shipyards among the crew lined up to wish us goodbye as we stepped ashore. No customs. No searching for our luggage. Just heartfelt hugs and handshakes from the captain and crew.
BOX
Locking, not rolling
Thanks to its dams, the Columbia and Snake feel more like a series of placid lakes than rolling rivers. Locks at each of the eight dams traversed during the cruise raise (or lower) Legacy 740 feet. That's eight times the change in elevation of a Panama Canal transit.
Today, it's hard to imagine the treacherous rapids Lewis and Clark encountered in 1805. Near The Dalles the expedition came upon the 38 feet Celilo Falls where a large gathering of Native Americans fished for salmon with hand-held dip nets. Since the building of The Dalles Dam in the 1950s, no visible trace of the falls remains and the reservoir runs for 24 miles.Fish ladders built beside all eight dams allow the fish to swim upriver to spawn. If you stand on the open decks while the ship is in a lock, you may see fish jumping up the ladder, as well as the remains of Native fishing platforms built of wood.
The once abundant salmon catch, however, has dwindled. In order to survive without the river's naturally strong current pushing them toward the Pacific, salmon fry hatched far upstream need human intervention. The tiny fry must be barged downstream below the Bonneville Dam and released.
SS LEGACY FACTFILE
Built: 1984
Refurbished: 2013
Tonnage: 1,472
Length: 192ft
Beam: 40ft
Speed: 11 knots
Passengers 88
Crew: 35
Passenger decks 4
Registry: United States
ITINERARIES: SS Legacy cruises the Columbia and Snake rivers, round-trip from Portland, Oregon mid-April to mid-June, and again September through November. An 11-night repositioning between Seattle and Juneau in June (and August) puts her in Alaska for the summer. Alaska heritage itineraries sail weekly from Juneau to/from Ketchikan late June through August, 2015.
MORE INFO: In the UK, phone The Cruise Line 0800 008 6677. In the US, call 1 888 862 8881 or visit www.Un-Cruise.com.