Search for your ideal Cruise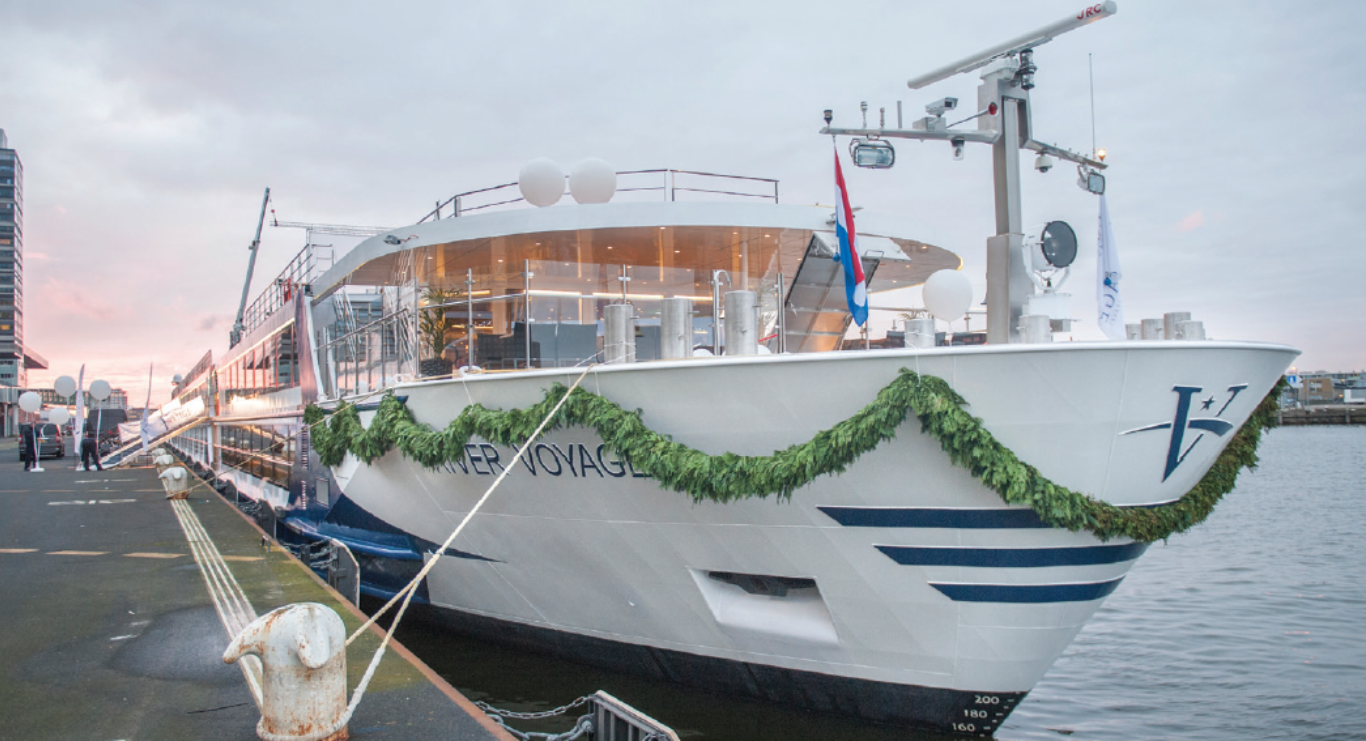 Maiden Voyage: River Voyager
A new ship – and for UK customers a new line – has appeared on Europe's great waterways. With her distinct American accent, will River Voyager suit British tastes? It's a glorious spring morning, the sun is warming the cobbled streets of Mainz, and the first leaves are budding on the banks of the Rhine.
A new ship – and for UK customers a new line – has appeared on Europe's great waterways. With her distinct American accent, will River Voyager suit British tastes?
It's a glorious spring morning, the sun is warming the cobbled streets of Mainz, and the first leaves are budding on the banks of the Rhine. But I'm oblivious to all that. Instead, I'm in a darkened room, transfixed by the contents of a glass case.
After a long career in the publishing industry, I am finally – belatedly – paying homage to the man who introduced movable type and printing presses, which eventually led to the magazine you now hold in your hands.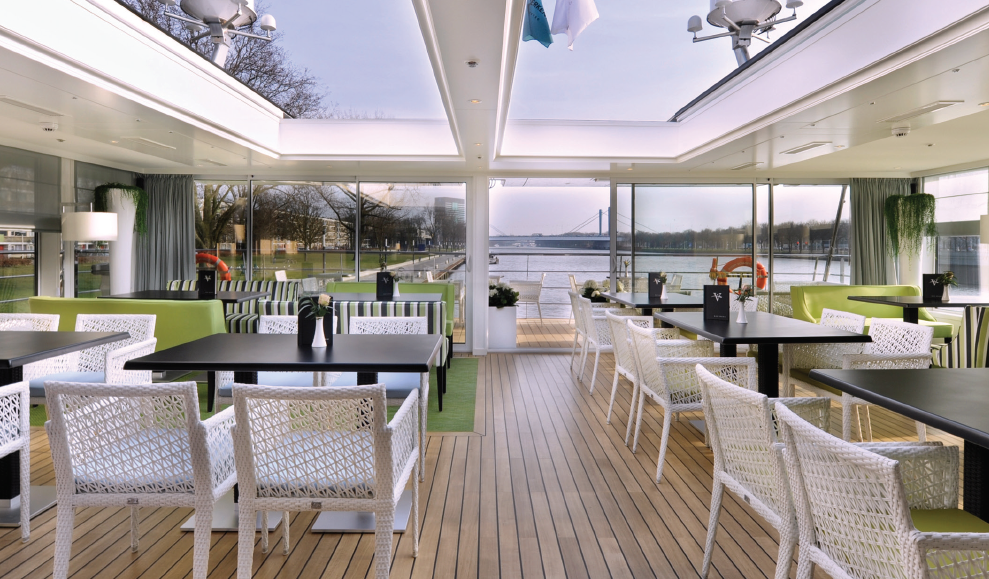 Johannes Gutenberg's early 42-line Bibles, which in the 1450s began to supplant the hand-written versions painstakingly crafted over many months by armies of monks, are works of art that changed the world. They put the word of God into the hands of the people, who had only ever heard it from the pulpit or seen it interpreted in paintings on the walls and ceilings of their churches. Only 49 these Bibles are known to have survived, and if one ever came on to the market it could command a price in excess of £30 million. Individual pages have been sold for as much as £100,000.
Our enthusiastic guide to the Gutenberg Museum demonstrates how a page would be printed, and leads a tour of the museum's collection, which is handily notated in English as well as German. Earlier, he had taken our group – from the Vantage cruise ship River Voyager – round the Mainzer Dom, the city's magnificent 1,000-year-old cathedral, where we heard an all-female choir sing with the voices of angels.
Under normal circumstances, our morning in Mainz would have been one of a number of walking excursions during a Rhine cruise from Basel to Amsterdam. But this was a preview cruise that made the journey in a three-day sprint, and Mainz was the only stop.
The journey began with a naming ceremony for the £20 million River Voyager – inauspiciously held at an industrial mooring in what might have been the Swiss city's least photogenic location.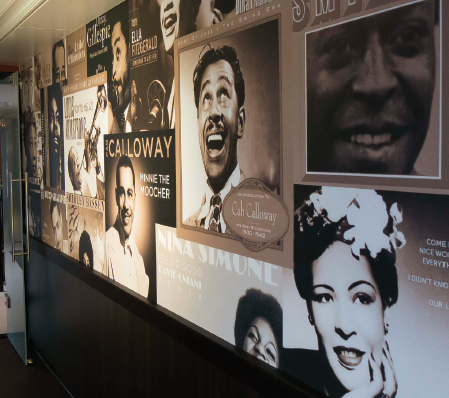 Oddly for a ship that was built in the Netherlands and will cruise only in Europe, it has a New Orleans jazz theme – presumably to appeal to its predominantly American customers. Suites are named after music legends such as Duke Ellington and Dina Washington. Décor in the public rooms follows the musical lead, with quirky touches such as trumpets adapted into table lamps.
The Blue Note Lounge is the social hub of the 176-passenger vessel, with a lively cocktail bar and a small dance floor. The preview cruise passengers had the unexpected benefit of a lively band with a charmingly charismatic singer; on run-of-the-mill cruises the entertainment will be a keyboard player with the occasional visiting local act.
Bourbon Street Bistro is the main restaurant, serving a breakfast buffet with a chef available to cook eggs and omelettes. Lunch is mostly help-yourself but with a couple of waiter-served menu options. The salad selection is impressive, soups are tasty, and sandwiches and burgers complemented the meat (or fish) and two veg options. Dinner is open-seating – pick any table with any companions you wish – but passengers are expected to be prompt. Lingering over a drink in the lounge was discouraged. The variety of food and the quality is a definite plus, comparable with the best available on river cruise ships.
Lighter-option meals are served in the Cotton Club. A secondary lounge and alternative sundeck at the stern, this has a sliding glass roof and is a pleasantly sheltered place to watch the scenery glide by. As an alternative dinner venue, however, it leaves something to be desired. The fact that reservations are required promises something special, but sadly the service was poor – for the one and only time on the ship. Barely had our group chosen starters from the buffet than a waiter began clearing away the rest of the food on offer. When we told him we had yet to eat our main courses – and this was at 8pm – we were brusquely told to hurry up. I can only think that our waitress was embarrassed by her colleague's rudeness, as she was particularly generous when filling our glasses with the complimentary wine.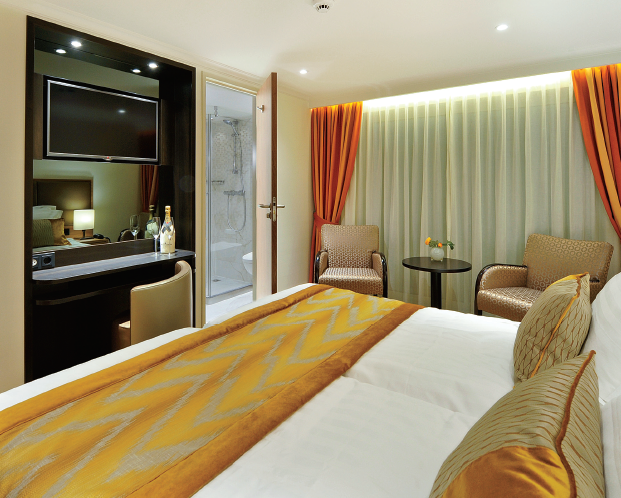 Apart from the generously-sized jazz-themed suites, cabins are of the size you might expect on European ships whose dimensions are limited by the locks and bridges they must negotiate. But there are comfortable beds and generous wardrobe storage for what is usually no more than a week aboard, plus good-sized showers with L'Occitane toiletries. The majority of cabins have French balconies – you can slide open the floor-to-ceiling window but there's nowhere to step out to. A traffic-light system allows you to choose between "Do Not Disturb" and "Please Make Up My Room" – a practice spreading throughout luxury ships on rivers and at sea.
Up on the sun deck you'll find plenty of sun loungers, fake turf and a power-walking track in tufted teak. The area forward of the retractable bridge – which lowers to allow passage through the narrowest gaps – makes another ideal spot for sightseeing, although you might have to wrap up against the breeze.
Among its other facilities, the ship has a tiny fitness room and a small massage spa (45 minutes for €60). There's free WiFi and a handful of bicycles available on a first-come, first-served basis. While wine and beer are complimentary with lunch and dinner, Vantage is not a fully-inclusive operation like many of its competitors. Gratuities are not included and the sum of €17 per day is added to passenger accounts. At least one free excursion is available at each stop.
Cruising is booming on Europe's great rivers, and today's customer is spoiled for choice. As a well-established operator – though it may be a new name to UK cruisers – Vantage knows its market well, and River Voyager is a pleasant place to be (despite the jazz theme it's a "silent ship", with announcements kept to a minimum). With a few early glitches ironed out, the new vessel will win many friends.
BOOK IT
Vantage is a Boston-based travel company that has only recently begun selling to the UK market, through travel agents rather than directly to the customer. Although the preview cruise was along the Rhine, the ship will be operating on the Danube. One itinerary, The Danube Waltz, begins in Budapest and incorporates classical concerts at the Kursalon Music Hall in Vienna, plus a full day meandering through Salzburg's historic town centre and Christmas market. Fares are from £999 per person. A low single supplement of £100 per cabin is offered on selected sailings. For details see www.vantagetravel. com or call 01954 232 802.