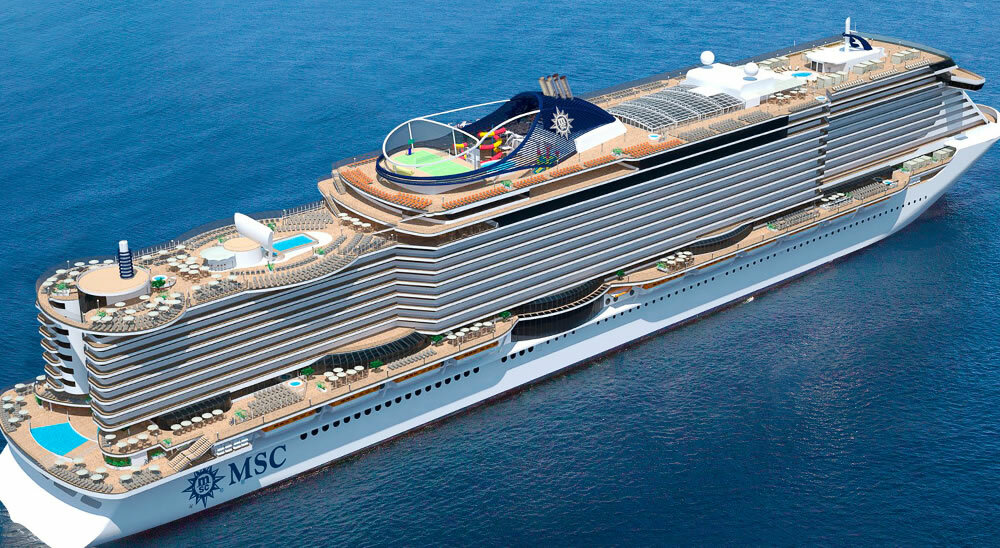 MSC Seaside 2017/18 Caribbean itineraries go on sale
MSC Cruises has opened up bookings for MSC Seaside exclusively to its MSC Voyagers Club members a full two years ahead of its maiden voyage. The ship is currently under construction at Fincantieri's shipyard in Monfalcone, Italy and is set to launch in December 2017. It will sail year-round from Miami operating on alternating seven-night Eastern
MSC Cruises has opened up bookings for MSC Seaside exclusively to its MSC Voyagers Club members a full two years ahead of its maiden voyage.
The ship is currently under construction at Fincantieri's shipyard in Monfalcone, Italy and is set to launch in December 2017. It will sail year-round from Miami operating on alternating seven-night Eastern and Western Caribbean itineraries.
Guests sailing to the Eastern Caribbean will visit destinations such as St Thomas, the Bahamas and Puerto Rico, while those heading to the Western Caribbean will have the chance to explore Jamaica, the Cayman Islands, Cozumel and the Bahamas.
A total of 44 cruises over nine different itineraries are currently listed on MSC Cruises' UK website, all of which are named "Caribbean, Cuba and Antilles", fuelling speculation that MSC Seaside could follow in the footsteps of MSC Opera and MSC Armonia and visit Havana during these itineraries. However, a spokesman for MSC Cruises confirmed that there are currently no plans to send MSC Seaside to Cuba and that the reference on the website was for internal purposes only.

The 323 metre-long MSC Seaside boasts a unique design. An ocean-level promenade around Deck 8 will offer indoor/outdoor shops and restaurants, as well as a full buffet area and a pool, which are traditionally located on a cruise ship's higher decks. In addition, the ship's public spaces will feature breathtaking views with a two-deck glass-walled atrium and panoramic exterior elevators.
The ship will feature open modular cabins that can accommodate groups or families of up to 10 people, as well as luxury suites with private hot tubs. MSC Seaside will also have a large MSC Yacht Club area with private solarium, restaurant, lounge and pool. Entertainment options will include a full-sized bowling alley, a dedicated children-only restaurant and an interactive, multi-storey water park at sea with five different water slides.
MSC Cruises Chief Executive Gianni Onorato said: "The bold, ground-breaking design of MSC Seaside speaks of our company's commitment to innovation and our desire to continue to introduce both experienced and first-time cruisers to unforgettable cruise holidays. We've seen tremendous enthusiasm and strong demand from guests around the world interested in experiencing MSC Seaside and are thrilled to be able to open sales for this revolutionary ship two years ahead of its début."
MSC Seaside will join MSC Divina in servicing the North American market. MSC Seaside will head directly to Miami from the shipyard following construction and will be christened in the USA. Its maiden voyage from Florida will take place on 23 December 2017. Prices start from £449 per person based on two sharing an inside cabin with the Bella experience on a cruise-only basis.
Members of MSC Voyagers Club can take advantage of an exclusive two week early booking window. Members will receive an additional five percent discount on top of the standard five percent discount that Voyagers Club members receive on all cruises. General sales will open to the public open on 29 December 2015 and will include a five percent discount for all MSC Seaside bookings made before 1 June 2016.
In June MSC Cruises opened up bookings for MSC Meraviglia's inaugural summer 2017 Mediterranean season. The steel cutting ceremony for MSC Seaside took place at the same time.
(Image credit to MSC Cruises)