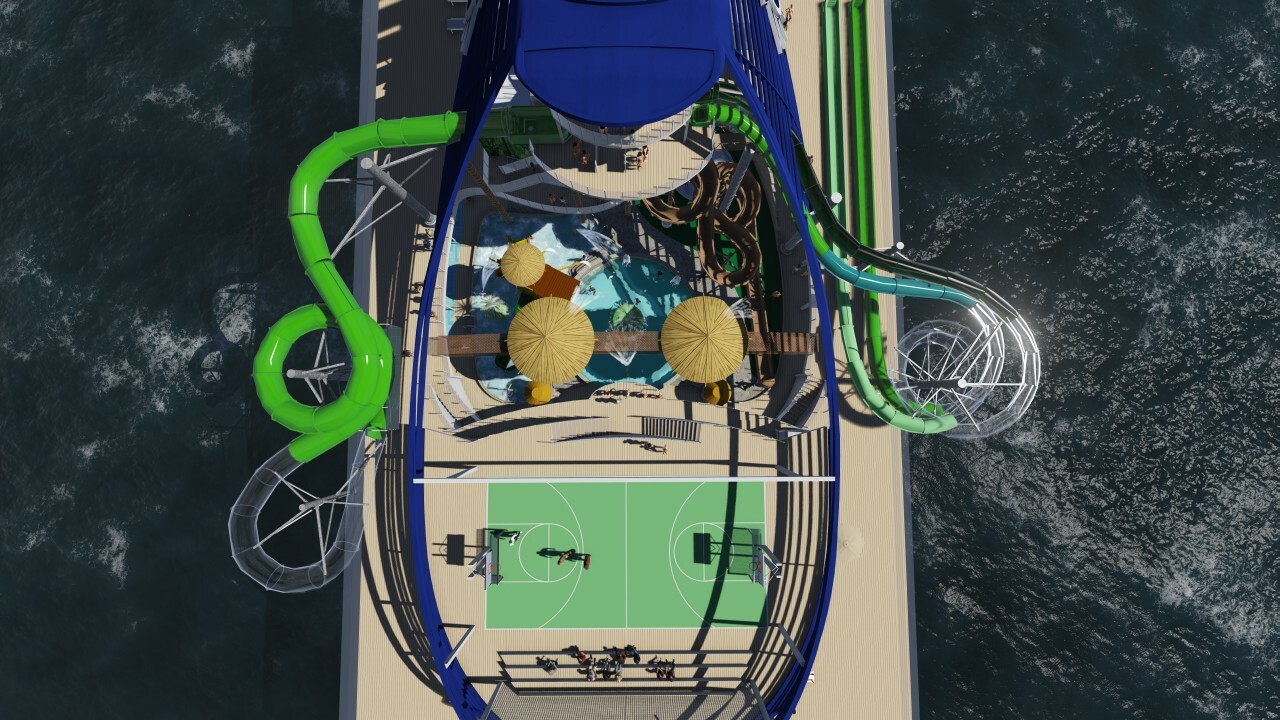 MSC Seaside to be based in Miami
MSC Cruises have announced the first vessel in their next generation Seaside-class ships, MSC Seaside, will be home-ported year round in Miami. Following the delivery of MSC Seaside, the ship will make its way to Miami for MSC Cruises' first ever christening ceremony in the US. The ship will operate itineraries sailing from Miami to
MSC Cruises have announced the first vessel in their next generation Seaside-class ships, MSC Seaside, will be home-ported year round in Miami.
Following the delivery of MSC Seaside, the ship will make its way to Miami for MSC Cruises' first ever christening ceremony in the US. The ship will operate itineraries sailing from Miami to the Caribbean, sailing from an expanded and renovated terminal and berth at PortMiami.
The announcement made at the industry trade show Cruise Shipping Miami also revealed some of the outdoor entertainment options that will be available on-board.
Built to sail to warm weather destinations, MSC Seaside will feature one of the most interactive water parks at sea, complete with four slides and attractions for all ages. Facilities will be built by WhiteWater, the award-winning designer and manufacturer of waterpark attractions.
Slideboarding
In an industry first, MSC Seaside will offer 'slideboarding' – a unique waterslide and interactive video game all-in-one. Guests will race down a two-storey, 112-metre long slide on a raft that includes an embedded game controller with coloured buttons. The goal will be to match the colour of the flashing strobe lights seen on various sections of the slide with the coloured buttons on the raft. The slide uses technology that identifies who riders are and tracks their progress to score their gaming performance.
Duelling High-Speed Aquatubes
Sitting in single or double inner tubes guests will race against each other through metres of twists, turns and drops on slides that partially extend over the side of the ship, with transparent sections to give riders a view of the sea below.
AquaPlay and AquaSpray
To cater for its youngest guests, a portion of MSC Seaside's aqua park will be designed specifically for tots, featuring an active and colourful water play structure. The AquaPlay area will be complete with tipping buckets, spray cannons, solid stream jets, a rain tree and a mini-slide. In addition, various interactive AquaSpray activities, such as jets, falls, forts and more will be found throughout the water park.
Adventure Trail
Directly connected to the aqua park will be the Adventure Trail, a ropes course that will allow guests to navigate between soaring towers, rope bridges, climbs, crawl-throughs and slides as they enjoy a bird's eye view of the water. To add to the excitement, friends and family below will be able to shoot participants with water spray cannons along the course.
MSC Cruises' chief executive Gianni Onorato said "The Seaside class of ships is part of MSC Cruises' €5.1 billion fleet expansion plan that will allow the company to double its capacity by 2022. Today is a very exciting day for the company as this is the first major announcement related to the company's new builds. It demonstrates our enthusiasm and long-term commitment to continuing to expand our presence in North America."
MSC Seaside is being constructed by Fincantieri in Italy and is scheduled to launch in November 2017, with the second ship in the Seaside-class due for delivery by May 2018. MSC Cruises have an option for a third ship in this class which if taken would be delivered in 2021.
The Seaside-class ships will accommodate up to 4,140 guests based on double occupancy and at 154,000 gross tons each they will be the largest cruise ships ever built by Fincantieri.
In addition to the Seaside-class vessels, MSC Cruises' fleet expansion programme also consists of orders for two new 167,600 gross tonne 'Vista-class' vessels, being built by STX France. These ships will accommodate up to 4,500 passengers based on double occupancy and are due for delivery in 2017 and 2019. MSC Cruises also hold an option for a further two vessels in this class.
A preview video for both class of ships can be watched below: