Search for your ideal Cruise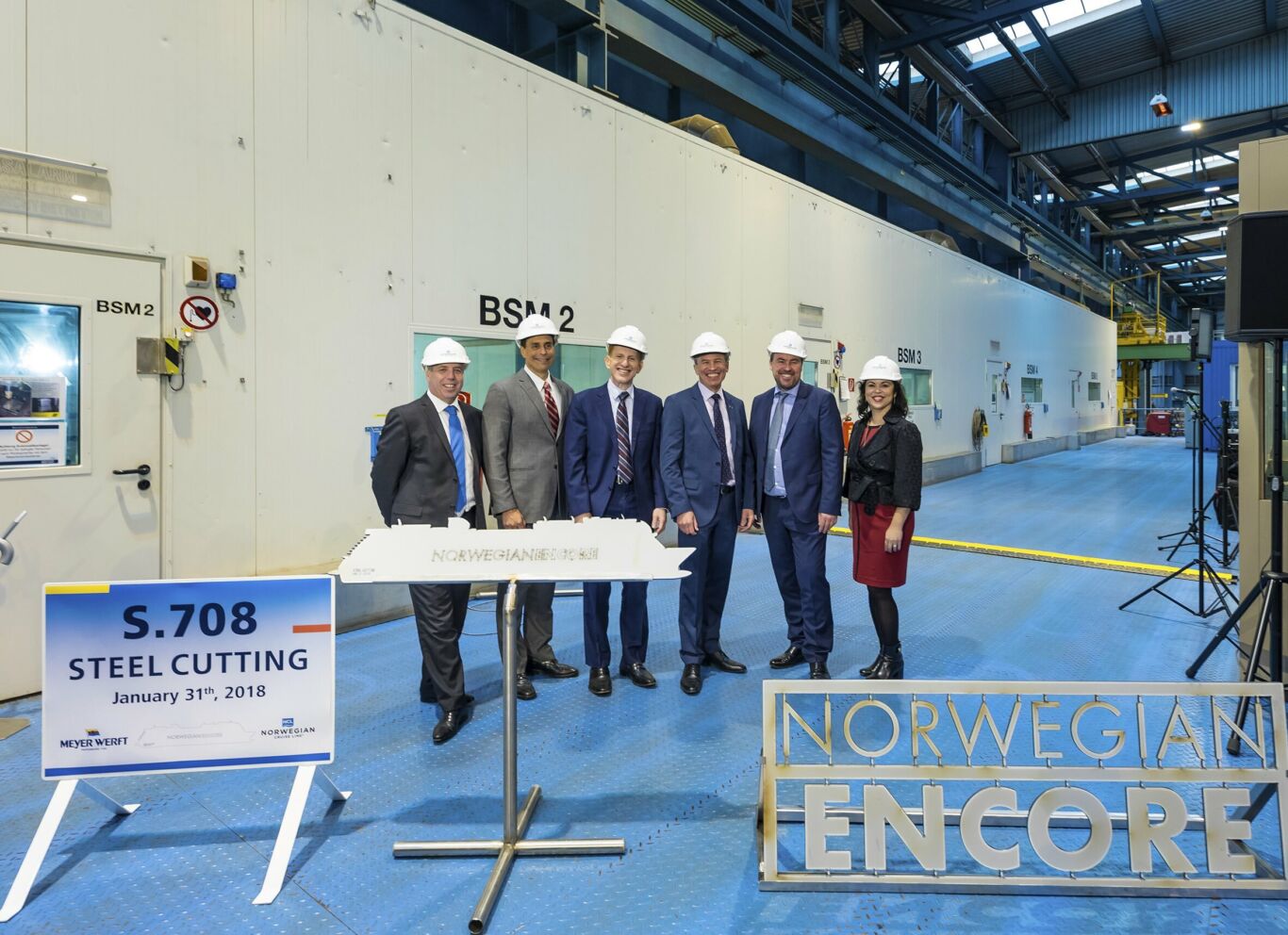 Norwegian Cruise Line celebrates first construction milestone for newest ship, Encore
Executives from NCL and Meyer Werft gather in Germany to cut the first plate of steel for Norwegian Encore Yesterday Norwegian Cruise Line marked the start of construction for its newest ship, Norwegian Encore. Norwegian's latest addition to its fleet will sail the Caribbean from Miami seasonally beginning fall 2019. "Norwegian Encore will be the ultimate
Executives from NCL and Meyer Werft gather in Germany to cut the first plate of steel for Norwegian Encore
Yesterday Norwegian Cruise Line marked the start of construction for its newest ship, Norwegian Encore. Norwegian's latest addition to its fleet will sail the Caribbean from Miami seasonally beginning fall 2019.
"Norwegian Encore will be the ultimate Breakaway Plus Class vessel and we are thrilled to celebrate the start of construction for this incredible new ship," said Andy Stuart, president and chief executive officer for Norwegian Cruise Line.
"Over 50 years ago the Norwegian brand began creating unforgettable vacation moments with the first inter-island cruise in the Caribbean from Miami. We continue building on our legacy of innovation with this brand-new state-of-the-art vessel perfect for exploring the natural beauty of some of the most remarkable islands in the world."
Norwegian Cruise Line Holdings and Meyer Werft executives gathered at the Meyer Werft Laser Center in Papenburg, Germany and cut the first plate of steel, marking the ceremonial start of construction of Norwegian Encore, which is due for delivery on October 31, 2019.
Norwegian Encore will be the seventeenth ship in the Norwegian Cruise Line fleet and the line's fourth and final ship in the Breakaway Plus Class, the most successful Class in the brand's history.
At approximately 167,800 gross tons and accommodating 4,000 guests, Norwegian Encore will sail weekly seven-day Caribbean cruises each Sunday from Port Miami, offering guests the superior service, world-class entertainment, signature dining and onboard experiences that Norwegian Cruise Line is known for.
The ship will be available for reservations in March 2018– so not long to wait until further details emerge!
For more information on Norwegian Encore or to book a Premium All Inclusive cruise, call Norwegian on 0333 241 2319 or visit ncl.co.uk