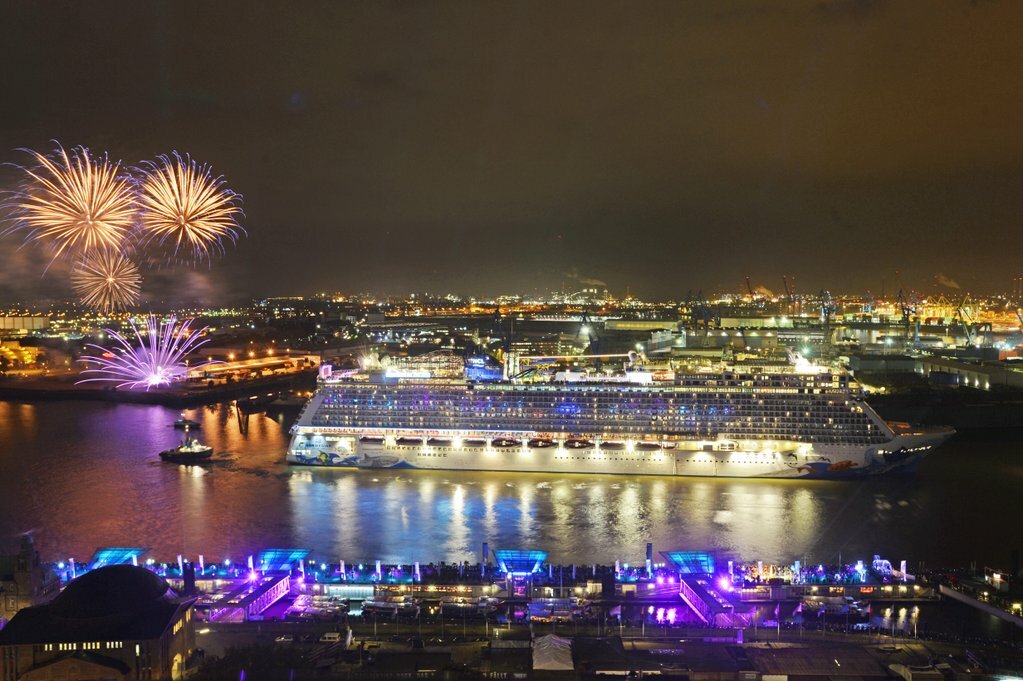 Norwegian Escape arrives in Southampton
Norwegian Escape has sailed her inaugural voyage from Hamburg to Southampton where she will now spend two nights before heading to her home-port of Miami, Florida. The ship arrived in Hamburg on 23 October amidst a spectacular fireworks display. Last night she sailed across to Britain, docking in Southampton early this morning. Happy Tuesday and
Norwegian Escape has sailed her inaugural voyage from Hamburg to Southampton where she will now spend two nights before heading to her home-port of Miami, Florida.
The ship arrived in Hamburg on 23 October amidst a spectacular fireworks display. Last night she sailed across to Britain, docking in Southampton early this morning.
Two one-night cruise-to-nowhere sailings will take place before the ship embarks on its transatlantic journey to Miami. Norwegian Escape will be christened by her Godfather, rapper Pitbull, in Miami on 9 November.
Norwegian Cruise Line has recruited a team of experts, branded the "Escape Squad," to help showcase the ship over the next few days. Celebrity Louie Spence will be the resident 'entertainer', Helen Skelton-Myler will be the 'go-getter', food blogger Niamh Shields will be the 'foodie', travel agent marketing executive Sarah Vince will be the 'expert agent' and Lewis Nunn will be the resident 'teen'.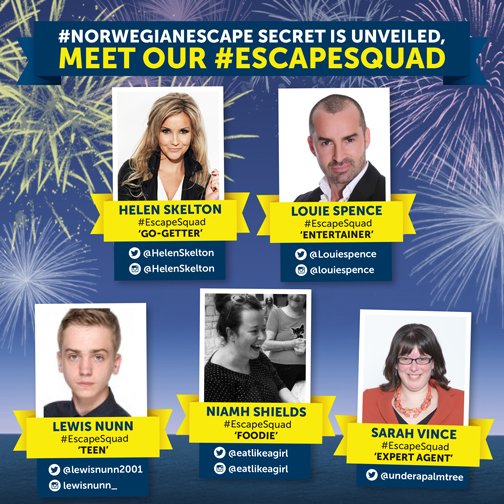 Norwegian Escape is the first ship in the company's new Breakaway Plus class. Norwegian Cruise Line took delivery of the line's largest ship to date last Thursday during a ceremony in Bremerhaven, Germany. The ship was constructed in just 17 months by Meyer Werft. The 14th vessel in the fleet incorporates features found on its Breakaway class together with new and enhanced elements.
Norwegian Escape's Haven is the largest in the fleet and the most luxurious. At the heart of the private enclave on the top of the ship lies a three-story covered courtyard. An expanded forward sundeck with a cantilevered whirlpool, along with a new outdoor dining space offers a small ship experience together with large ship dining, entertainment and amenities.
Dining options feature a mix of complimentary options, signature favourites and premium speciality outlets including Le Bistro, Cagney's and La Cucina. Two new speciality restaurants from James Beard Award-Winning Iron Chef Jose Garces include Bayamo, a Latin seafood speciality restaurant, and Pincho Tapas Bar. Also new on-board is the Food Republic, a sophisticated food hall developed by Miami-based The Pubbelly Restaurant Group.
Norwegian Escape features two spectacular Tony Award-winning Broadway musicals that headline the Escape Theatre: After Midnight; and Million Dollar Quartet. In a new concept exclusive to the ship the Supper Club has been re-imagined for an unforgettable dinner show experience. For The Record: The Brat Pack is a critically acclaimed Hollywood night that celebrates classic soundtracks of motion picture masters in a one-of-a kind 360 degree post-modern cabaret.
Night-life on-board includes outposts of several popular land-based outlets, including the first-ever Jimmy Buffett's Margaritaville restaurant and 5 O'Clock Somewhere Bar at sea, a music venue and outdoor bar on The Waterfront that features live nightly performances. The District Brew House, a hip, urban craft beer hall featuring an exclusive partnership with Miami's own Wynwood Brewing Company, will serve up more than 24 draft beers while The Cellars, A Michael Mondavi Family Wine Bar, features an array of immersive wine experiences, focusing on tasting, education, and the enjoyment of wine. Norwegian Escape also features Miami's oldest and most legendary bar, Tobacco Road.
The ship includes the largest ropes course at sea with a three-story multiplex of heart-pounding challenges complete with two planks and five Sky Rails – zip tracks allow guests to soar through the air. A redesigned pool deck area features an open area for sunbathing, a double-deck bar and two new large format LED screens. Norwegian Escape's Aqua Park is the largest at sea and includes a new tandem Aqua Racer slide, complete with a clear acrylic section to further enhance the thrill of this adventure ride. An expanded Kids' Aqua Park includes an enclosed slide, rope climb fun zone and spray cannons for kids to splash and play in their own designated space. Along with an expanded Splash Academy youth centre that includes dedicated play spaces for specific age groups, Norwegian Escape also offers the line's first nursery for cruisers two and under.
In addition to family oceanview staterooms that accommodate up to five guests, Norwegian Escape's accommodation includes Studios, designed and priced for solo travellers; and many options for families, multi-generational groups, spa enthusiasts and more.
(Photo credits to Norwegian Cruise Line)