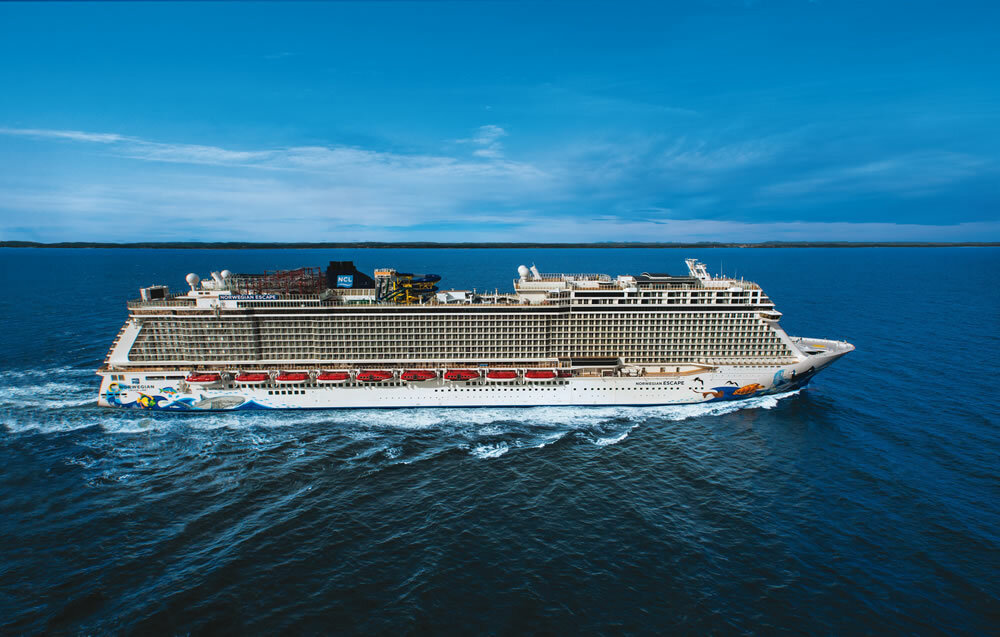 The Great Escape onboard Norwegian latest ship
Norwegian Cruise Line's latest ship is its biggest yet. But is it the best? With hull artwork featuring giant marine life – including sailfish, stingrays, turtles and a whale shark – Norwegian Escape is an impressive sight, especially in the sunshine of Miami and the Caribbean. There's been a steady progression in the design of
Norwegian Cruise Line's latest ship is its biggest yet. But is it the best?
With hull artwork featuring giant marine life – including sailfish, stingrays, turtles and a whale shark – Norwegian Escape is an impressive sight, especially in the sunshine of Miami and the
Caribbean.
There's been a steady progression in the design of Norwegian's ships since the launch of Epic in 2010. Although it introduced a host of never-seen-before features, it was a brute of a vessel, with a beetling brow effect caused by the Haven Suites above the navigation bridge.
Its en suite bathrooms – with separate WC and shower cubicles, and washbasin at the foot of the bed – caused alarm at first, abut the ship did have a lot to recommend it.
Since then, with Breakaway and Getaway, Norwegian have been steadily refining their offering. As a Breakaway-Plus vessel, Escape carries about 250 more passengers than its sisters – and 66 more than Epic.
The changes are more significant than those numbers, however.
There are new bars, different restaurants. Some areas have been opened up; others are closed in, and there is talk of building a peace wall down the middle of the casino to separate smokers from non-smokers.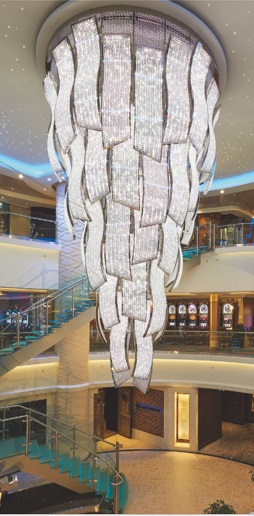 Norwegian's pioneering Freestyle policy – which forced almost every other major cruise line to introduce their own variations of anytime dining – has been further refined, and not necessarily in a good way.
Many of the specialty restaurants now operate a la carte pricing instead of a straightforward cover charge. Norwegian can say all they like about the complimentary restaurants always available, but the new policy still succeeds in prising more cash from passengers' pockets.
The changes were all the more apparent when – within weeks of launch – the Margaritaville cheeseburger and fried chicken bar stopped being a free option, and started charging up to $8.99 a plate, PLUS 18 per cent service charge. Norwegian say the change was made because the place had become too popular!
And while I was looking forward to an evening's entertainment in the 5 O'Clock Somewhere bar, I was disappointed to discover that with it's corporately upright tables and chairs, it had all the atmosphere of a works canteen.
Enough with the grumbles. What is it that makes Escape better than its predecessors? It's all a matter of details really. OUT has gone the gimmicky Ice Bar – in effect it was little more than an industrialsized deep freeze that could be endured only for as long as it took to throw back a couple of lurid, sticky cocktails. IN its place, the welcoming and relaxing Cellars serving wine from the Californian Mondavi brand.
OUT goes the barn-line Bliss night club; IN comes a friendlier Skyline Bar with wall­ mounted TVs broadcasting sports coverage.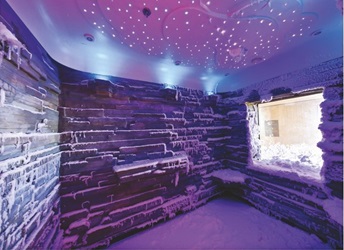 IN to the Mandara Spa comes a snow room – for passengers who really want to chill out and get the blood flowing after a spell in the sauna. In
OUT from the water park has gone SpongeBob SquarePants and his pals. IN to the sports complex comes a three-storey ropes course spanning the width of the ship and incorporating SkyRail zipwires that extend beyond the vessel's sides. Scary!
INTO the restaurant mix comes Food Republic, a modern , upscale emporium from the Miami-based Pubbelly Restaurant Group featuring global cuisine for sampling and sharing. My dinner there was a highlight of the couple of days I spent on board.
Next door is the District Brew House, which has 24 different keg beers on tap and more than 50 different bottled beers behind the bar. It was one of the most popular venues on the ship during the UK visit.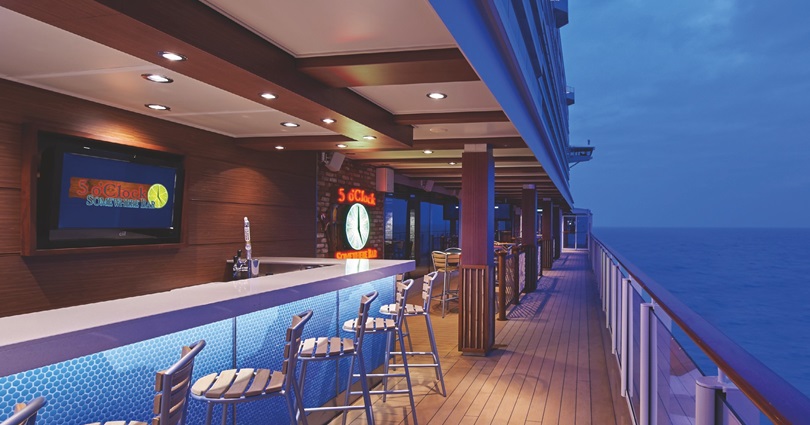 Escape has extended the Deck 8 Waterfront area introduced on Breakaway – the broad outdoor promenade now provid es al fresco drinking and dining areas for 5 O'Clock Somewhere, the Tobacco Road bar (carrying on thetraditions of a now-closed Miami haunt) the Sugarcane Mojito ba1; Moderno churrascaria, Cagney's steakhouse, Cellars, and La Cucina trattoria.
Guests in the gated community Haven Suites now get their own outdoor dining area, adjacent to an extended private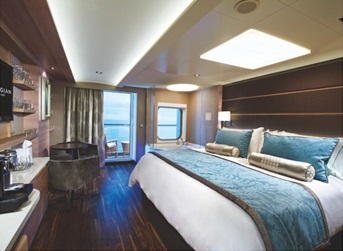 restaurant. Entertainment is also new – the main theatre features Million Dollar Quartet, a juke box musical based on a one-offjam session at Sun Studios in Memphis, where Elvis Presley, Jerry lee Lewis, Carl Perkins and Johnny Cash performed together. The Supper Club hosts For The Record: The Brat Pack, an evening of songs themed around the movies of John Hughes.
There are three more Breakaway -Plus ships on order. One will be specially adapted for the Chinese market. The two others are scheduled for delivery in 2018 and 2019.
If the advances seen on Escape are anything to go by, Norwegian Cruise Line fans won't be disappointed.
FAST FACTS
'The ship
DECKS 1 9
CABINS 2 ,17 5
LENGTH 1 , 0 6 9 F T
PASSENGERS 4 , 2 0 0
CREW 1 , 7 4 2
GROSS TONS 1 6 4 , 6 0 0
WIDTH 1 3 6 F T