Search for your ideal Cruise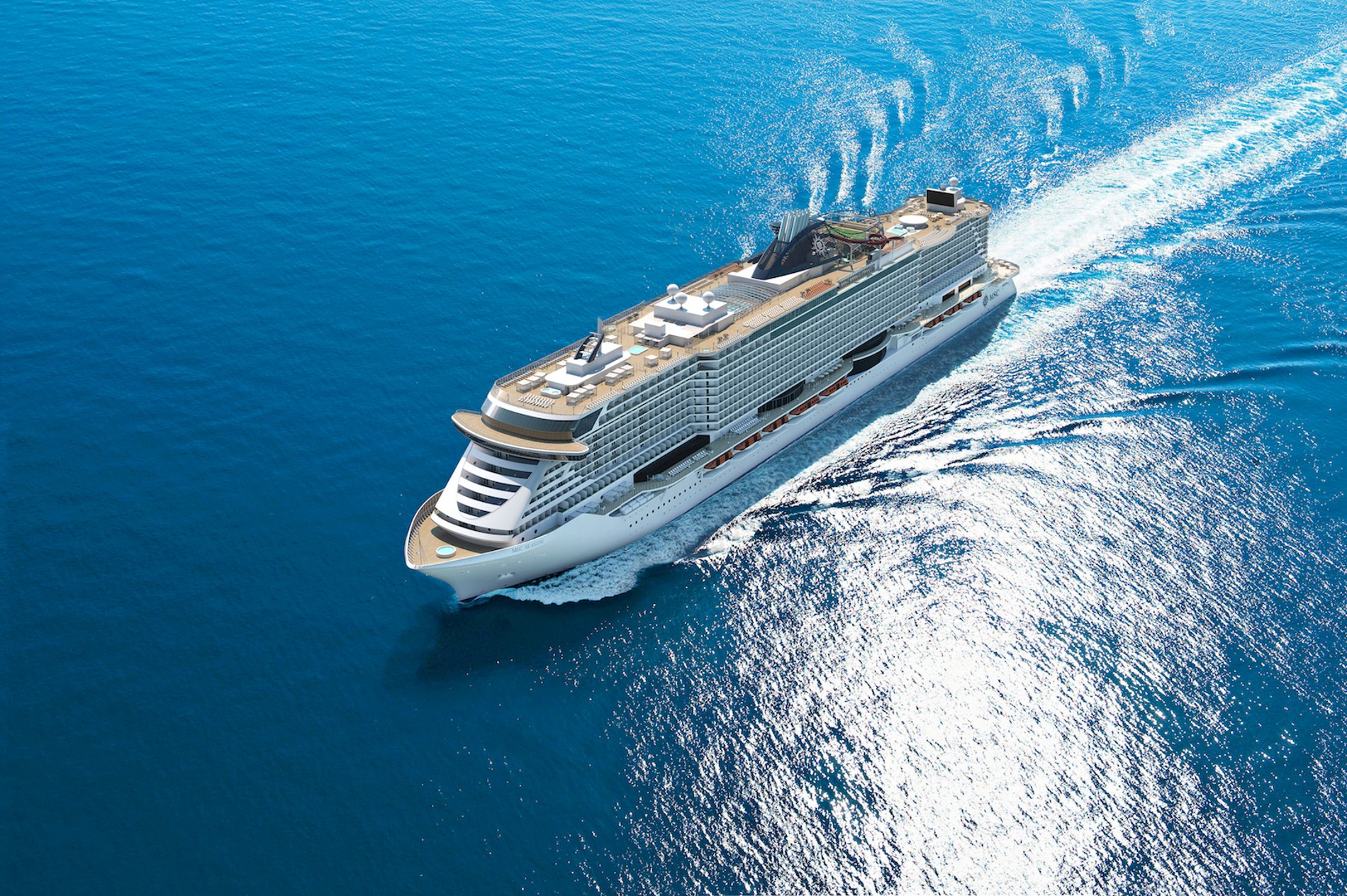 Oh, I Do Love To Be Aboard The Seaside
Recently launched, MSC's dazzling new mega-ship, MSC Seaside, has everything but the brass band playing on the prom – as Dave Monk reports For a ship with a lot of zip, look no further than MSC Seaside. The latest addition to the MSC Cruises fleet boasts the longest zipline at sea – a stomach-churning 425ft from
Recently launched, MSC's dazzling new mega-ship, MSC Seaside, has everything but the brass band playing on the prom – as Dave Monk reports
For a ship with a lot of zip, look no further than MSC Seaside. The latest addition to the MSC Cruises fleet boasts the longest zipline at sea – a stomach-churning 425ft from the funnel to the back of the ship (and there's a second one alongside if you want to race a friend).
Other features on the vessel – handed over in Monfalcone, Italy, on November 29 and named in Miami on December 21 – include four waterslides, two glass-floored catwalks and the "Bridge of Sighs", which sits 130ft above the waves.
Seaside was the second MSC Cruises ship to launch in 2017, following Meraviglia in June, but there are still 10 more on the company's order books, meaning at least one vessel a year will be built until 2026. At the Fincantieri shipyard, sister ship Seaview is already well under way.
Firmly aimed at an international market, Seaside is the first in the fleet to have an English name. It will sail the Caribbean all year round, visiting such places as Nassau in the Bahamas, Ocho Rios in Jamaica, George Town in the Cayman Islands and Cozumel in Mexico.
Step aboard and your jaw will drop the moment you see the stunning atrium with its four-deck video wall and sparkly stairs, their glass steps studded with crystals. With glittering chrome and mirrors everywhere you look, this feels more like a spaceship than a cruise ship.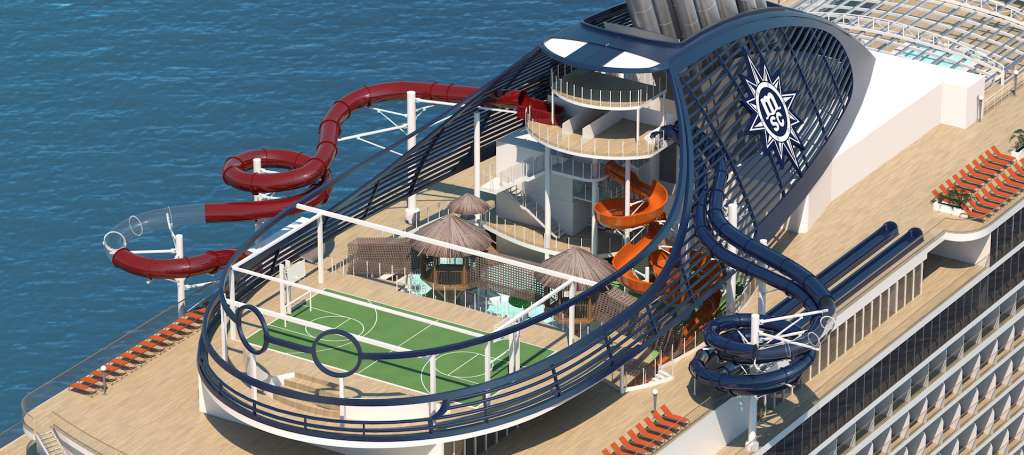 Even space travellers need to eat, and Seaside's 4,132 guests will truly be spoiled for choice. Among the 11 dining venues are seafood restaurant Ocean Cay, steakhouse Butcher's Cut, a French bistro, and two buffets serving food for 20 hours a day. US celebrity chef Roy Yamaguchi has created a teppanyaki grill, Asian fusion restaurant and sushi bar, while guests with a sweet tooth can enjoy a "chocolate bar" and a gelateria and crêperie by celebrated Italian sweet-maker Venchi.
Evenings can be spent in the 19 bars and lounges on board. The seven shows in the 934-seat Metropolitan Theatre include Peter Punk, a new take on the Peter Pan story; an abridged production of Puccini's Madame Butterfly; vintage musical classics in The Dream, and My Life In Music, inspired by the works of composer Ennio Morricone. And with up to four performances every evening, there's no need to miss out on the entertainment, whatever time you dine.
Light relief comes in the form of BeerProv, a show by North American comedians who instantly create unscripted sketches from audience suggestions in 45-minute shows performed six nights a week. There are also eight live music venues featuring styles from funk to folk, with nine bands and solo musicians.
To finish the night, the thumping Garage Club is open until the early hours. Thank goodness there's a babysitting service to look after your youngsters until 2am (that's on top of the five children's clubs that are specially equipped for all ages, from babies to teenagers).
This is billed as "the ship that follows the sun" but the weather during its first short cruise, from the shipyard to Trieste in Italy, was much less kind, with wind and lashing rain. Not the best conditions to appreciate Seaside's outdoor attractions – including what is claimed to be the widest boardwalk at sea, lined with places to eat, drink, swim and sunbathe – but it's not hard to imagine how alluring they would be with a touch of Caribbean warmth.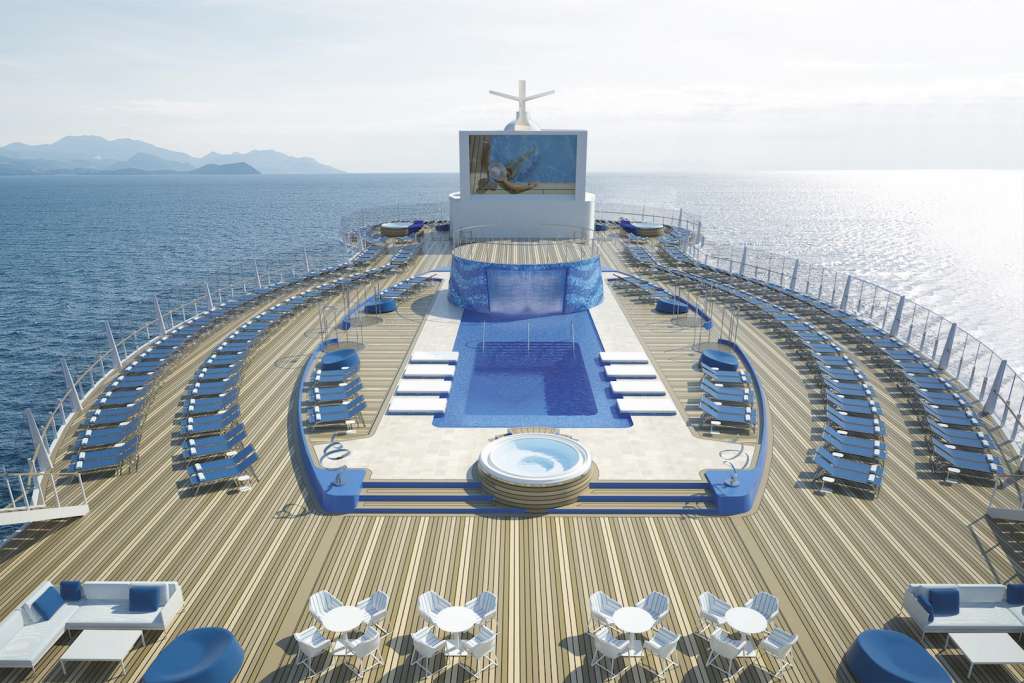 The deck names are all exotic destinations, such as Flamenco Beach, Copacabana and Maspalomas, and the design of the accommodation is inspired by the beach condos of Miami. Modular cabins mean that groups of up to ten can stay together, and there are corner suites, balcony cabins with extended terraces overlooking the boardwalk, and rooms with their own outdoor whirlpool bath.
As you might expect with MSC Cruises, there is also the Yacht Club, a "ship within a ship" that has its own pool, sundeck, restaurant and 24-hour butler service. On Seaside this has been extended to three decks.
For pampering fans, the largest ever MSC Aurea spa includes a nail salon, make-up room and thermal area, while the gym offers a spinning room and yoga. If white-knuckle rides are more your style, two of the thrilling waterslides extend over the edge of the ship, and a wobbly rope bridge is suspended over the Aqua Park – with the added peril for anyone daring to cross it that your friends can fire water cannons at you.
Thrills while staying dry include a 5D cinema that pitches you into a gun fight with zombies, werewolves or killer robots. There's also a full-size Formula One simulator, ten-pin bowling and even a billiard room. You can play football or basketball, while for more sedentary sports lovers there is a dedicated bar with screens showing the latest matches.
When Seaside reaches the Caribbean, shore excursions will include exploring caverns in Cozumel and visiting Blue Lagoon Island in the Bahamas. For the first time, MSC Cruises is introducing cycle tours in every destination so that groups of up to 20 guests can go on an adventure ride or see the sights on normal or electric bikes, while getting information fed to them through earphones. And from October 2018, Seaside will also call at Ocean Cay, MSC's exclusive private island in the Bahamas.
Back on board, "MSC for Me" wearable technology will be used, allowing parents to track and monitor their children. And as guests walk through an "immersive gallery", they can search for photos or videos of themselves on the interactive wall.
It may have first set sail in a storm, but this exciting ship is packed to the funnel with activities, facilities and fun. Add a bit of sunshine and you really will love to be aboard the Seaside, beside the sea.