Search for your ideal Cruise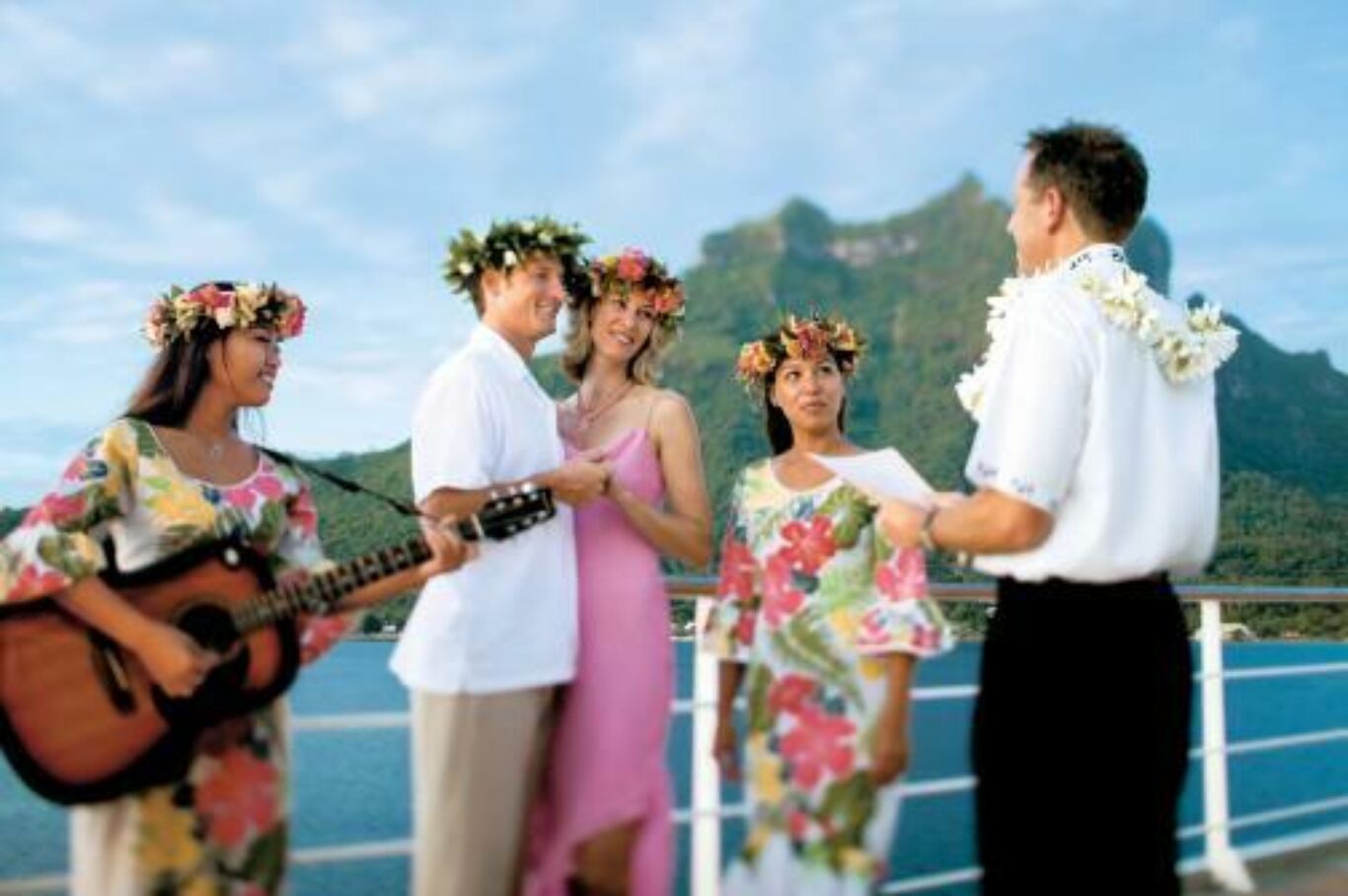 Paul Gaugin Cruises unveils wedding ceremony and renewal packages
Paul Gauguin Cruises has announced details of a new wedding ceremony and renewal of vows packages at Motu Mahana, the cruise line's private islet off the coast of Taha'a, or at the InterContinental Bora Bora Resort & Thalasso Spa in French Polynesia. Couples sailing on The Gauguin can celebrate amid the turquoise lagoons and exotic islands
Paul Gauguin Cruises has announced details of a new wedding ceremony and renewal of vows packages at Motu Mahana, the cruise line's private islet off the coast of Taha'a, or at the InterContinental Bora Bora Resort & Thalasso Spa in French Polynesia.
Couples sailing on The Gauguin can celebrate amid the turquoise lagoons and exotic islands of French Polynesia. Two optional packages offer these exclusive features:
Motu Wedding Ceremony or Renewal of Vows ($315)
· Private Polynesian Blessing Ceremony on Motu Mahana
· Congratulatory letter from the captain
· Invitation to dine with the captain or hotel director
· In-stateroom celebratory bottle of Champagne
· Reception cake and box of chocolates
· Heis (crowns of flowers)
· Deluxe flower arrangement
· One 8″x10″ photo portrait
Bora Bora Wedding Ceremony* or Renewal of Vows at Thalasso ($950):
· Bride's arrival at the chapel on a traditional outrigger canoe ride through the lagoonarium
· Tahitian blessing by a local priest, at the InterContinental Bora Bora Resort & Thalasso Spa's air-conditioned chapel with glass floors showcasing the lagoon below, and views of Mount Otemanu
· Flower leis for the bride and groom
· Tapa certificate with the couple's Polynesian name
· Two-course lunch at the resort
· Love lock to attach to a palm tree in the resort's Secret Garden of Love
· Use of the resort's facilities after the ceremony
· Transfers
Guests can save $50 by combining this package with the "Romantic Escapade" shore excursion or a pre- or post-cruise stay at InterContinental Bora Bora Resort & Thalasso Spa when arranged by the cruise line.
Paul Gauguin Cruises also offers a gift registry for those celebrating a wedding, honeymoon, or other special occasions at pgcruises.celebrationwishes.com.
For reservations call Paul Gauguin Cruises on 020 7399 7691 or visit pgcruises.com