Search for your ideal Cruise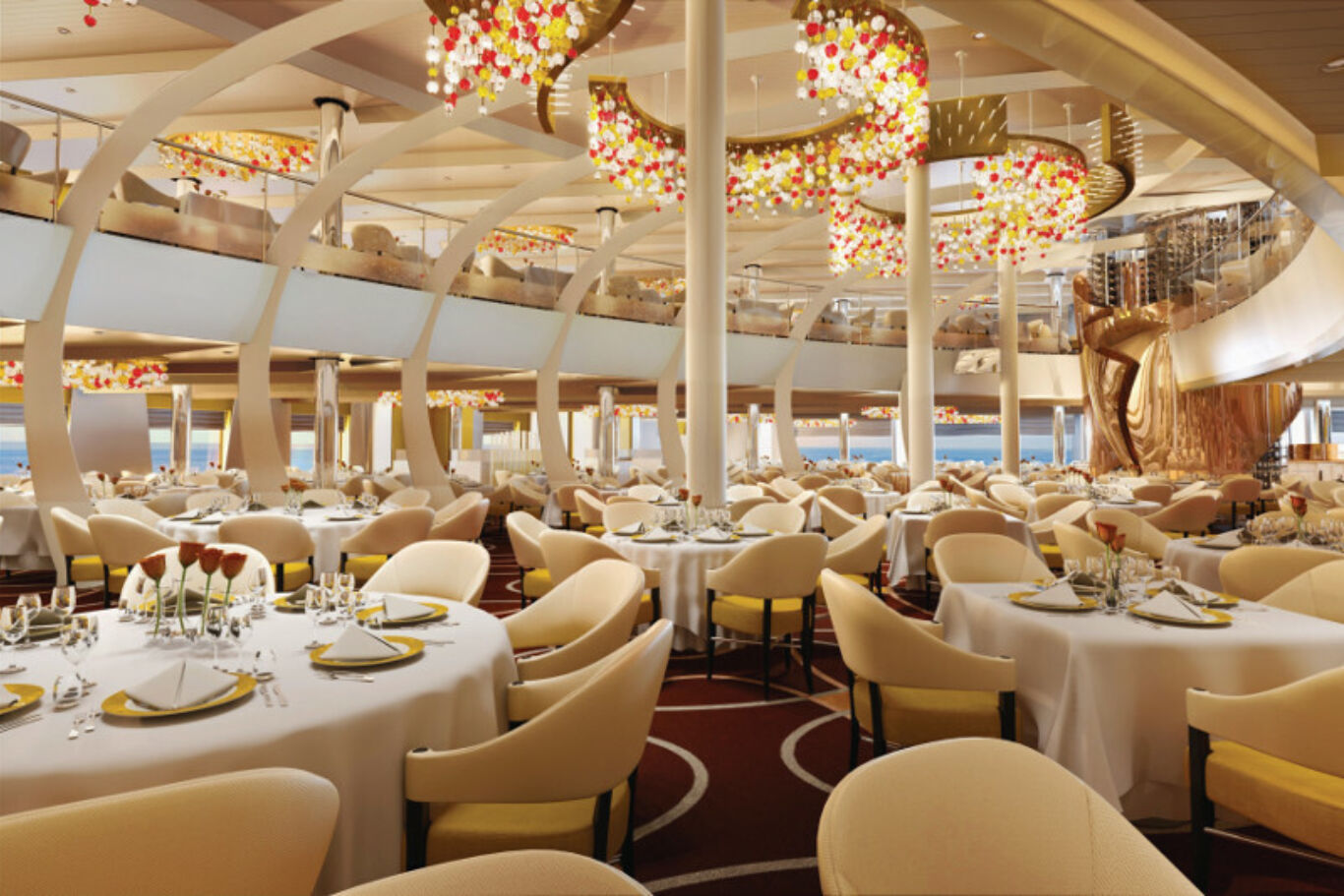 Pinnacle of Excellence – MS Koningsdam
Led by MasterChef Rudi Sodamin, Holland America's new cruise ship is taking on-board gastronomy to new heights. Cruise journalist – and foodie – Gary Buchanan met the man himself. Over dinner, naturally.. Fine cuisine is in Holland America Line's DNA. Their hallowed Culinary Council – a board of top chefs from around the world –
Led by MasterChef Rudi Sodamin, Holland America's new cruise ship is taking on-board gastronomy to new heights. Cruise journalist – and foodie – Gary Buchanan met the man himself. Over dinner, naturally..
Fine cuisine is in Holland America Line's DNA. Their hallowed Culinary Council – a board of top chefs from around the world – oversees every aspect of the onboard eating experience, and MS Koningsdam, the line's 99,500-ton new arrival, looks set to raise their game out of sight.
"As our world changes, so does the food we eat," explains Council chairman Rudi Sodamin, an amiable Austrian with a chef's hatful of awards and numerous cookbooks to his name. Cooking, he tells me, is taking its first steps into a world where the boundaries between science, art and food are blurred. "Creativity is my byword," he adds. "And I'm crazy about presentation."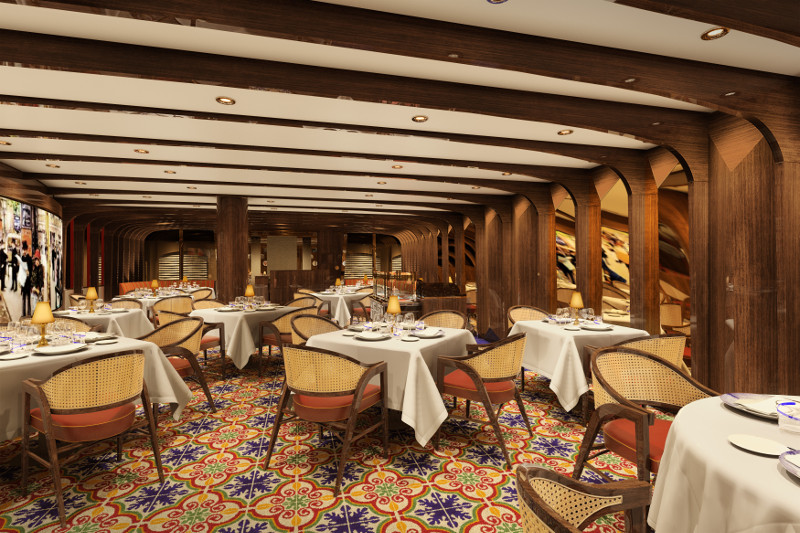 He's not kidding: every plateful you consume on Koningsdam will be a minor work of art. In the opulent double-height Dining Room, guests can enjoy traditional favourites such as shrimp cocktail, Caesar salad, prime rib of beefand grilled salmon, while those with more adventurous palates may prefer Tamarind, offering pan-Asian choices such as shrimp wontons in lemongrass and sesame broth. Unable to resist the latter, I followed it with hoisin lime-glazed seabass and mini Thai donuts with chocolate, mango and ginger sauces – all of it quite superb.
Gastronomy goes up another gear at the Pinnacle Grill, a feature on each of HAL's 14 ships. Double R ranch-certified organic beef is a perennial favourite here, but once per cruise on Koningsdam, the Pinnacle morphs into De Librije, the three-Michelin-star restaurant in Zwolle, Holland, run by Culinary Council member Jonnie Boer. On these evenings you can treat yourself to a wine-paired menu of the highest international class. How about oysters with foie gras, sherry and ginger to start, accompanied by a 2013 Eroica Château Ste Michelle from Washington State? Then perhaps the langoustine with kombucha (fermented green tea, to you and me), bumbu (Indonesian spices) and Asian pear, served with a 2011 Domaine Fouassier Le Grands Groux Sancerre. And you just have to try pigeon with hazelnut, kohlrabi and star anise, served with a 2009 Col d'Orcia Brunello di Montalcino, followed by deconstructed apple pie with vanilla gelato and Chantilly cream, paired with a Chilean 2013 Errazuriz Late Harvest Sauvignon Blanc. You'll be dazzled, I guarantee it. I certainly was – though frankly this cuisine was a little too haute, even for me.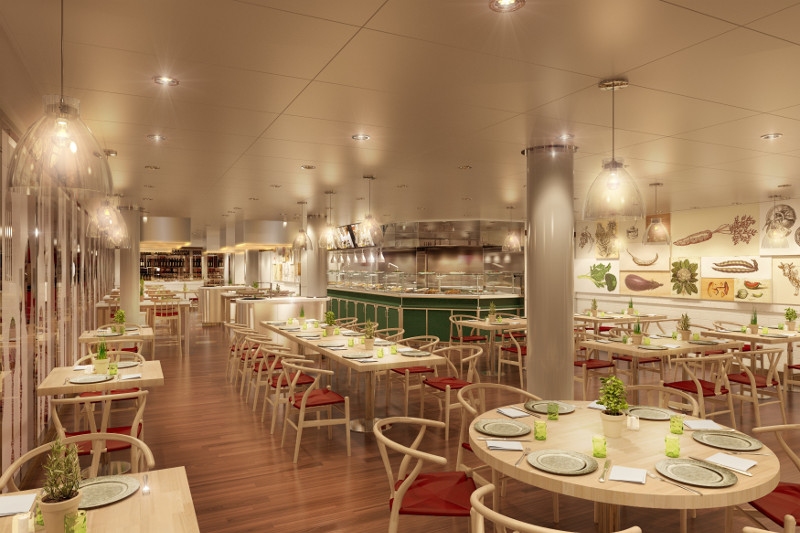 But the beauty of Koningsdam is that every conceivable taste is catered for. The next morning I learned a little of how this is done when Rudi escorted me to the main galley and I watched the ship's chefs go about their business in an environment of calm professional excellence (no tantrums here). We then moved on to the Culinary Arts Center, a show kitchen used for demonstrations and classes given by visiting gastro-stars as well as the ship's own chefs. Large mirrors and viewing screens make it easy for everyone to see the masters at work.
Evening brings Dinner at the Culinary Arts Center, an immersive experience in which the chefs prepare simple, artisan-style dishes in the show kitchen and guests enjoy each course as it emerges. From the Farm-to-Table menu I savoured sprouting salad of golden beets with apples, tarragon, hazelnut oil, cider vinaigrette and farmhouse goat cheese; vacuum-poached seabass and fennel confit with pickled seashore vegetables and dry sherry reduction; followed by a chocolate cylinder with red pepper cress, espuma of mascarpone and yoghurt.
One of those ingredients may surprise you, but cress – freshly harvested as "microgreens" from the ship's own propagation cabinets – is used extensively, and as an ingredient, not merely a garnish. These tiny leaves, packed with nutrition and powerful flavours of garlic, mustard and liquorice, are currently hot news in culinary circles, and it's easy to see why.
Over a convivial couple of hours, Rudi polished off baked escargots with garlic, parsley and Pernod butter, while I tucked into crispy fried whitebait with chive oil and roasted red pepper aïoli. We both enjoyed Dover sole Meunière with butter, parsley, blood orange and brown shrimp, rounding off our feast in traditional cruising style with crêpes Suzette and vanilla gelato.
Now, I don't want you to think that every night aboard Koningsdam has to be a culinary extravaganza. Some evenings I simply headed to Lido Market on Deck 9, a brilliantly laid-out buffet that should be the blueprint for all large ships' casual dining areas. Here, themed stations include Breadboard, where the aroma of freshly baked breads and pastries whets the appetite; Wild Harvest, a salad bar where each bowl is prepared to order by the chef; Homestead, serving comfort food; Roasting Pan, for carved meats, fish and other hearty dishes; Distant Lands, featuring flavours from around the world; and Sweet Spot, for delightful desserts.
As for the rest of this magnificent ship, I hardly need tell you that it comfortably lives up to the standard set by its chefs. And if you're the kind of cruiser for whom fine dining is the main attraction, I promise you won't be disappointed.
THE BASICS
Speciality dining: Pinnacle Grill $39; Taste of De Librije $69 (including wine-pairing); Tamarind $20; Dinner at Culinary Arts Center $39
Drinks: Cappuccino $2.10; Coke $1.95; Heineken $5.25; Martini $6.95; G&T $7.90; Chardonnay $8.00;
Tips: passengers in interior, oceanview and veranda cabins $12.50 per person per day; those occupying suites $13.50 per person per day.
Internet: 75 cents per min; packages start at $55 for 100 mins, up to $250 for 1,000 mins.
Laundry: $30 per bag