Search for your ideal Cruise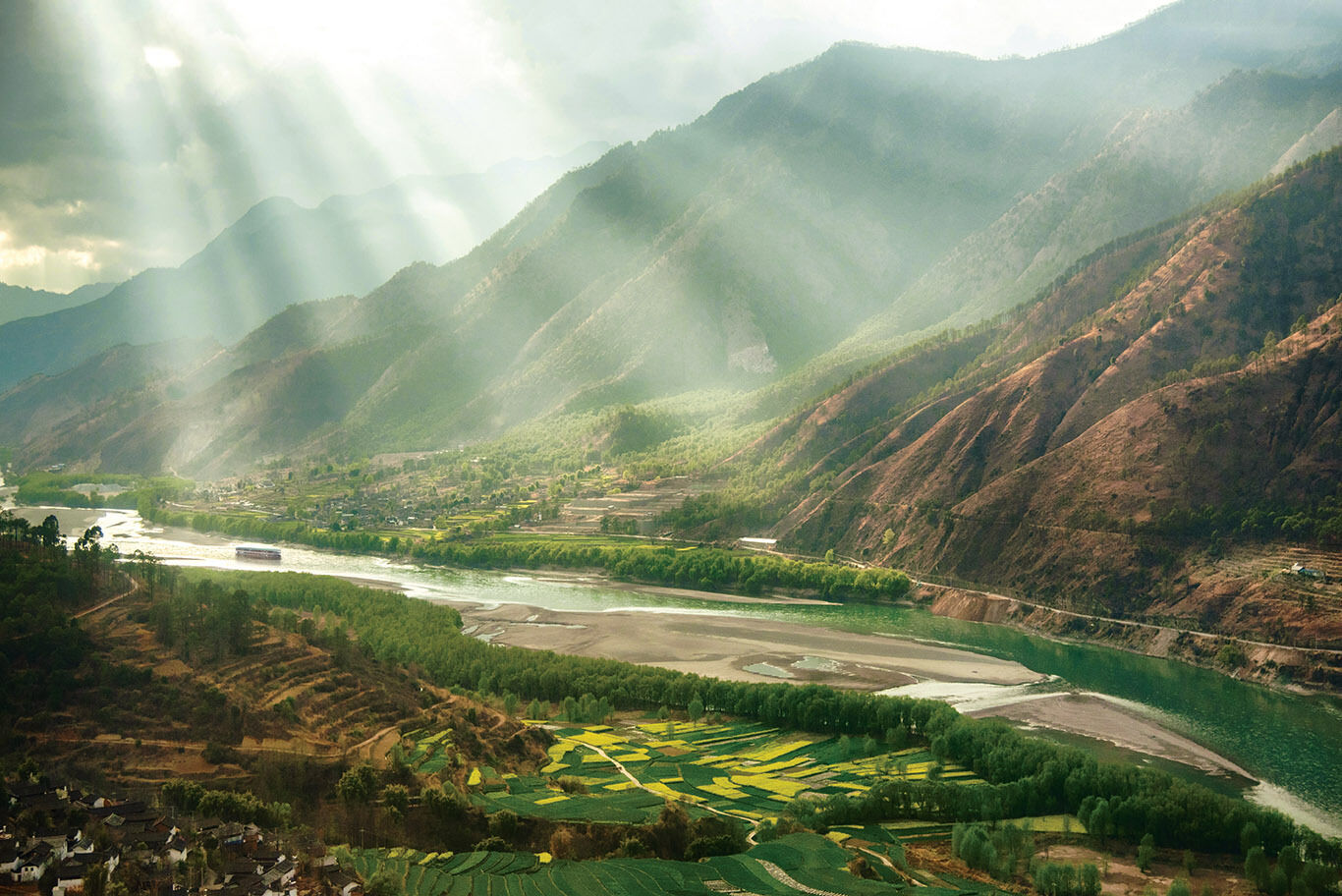 Queen Kong: A trip down the Mekong in Laos is an eye-opening marvel
Intrigued by a land of elephants, remote jungle villages and tribes who eat chargrilled rat? Take a slow boat through Laos – and discover the mighty Mekong
Intrigued by a land of elephants, remote jungle villages and tribes who eat chargrilled rat? Take a slow boat through Laos – and discover the mighty Mekong
Gesticulating for us to wait on the doorstep, the old man dives back inside his home, returning with a bamboo and reed woodwind instrument almost half his size.
Then, lips pursed around the mouthpiece of his khene, he launches into a lively repertoire of traditional Laotian tunes while simultaneously performing a sprightly jig. Dust flies up in the village street as the geriatric musician jumps in the air, legs flailing.
We applaud, and after a rousing encore we chat to him, with our guide Vieng translating. The man tells us he is 80 years old, with 20 children and 50 grandchildren. The average life expectancy in Laos, Southeast Asia's least developed nation, is 66 and the man has long outlived his six wives. As we speak, his face cracks into a beam of splayed and missing teeth as he admits he's on the lookout for a seventh. His eyes twinkle as he surveys our group, his gaze alighting on the 30-something purser from our ship, the Champa Pandaw.
This is just one of the many contrasting cameos we experience on our journey along the Upper Mekong.
In remote tribal villages, many of them accessible only by boat, the locals never know when Champa Pandaw and its curious passengers might drop by, so shore excursions are totally unscripted and often prove as much of a surprise to our guide as they are to us. All of which adds to the sense of adventure surrounding any visit to this tiny, landlocked nation.
While travels in surrounding China, Thailand, Vietnam, Cambodia and even Myanmar have become increasingly mainstream, Laos has remained beneath the radar (when I rang my bank to ask about using my credit card, Laos wasn't even on their list of countries). Those who do know of its existence aren't always sure how to say its name (for the record, the final "s" is sounded, and it rhymes with "house").
A French colony from 1893 to 1953, the country suffered terribly during the Vietnam War as the US Air Force mounted a nine-year bombing campaign to stop North Vietnamese troops using the country as a supply route. Further isolated after communist forces ousted the monarchy in 1975, Laos only began opening to the world after the fall of the Soviet Union in 1991.
Throughout its often turbulent history, the nation's lifeblood has been the Mekong, the great river that flows for nearly 1,200 miles north to south through the entire country, either bisecting it or forming a natural boundary with Thailand. The locals call the river Mae Nam Khong ("Kong, the Mother of Water") and she's mighty testy.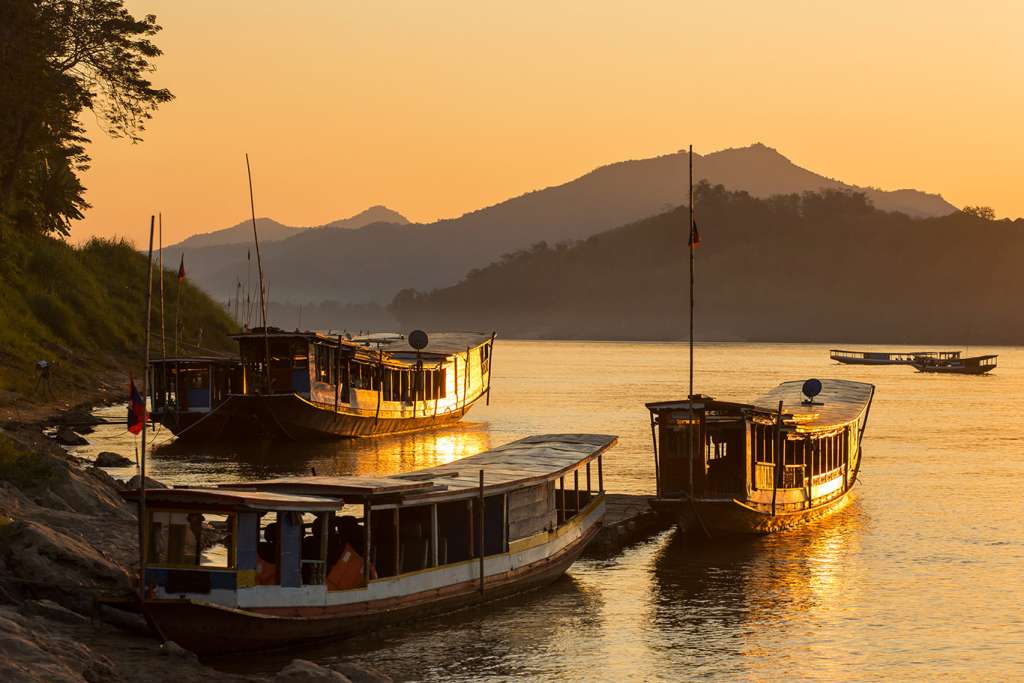 Up to eight miles wide during the rainy season, and with tricky stretches of white water, peppered with granite rocks year-round, the upper reaches of the river are not for faint-hearted skippers.
But Paul Strachan, who founded the Pandaw fleet of Asian river expedition vessels, has never been one to resist a challenge, and one of his newest itineraries is this 10-day Laos Mekong passage – uncharted water for other cruise lines.
In 2016 Strachan launched the 28-passenger Champa Pandaw, with double the engine capacity of its predecessor to cope with the tough upstream journey, and he employs seasoned local barge captains, adept at reading the vagaries of the river with the most rudimentary equipment.
Our cruise begins in Thailand's Golden Triangle – the point where Thailand, Laos and Myanmar meet – and as we head downstream we're soon reaching speeds of up to 16mph on the fast-flowing water.
The most thrilling section is the full day's sailing to the compact Laotian capital of Vientiane, with this nimble, shallow-keeled vessel twisting and turning through torrents and eddies created by clusters of sharp rocks on the sinuous waterway.
Then, by total contrast, there are mornings when we wake up to a timeless river scene of water buffalo immersed in the calm shallows and fishermen casting off in tiny wooden boats to snare their first catch of the day.
Much of the Mekong is surrounded by dense jungle and jade mountains, an environment that creates ethereal dawn mists. Some days we have to wait a couple of extra hours for the visibility to improve before we can slip our moorings. On others, the current is so strong and our progress so rapid that unscheduled stops are made at additional villages, some of which the ship is visiting for the very first time.
Every aspect of life unfolds before us on these excursions: one morning we are invited to celebrate the birth of a baby; the next we are ushered into a funeral, where women sit for a day and a night by an ornately gilded coffin.
Laos has a population of fewer than seven million, most living in rural areas with around 80 per cent engaged in farming. As the cruise progresses we learn about some of the 49 distinct ethnic tribes and their characteristics – such as the Khmu people being fishermen, while the Hmong prefer to hunt on land, taking domestic cockerels deep into the jungle to lure wild birds to their fate.
While giggling children follow us around, many of them incongruously dressed in British football strips or Batman capes, their parents open up their homes and offer glasses of lao-lao, a potent but surprisingly sweet home-made spirit, distilled from rice.
Village meals are cooked on open fires, and an extreme eating challenge presents itself when a woman beckons us over to see her frying pan, which turns out to contain a charred but perfectly formed rat. A nervous hush falls over the group as she deftly chops it up with a cleaver and proffers the plate.
Then there's a collective intake of breath as Neville, an Australian retired doctor and previously one of the most unassuming members of our party, steps forward, picks up a sizeable piece and chews on it thoughtfully, before pronouncing that it tastes rather like quail.
He's our hero – and according to our guide (who also tucks in with relish) the only passenger ever brave enough to try it.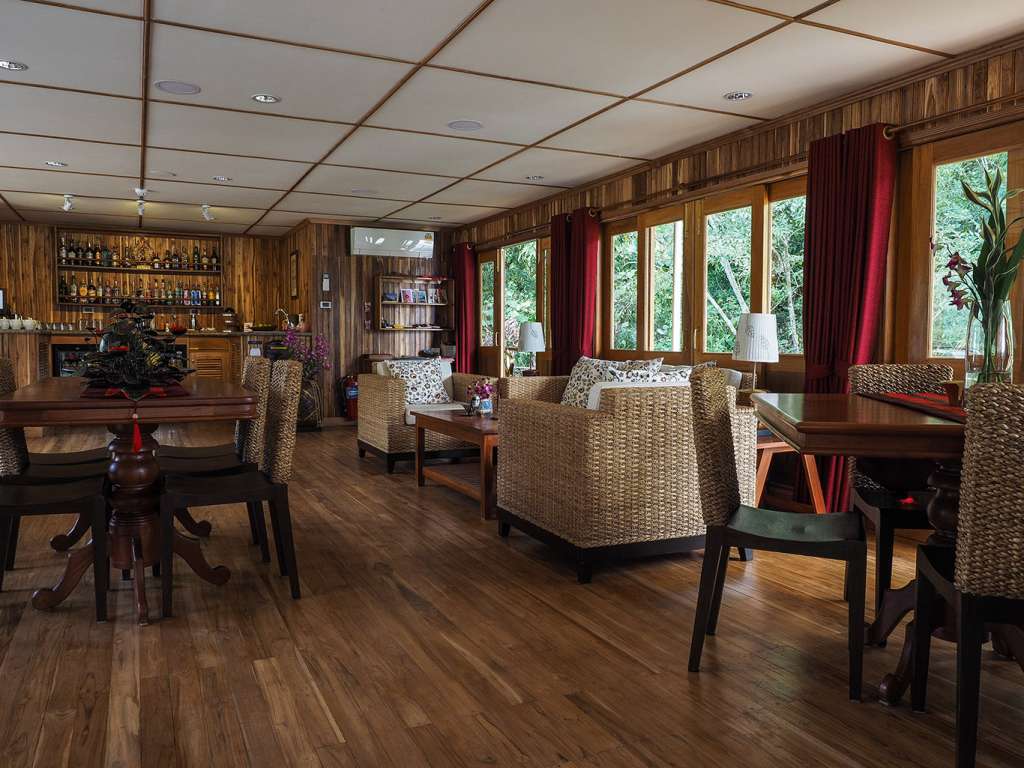 Days are spent exploring wonders such as the Pak Ou caves, dramatically located in sheer limestone cliffs where the Mekong meets the Nam Ou river. A place of worship for centuries, and once believed to be inhabited by the spirits of the river, the upper and lower caves contain hundreds of carved and gilded Buddha statuettes.
Laos was once known as the Land of a Million Elephants but numbers have dwindled in recent times to an estimated 800. About half remain in the wild, while many others, once put to work for logging, now reside in "conservation" camps aimed at tourists – though visitors may be distressed to see them shackled for long periods, struck by their handlers, used for rides or made to perform tricks in the river.
Far better to seek out ethical centres such as MandaLao in Luang Prabang, where you can observe these noble creatures roaming freely in natural surroundings.
Equally uplifting is a visit to the spectacular Kuang Si waterfall and nearby bear sanctuary. Run by Free the Bears, an organisation that rescues these animals from farms where their bile is milked in the name of medicine, the refuge is home to more than 20 bears of all ages. You can watch them play and forage from a viewing platform, then enjoy a bracing dip in the azure pools fed by cascades tumbling 250ft down the hillside.
The cruise is book-ended by two-day stays in the cities of Luang Prabang, the former capital, and Vientiane, its culture-rich successor since 1563. The former is situated at the meeting point of the Mekong and Nam Khan rivers, and the most atmospheric way to see the confluence is from a swaying bamboo bridge that gets washed away during the rainy season and is rebuilt each year.
A UNESCO World Heritage site with a laid-back daytime atmosphere and buzzing night market, Luang Prabang is filled with charming temples and colonial-era buildings.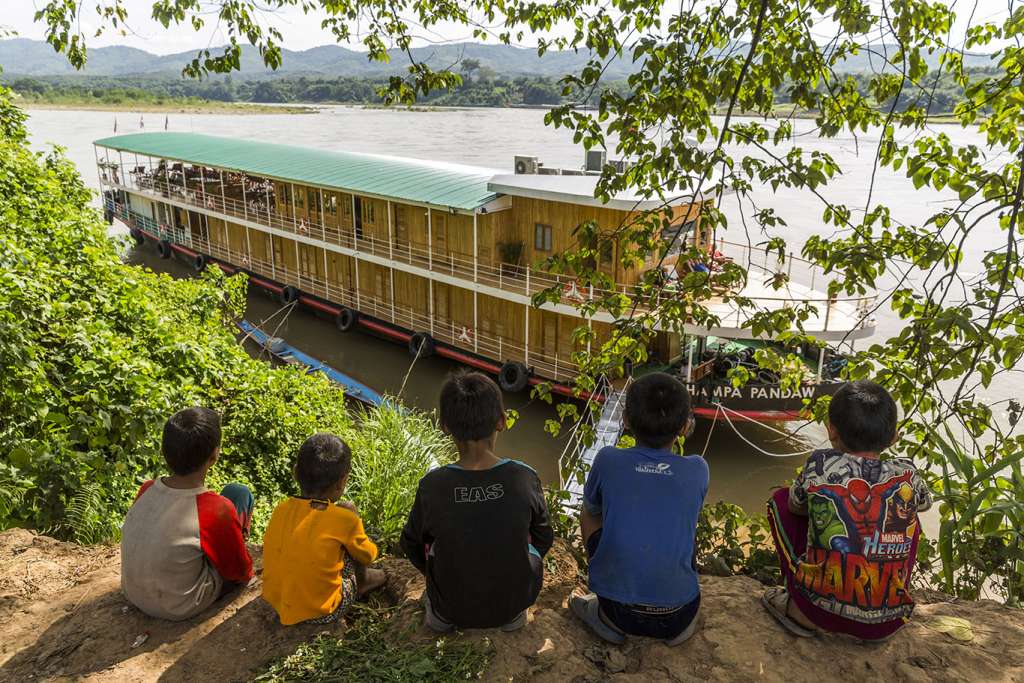 We rise at dawn to participate in the 6am almsgiving, in which 200 saffron-robed monks walk silently through the streets, collecting sticky rice and other food. Vieng has briefed us on the dos and don'ts, and while it feels very special to be involved in this ancient ritual it can easily be marred by disrespectful tourists, chattering and hindering the monks' progress by taking selfies.
Often it is the more fleeting spiritual moments that prove most touching, such as the sight of our captain setting out his daily offering of fruit, flowers and juice in front of the wheelhouse to bring us a safe voyage. Or ancient banyan trees along the shore, draped in gold for good fortune.
Aboard our small vessel, fitted out in gleaming teak and brass, we are constantly pampered by the 15-strong crew. Ever-smiling, they're always on hand to help us negotiate muddy river banks and to welcome us back with cold towels, a shoe-washing service and the eagerly anticipated complimentary cocktail of the day before the chimes ring out, heralding another excellent meal of local specialities.
All too soon, however, it is time for the last gong on the upper Mekong, sadly signalling the end of a remarkable and totally unforgettable journey.