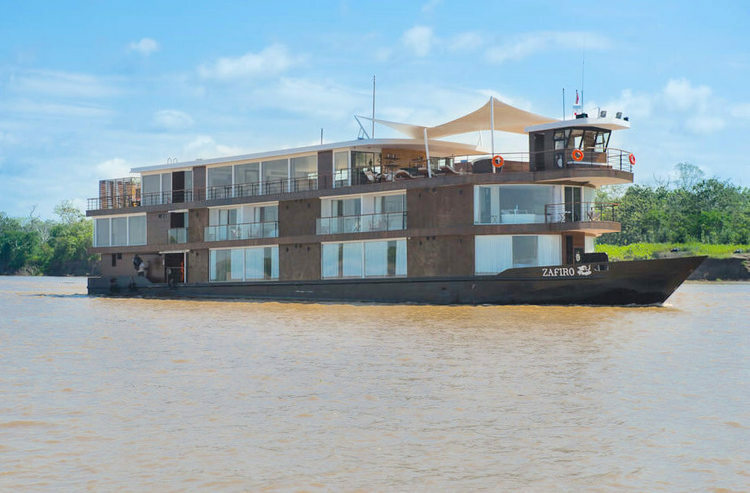 Rainforest Cruises offers free domestic flights on 2016 sailings
Amazon cruise specialist Rainforest Cruises has launched its latest promotional campaign offering from internal flights on selected 2016 itineraries. Week-long cruises departing on Zafiro and Amazon Discovery are eligible under the offer. Free return internal flights are included between Peru's main international airport at Lima and the port city of Iquitos, which is the gateway to the
Amazon cruise specialist Rainforest Cruises has launched its latest promotional campaign offering from internal flights on selected 2016 itineraries.
Week-long cruises departing on Zafiro and Amazon Discovery are eligible under the offer.
Free return internal flights are included between Peru's main international airport at Lima and the port city of Iquitos, which is the gateway to the northern Amazon. The flights can be scheduled up to four days before or after the cruise.
The Florida-based company estimates the saving to couples to be worth approximately £470.
The 19-cabin luxury riverboat Zafiro launched in October 2015 and sails on voyages to the wildlife-rich Pacaya-Samiria National Reserve in the Peruvian Amazon. During each itinerary the vessel will sail along a series of creeks and tributaries off the main river, allowing for activities such as birdwatching as well as wildlife expeditions to see creatures including caiman, giant snakes and tarantulas. Other activities will include fishing for piranha, nature walks, a village visit and Peruvian cooking classes.
Cabins are equipped with all the mod-cons including air-conditioning, en-suite bathrooms and either floor to ceiling windows or private balconies. A fully-accessible suite is also available for those with mobility issues and the Zafiro Suite can accommodate families.
Eight-day itineraries on Zafiro start from £3,609 per person with free return domestic flights on LAN Airlines included but international flights excluded.
Dubbed 'the Peruvian Amazon's most luxurious riverboat', the Amazon Discovery is also newly launched and boasts five-star features including a spa, plunge pool and gourmet dining for guests staying in its 22 suites.
Its voyages also explore the Pacaya Samiria with opportunities to spot endangered monkeys, pink dolphins, exotic spiders and the rare charapa turtle.
Experienced naturalists will lead smaller skiff-excursions including one to visit the very start of the Amazon River. On-land tours include the opportunity to see a traditional dance performed by a local tribe.
Eight-day itineraries on Amazon Discovery start from £2,859 per person with free return domestic flights included but international flights excluded. Flights from the UK to Lima start from £450 per person with Air France.
(Photo credit to Rainforest Cruises)