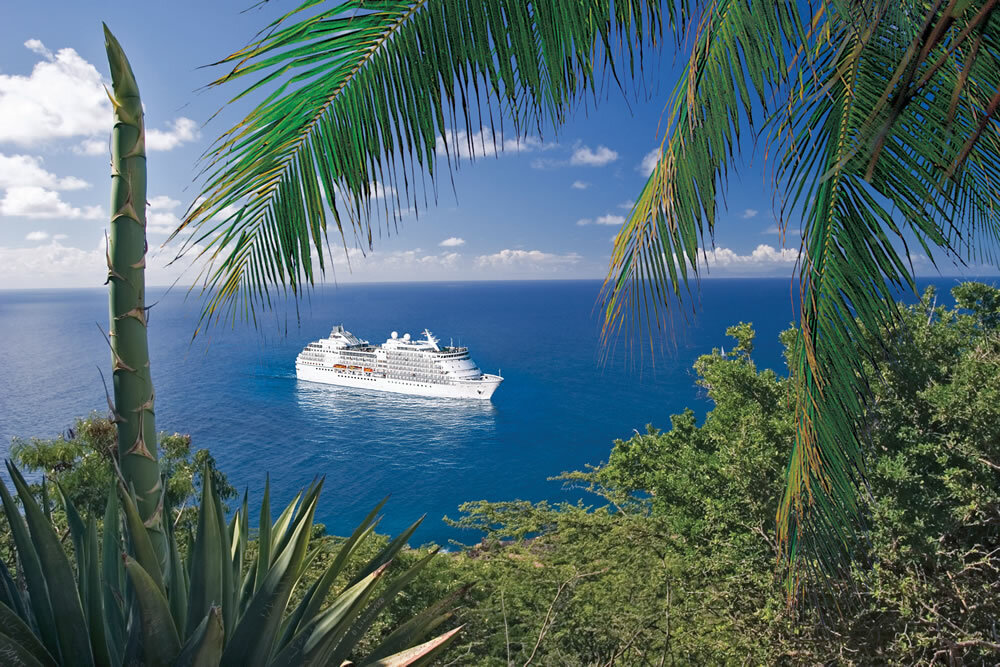 £36,000 Regent Seven Seas world cruise nearly sells out in just one day
A 128-night around-the-world cruise priced from £36,000 per person with Regent Seven Seas Cruises nearly sold out in just one day the cruise line has revealed. According to a statement by Norwegian Cruise Line Holdings President and CEO Frank Del Rio, just 75 suites (30 percent of the cabins) remained unsold on the suite-only Seven
A 128-night around-the-world cruise priced from £36,000 per person with Regent Seven Seas Cruises nearly sold out in just one day the cruise line has revealed.
According to a statement by Norwegian Cruise Line Holdings President and CEO Frank Del Rio, just 75 suites (30 percent of the cabins) remained unsold on the suite-only Seven Seas Navigator after the first day of sale. Norwegian Cruise Line Holdings is the parent company of Regent Seven Seas Cruises, Norwegian Cruise Line (NCL) and Oceania Cruises.
The 2017 itinerary was announced in July and will be the first around-the-world cruise from Regent Seven Seas Cruises in six years. The 490-passenger Seven Seas Navigator will sail on a round-trip voyage from Miami departing on 5 January, visiting six continents, 31 countries, 62 ports, 29 UNESCO World Heritage sites and it also includes six overnight stays in port.
The cheapest cabin, a Deluxe Window Suite, was priced from £72,600 per couple while the finest suite aboard the ship, the Master Suite, commanded a cool £206,400 per couple.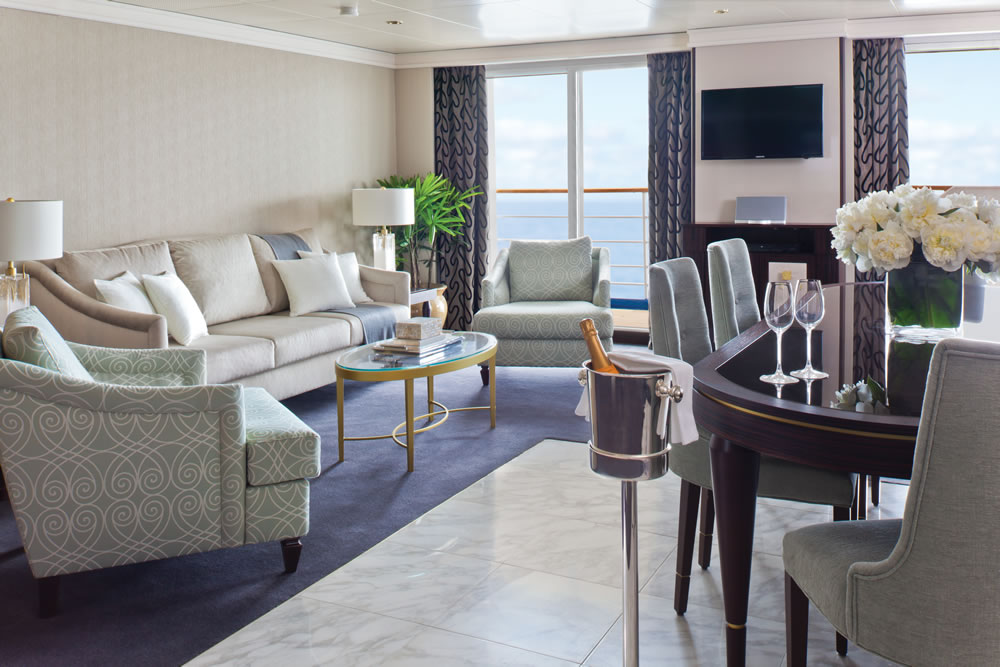 The price of this all-inclusive cruise does include free business class air travel to and from Miami; transfers between the airport and ship; unlimited WiFi access; unlimited laundry; telephone allowance; a commemorative gift; on-board medical service; dining in speciality restaurants; unlimited beverages including fine wines and premium spirits; in-suite mini bar; a pre-paid gratuities.
The price also includes a free pre-cruise Gala in Miami at the Biltmore Hotel; a Honolulu City Tour and Kualoa Secret Island Luncheon; a Dubai Sahara Experience; and a Café de Paris Gala Dinner and Legendary Grand Casino in Monte Carlo. This is in addition to the free and unlimited shore excursions offered throughout the voyage.
What does a 128-night itinerary look like?
This is the epic itinerary Regent Seven Seas Cruises has planned for this around-the-world cruise sailing:
| Date(s) | Port |
| --- | --- |
| Thu 5 Jan | Miami, Florida |
| Fri 6 Jan | Cruising the Florida Strait |
| Sat 7 Jan | George Town, Cayman Islands |
| Sun 8 Jan | Cruising the Caribbean Sea |
| Mon 9 Jan | Cartagena, Colombia |
| Tue 10 Jan | Transit the Panama Canal |
| Wed 11 Jan | Golfito, Costa Rica |
| Thu 12 Jan | Puntarenas, Costa Rica |
| Fri 13 Jan | Corinto, Nicaragua |
| Sat 14 Jan | Puerto Quetzal, Guatemala |
| Sun 15 Jan | Cruising the Coast of Central America |
| Mon 16 Jan | Acapulco, Mexico |
| Tue 17 Jan | Cruising the Coast of Mexico |
| Wed 18 Jan | Cabo San Lucas, Mexico |
| Thu 19 Jan | Cruising the Coast of Baja California |
| Fri 20 Jan | San Diego, California |
| Sat 21 Jan | Los Angeles, California |
| Sun 22 Jan – Thu 26 Jan | Cruising the Pacific Ocean |
| Fri 27 Jan | Honolulu, Oahu, Hawaii |
| Sat 28 Jan | Lahaina, Maui, Hawaii |
| Sun 29 Jan | Nawiliwili, United States |
| Mon 30 Jan | Hilo, Hawaii, Hawaii |
| Tue 31 Jan – Fri 3 Feb | Cruising the Pacific Ocean |
| Sat 4 Feb | Nuku Hiva, French Polynesia |
| Sun 5 Feb | Cruising the Pacific Ocean |
| Mon 6 Feb | Rangiroa, French Polynesia |
| Tue 7 Feb | Papeete, Tahiti |
| Wed 8 Feb | Bora Bora, French Polynesia |
| Thu 9 Feb – Fri 10 Feb | Cruising the Pacific Ocean |
| Sat 11 Feb | Pago Pago, Samoa |
| Sun 12 Feb | Crossing the International Dateline |
| Mon 13 Feb | Cruising the Pacific Ocean |
| Tue 14 Feb | Suva, Fiji |
| Wed 15 Feb | Lautoka, Fiji |
| Thu 16 Feb – Fri 17 Feb | Cruising the Pacific Ocean |
| Sat 18 Feb | Bay of Islands, New Zealand |
| Sun 19 Feb | Auckland, New Zealand |
| Mon 20 Feb | Rotorua (Tauranga), New Zealand |
| Tue 21 Feb | Napier, New Zealand |
| Wed 22 Feb | Wellington, New Zealand |
| Thu 23 Feb | Akaroa, New Zealand |
| Fri 24 Feb | Dunedin, New Zealand |
| Sat 25 Feb | Cruising Milford Sound |
| Sun 26 Feb | Cruising the Tasman Sea |
| Mon 27 Feb | Cruising the Coast of Australia |
| Tue 28 Feb | Sydney, Australia |
| Wed 1 Mar | Cruising the Coast of Australia |
| Thu 2 Mar | Brisbane, Australia |
| Fri 3 Mar – Sat 4 Mar | Cruising the Coast of Australia |
| Sun 5 Mar | Cairns, Australia |
| Mon 6 Mar | Cooktown, Australia |
| Tue 7 Mar – Wed 8 Mar | Cruising the Arafura Sea |
| Thu 9 Mar | Darwin, Australia |
| Fri 10 Mar | Cruising the Timor Sea |
| Sat 11 Mar | Komodo, Indonesia |
| Sun 12 Mar -Mon 13 Mar | Bali (Benoa), Indonesia |
| Tue 14 Mar | Cruising the Java Sea |
| Wed 15 Mar | Cruising the Indian Ocean |
| Thu 16 Mar | Singapore, Singapore |
| Fri 17 Mar | Cruising the Strait of Malacca |
| Sat 18 Mar | Phuket, Thailand |
| Sun 19 Mar | Cruising the Andaman Sea |
| Mon 20 Mar – Wed 22 Mar | Yangon (Burma), Myanmar |
| Thu 23 Mar -Sat 25 Mar | Cruising the Indian Ocean |
| Sun 26 Mar | Cochin (Kochi), India |
| Mon 27 Mar | Mangalore, India |
| Tue 28 Mar | Goa (Mormugao), India |
| Wed 29 Mar – Thu 30 Mar | Mumbai (Bombay), India |
| Fri 31 Mar – Sat 1 Apr | Cruising the Arabian Sea |
| Sun 2 Apr | Dubai, United Arab Emirates |
| Mon 3 Apr | Abu Dhabi, United Arab Emirates |
| Tue 4 Apr | Cruising the Gulf of Oman |
| Wed 5 Apr | Cruising the Arabian Sea |
| Thu 6 Apr | Salalah, Oman |
| Fri 7 Apr | Cruising the Arabian Sea |
| Sat 8 Apr | Cruising the Gulf of Aden |
| Sun 9 Apr – Mon 10 Apr | Cruising the Red Sea |
| Tue 11 Apr | Aqaba, Jordan |
| Wed 12 Apr – Thu 13 Apr | Luxor (Safaga), Egypt |
| Fri 14 Apr | Sharm El Sheikh, Egypt |
| Sat 15 Apr | At Sea |
| Sun 16 Apr – Mon 17 Apr | Jerusalem (Haifa), Israel |
| Tue 18 Apr | Limassol, Cyprus |
| Wed 19 Apr | Rhodes, Greece |
| Thu 20 Apr | Cruising the Scenic Dardanelles |
| Fri 21 Apr | Istanbul, Turkey |
| Sat 22 Apr | At Sea |
| Sun 23 Apr | Zakynthos, Greece |
| Mon 24 Apr | At Sea |
| Tue 25 Apr | Rome (Civitavecchia), Italy |
| Wed 26 Apr | Monte Carlo, Monaco |
| Thu 27 Apr | Provence (Marseille), France |
| Fri 28 Apr | Barcelona, Spain |
| Sat 29 Apr | At Sea |
| Sun 30 Apr | Gibraltar, United Kingdom |
| Mon 1 May | Seville (Cádiz), Spain |
| Tue 2 May | Lisbon, Portugal |
| Wed 3 May | At Sea |
| Thu 4 May | Funchal – Madeira Island, Portugal |
| Fri 5 May – Tue 9 May | Cruising the Atlantic Ocean |
| Wed 10 May | Hamilton, Bermuda |
| Thu 11 May – Fri 12 May | At Sea |
| Sat 13 May | Miami, Florida |
(Photo credits to Regent Seven Seas Cruises)