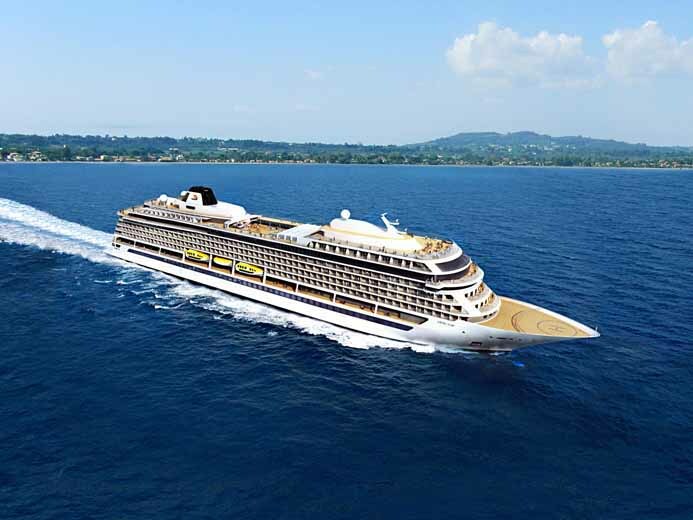 Viking Cruises heads for the seas
John Honeywell caught up with head Viking Tor Hagen to hear how wants to tear up the rules for ocean cruising Tor Hagen, the boss of Viking Cruises, is going to have to change his script. As the man who attracted more than £1 billion from investors to build an all-conquering armada of longship river
John Honeywell caught up with head Viking Tor Hagen to hear how wants to tear up the rules for ocean cruising
Tor Hagen, the boss of Viking Cruises, is going to have to change his script. As the man who attracted more than £1 billion from investors to build an all-conquering armada of longship river boats, he has been less than complimentary about his competitors on the high seas.
"Ocean cruising is boring. River is exciting," has been his mantra. "Ocean is a drinking man's cruise; river cruising is for the thinking man."
Whether he is right or not, he has clearly been successful on the waterways of Europe and beyond. This year alone, Viking launched a record 18 new ships with another 12 are being built for introduction in 2015.
But the main focus next year will be on the launch of Viking Star, the first of four ocean ships planned for the company. It will, claims the ebullient Tor, reinvent ocean cruising.
Al fresco dining, thanks to floor-to-ceiling restaurant windows that slide open to the promenade deck, and a spectacular infinity pool are two notable features of the hardware.
On the operations side, Viking will stay longer and later in port, and offer included excursions, a nod in the direction of the changes Larry Pimentel wrought when he revamped Azamara Club Cruises.
The 928-passenger Star will not, however, feature bathtubs for every cabin – Tor calculates they would eat up six per cent of the available space and he would rather accommodate more passengers. Every cabin will, however, have a balcony.
And in the straight-talking no-nonsense style that has become a trademark, he declines to boast that Viking Star will provide gourmet food in its restaurants.
"It will be good food, but if you want gourmet food, go to a gourmet restaurant ashore," says Tor.
Similarly, he avoids referring to Star's accommodation as suites, although there will be a few on board. "A suite has separate sleeping and living rooms," he says. Contradicting almost every cruise line afloat, he argues: "You can't just claim a bigger room is a suite."
Star is aimed at the 55-plus age group, well-educated English-speaking passengers who are affluent, active, curious, and interested in history, art, and culture.
It will be for couples – solo travellers will be disappointed to learn the single supplement is likely to be 100 per cent. It will not be for children, or grandchildren. It won't be for gamblers and high rollers, either; there is no casino on the ship.
To make Viking Star and the rest of his ocean fleet a success, Tor will have to swim against the tide of the mainstream cruise lines who now work to a completely different business model.
But he is confident that what he is doing is the right way forward. "The view of our guests is that ocean cruise ships are too big and they spend too little time in each destination.
"They are not as good value. Fares have dropped, but every dollar you spend on the fare is matched by what you gave to spend for extras on board."
Who can doubt that Viking Star will not match the success of the company's river operation?
It's not as if Tor hasn't been to sea before. He has served on the board of Holland America Line, and in the Eighties was in charge of Royal Viking Line when its three vessels were each stretched with the addition of a new centre section.
He must have got that bit right; the ships are still sailing. One is Phoenix Reisen's Albatros, the other two are Fred Olsen's Black Watch and Boudicca.
And once Viking Star has established itself, then who can tell how much further the fleet will grow beyond the four ships already planned.
Viking Star fact file
Tonnage: 47,800
Length: 227.20 m (745.4 ft)
Beam: 28.80 m (94.5 ft)
Draught: 6.30 m (20.7 ft)
Decks: 14
Speed: 20 knots
Capacity: 930 passengers