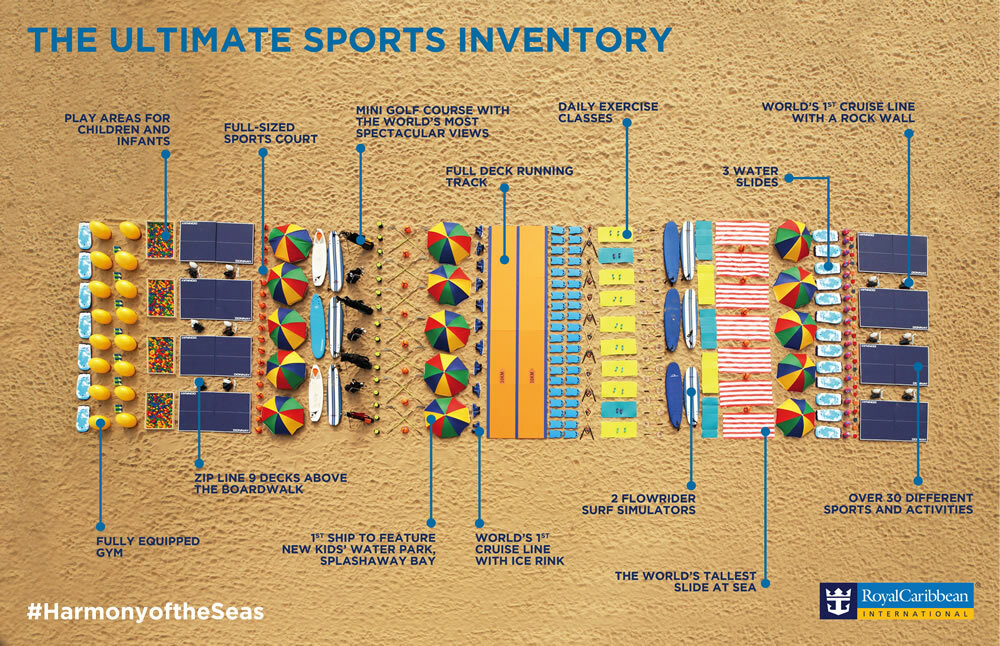 Royal Caribbean shows off sports equipment for Harmony of the Seas
Last month Royal Caribbean chose Boscombe Beach, Dorset, to lay out Harmony of the Seas' sports equipment to create a 'live' infographic. A team of 20 people spent seven hours laying out over 1,700 items of kit, half the pieces of sports equipment to be found aboard Harmony of the Seas, across 85 metres of
Last month Royal Caribbean chose Boscombe Beach, Dorset, to lay out Harmony of the Seas' sports equipment to create a 'live' infographic.
A team of 20 people spent seven hours laying out over 1,700 items of kit, half the pieces of sports equipment to be found aboard Harmony of the Seas, across 85 metres of sandy beach.
The equipment used for this event included 900 ball pit balls, 192 golf balls, 144 badminton shuttlecocks, 80 ping pong balls, 31 surf boards, 30 basketballs, 16 ice hockey sticks, 16 pool cues, 144 pool balls and 8 table tennis tables.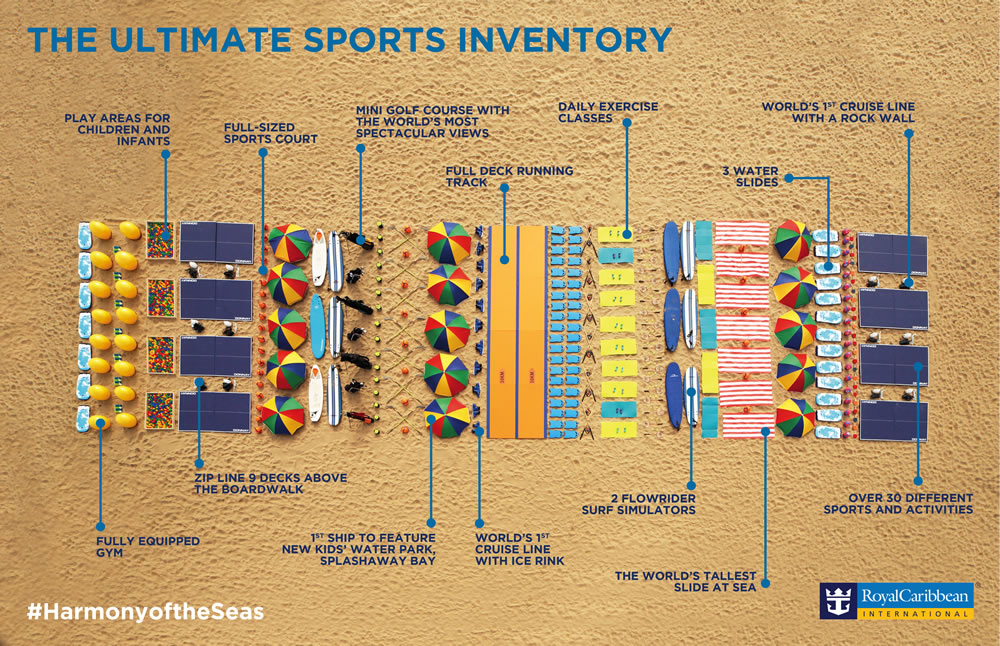 Sports activities aboard the ship will include badminton, table tennis, ice skating, surfing, and 'Blongoball' (a unique combination of bocce, horseshoes, croquet, and other lawn sports). The cruise line claims there will be over 30 different sports and games activities available on-board.
In addition to the sporting activities three water slides will be installed on the ship as well as a 10-story slide called the Ultimate Abyss.
Stuart Leven, Managing Director UK and Ireland said: "There aren't many holidays where families can visit multiple destinations, try their hand at ice skating, body boarding, a zip wire and learn how to Blongoball all in one trip! Harmony of the Seas offers holiday makers the opportunity to explore amazing destinations and enjoy a world of new experiences, with an activity to cater for every age and every taste."
Soon to be the world's largest cruise ship, Harmony of the Seas is currently under construction at the STX shipyard in Saint-Nazaire, France. The ship will sail a three- and four-night itinerary from Southampton to Cherbourg, France, and Rotterdam, the Netherlands, respectively next May. She will then reposition to the Mediterranean, offering seven-night sailings from Barcelona and Civitavecchia for the summer season. In October 2016 she will reposition to Fort Lauderdale, Florida, USA, and begin sailing seven-night alternating Eastern and Western Caribbean itineraries.
(Image credit to Royal Caribbean)