Search for your ideal Cruise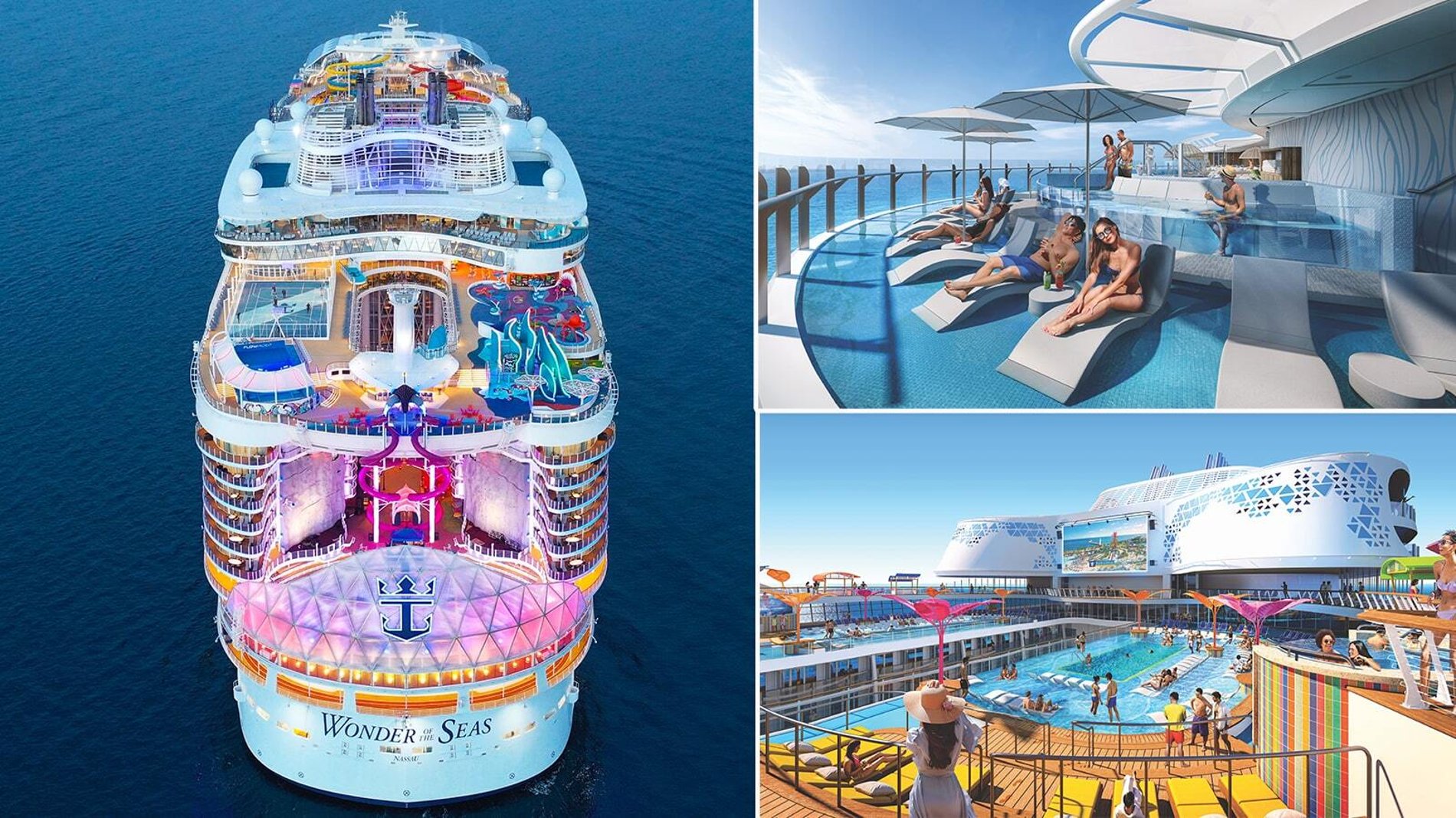 World's largest ship Royal Caribbean Wonder of the Seas sets sail - what's onboard?
Royal Caribbean has launched the world's largest cruise ship, Wonder of the Seas. What can guests expect onboard?
Royal Caribbean today welcomed its first guests onboard Wonder of the Seas sailing from Fort Lauderdale, Florida to the Caribbean.
Wonder is sailing seven-night Caribbean cruises through April before heading to Barcelona, Spain, and Rome for a summer in the Mediterranean.

"Taking delivery of Wonder of the Seas is the culmination of 30 months of ingenuity and partnership across more than 2,000 committed crew members and workers who are among the best at what they do," said Michael Bayley, president and CEO of Royal Caribbean International back in January.
"Along with taking the revolutionary Oasis Class ships to a new level of wonder, innovation and adventure, Wonder sets the stage for the spring and summer vacations families and all travellers alike are looking forward to in the new year.
"The combination of brand-new features and favourites that span thrills, entertainment, dining and nightlife is unparalleled, and it's what will make our latest and most innovative ship the world's newest wonder and the ultimate vacation in the Caribbean and Europe."

- READ MORE: Everything you need to know about Royal Caribbean -
Wonder of the Seas cabins
Wonder boasts eight unique neighbourhoods, a Royal Caribbean first. One of these is the Suite Neighborhood.
The new, eighth neighbourhood welcomes Royal Suite Class guests to a private Suite Sun Deck in a new location, which features a plunge pool and bar, in addition to favourites such as exclusive restaurant Coastal Kitchen, the Suite Lounge and the grandest Ultimate Family Suite yet for a family of 10.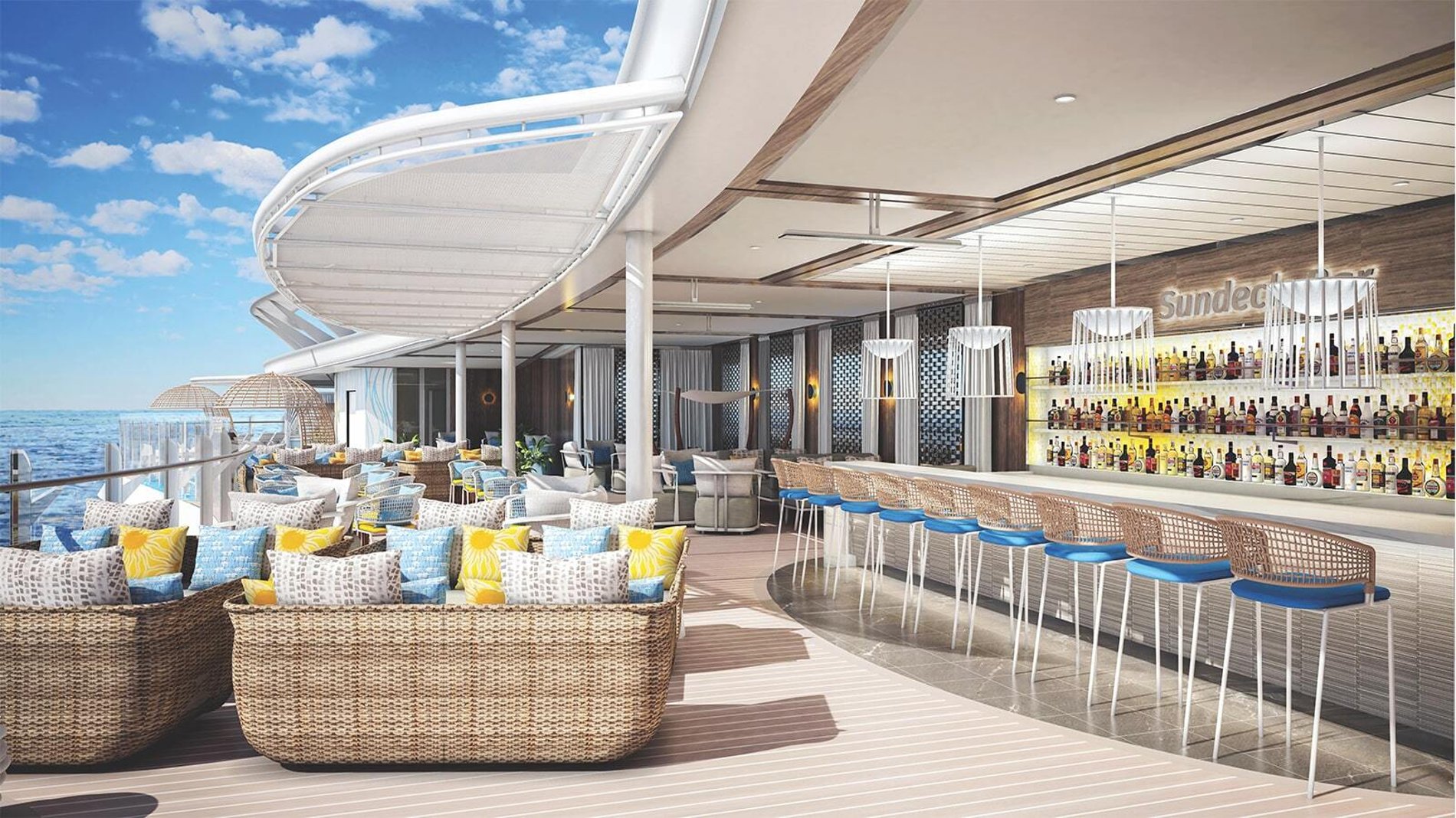 Wonder of the Seas dining
Wonder of the Seas will boast a line-up of more than 20 dining venues headlined by the debut of The Mason Jar Southern Restaurant & Bar.

Here Southern comfort food meets Royal Caribbean's hospitality and creativity. On the menu are staples and new twists on classics for brunch and dinner, and late at night, along with live country music, farmhouse-style decor, a robust collection of 19 American whiskeys and other Southern libations.
- READ MORE: How fast do cruise ships go? -
Elsewhere guests can expect an unmatched variety of flavours that range from Italian classics at Giovanni's Italian Kitchen & Wine Bar to American sports bar favourites at Playmakers Sports Bar & Arcade, to New England-inspired dishes at Hooked Seafood.

There's also a cantilevered pool bar named The Vue, which offers panoramic ocean views from high above on the pool deck during the day, while at night, the colourful mosaic canopy overhead comes to life.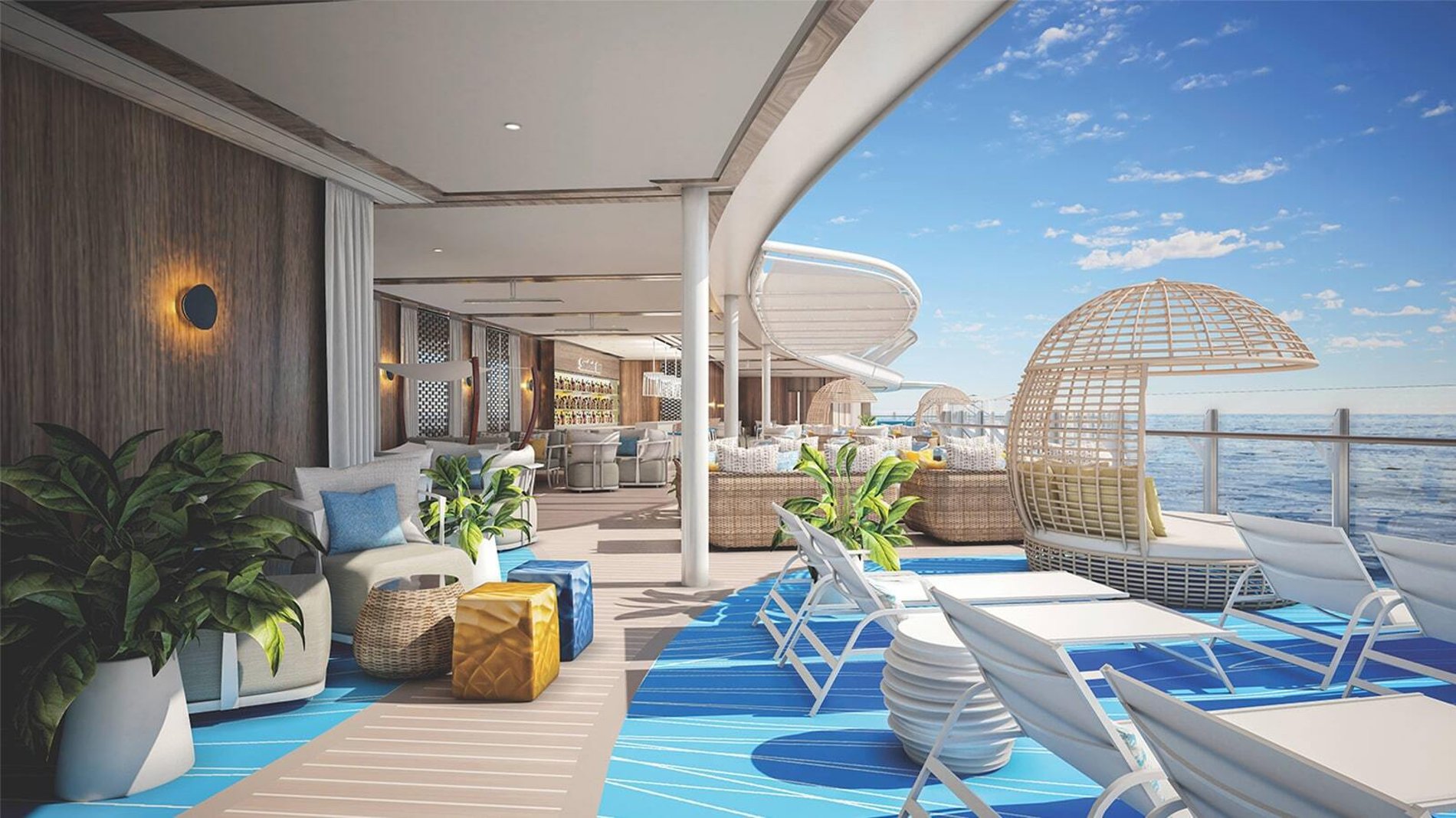 Wonder of the Seas entertainment
Little ones will love Wonder Playscape – an underwater-themed play area bursting with slides, climbing walls, games and an interactive mural activated by touch and puzzles.
Plus, nearby is Royal Caribbean's signature mini golf course, Wonder Dunes, with a new look and features.
Guests can also expect Royal Caribbean favourites on deck, such as The Ultimate Abyss, the tallest slide at sea; Central Park, the fine-dining neighbourhood filled with real plants from end to end; and a vibrant Caribbean-inspired pool deck experience.
Royal Caribbean has unveiled the new line-up of multisensory, original entertainment to come on the highly-anticipated Wonder of the Seas.
Befitting of the world's newest wonder, adventure and innovation will come to life across the cruise line's four signature and high-tech "stages," air, ice, stage and water, with four new productions:
inTENse
The AquaTheater's first and mighty all-woman cast dials up the energy and intensity in the one-of-a-kind, open-air amphitheatre with the deepest pool at sea.
Awe-inspiring athleticism will be on full display for this high-octane show as the epic cast performs Olympic-level dives from as high as 55 feet, slacklining feats, tumbling, aerial acrobatics and more, punctuated by inspiring lighting and sound for a fully immersive adventure.
- READ MORE: How to choose the best cruise ship cabins -
365: The Seasons on Ice
In the one and only Studio B, a unique story of the earth's changing seasons is told through the artistic movement of champion ice skaters.
Performers will embody the flow of time as their characters and their every move are accentuated by innovative projection mapping, colourful lighting and images, and sound, which transform the venue from one season to the next.

The Effectors II: Crash 'n' Burn
Debuting later this year in the Royal Theater, Royal Caribbean's very own superheroes – The Effectors: Captain Viz, Lume, Pixel and Reverb – return in an exhilarating, high-tech battle with their archnemesis Crash and his new sidekick Burn.
The heroes will use their superpowers, based on artistic talents, performance skills and the unlimited power of creativity, to save the planet and edge out their rivals once and for all.
The latest instalment of The Effectors is bigger and bolder, featuring trailblazing applications of autonomous technology pioneered by Royal Caribbean.
Voices: An Intimate Performance on a Grand Scale
The modern world of virtual communication fuses with the evocative power of live performances in an all-new style of musical production. The Royal Theater's bespoke show, featuring a wondrous medley of music, singing and dancing, will underscore the unifying power of performance art.
Wonder of the Seas itineraries

"Wonder will shine bright as the world's newest wonder in the Caribbean and the Mediterranean," said Michael Bayley, president and CEO of Royal Caribbean International.
"And what's in store is the ultimate vacation experience that highlights the very best of Royal Caribbean, reimagines renowned favourites and introduces new adventures every guest, no matter their age, can enjoy."
Three Night Western Mediterranean Cruise onboard Wonder of the Seas
Price: from £337pp (includes interior stateroom)
Departs from: Civitavecchia, Italy on 27th October 2022
Destinations include:

Naples/Capri (Italy)
Barcelona (Spain)
- READ MORE: The world's largest ocean cruise ships revealed -
Seven Night Western Mediterranean Cruise onboard Wonder of the Seas
Price: from £843pp (includes interior stateroom)
Departs from: Barcelona, Spain on 15th May 2022
Destinations include:

Palma de Mallorca, Spain
Provence (Marseille), France
Florence / Pisa (La Spezia), Italy
Rome (Civitavecchia), Italy
Naples/Capri, Italy
Cruising, Day at sea
Barcelona, Spain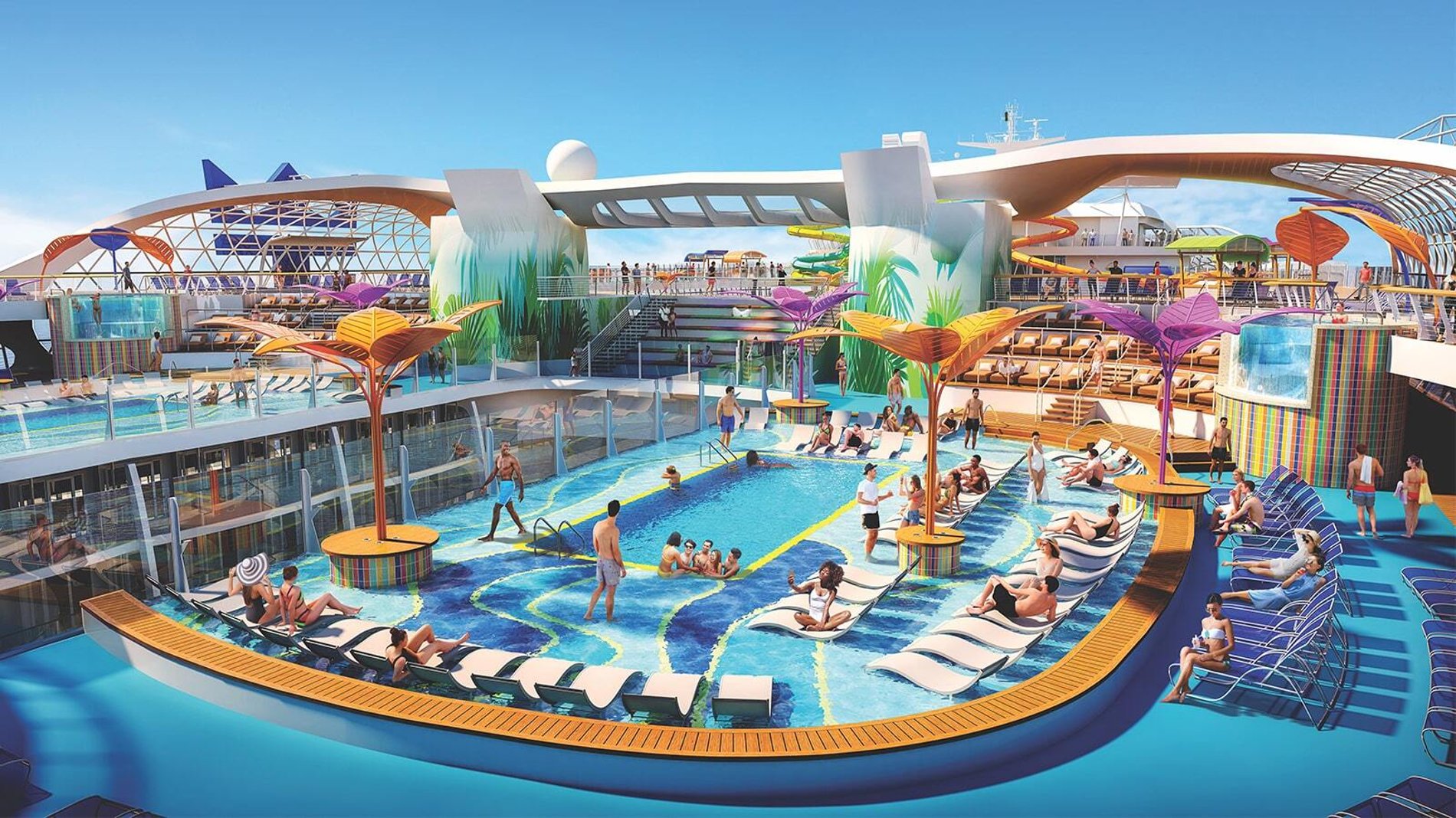 As for itineraries, during the inaugural European season, Wonder of the Seas will sail from Barcelona and Rome on seven-night Western Mediterranean cruises.
The ship is replacing Allure of the Seas which will sail a series of six - and eight-night Caribbean cruises. Anyone booked on Allure's Mediterranean itineraries has been automatically rebooked on Wonder.
Holidaymakers on Wonder will enjoy the sparkling shores of Europe's most iconic and historic destinations, such as Palma de Mallorca, Spain and Capri, Italy.
- READ MORE: Best cruise lines in the world for 2021 named -
On the other side of the Atlantic, Wonder of the Seas will offer seven-night sailings to the Eastern and Western Caribbean from Fort Lauderdale, visiting tropical destinations such as Cozumel, Mexico; Philipsburg, St. Maarten; San Juan, Puerto Rico, and more.
What's more, no matter the itinerary guests choose, every sailing will visit Royal Caribbean's private island destination, Perfect Day at CocoCay.

Sailings are open for booking now.