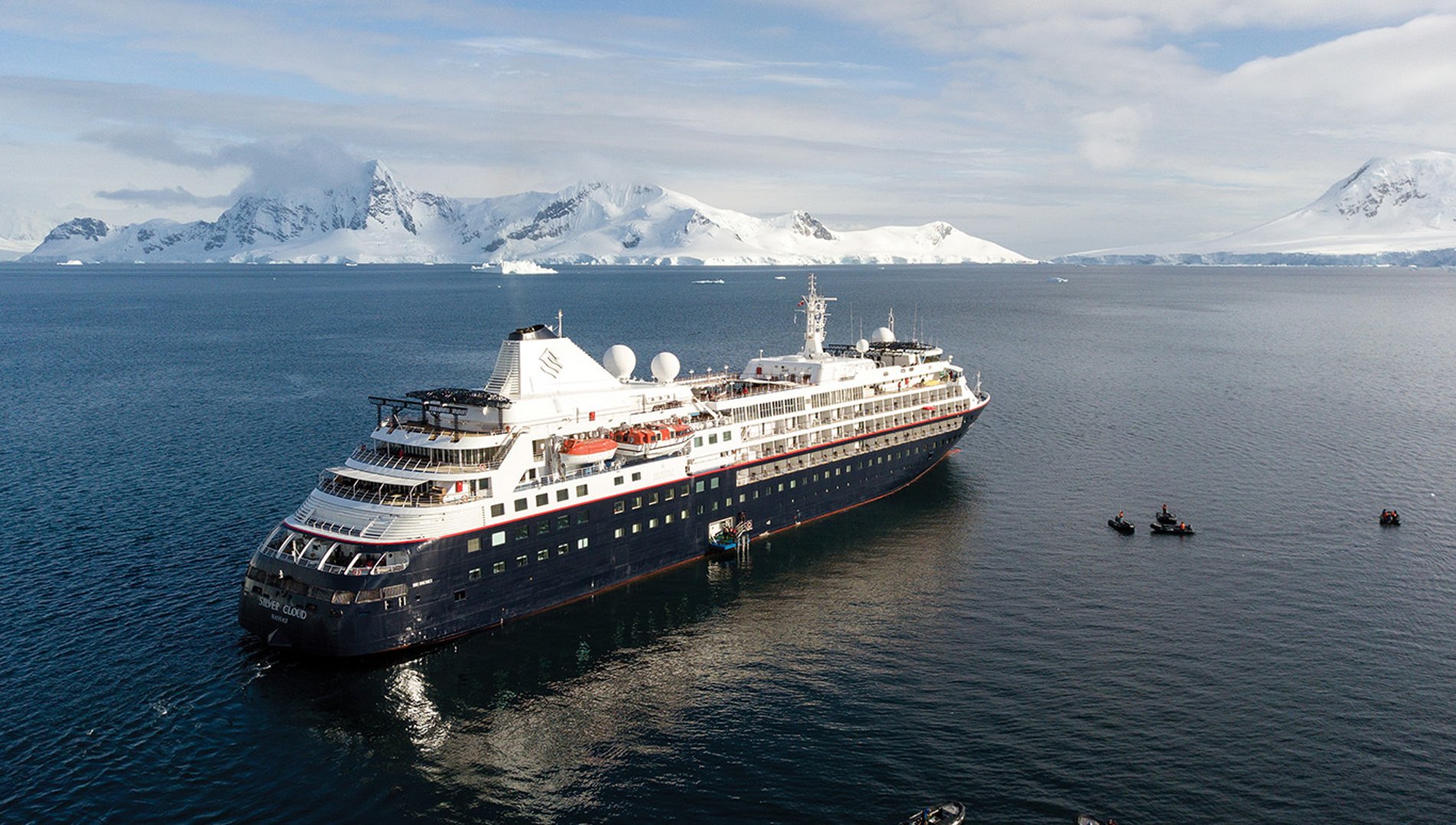 Ship of Dreams: A luxurious weekend on Silver Cloud
Silversea's Silver Cloud has been relaunched as an expedition vessel – but that doesn't mean guests miss out on those ultra-luxury touches
Silversea's Silver Cloud has been relaunched as an expedition vessel – but that doesn't mean guests miss out on the ultra-luxury touches that make her truly special
Sipping a martini on the top deck as we sail under Tower Bridge, union flags cracking in the breeze, I feel as though I'm in a James Bond film.
Only I'm no 007, and we aren't chasing a Russian agent along the Thames in a speedboat. No, I'm on board Silversea's ultra-luxurious Silver Cloud for a two-night trip to Dublin, as part of the celebrations to mark Silversea's tenth year of expedition cruising.
And while Silversea are old hands at this game, this is my first time on a cruise ship of any kind.
So far I'm stirred but not shaken. Maybe it's the champagne, the sense of anticipation or the novelty of being waited on by uniformed staff, but I quickly decide that this is how I'm going to travel from now on.
Silver Cloud is no ordinary ship, however. One of Silversea's fleet of nine, she was recently refitted as an ice-class expedition vessel, with extensive steel reinforcement, new sonar equipment and windows resistant to Antarctic temperatures (which can plunge to minus 70C on the plateau).
With accommodation for 254 guests and 223 crew, this 16,800 ton, 157-metre ship now makes regular expeditions to both polar regions, visiting the Svalbard archipelago and Greenland in the north, and crossing the notorious Drake Passage on her way to the penguin colonies and spectacular ice-scapes of the south.
Silversea's first expedition left London in 2008, aboard Silver Explorer, and from there the company has steadily extended its reach, launching expeditions to the Russian Arctic in 2012.
But on this trip many of the guests are still talking about a 2014 sailing via the Northwest Passage round the top of North America. The payoff for battling through those icy conditions? A polar bear, they tell me, which picked up the delicious aromas emanating from the galley and gradually inched its way towards the ship, eventually placing its paws on the hull.
While not even Silversea can guarantee an experience as special as that on every voyage, they have certainly ensured that all their guests feel thoroughly spoiled – at least if my own accommodation is anything to go by.

…AND RELAX
My cabin is, in fact, a veranda suite, with a queen-sized bed. There is also a "pillow menu". This is a new one on me, but in the interests of research I order a body pillow (normally used by pregnant passengers, I later discover, though it does wonders for my back ache).
The bathroom is well up to Ian Fleming standards, with marble flooring and Bulgari products. But it's my butler (yes, really) who makes the experience truly special, operating with amazing deftness and efficiency.
When I order breakfast in my suite, he works his magic in the sitting area and suddenly I'm enjoying grilled peaches with honey in a setting that would grace a six-star hotel.
Later that morning, conscious of calories consumed, I check out the onboard fitness centre. Here they have all the resistance machines, treadmills, cross-trainers and bikes you could wish for, plus classes in aerobics, yoga, Pilates and circuit training.
Those who prefer gentler forms of relaxation can head to the beauty salon or take a dip in the outdoor pool and whirlpools, where staff provide vast towels the moment you emerge from the water.
And when it comes to retail therapy, the onboard boutiques, designed by Italian architect Tiziano Vudafieri, offer designer clothes, jewellery, perfume and cosmetics.
If you just want to sit back and admire the view, Tor's Observation Lounge, atop the ship, is fitted with plush chairs and huge windows. And an extra special touch on Silver Cloud is the photo studio, which offers masterclasses in editing software – the perfect way to refine all the spectacular shots from your expedition voyage.

WHAT'S ON THE MENU?
It doesn't take a seasoned cruiser to know that food is a huge part of the whole experience, and I'm pleased to discover that Silver Cloud offers no fewer than four dining venues.
On the first night I head to the largest of these, The Restaurant, where I enjoy crab three-ways, braised oxtail, and a lemon tart that is less a pudding, more a work of art.
The following evening brings caviar – sustainably sourced, naturally – and I feel slightly embarrassed that I order beer with it, instead of fine wine or champagne. But hey, who says you can't mix luxury with mainstream?
Guests can also eat in The Grill by the pool deck; at La Terrazza, featuring authentic Italian classics, or at La Dame by Relais & Chateaux, which offers six-course fine dining.
For post-prandial relaxation there is Connoisseur's Corner, with a selection of cognacs and cigars, while a more energetic form of nightlife can be found at the Dolce Vita bar, with live music and a dance floor.

MAKING MEMORIES
On the last full day of our trip, I make my way to the Explorer Lounge for the inside story of how Silversea has built its expeditions brand.
"I came from an era when luxury and expedition didn't really fit," says the company's senior vice president Conrad Combrink.
"But Silversea wanted to create the world's first 100 per cent expedition, 100 per cent luxury experience."
That meant creating not just special ships, but special itineraries too. "It is all about the destination," Combrink continues. "Guests want to experience the region they are travelling to."
That's why it takes Silversea two to three years to scout a new location, with multiple visits to each potential site.
They also factor in engagement with the local culture, so that guests experience the authentic local flavours, sights and sounds – for example at Larsen Bay, a hotspot for fishing on Kodiak Island on the south coast of Alaska.
And that's not all, as Combrink explains: "We are planning to take a ship to Churchill, Canada, but there are no roads. So we need to think about the logistics and how we get fuel. You need to figure all of this out. It's a long, long process. You need a plan B, C and a few others too."
Yet despite all the meticulous preparation, there is still room for spontaneity, and it is often those moments – like that curious polar bear – that become the highlight of any expedition.
Combrink is well aware that guests board ships like these expecting memories they'll cherish for ever. "We play with people's dreams," he says.