Search for your ideal Cruise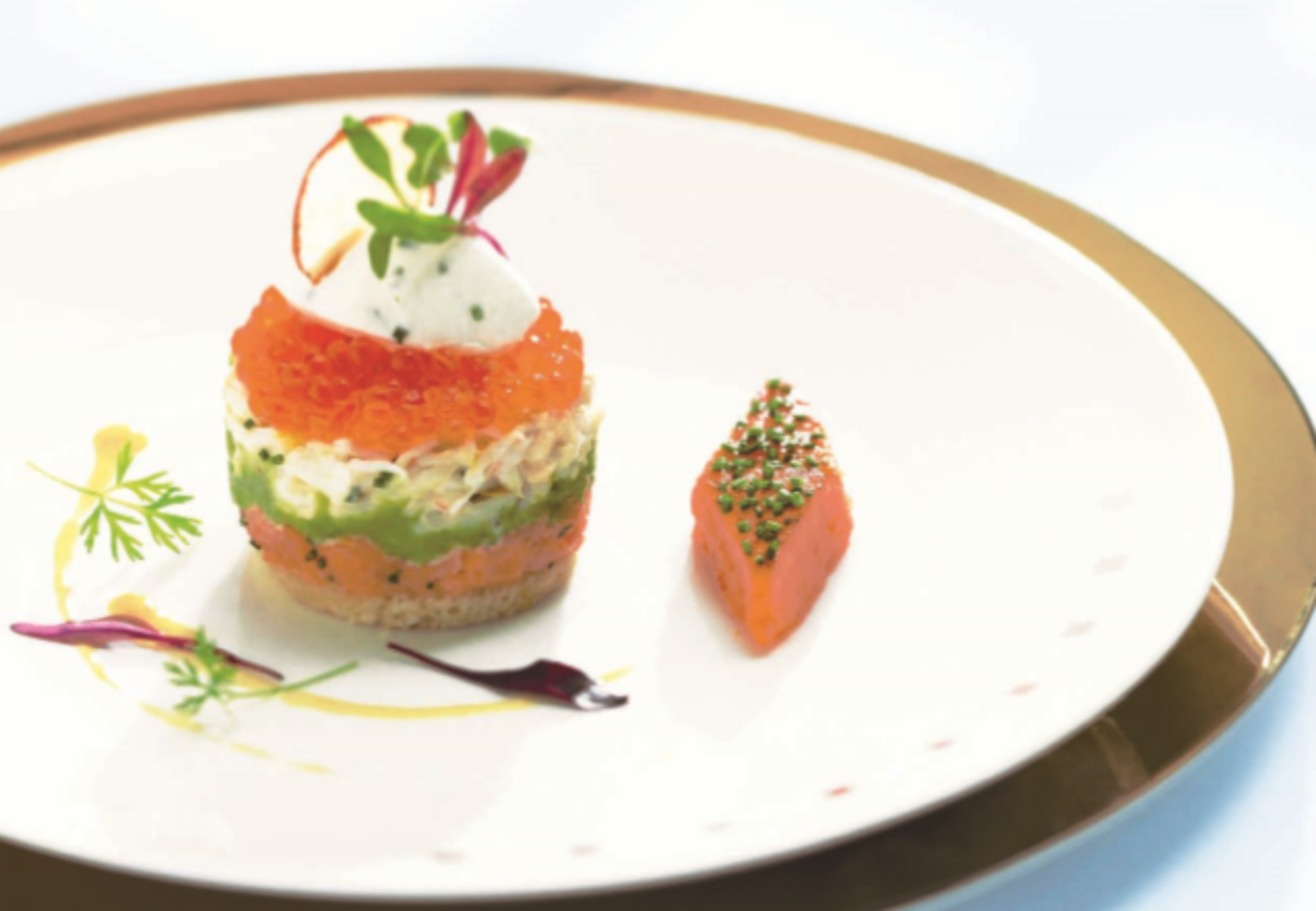 Smoked salmon and peekytoe crab parfait
This recipe of smoked salmon and peekytoe crab parfait can be tasted aboard Celebrity Reflection Serves 4 AVOCADO MOUSSE ♦ 2 avocados, skin and stones removed ♦ 1 tsp lemon juice ♦ 1 tsp salt ♦ 1 oz chopped fresh coriander ♦ 1 oz tomato, peeled, de-seeded and roughly chopped CRÈME FRAICHE ♦ 20 fl
This recipe of smoked salmon and peekytoe crab parfait can be tasted aboard Celebrity Reflection
Serves 4
AVOCADO MOUSSE
♦ 2 avocados, skin and stones removed
♦ 1 tsp lemon juice
♦ 1 tsp salt
♦ 1 oz chopped fresh coriander
♦ 1 oz tomato, peeled, de-seeded and roughly chopped

CRÈME FRAICHE
♦ 20 fl oz heavy cream
♦ ½ oz chopped dill and chives
♦ ½ tbsp lemon juice
♦ 1 splash of fish sauce

WHITE BALSAMIC DRESSING
♦ ½ cup of white balsamic vinegar
♦ 1 tbsp Dijon mustard
♦ 1 oz honey
♦ 1 tsp chopped shallot
♦ 1 cup of olive oil.

TOPPING
♦ Handful of micro greens
♦ 1 small jar of salmon or lumpfish caviar

SMOKED SALMON
♦ 1 fillet of smoked salmon, cleaned and trimmed
♦ 4 boiled eggs, whites and yolks chopped separately
♦ 1 oz chopped capers
♦ ½ oz fresh dill, chopped
♦ ½ oz fresh chives, chopped

CRABMEAT
♦ 2 tins of crabmeat, drained and squeezed
♦ 1 tsp lemon zest, chopped finely
♦ 2 oz mayonnaise
♦ 1 oz chopped chives

FILO PASTRY
♦ 2 sheets of filo pastry size 10
♦ 1 oz clarified butter
1 Wash the greens and reserve for placing on top of the parfait, just before serving.
2 Dice the smoked salmon. Mix gently with the chopped egg, capers and herbs, and set aside.
3 Mix the crabmeat with the lemon zest, mayonnaise and chives.Season to taste.
4 Next, prepare the avocado mousse by whizzing together the avocado, lemon juice, salt, coriander and tomato in a food- processor. Do not over-mix.
5 Prepare the crème fraiche by whisking the cream and mixing with the dill, chives, lemon juice and fish sauce.
6 Make the white balsamic dressing by blending the vinegar with the mustard, honey, shallot
and olive oil. Pour into a squeeze bottle and reserve.
7 Lay the filo pastry flat on a chopping board and brush with the clarified butter.Cut into circles using a round cutter. Bake on parchment at 100 degrees until golden brown.
8 Using a round mould, layer up the salmon, pastry discs, crabmeat, avocado mousse and caviar, one layer on top of the other. Place a quenelle of the crème fraiche on top.
9 Prepare each dish with a swirl of balsamic dressing and place the parfait in the middle.Scatter the microgreens on the side and top of the parfait.