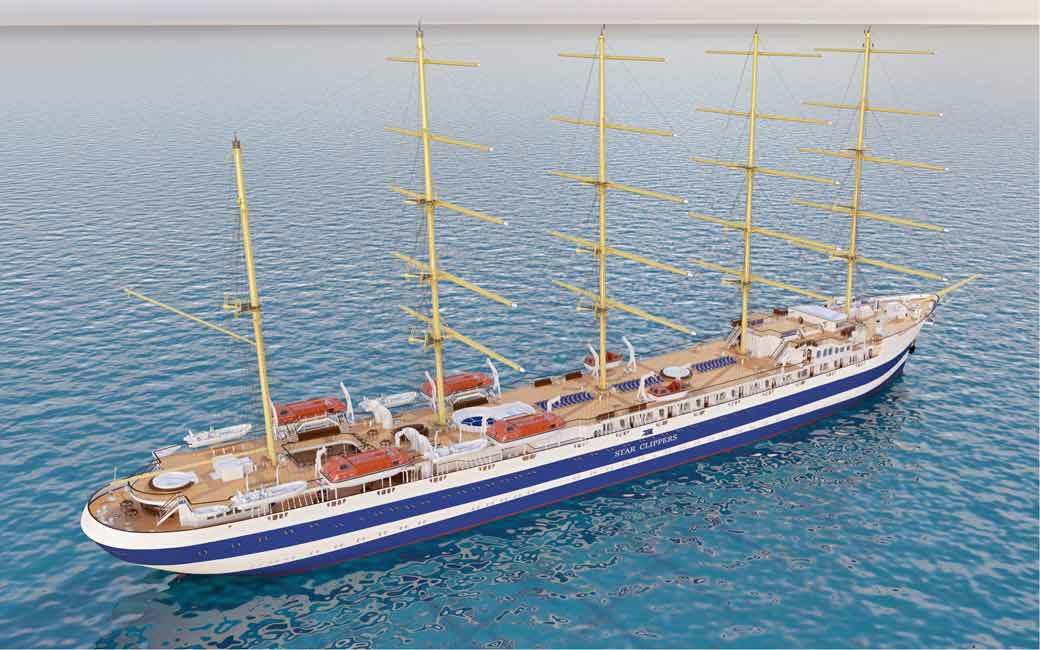 Star Clippers building biggest sail cruise ship
Tall ship specialists Star Clippers is building the biggest sail-powered cruise ship ever. The new vessel, the company's first since the launch of Royal Clipper in July 2000, is scheduled for launch in 2017. The new ship, measuring 8,770 tons and carrying 300 passengers, will be a five-masted, square-rigged barque. While the company's flagship Royal
Tall ship specialists Star Clippers is building the biggest sail-powered cruise ship ever. The new vessel, the company's first since the launch of Royal Clipper in July 2000, is scheduled for launch in 2017.
The new ship, measuring 8,770 tons and carrying 300 passengers, will be a five-masted, square-rigged barque. While the company's flagship Royal Clipper is modelled on the legendary German sailing ship Preussen, the new member of the fleet will be a near-replica of the even more dramatic France II, commissioned in 1911 and the largest square rigger ever built.
Mikael Krafft, Monaco-based founder and owner of Star Clippers, said the ship was "an ambition I have had for a long time. The ship's rig will be identical to France II and dimensions will be very similar, although we have added various features that will make this the most magnificent passenger sailing ship afloat."
As well as the generous deck space only found on a sailing ship, the new vessel will have three pools, one of them funneling sunlight through the ship's atrium and into the restaurant – which will accommodate all passengers for open-seating dining.
There will be a watersports platform in the stern for use when the ship is at anchor and a variety of cabin grades, including 34 suites with balconies and four luxurious owner's suites. Regular guests will be delighted to discover their favourite hallmarks of all Star Clippers ships, such as the cosy library, the bowsprit net and the popular, al fresco Tropical Bar, where evening entertainment takes place. While the ship will have ecologically sound, high-tech engines, it will, like its sisters, rely on wind power and its sails whenever possible.