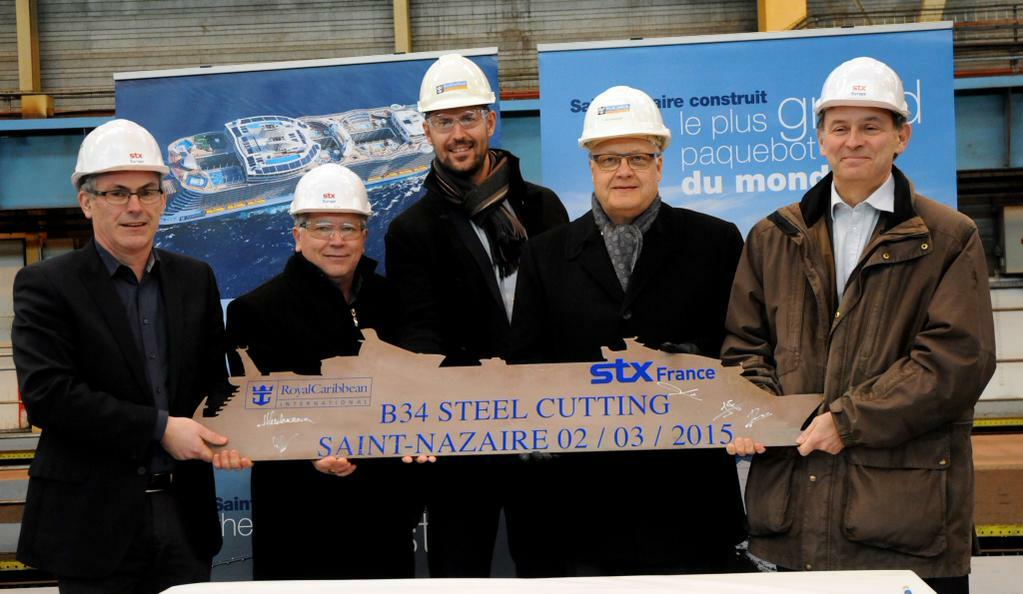 STX France starts work on Oasis 4
The project to build Oasis 4, the fourth in Royal Caribbean's Oasis-class, officially began yesterday following the tradition of the steel cutting ceremony. Present were Pettri Keso and Harri Kulovaara representing Royal Caribbean along with Jean-Yves Jaouen, Jean-Yves Pean and Laurent Castaing representing STX France. The steel cutting ceremony took place at STX France's Saint-Nazaire
The project to build Oasis 4, the fourth in Royal Caribbean's Oasis-class, officially began yesterday following the tradition of the steel cutting ceremony.
Present were Pettri Keso and Harri Kulovaara representing Royal Caribbean along with Jean-Yves Jaouen, Jean-Yves Pean and Laurent Castaing representing STX France.
The steel cutting ceremony took place at STX France's Saint-Nazaire shipyard and ceremoniously marked the start of the project that will run until 2018 when the ship is expected to be delivered.
Oasis 3 is currently under construction by STX France and is scheduled for delivery in mid-2016. Whilst details about what we can expect to see on Oasis 3 are limited we do know that she will become the world's largest passenger cruise ship at 227,700 gross tons – Allure of the Seas and Oasis of the Seas both currently hold the title at 225,282 gross tons each.
It is a busy period for Royal Caribbean as they await delivery of a raft of new vessels. Anthem of the Seas, sister ship to Quantum of the Seas, is nearing completion at the Meyer Werft shipyard in Papenburg, Germany and is due for delivery in April 2015. Work began on Ovation of the Seas, the third vessel in the Quantum-class, in September 2014 and this has a delivery date of mid-2016.
In December 2014 sister cruise line Celebrity Cruises signed a letter of intent with STX France for a pair of vessels. Dubbed "Project EDGE", these vessels will be part of an entirely new class of ship for the cruise line and will build upon the offerings found on their Millennium- and Solstice-class vessels. These are expected to be built and delivered by late 2018 and early 2020 respectively.
(Photo credit to Royal Caribbean)