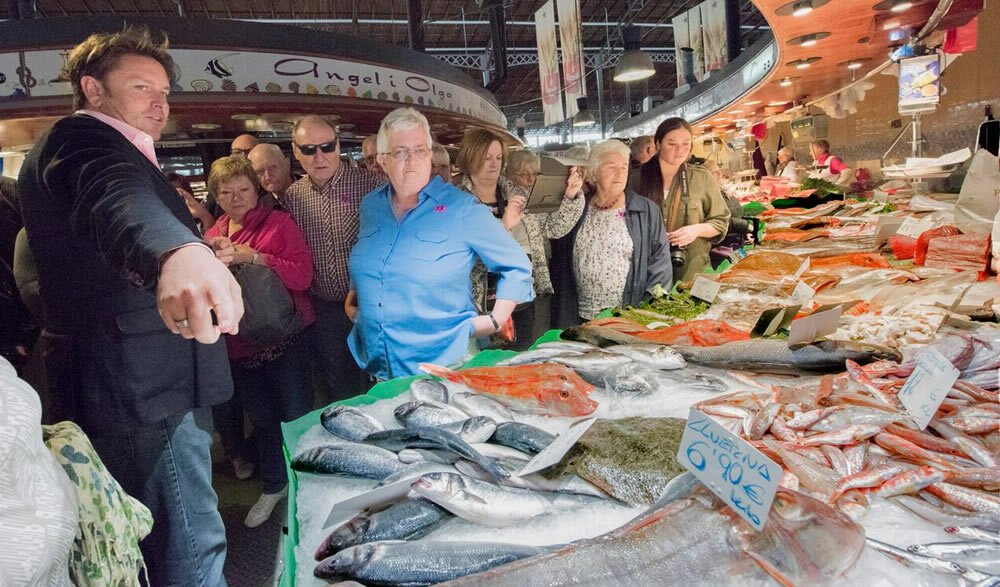 Take a cook's tour with P&O's celebrity chefs
Food Heroes are Louise Roddon's inspiration as she checks out everything Britannia has to offer the hungry gastronaut. From schmoozing guest celebrities to greasing ramekin dishes – fans of BBC's Saturday Kitchen Live will know James Martin as the chef who deftly flits between the two. Aspiring cooks can now do more than simply turning
Food Heroes are Louise Roddon's inspiration as she checks out everything Britannia has to offer the hungry gastronaut.
From schmoozing guest celebrities to greasing ramekin dishes – fans of BBC's Saturday Kitchen Live will know James Martin as the chef who deftly flits between the two. Aspiring cooks can now do more than simply turning to their televisions for inspiration on a bleary-eyed Saturday morning.
As the face of arguably the sleekest-looking cookery school at sea, Martin is heading up an impressive dollop of foodie attractions on P&O Cruises' Britannia – and that means the chance to try out hands-on masterclasses, join him on market tours, or even glean culinary tips over fine wines and fabulous food at one of his hosted Chef's Table dinners.
This makes a chef-accompanied voyage a magnet for all foodies – a latter day Cook's Tour if you like – with a fleet of additional celebrity Food Heroes fleshing out Britannia's Cookery Club. Listed on future sailings is an impressive roll call of famous names spanning Baking Queen Mary Berry, Marco Pierre White and Paul Rankin, to Michelin-starred Nathan Outlaw and Cake Boy Eric Lanlard.
The Food Heroes line-up expands into yet more recognisable names, and if you're a budding chef, it's not hard to imagine what fun it would be learning the secrets of perfect pasta from jovial Antonio Carluccio, or having the daddy of dainty food Pierre Koffmann whisking you to a future of lump-free bechamels. A word of warning though: this Cookery Club, where classes cost from £45, to £100 for celebrity chef tutorials, (the Chef's Table dinner setting you back between £150 and £200pp) is the icing on the cake for Britannia – and as chef tutor Rob Cottam tells me during the maiden voyage, "we've had sell-outs for places some six months ahead of sailing dates."
With James's masterclass fully booked, I opt for Rob's "Best of British" – a two-and-a half hour whizz-through the rustic underworld of Cornish pasties, chutney, miniature Scotch eggs and posh Welsh rarebit. So, to the light-filled 17th deck Cookery Club I go, where I don a crisp apron and chef's hat and take my place at one of three long white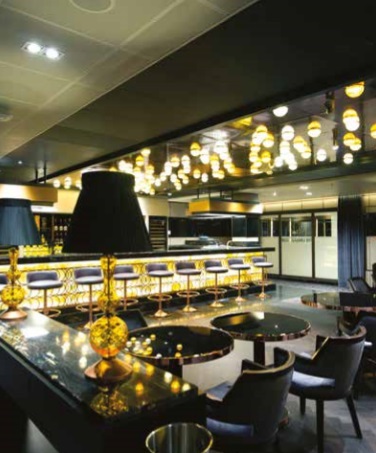 marble workstations.
An avarice-inducing array of marble pestle and mortars, rolling pins, gleaming steel knives and scar-free chopping boards match pre-prepped bowls of flour, butter, raw steak, onions and potatoes – the essential ingredients for picture-perfect pasties.
Rob Cottam may not share James Martin's glamour credentials, but he proves a charming and encouraging tutor. "We've had passengers come up and say, 'I'm not a very good cook. Can I do these classes?' I tell them of course, and for those who can cook, we can help hone those skills. Best of all, you eat what you cook and there's no washing up."
The school can accommodate 24 students at 12 workstations. Our slightly smaller group is a mix of the super-confident and simply keen, and with printed instructions to one side, I labour over bubbling pots and steam-swathed pans and pound pastry with Rob's advice to "give it some welly" ringing in my ears.
It's all good instructive fun in a very unstuffy British way – rather like having Fanny Cradock at the helm without the fluster or F-words. And I pick up plenty of tips: how to chop onions without ending up in casualty (the secret? slice like a fan), the best method for mottle-free pastry dough by adding water little by little, and that chutney, despite its bad press, is actually easy-peasy to make. But Britannia's culinary credentials aren't just limited to The Cookery Club. Complementing Meridian and Peninsular, the main dining rooms, are top-notch speciality restaurants, each with its own galley and dedicated team of chefs. They command a supplementary charge, but judging by the rather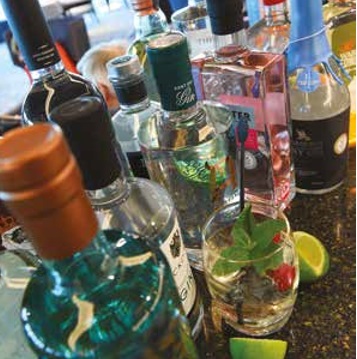 lacklustre sirloin we tried in Peninsular on our first night – a piece of meat we sent back twice until cooked to medium rare – it can pay to save your visit for the Gala menus devised by Marco Pierre White.
His offerings include starters like fresh asparagus spears with soft poached egg and sauce mousseline, to New England split lobster in Mornay sauce, with Proseccopoached strawberries to finish.
Atul Kochhar's swish-looking Sindhu is bathed in soft rose-gold lights and sports an Art Deco feel to its dark wood and burnt orange furnishings. "Sindhu now becomes the main P&O restaurant for me," Atul tells me," with the other ships eventually mirroring its modern British Indian menu. I've incorporated ingredients I've not used before like venison and duck – and an increase towards vegetarian elements." I kick off with Atul's signature dish, crisp fried soft shell crab and tomato, cucumber and passion fruit salsa – exquisitely crunchy, with just the subtlest marine tang lurking beneath its crisp coating. Spice-balanced Gressingham duck breast served with a Punjabi Masala and three bean stew follows, then Mungfali aur Chaklet – a peanut butter parfait with sugar palm ice cream.
More Poirot-style elegance hallmarks the cream toned Epicurean, a top deck dinner venue that F&B manager Peter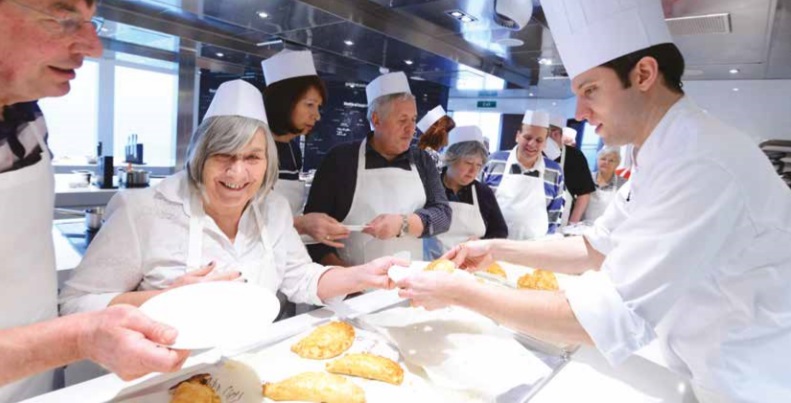 Toms describes as "defining the Britannia concept." Dramatic abstract gold wall hangings add to the setting for contemporary British cuisine that not only tastes good but looks pretty enough to frame.
I relish my salt and pepper oyster and jumbo prawn tempura – particularly its unusual horseradish ice cream accompaniment, and the delicate pyramids of wild boar that follow, alongside a smoked pork cheek croquette and Lancashire black pudding, taste heavenly. But the real bombshell, both in looks and flavour, is the Crème Brulee. It accompanies an incendiary-shaped white chocolate sphere which explodes to a spill of raspberry pearls, candy floss and caramelised popcorn.
Abundant sweet treats make up Epicurean's Afternoon Tea – a bargain at £15 a head compared to the fortunes charged in five star hotels. This is, after all, master patissier Eric Lanlard's creation, where a resplendent triple tier of sweet and savoury cakes spans a cracked black pepper macaron stuffed with smoked salmon and dill to an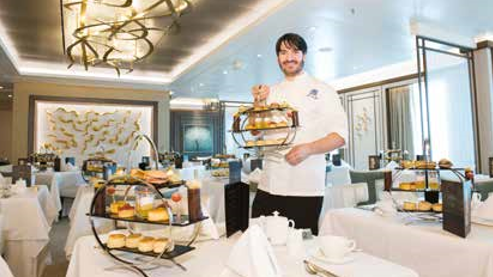 unforgettable dark chocolate teardrop, doused in Italian Amarena cherries.
For a complete change of scene I head to the Limelight Club – P&O Cruises' intimate supper club venue. Plum coloured armchairs surround bronze tinged circular tables beneath spangled ceiling lights, giving the feel of a raffish London nightclub from the 1970s. But the menu is contemporary enough: pulled ham hock rillette preceding precision-cooked line-caught sea bass fillet. Wisely, the lights are kept on during dinner before dimming to the floor show – for us, a round of songs and mother-in-law jokes from "Last Tango in Halifax" actor, Dean Andrews.
Noteworthy too, are the charcuterie and seafood offerings in the Atrium's Market Café. Likewise, Olly Smith's Glasshouse has an impressive tapas-style menu encompassing miniature burgers to tempura prawns. These both make good alternative lunch venues given the disappointingly bland array hallmarking the Horizon buffet. Now if James Martin could waggle his magic around the kitchens here, Horizon could make for a smart addition to an otherwise very fine ship.