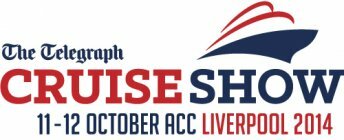 Telegraph Cruise Show for Liverpool
Following the successful launch of The Telegraph Cruise Show in London at the start of this year, the media group has announced the dates for its first regional Cruise Show in Liverpool, on 11th and 12th October. The Telegraph Cruise Show Liverpool will take place at Liverpool's Echo Arena and plans to move to the
Following the successful launch of The Telegraph Cruise Show in London at the start of this year, the media group has announced the dates for its first regional Cruise Show in Liverpool, on 11th and 12th October.
The Telegraph Cruise Show Liverpool will take place at Liverpool's Echo Arena and plans to move to the new ACC Exhibition Centre in 2015. As the city in which the first cruise ship was launched and a cruise terminal at the heart of this UNESCO city's waterfront, Liverpool provides the perfect location for a cruise show.
Joe Anderson, Mayor of Liverpool who will open the show, said: "Liverpool is renowned for its strong maritime history, and we continue to proudly play an integral role in today's cruise industry. The cruise sector is hugely important to Liverpool and it is no exaggeration to say the cruise liner terminal has reinvented the city. When it opened in 2007 three cruise ships came to the city and this year we will welcome more than 50."
The Telegraph Cruise Show Liverpool will follow the format of the London show with a stellar line up of talks by celebrity speakers, Telegraph travel journalists and cruise lines.
Angus Struthers, director, Cunard said: "Cunard's experience at the first Telegraph Cruise Show in London was very rewarding with positive feedback from visitors who were new to cruise as well as those that have sailed Cunard many times. Liverpool was Cunard's home for 127 years so the opportunity to be part of a dedicated cruise show that will evoke such strong memories of our history is a really exciting prospect."
Visitors to the show will be able to meet the leading cruise lines, seek advice on the most desirable cruise destinations, gain insights into shore excursions and life on-board as well as discovering the latest cruise itineraries and offers.
Kieron Summerhayes, Cruise Show Director, TMG: "We were very pleased with the show experience we created in London and look forward to bringing this to Liverpool. We will again deliver an interactive, engaging visitor experience with high level talks and feature areas including tours of the Liverpool Cruise Terminal and a ship visit, ideal for our new to cruise visitors offering a real insight into the entire cruise experience."