Search for your ideal Cruise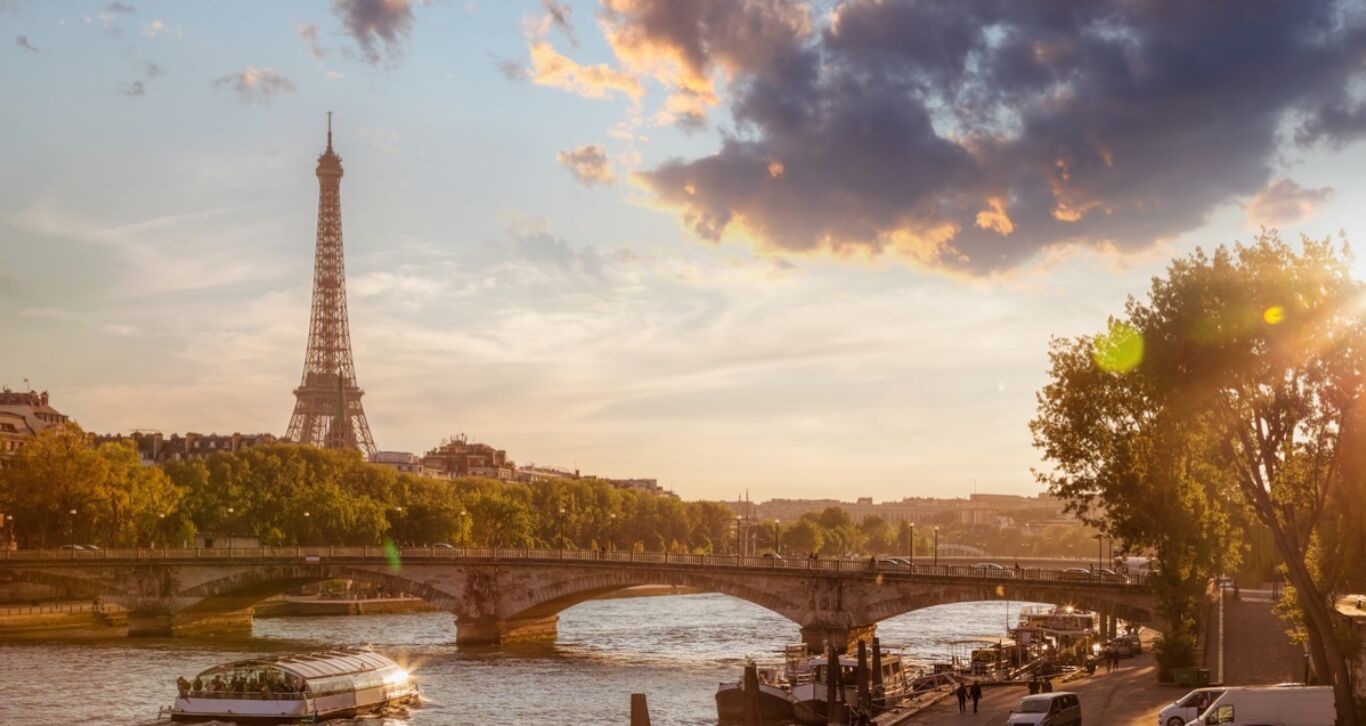 The Scenic Route
Ten days on the Seine left river-cruise sceptic Mitchell Symons eager for more. Over the years my wife and I have been on at least 90 cruises and we've loved every one of them (well, almost every one). For me, the great attraction is life on board: the food, the entertainment, the activities. While for
Ten days on the Seine left river-cruise sceptic Mitchell Symons eager for more.
Over the years my wife and I have been on at least 90 cruises and we've loved every one of them (well, almost every one). For me, the great attraction is life on board: the food, the entertainment, the activities. While for Penny, the ship – however lovely – is just a way to reach the ports of call. An ocean voyage is our perfect compromise: I get the ship, she gets the stops.
I'd always resisted river cruising, assuming it was all about the itinerary, and that the ship was only a means of transport – a mere B&B, where an ocean-going vessel was more like resort. I should also add that I loathe coach trips – I can't stand being organized and told what to do.
Then one day I spotted an ad for Scenic Cruises in which they mentioned their electric bikes, which you can take off the boat and use to go exploring on your own. The prospect of independence was too enticing to resist, and we decided to give river cruising a go.
We chose a return trip from Paris because – incredibly – we'd never been there in our 35 years of marriage. We also wanted to visit Honfleur and see something of the Normandy countryside, including the chateaux and palaces for which the region is renowned. The idea was that Penny would take the organized coach tours while I went off on my own to chat with the locals. I'm reasonably fluent in French and I like nothing better than learning about how people live (in other words, while Penny is fascinated by the past, I'm intrigued by the present).
Our flights from Southampton to Paris were included in the fare – as our transfer to the ship would have been, had we flown in on the day of the cruise. But having spent the night in Paris, we made our own way to the ship, which was moored next to the charming Parc André Citroën, just a mile or so from the Eiffel Tower.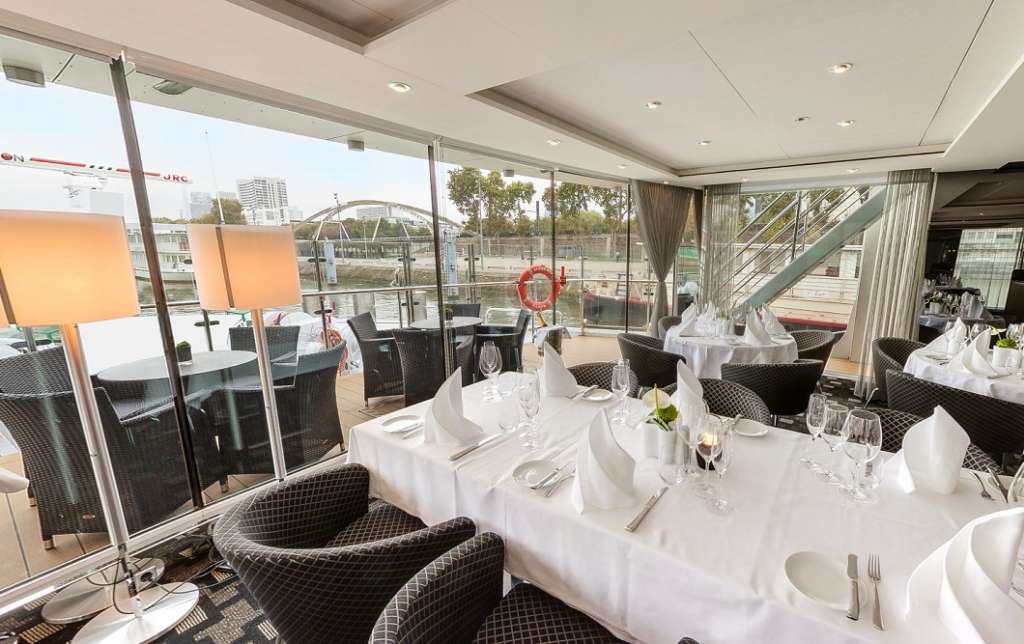 Getting on board the Scenic Gem was our first big surprise. There was no embarkation process. I mean none whatsoever. We got out of the taxi, and two people glided up to us and took our cases. "They're not labelled," I said. They smiled and told us not to worry. We stepped on board, where we were welcomed with a hot towel, and went straight to the lunch buffet. After that we retired to our cabin, where our bags awaited us.
The cabin was slightly smaller than its equivalent on an ocean ship but, with a king-size bed, large wardrobes, a desk and chair, it was plenty big enough for us. Best of all, the balcony was integrated into the cabin itself, so that when the window was up, we had a charming sitting area. Then, when we lowered the window to waist height, it reverted to a traditional balcony. It's a brilliant use of space that makes a small cabin feel as roomy as a mini-suite.
The bathroom was also surprisingly generous, with a huge shower, and we kept finding cupboards and drawers that we didn't need to use, even though we hardly travel light. There was mini fridge, too, well stocked with alcohol (all free) and mineral water.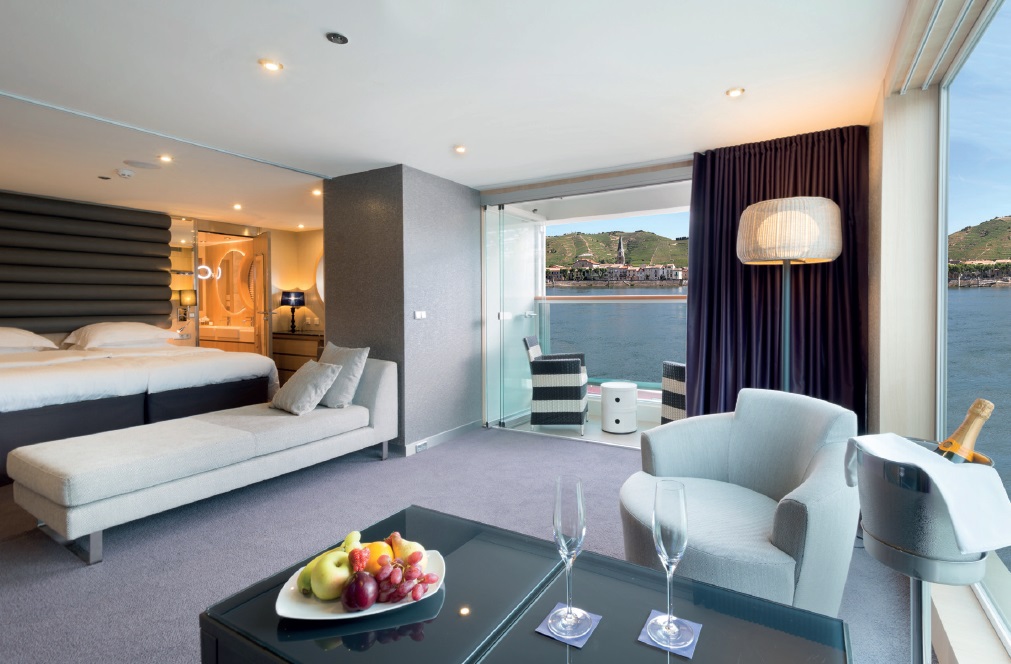 Elsewhere on the ship, the Royal Suites have a sitting area with a sofa and armchair, and the deepest bath I have ever seen, but our balcony cabin was more than adequate – in fact it seemed bigger as our days went by.
The free drinks package, which includes Champagne and premium brands, proved hugely popular with our fellow passengers and it made for a merry – though never rowdy – atmosphere on board.
At just over 60, Penny and I were among the youngest of the 97 guests, but our seniors were all active (far more so than I was, most of the time). About half were from Australia – Scenic is an Australian company – and some were combining this cruise with another itinerary, in and out of Bordeaux.
With such a small number on board we soon got to know everyone, passengers and crew alike. Valerie, the cruise director, and Thomas, the hotel manager, are the public face of the Scenic Gem and do everything for you – from arranging transfers to catering for individual diets.
Nothing was too much trouble for them and their team. At each port of call, Valerie was on hand to guide you on to your excursion or, if you were going out on your own, she would offer valuable advice. Maps were always available and every passenger was supplied with a fantastic piece of kit: Scenic's tailor-made handheld GPS gadget which automatically knows where you are and provides you with a running commentary.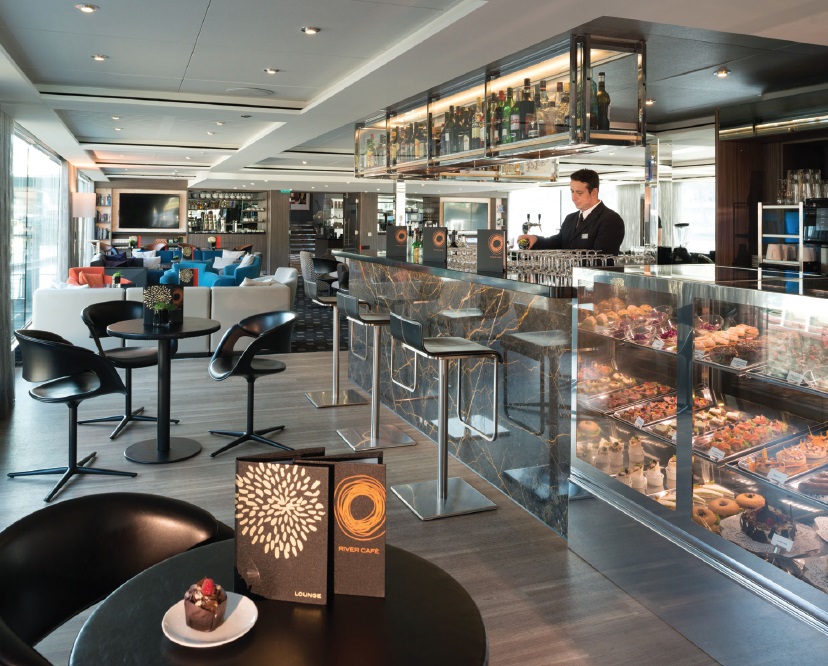 As I said at the beginning, for me the ship is a destination in itself, and though it is a much smaller vessel than I'm used to, Scenic Gem did not disappoint. There is a large lounge with a café, where you can get a light breakfast or lunch, as well as a spacious sundeck with more than enough seats and loungers (there would be no arguments with fellow passengers over lounger-hogging). There is also a small but well-equipped gym.
At first I was still a little concerned by the lack of things to do on board but everything looked better after a magnificent dinner and, after watching the scenery as we meandered down the Seine towards our first port of call, Les Andelys, I was filled with a sense of relaxation that was to last the whole holiday.
The great thing about river cruising is that there is always something to see, and you dock right in the middle of a town or village so there's no shuttle bus or commercial port to negotiate. We wandered round charming Les Andelys and then took a coach trip to Lyons la Forêt – one of the most beautiful villages in the whole of France – followed by a visit to Fleury-la-Forêt castle, where we saw an impressive restoration project and were treated to cider – the regional speciality – and cake.
Having stated my dislike of organized excursions, I have to say that Scenic's tours – all included in the price – were extremely well arranged, with decent coaches and good local guides.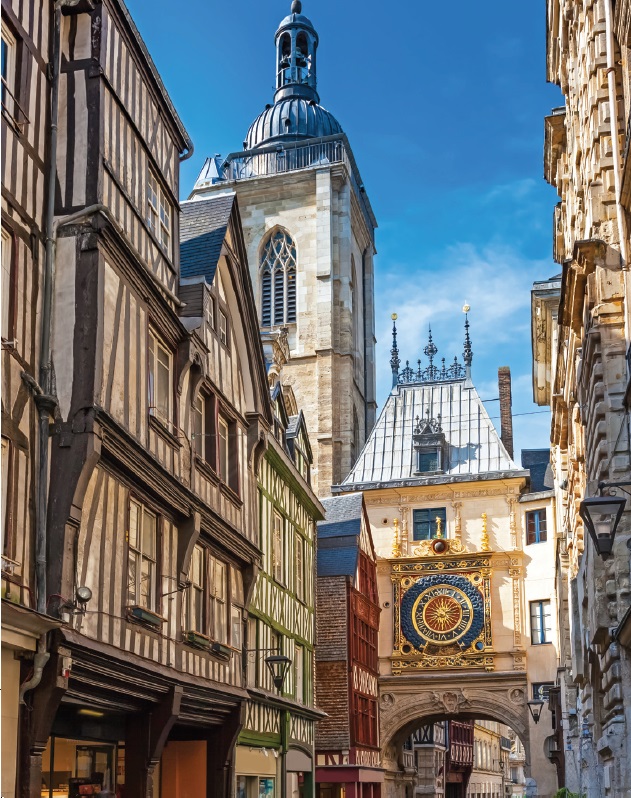 But I still prefer independent sight-seeing, so at Rouen, rather than take the full-day tour of World War 1 battlefields, I chose to stroll around this magnificent city. I'd been there before, but 45 years ago for half a term's schooling (I was pleased to note that the educational establishment where I learned to smoke, drink beer, ride a moped and listen to heavy metal was still there).
After Les Andelys our ship made its leisurely way downriver to Honfleur, where the Seine meets the English Channel. This proved to be delightfully quaint, and we happily immersed ourselves in its architecture and shops.
The great thing with the Scenic Gem is that you can come and go entirely as you please, in the certain knowledge that you won't be subjected to security checks and bag searches when you come back on board. The ship knows each and every one of its guests and you just beep the entrance button with your key card. That means there's never a reason not step off the ship for a quick coffee in town.
From Honfleur we were taken by coach to Manoir d'Appreval for drinks, snacks and a chance to see something of rural France before returning for another sumptuous dinner, with a local swing band on board to play for us.
The following day saw most people take an excursion to the site of the D-Day landings. But having explored the Normandy beaches on a previous occasion, we took out the electric bikes and set off to explore on our own.
These e-bikes turned out to be a highlight of the trip, and we used them again next day to visit the Victor Hugo Museum in the charming village of Villequier. As we rode along – at up to 25mph – we were struck by the sheer beauty of the Normandy countryside, and we felt as though we were moving at the perfect speed to appreciate it.
That evening I stayed on board (Catalin, the ever attentive maître d', had promised there would be something rather special for dinner) while Penny went out to visit the Benedictine Palace at Fécamp. This Hogwarts-like edifice is where the drink of the same name is made, and Penny dined magnificently with her fellow guests in the Abbots' Hall while being serenaded by some wonderful musicians.
On her return Penny gave the whole experience such a rave review that I almost wished I'd forsaken my own fabulous dinner and movie evening (the cabin's large screen features an excellent selection of free films, together with British TV channels). Almost…
From Caudebec we cruised along the Seine at its most scenic to Vernon where, once again, we took to the e-bikes – with increasing confidence –to visit Monet's garden. This was every bit as stunning as we could have wished but it was horribly crowded and the day was so warm that we left after a short while to enjoy the breeze of the open road. As we whizzed along back to the ship it was easy to see why this region has inspired so many great artists.
Further up the river at Conflans, I took the lazy option (again) and strolled around the village while Penny went to Chantilly for a guided tour of its remarkable château, set amidst beautiful parklands. As a keen horsewoman, she spent most of her time at the Royal Stables and the Museum of the Horse which, she tells me, was excellent (why don't we have one in the UK?).
That night we cruised back into Paris and, after the captain's farewell dinner of lobster and Chateaubriand steak, we sat in the lounge, adjusting our eyes to the lights of the big city.
We still had a full day in Paris ahead of us, and while I visited the Eiffel Tower, Penny went on a final excursion to the 17th century Vicomte Palace, Louis XIV's inspiration for Versailles. Featured in the James Bond movie Moonraker, the palace has spectacular formal gardens and an interesting exhibition of carriages in the former stables. Privately owned, it leads one to marvel at the bravery of those willing to take on these money-pits.
We had done so much, yet the ten days had flown by and all too soon we were packing up to go home. Exchanging email addresses with our new friends and vowing to keep in touch, we left early the next morning.
Disembarkation was as effortless as embarkation had been, and the final bill was zero. Gratuities were all included in the upfront fare, as were drinks, wi-fi and tours. A handshake from Thomas and a hug from Valerie and we were off.
It was a fabulous experience and although we will continue to sail the open seas, thanks to Scenic we have become instant aficionados of river cruising too.
FACT FILE
Scenic Gem was built in 2014 and carries 128 passengers in 64 staterooms, with 44 crew. Facilities include two restaurants, a spacious top deck with shaded relaxation area, a gym and a spa. A lift connects the three cabin decks.
The following are all included in the fare:
Gratuities (on board and ashore)
Port taxes
FreeChoice shore excursions (guided sightseeing tours, walking and biking tours, city tours)
Hotel stays and transfers to/from the boat
Beverages (tea, coffee, soft drinks and bottled water) and alcohol (beer/wine at lunch and dinner)
Wi-Fi internet access from cabin TVs
Normandy & Gems of the Seine, 11-days return-trip from Paris, departing 15 October 2018, was from£3,245 pp, now from £2,620 pp inc FREE private door-to-door chauffeur transfers.