Search for your ideal Cruise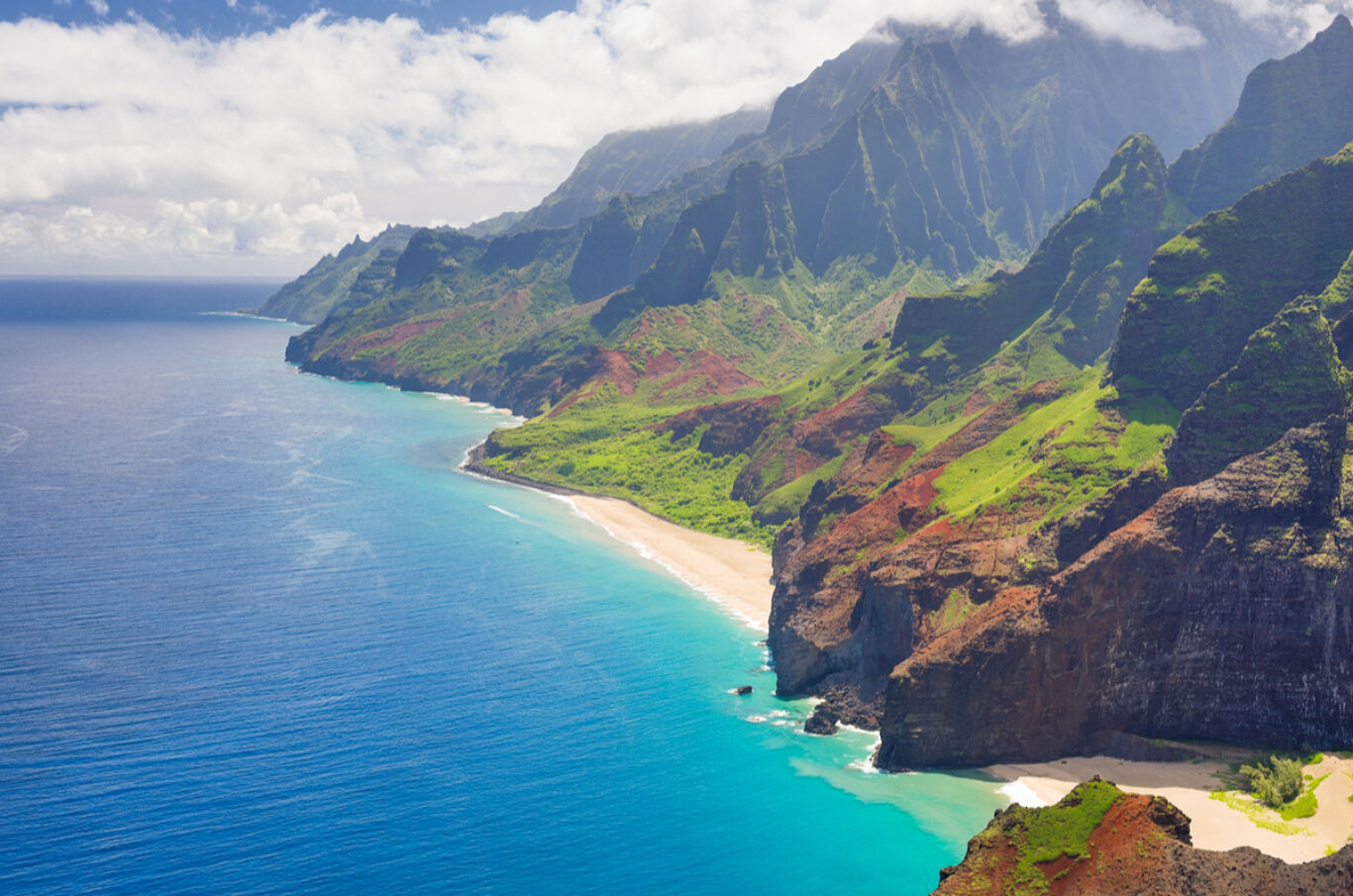 Top 15 cruise destinations: the shortlist
You've voted in large numbers for your holiday hotspots and we're down to a shortlist of 15. Each is a dream destination – but which one deserves to win at the World of Cruising Wave Awards 2017? ALASKA Glaciers, mountains, whales, even bears – an Alaska cruise is paradise for nature lovers. Most ships begin
You've voted in large numbers for your holiday hotspots and we're down to a shortlist of 15. Each is a dream destination – but which one deserves to win at the World of Cruising Wave Awards 2017?
ALASKA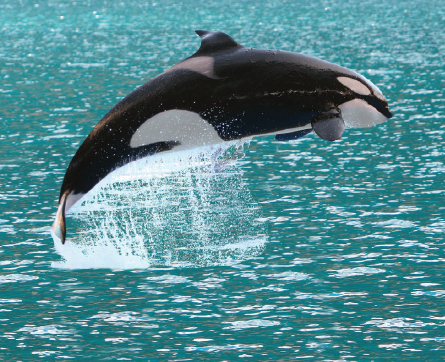 Glaciers, mountains, whales, even bears – an Alaska cruise is paradise for nature lovers. Most ships begin at Vancouver or Seattle, then sail up the Inside Passage through a maze of verdant islands backed by lofty mountains. Excursion options including kayaking, hiking, glacier walks, wildlife-watching and float-plane rides. Close-up views of glaciers crumbling into the sea will provide the lasting memories – unless you get lucky when you try panning for gold.
Top tip: Take a "proper" camera – your phone is unlikely to do justice to those grand vistas or capture a breaching whale.
Top cruises: Holland America (0843 374 2300) has a 14-night Great Land Explorer cruise, round-trip from Seattle, from £1,599pp cruise-only. Departures May to September 2017. Silversea (0844 251 0837) has a seven-night Alaska cruise, Vancouver to Anchorage, from £2,295pp cruise-only. Departs May 25, 2017.
ANTARCTICA
The sailing across the Drake Passage from South America can be lively but the reward is an icy wonderland. Among the shimmering white mountains and icebergs, the crystal waters are roamed by whales and seals. Only smaller ships can allow passengers to go ashore, usually via a small Zodiac craft; large vessels can only watch from a distance. It's worth paying the extra for those close encounters with penguins.
Top tip: The Antarctic summer (November to March) is still cold, so pack plenty of layers and a fleecy hat.
Top cruises: Seabourn (0843 373 2000) has a 21-night Ultimate Antarctica & Patagonia cruise, Buenos Aires to Valparaiso (Chile), from £10,499pp cruise-only. Departs November 29, 2017. Hapag-Lloyd Cruises (0049 40 3070 3070) has a 14-night World of Ice cruise, round-trip from Ushuaia, from €10,441 (about £8,900) cruise-only. Departs Nov 30, 2017.
ANTIGUA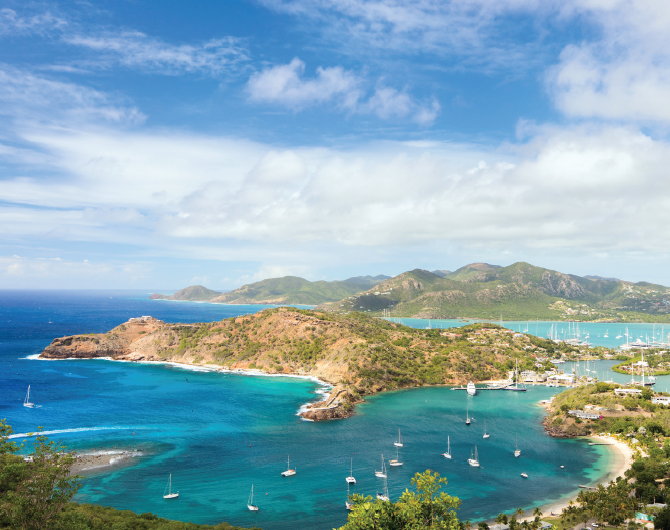 It's said to have a beach for every day of the year – but for those who prefer to explore, Antigua is a tropical playground. Boat trips, kayaking and snorkelling are easily available, and there are two fine golf courses. A popular trip is to Nelson's Dockyard, where the admiral served for part of his career. Today the harbour is filled with pleasure boats and lined with colonial architecture.
Top tip: Try to get up to Shirley Heights, a hill with superb views over English Harbour.
Top Cruises: P&O (0843 374 0111) has a 14-night Caribbean cruise, round-trip from Barbados, from £1,999pp including flights. Departs Dec 1, 2017. Azamara Club Cruises (0844 493 4016) has an eight-night Caribbean Sunsets cruise, Miami to Puerto Rico, from £1,386 cruise-only. Departs Dec 1, 2017.
AUSTRALIA
Australia may be huge but it's an excellent cruise destination because all the main cities, wine areas, rainforests, wildlife parks and mountains are accessible from the ports. The choice of excursions is incredible: encounters with kangaroos, koalas and crocodiles, plus Aboriginal culture and water sports galore. And then there are those laidback cities with their friendly coffee shops and pubs.
Top tip: Even if your ship sails into Sydney Harbour, explore this magnificent setting in more detail on a small-boat cruise.
Top cruises: Princess (0843 374 4444) has a 27-night Round Australia cruise, round-trip from Sydney, from £2,518pp cruise-only. Departs Oct 8, 2017. Royal Caribbean (0844 493 4005) has a 16-night Australia Top End cruise, Sydney to Perth, from £2,009pp cruise-only. Departs Feb 13, 2018.
BARBADOS
No other Caribbean island can boast such a range of attractions – but many voyages begin and end in Barbados, so if you want to explore you'll need a cruise-and-stay option. Catamaran cruises and water sports are always fun; a trip on a 4×4 truck-bus will reveal the less-seen side of Barbados, while the capital Bridgetown is packed with colonial charm. A trip to the wild east coast makes a pleasing contrast to the manicured west, while beach lovers should head for the south coast, where there are plenty of bars and restaurants.
Top tip: Visit a rum shop to meet local characters over a drink or two.
Top Cruises: Fred Olsen (0845 869 1589) has a 32-night Caribbean Discovery cruise, round-trip from Southampton, from £3,199pp. Departs Oct 29, 2017. Thomson (020 3451 2682) has a seven-night stay on Barbados followed by a seven-night cruise, from £1,792pp including flights. Departs March 12, 2017.
CROATIA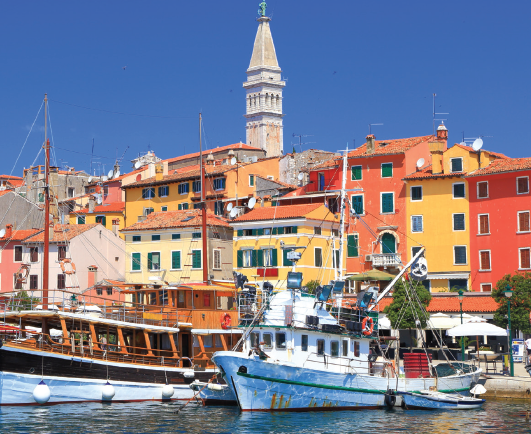 perfect
Dubrovnik pulls the crowds but there is so much more to this nation of medieval towns and natural wonders. Split has Diocletian's Roman palace; Zadar, set on a peninsula, is crammed with lovely old buildings; Rovinj, with its soaring church spire, is postcard-perfect. A short way inland, Krka National Park is a standout for its cascades.
Top tip: Avoid high summer in Dubrovnik (too crowded) and admire the city from the wall circuit (hard work but worth it).
Top cruises: Saga (0800 096 0079) has a 25-night Venice & The Med cruise, round-trip from Southampton, calling at Dubrovnik and Zadar, from £4,445pp. Departs Oct 7, 2017. Noble Caledonia (020 7752 0000) has a seven-night Hidden Croatia small-ship cruise, Zadar to Dubrovnik, from £1,795pp including flights. Departures May to September 2017.
THE FALKLAND ISLANDS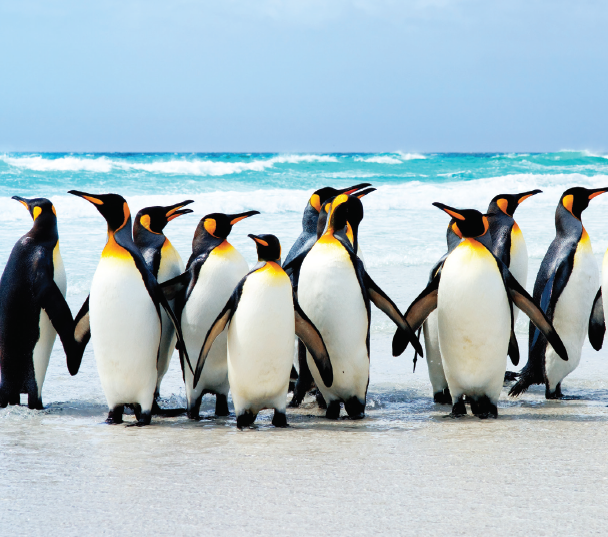 The sheer loneliness of this British outpost is a major part of its allure. The Union flag flutters in the little capital, Stanley, even though it is almost 8,000 miles from the UK. Some visitors will be interested in seeing where the 1982 conflict took place but most go for the wildlife – five species of penguin, elephant seals and albatrosses (and many thousands of sheep). They can be viewed among untamed landscapes that are often bleak yet have a raw beauty. Expect a choice of wildlife excursions; Gypsy Cove, not too far from Stanley, is a good option for spotting dolphins and Magellanic penguins.
Top tip: Try to meet some of the island's residents, many of whom are happy to describe their lifestyle in this remote archipelago.
Top cruises: Norwegian Cruise Line (0333 241 2319; ncl.co.uk) has a 14-night South America cruise, Buenos Aires to Valparaiso, from £2,774 including flights. Departs January 6, 2018. Holland America (0843 374 2300; hollandamerica.com) has a 22-night South America & Antarctica cruise, Valparaiso to Buenos Aires, from £3,399pp cruise only. Departs December 15, 2017.
GALAPAGOS
It is no surprise that the Galapagos Islands are on the shortlist. No other place on the planet allows you to interact with wild animals that have so little fear of humans – you'll feel like David Attenborough. The most recognisable inhabitants are the giant tortoises, marine iguanas and blue-footed boobies, but there are also sea lions, penguins and many other birds, while snorkellers are likely to see turtles and rays. The landscapes are fascinating, too, with much evidence of their volcanic origins among the 18 rocky isles that make up this isolated Pacific archipelago. There are plenty of chances to delve into the work of Charles Darwin, and the rustic towns offer a change from the wild stuff .
Top tip: Be patient, listen to your guides and follow their instructions carefully to get the most out of the wildlife encounters.
Top cruises: Iglu Cruise (020 3553 6352) has a 12-night cruise-and-stay package using Celebrity Xpedition from £4,849pp including flights. Various dates available. Audley Travel (01993 838 635) has a 10-night Ecuador and the Galapagos holiday (seven nights' cruising) from £4,095pp including flights. Various dates available.
GREECE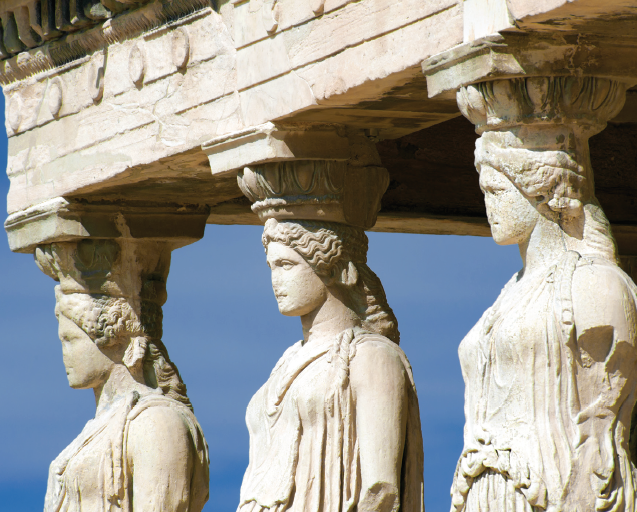 The Greek islands never lose their appeal, and not just because they are so pretty – each has its own character. Wooded slopes, inviting coves, turquoise waters and sleepy villages form an enchanting blend, yet there is always something else to discover. Crete is replete with ancient history; Santorini offers volcanic splendour; Mykonos has the trendy beach bars; Corfu's capital is one of the most handsome in the Med. The mainland has its treasures too, not least the archaeological gems of Olympia and the emblematic Parthenon in Athens. Some itineraries also take in western Turkey – especially the Roman remains at Ephesus.
Top tip: For a light lunch, try a takeaway "pita" – a tasty little filo pastry pie filled with feta cheese, spinach or chicken.
Top cruises: MSC Cruises (020 3426 3010) has a seven- night Mediterranean cruise, round-trip from Venice, from £649pp cruise only. Departs Sept 24, 2017. Voyages to Antiquity (01865 302 550) has a 13-night Classical Greece & Aegean Islands cruise, round-trip from Athens, from £2,445pp including flights. Departs October 5, 2017.
HAWAII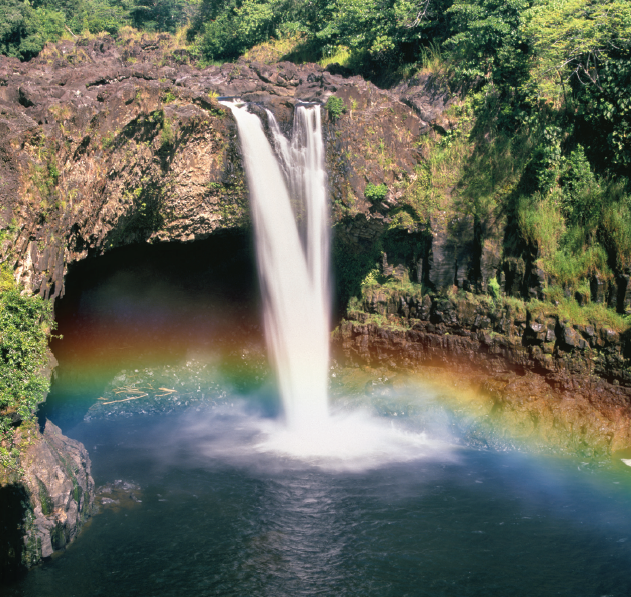 Think of somewhere exotic and Hawaii may well spring to mind. This chain of tropical islands is indeed spectacular, with active volcanoes smouldering above lush rainforest that descends to fabulous beaches. The isles beg to be explored and there are ample opportunities for nature walks, whale-watching, kayaking and snorkelling. Dramatic Waimea Canyon on Kauai is well worth visiting, as are Rainbow Falls on the Big Island, but look out for the possibility of witnessing a "live" lava flow. You can also see where the Jurassic Park films and the TV series Lost were filmed. In vibrant Honolulu you can shop, flop on Waikiki Beach or pay your respects at the memorial to the victims of the Pearl Harbor attack that brought the US into WW2.
Top tip: It's expensive, but no adventure will stick in the memory like a scenic helicopter flight over Hawaii's less accessible coastlines.
Top cruises: Celebrity (0844 493 2043) has a 10-night Hawaii Cruise, Vancouver to Honolulu, from £1,149 cruise only. Departs September 22, 2017. Regent Seven Seas Cruises (02380 682 280) has an 18-night Hawaii cruise, round-trip from Los Angeles, from £6,929pp including flights. Departs December 11, 2017.
ITALY
Our love affair with Italy shows no signs of abating. Whether it's the unsurpassed art and architecture, the medieval stone villages, the sublime food or the gregarious people, there are always so many reasons to pay a visit. The key cruise ports are Civitavecchia (about 90 minutes from Rome), Livorno (a similar distance from Florence) and Venice. Naples is another outstanding destination due to its outstanding museums and proximity to Vesuvius and Pompeii. All offer prime sightseeing but ships now make regular calls at the islands of Sicily and Sardinia. The former is dominated by the enormous cone of Mount Etna – a cable-car trip to the top is rewarding – while the latter has archaeological sites and miles of sandy beaches.
Top tip: Been to Florence? Try Pisa, closer to Livorno and offering much more than just the Leaning Tower.
Top cruises: Star Clippers (0845 200 6145) has a seven-night Amalfi & Sicily cruise, round-trip from Civitavecchia, from £1,575pp cruise only. Departs July 22, 2017. Voyages of Discovery (01858 898 348) has a 14-night Highlights of the Tyrrhenian & Adriatic cruises, Barcelona to Trieste, from £2,159pp including flights. Departs August 4, 2017.
NEW YORK
A popular choice for a long weekend, the city that never sleeps is also a great place to visit on a cruise (imagine sailing into the harbour beneath that unmistakable Manhattan skyline). There has long been a scheduled sailing between the UK and New York but the Big Apple can also be found on itineraries exploring the eastern seaboard of North America. As well as the legendary shopping and stage shows, you'll find distinctive neighbourhoods, excellent museums and just about every cuisine imaginable. New Yorkers are uncompromising, so expect high standards. If your cruise does not spend much time in the city, it's worth adding a few hotel nights before or after.
Top tip: Have a good walk through Central Park. You will be amazed that such a large oasis exists among all those Manhattan skyscrapers.
Top cruises: Cunard (0843 374 2224) has a seven-night transatlantic crossing from New York to Southampton from £1,539pp including flight. Departs May 15, 2017. Crystal Cruises (020 7399 7601) has a 13-night Canada and East Coast of USA cruise, Quebec to Fort Lauderdale, from £2,659pp cruise only. Departs October 13, 2017.
NORWAY
Sailing though the fjords is a joy, as your ship seems almost within touching distance of the towering rock faces and waterfalls. Although most cruises concentrate on the western fjords, plenty now venture north to the gorgeous Lofoten Islands and the North Cape – also one of the best places to see the Northern Lights.
Top tip: Sailing through a fjord in the evening? Grab a self-service dinner and eat on deck to enjoy the view.
Top cruises: Hurtigruten (020 3733 6843) has a nine-night Classic Voyage, round-trip from Bergen, from £999pp cruise only. Departures all year. Cruise & Maritime (0844 998 3804) has a 10-night Fjordland cruise, round-trip from Bristol, from £750pp. Departs May 14, 2017.
RUSSIA
Except on expedition cruises, there is only one major Russian city that can be visited on an ocean voyage. Fortunately it is St Petersburg, whose imperial palaces, ornate churches, grand museums and vast parks make it one of the finest cities in the world. Must-sees include the Church of the Saviour, the Peter and Paul Fortress, and the Hermitage, home to more than three million works of art.
Top tip: If you only have time to visit one palace outside the city, make it Peterhof, with its spectacular fountains.
Top cruises: Swan Hellenic (01858 897486) has a 15-night Baltic Contrasts cruise, round-trip from Portsmouth, from £2,772pp. Departs April 8, 2017. Viking Cruises (0800 298 9700) has a 14-night Viking Homelands cruise, Stockholm to Bergen, from £4,390pp including flights. Departs May 14, 2017.
ST LUCIA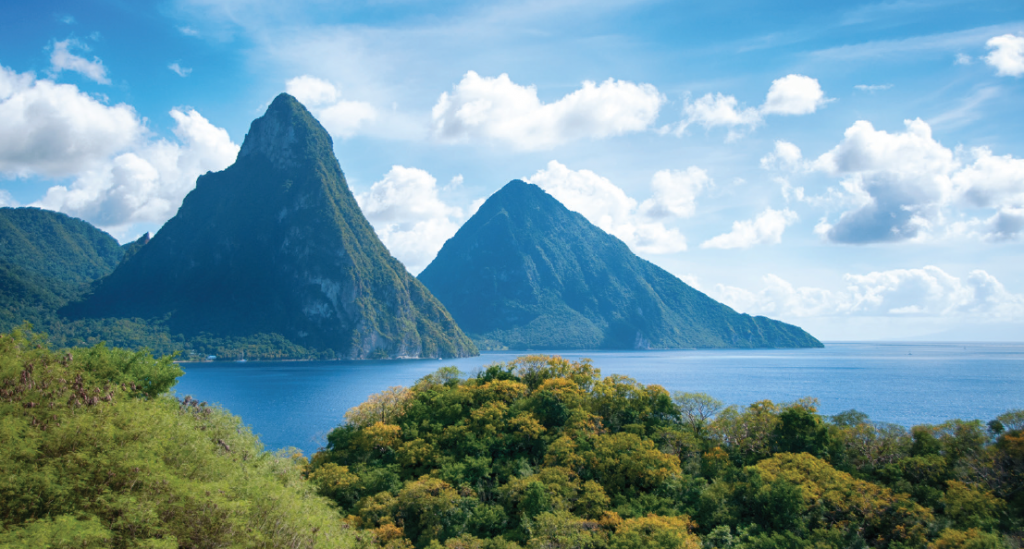 Tempting though it is to bask on the beach, this Caribbean haven has much to offer the adventure-seeker. There's one of the planet's few drive-in volcanoes, with bubbling mud pots and steaming springs, while other activities include nature hikes, Jeep safaris, dolphin watching, deep sea fishing and riding. The capital, Castries, is bustling and colourful.
Top tip: Try a "bath" in the mineral-rich mud at Sulphur Springs. It's a bit smelly but great for the skin.
Top cruise: Oceania Cruises (0345 505 1920) has a seven-night Caribbean Delights cruise, round-trip from Puerto Rico, from £1,889 cruise only. Departs November 24, 2017.