Search for your ideal Cruise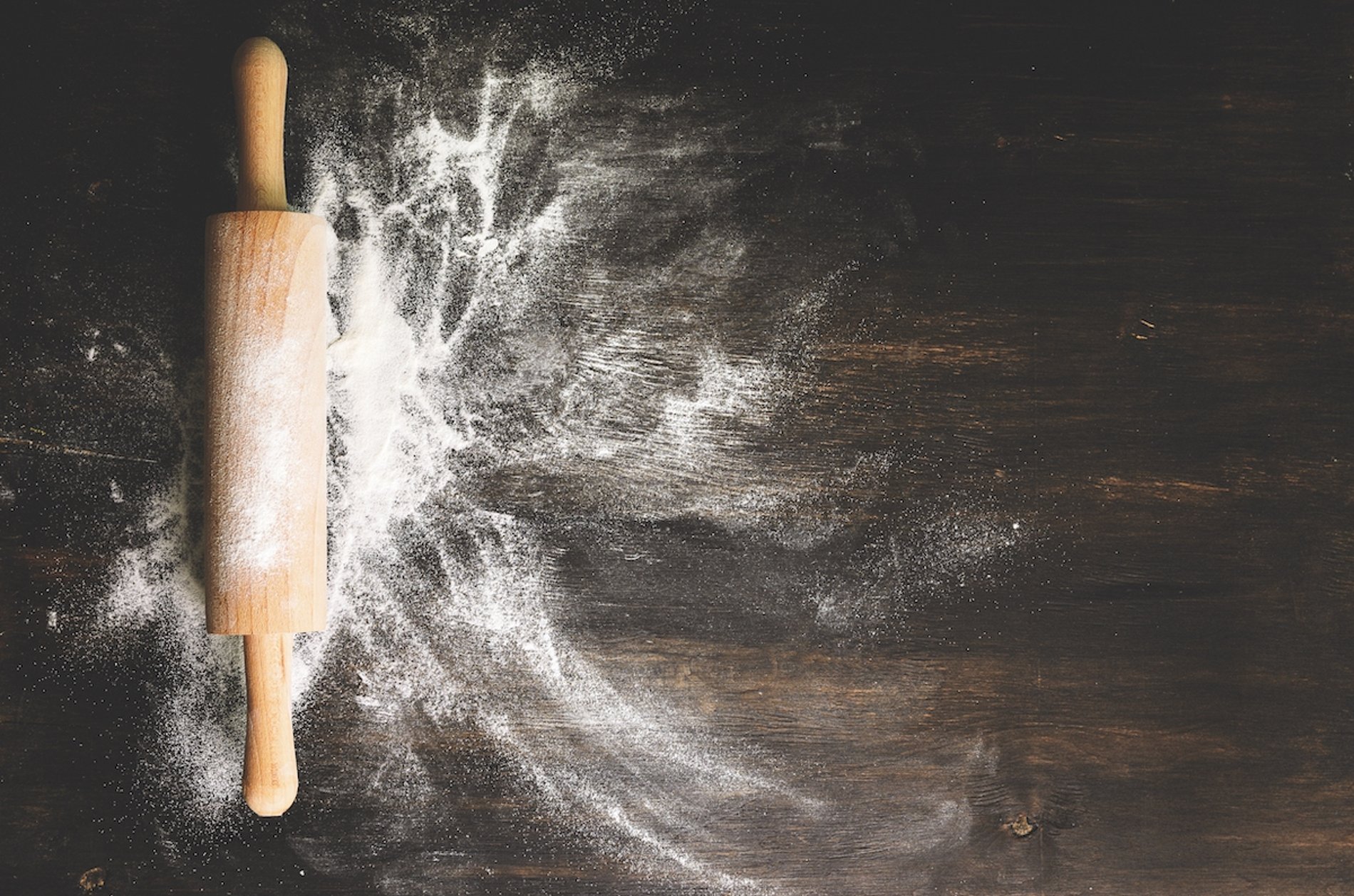 Top River Cruise Chefs Reveal Their Favourite Winter Recipes to Make at Home
Dreaming of the day you can sail again? Three top river lines share their most comforting and delicious winter recipes – so you can enjoy the cruise experience at home
Heaven knows how they do it, but the tiny galley kitchens of river ships produce some of the most sensational food in the whole world of cruising.
Actually though, perhaps it's no mystery. Because not only do river lines employ some of the finest chefs around, they also sail through many of the world's great culinary heartlands, which means the kitchen staff only have to hop ashore and they can source the finest, most authentic food just as the locals do, fresh from the market.
So now that the rest of us are not only missing cruise but suffering the January blues as well, we asked three of our favourite river lines to share their recipes for the ultimate winter comfort food.
And from sizzling wiener schnitzel to sumptuous avocado chocolate mousse, we promise – one taste and you'll be transported...
AmaWaterways
AmaWaterways is known for its beautiful ships, interesting itineraries, friendly service and, of course, excellent cuisine,' says Robert Kellerhals, the company's culinary director.
'For us, the quality of the food all starts with freshness, choice and top-quality ingredients. Our guests also count on us to accommodate dietary restrictions such as gluten-free, low sodium, dairy-free and vegetarian, all without compromising on taste.
'We highlight local dishes, paired with regional wines, whenever possible, but it's equally important to include familiar dishes at every meal for those guests who are not so adventurous in their culinary choices.
'Guests will find that our menus change to highlight produce that's in season in the regions we sail through. A good example is the inclusion of more fresh asparagus on the Danube in June, and naturally the fresh apricots from Dürnstein have a place of honour in our fruit buffets and desserts in July.'
Romanian sweet walnut bread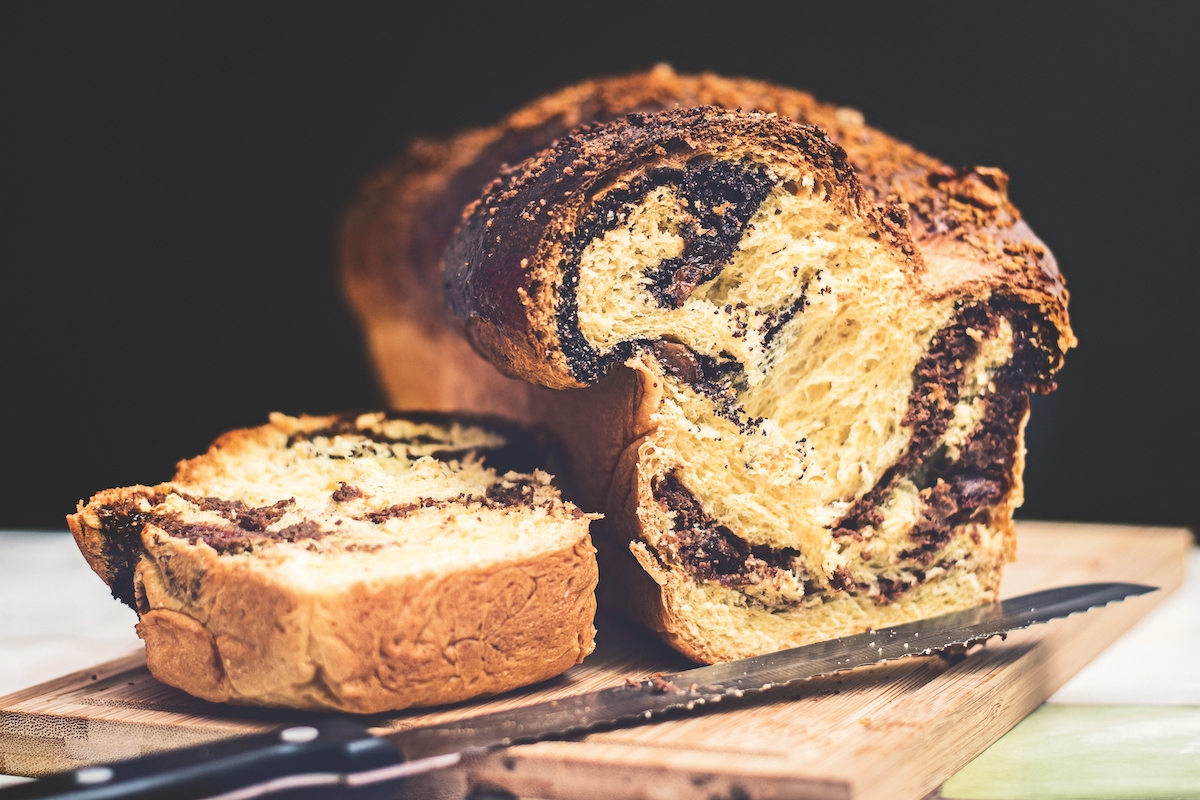 Ingredients
For the dough
4 eggs
½ tsp salt
300g sugar
475ml warm milk
1 tsp dry yeast
100g butter, melted
Zest of one lemon
1 tsp vanilla extract
450g plain flour
Sunflower/vegetable oil to grease tins
For the cream filling
175g ground walnuts
200g sugar
2 egg whites, well beaten
Method
Using an electric mixer, combine the eggs, salt, sugar, milk, yeast, butter, lemon zest and vanilla extract together. Cover the bowl with a kitchen towel and leave in a warm place for about 90 minutes.
While the mixture is rising, beat together the cream filling ingredients and set aside. Preheat the oven to 180C.
Once the 90 minutes is up, sift the flour and add it gradually to the egg mixture, one spoonful at a time, mixing gently with a wooden spoon.
Once all the flour is incorporated, place the dough on a lightly floured surface. Knead into a rectangle about 1in (2.5cm) thick, and cut this in half lengthways.
Spread the cream filling over the dough and roll up each rectangle, pinching the ends to ensure the cream filling will not spill out as the bread bakes.
Lightly oil two bread tins and line the bottom of each with baking parchment. Place each roll in a tin and bake for about
45 minutes.
Allow the loaves to cool before removing them from the tins.
Avocado chocolate mousse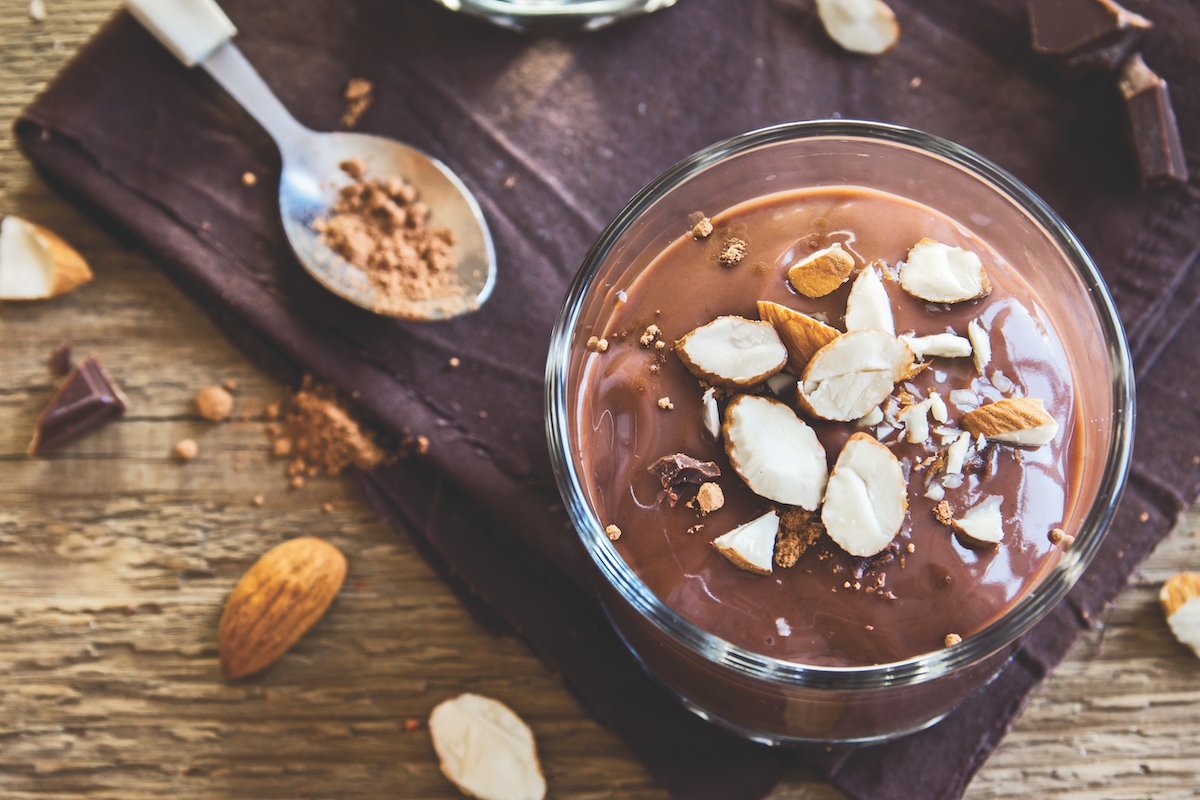 Ingredients
2 Hass avocados
2 tbsp coconut oil
50g premium cocoa powder
3 tbsp sugar-free chocolate-flavoured syrup
4 tbsp double cream
1 tsp Stevia sweetener
Method
Combine the first four ingredients in a blender, and purée until smooth. Taste and adjust sweetness as necessary. If too thick, add a little double cream until you get the consistency you want.
Whip the double cream with the Stevia until stiff.
Using a rubber spatula, gently fold 1/3 of the whipped cream into the mixture.
Gently fold the mixture into the rest of the whipped cream until blended and smooth.
Pour into mini dessert bowls or glasses. Place in the fridge to chill, then serve, garnished with chopped nuts.
Uniworld
Uniworld we align our menus to the destinations we sail through, taking into account seasonal food while ensuring a varied, attractive culinary offering for our passengers,' says Bernhard F Zorn, the line's director of culinary operations and development.
'Alongside our locally inspired dishes are classics such as French onion soup, our 'Juicy Lucy' burger on a homemade brioche bun with caramelised onions, or a yummy sandwich of the day at lunchtime,' adds Zorn.
'It is a truly incredible experience to sail along the Rhine while tasting an authentic Rhineland sauerbraten roast, or to pass through Vienna and enjoy a freshly oven-baked apple strudel with chocolate sauce.
'There are exciting times to come at Uniworld. We are focusing on reducing plastic usage, taking care of food waste, and focusing on our 'health and wellbeing' parameters and we are thinking of adding certain 'superfoods' into consideration, highlighting our vegan and vegetarian options.'
Austrian apple strudel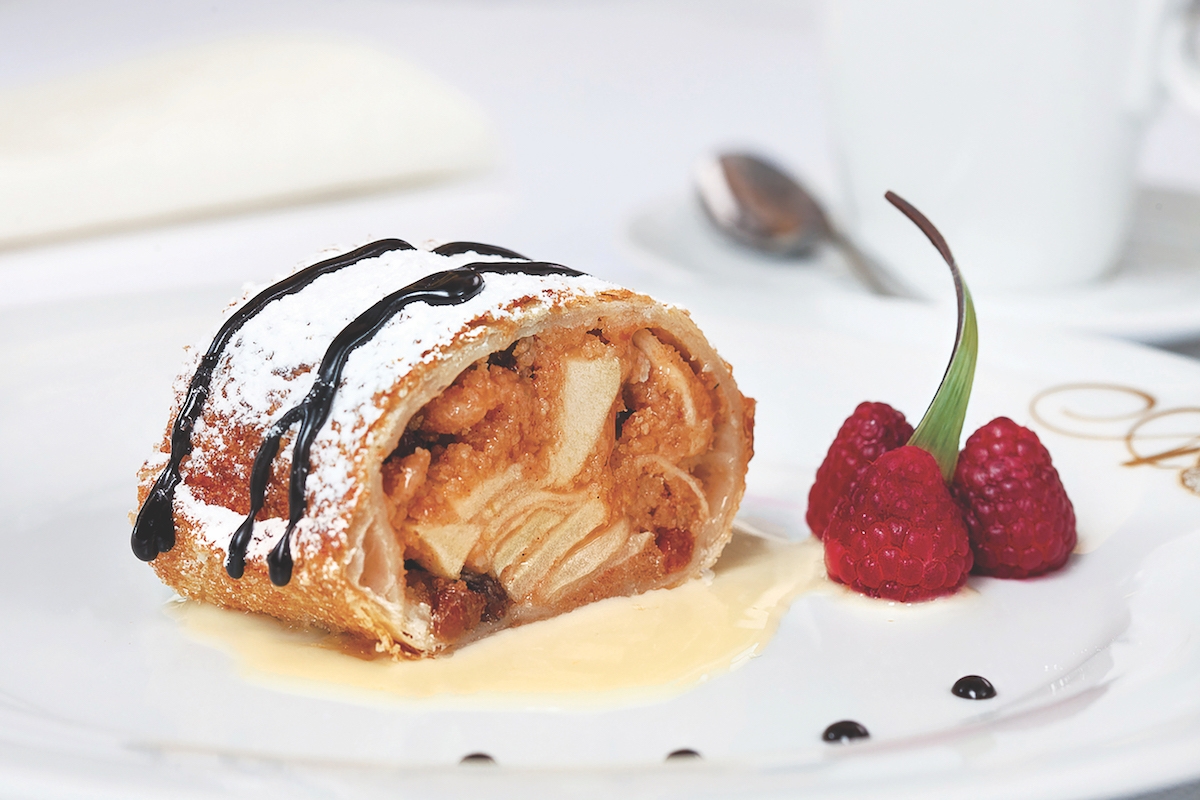 Ingredients
Strudel dough
600g flour
300g water
4 tbsp oil
1 large or 2 small eggs
Pinch of salt
Filling
5 or 6 apples, peeled and cored
110g white breadcrumbs, roasted in butter
120g chopped nuts (walnuts or pecans
are ideal)
150g sugar
80g raisins
1/4 tsp cinnamon
2 tsp lemon juice
4 tsp rum
Melted butter to glaze
Icing sugar to dust
Method
Knead all the dough ingredients together until no longer sticky. Set aside to rest for 1 hour. Meanwhile, preheat the oven to 220C.
Chop the apples and mix with the breadcrumbs, nuts, sugar, raisins, cinnamon, lemon juice and rum.
Roll the pastry very thin, then top it with the filling mix and roll into a log. Brush the top with melted butter. Transfer to a baking sheet lined with parchment paper.
Bake the strudel for approximately 45 minutes. Remove the strudel, dust it with icing sugar and serve it warm with vanilla sauce.
French onion soup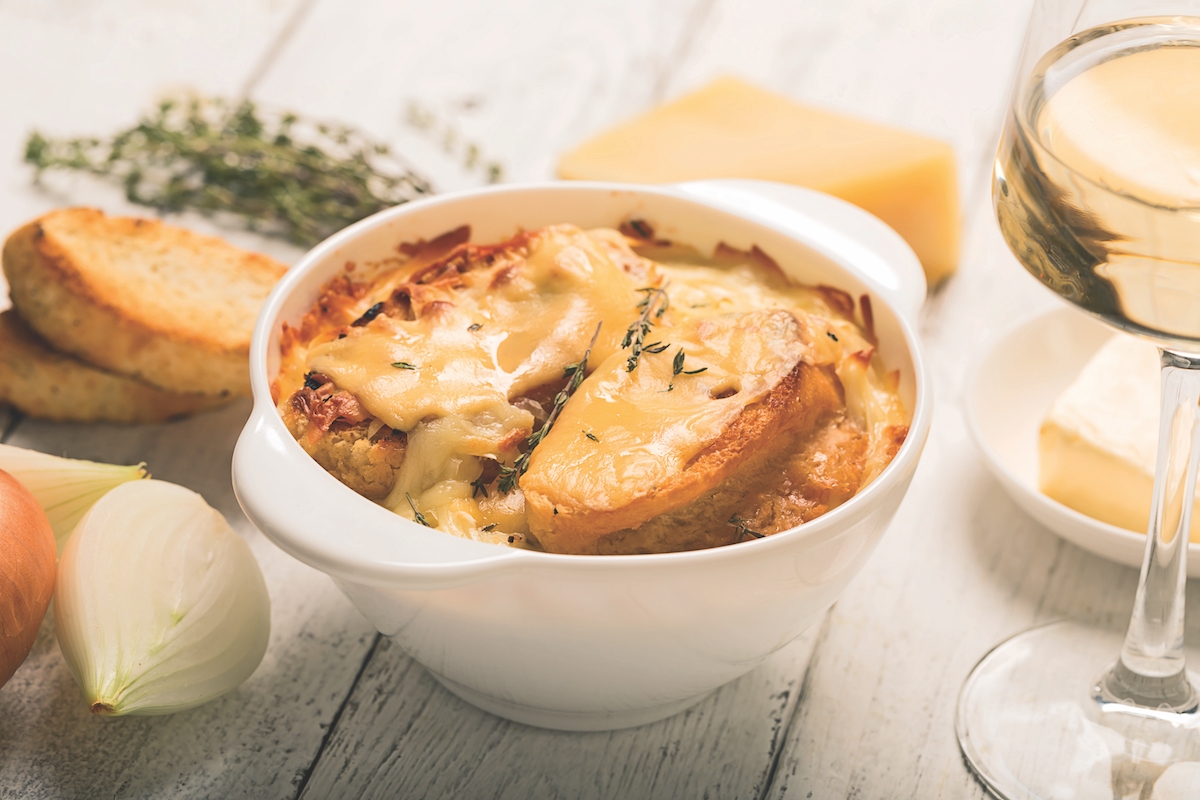 Ingredients
6 large white onions, sliced
3 tbsp unsalted butter
120ml white wine (riesling, pinot blanc
or gewürztraminer)
475ml water, plus extra for deglazing
950ml chicken broth
475ml beef broth
1 bay leaf
6 sprigs fresh thyme, tied with twine
Salt and ground black pepper to taste
120ml Madeira
For the cheese croutons
1 small baguette, cut into 1/2-inch slices and toasted on both sides (optional: top the slices with garlic butter)
225g gruyère cheese, grated
Method
In a saucepan, sauté the onions in the butter until golden brown. Add salt and pepper, then deglaze with the white wine, water and broth. Add the bay leaf and thyme and cook slowly for 45 minutes.
Pick out the thyme and bay leaf and adjust the seasoning to taste.
Add the Madeira and pour the soup into bowls. Place the baguette slices on top, sprinkle with the cheese and grill until the cheese melts.
Crystal River Cruises

The culinary experience aboard Crystal River Cruises presents Michelin-level cuisine inspired by the destinations we visit,' says Günter Lorenz, the company's director of culinary operations.
'Every dish is prepared to order and uses only the freshest ingredients. Our chefs work closely with local markets, suppliers and farmers to ensure that the food served on board represents the seasonal best of each destination. This not only offers the freshest fare, but creates an authentic culinary connection with the travel experience.
'In our Waterside restaurant, an array of full breakfast, lunch and dinner options are on offer, while guests can also find small bites, tapas, speciality coffees, wines and cocktails in the Bistro Café aboard all Crystal River ships. Of course, in-suite dining, served by your personal butler, is also available 24/7.'
Linzer slice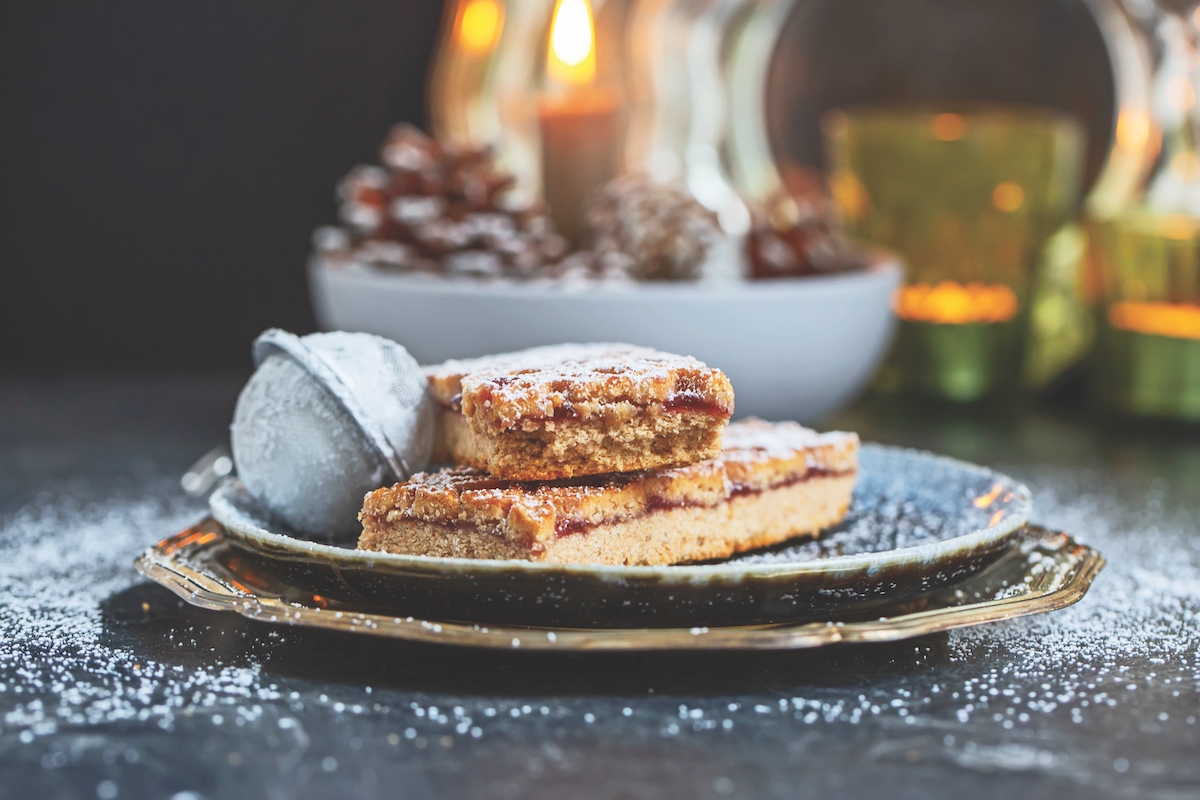 Ingredients
400g butter
400g icing sugar
Pinch of salt
Zest of one lemon
Few drops of vanilla extract
Pinch of cinnamon
300g flour
600g biscuit crumbs (Digestives work well)
400g ground roasted hazelnuts
6 egg yolks
Lingonberry jam (cranberry makes a good alternative)
Method
Pre-heat the oven to 180C and line a baking tray approximately 1in (2.5cm) deep with baking parchment.
Whisk the butter, sugar, salt, lemon zest, vanilla and cinnamon until fluffy and pale in colour. In a separate bowl, sift the flour and combine with the biscuit crumbs and ground hazelnuts.
Add the eggs one by one to the butter mix, and incorporate well.
Fold in the dry ingredients by hand. Pour half of the mix on to the tray.
Cover the mix with a layer of lingonberry jam, and pipe the remaining cake mix in a criss-cross pattern over the top.
Bake until a skewer comes out clean.
Wiener Schnitzel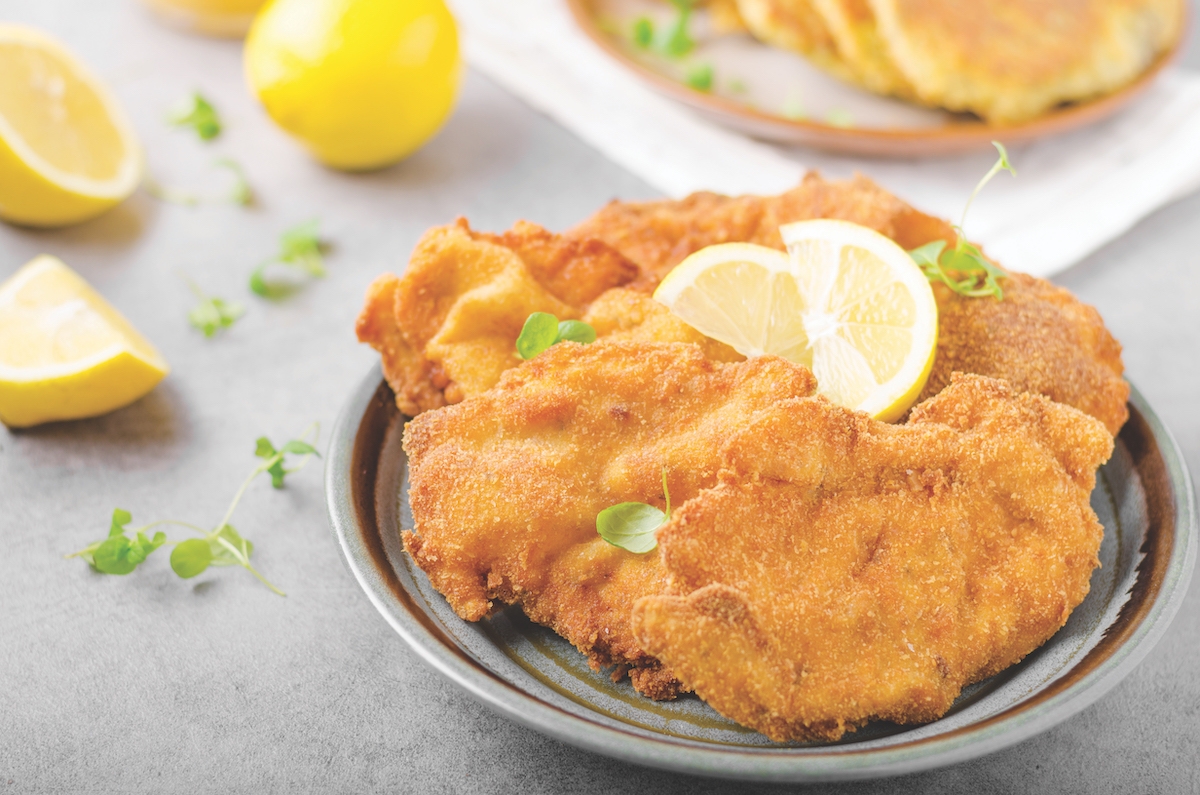 Ingredients
4 veal cutlets
120g flour
½ tsp salt
2 large eggs, well beaten
90g breadcrumbs
Oil or clarified butter for frying
Method
Place the cutlets between sheets of clingfilm and beat with a mallet to an even thickness of about 1/4in (6mm).
Set up three shallow dishes to create a breading station. Place flour and salt in one dish, eggs in the second and breadcrumbs in the third.
Heat the oil in a large frying pan. Dunk the cutlets one at a time in the flour, then in the egg, then in the breadcrumbs (be gentle – the crumbs should form a loose coating).
Fry the cutlets in hot oil for three to four minutes on each side, until both sides are golden brown. Don't crowd the pan – fry one or two at a time, if necessary – and don't allow to stick. The coating should puff out a little, without absorbing too much oil.
Serve immediately with French fries, lemon wedges and a crisp green salad.