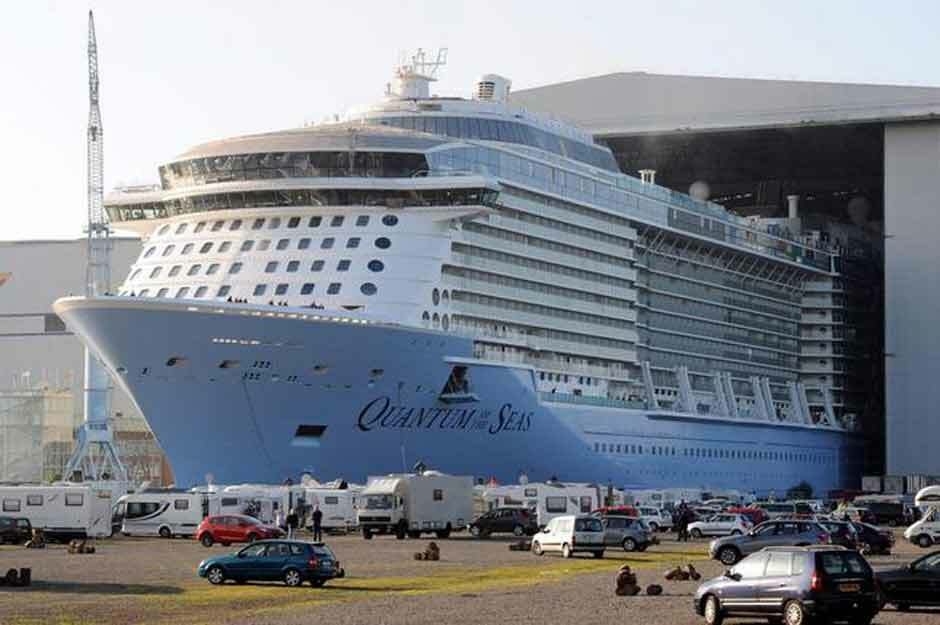 Two new cruise ships on the move this weekend
There's a busy weekend ahead for the cruise world , with two brand new ships on the move. On Saturday, Royal Caribbean's Anthem of the Seas will be towed out of dry dock in the giant grey construction shed at the Meyer-Werft shipyard in Papenburg, Germany (just like sister ship Quantum of the Seas –
There's a busy weekend ahead for the cruise world , with two brand new ships on the move.
On Saturday, Royal Caribbean's Anthem of the Seas will be towed out of dry dock in the giant grey construction shed at the Meyer-Werft shipyard in Papenburg, Germany (just like sister ship Quantum of the Seas – above – last year). After a night tied up at the quayside, the ship will be given its first opportunity to test its thrusters and stabiliser deployment in the yard's harbour basin. In a further four weeks' time the 167,800-ton vessel, built to carry 4,180 passengers, will make the 26-mile journey down the River Ems to the North Sea and on to its first proper sea trials. Anthem is expected to arrive in Southampton on April 15 and will be sailing cruises from the UK throughout the summer.
At Fincantieri's Monfalcone shipyard near Trieste, P&O Cruises executives will be taking delivery of their new baby, Britannia. The 141,000-gross ton vessel, capable of carrying 3,600 passengers, is the biggest cruise ship ever built specifically for the UK market. Its Italian builders will be handing it over during a ceremony at midday on Sunday. The ship is due to leave the yard a week later and will sail up the Solent and into its home port of Southampton on March 6 ready for the naming ceremony on March 10 and the maiden voyage departing on March 14.