Search for your ideal Cruise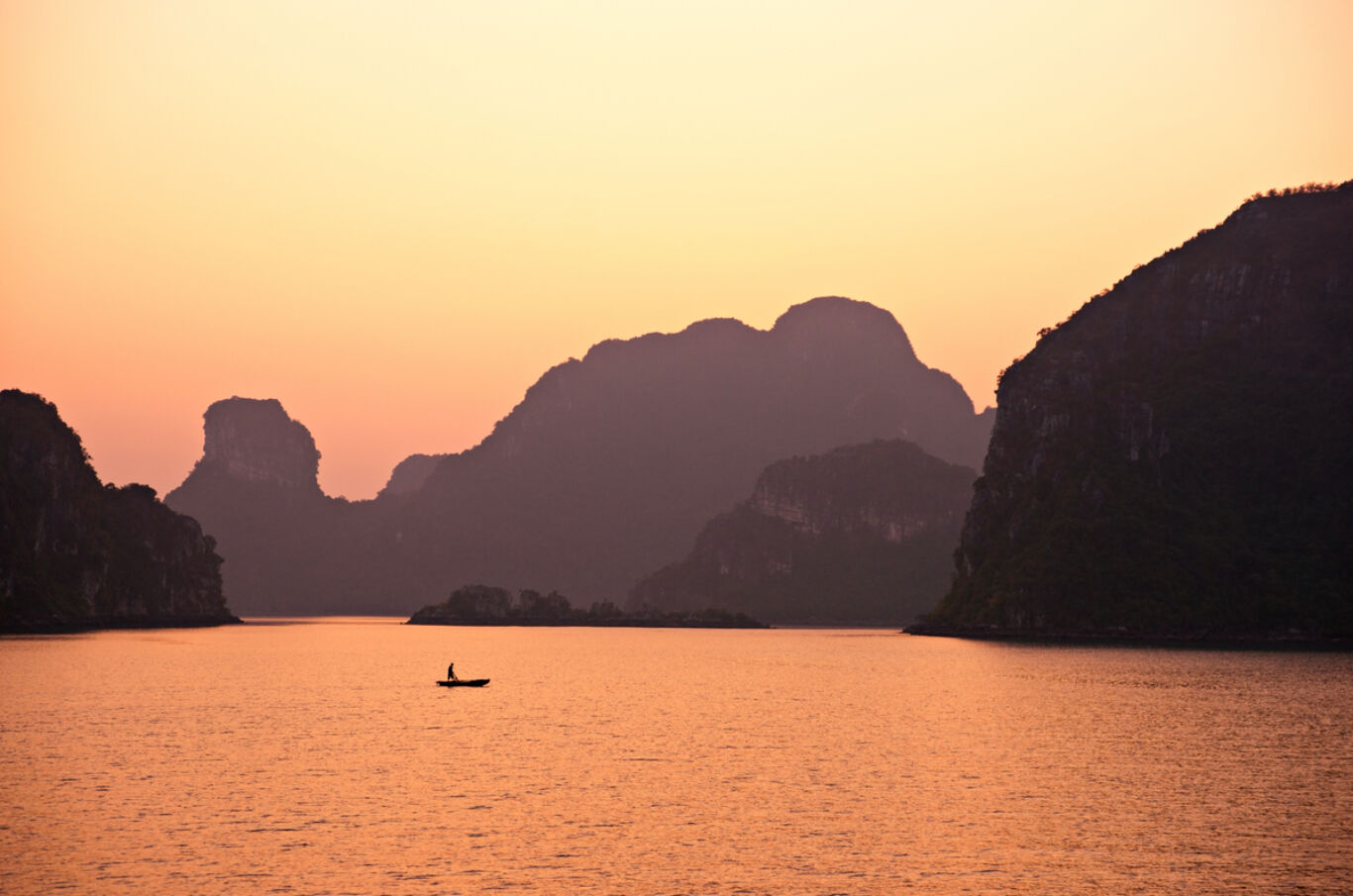 Vietnam's Red River
Vietnam's Red River offers the chance to discover a rural way of life that has hardly changed for centuries. Take it while you can, says Jane Archer
Weaving past beep-beeping motorbikes and parp-parping lorries, we wobble on hired bikes towards a temple. It's crushingly hot here in Ly Nhan, about an hour north of Hanoi, and we need a breather – but instead of coolness and sanctuary, there's a party going on inside. All of these sights are what you can expect while traveling the Red River.
By chance, we have happened upon a festival. There is food (a pig's head passes by, held high on a platter), plenty of rice wine, and spirits are high (about 40 per cent proof if I'm any judge). Six freely perspiring Westerners were welcomed with open arms – but then tourists are still a novelty here. Pandaw is the only company to bring them, along Vietnam's Red River, and even they have been doing so for little more than a year.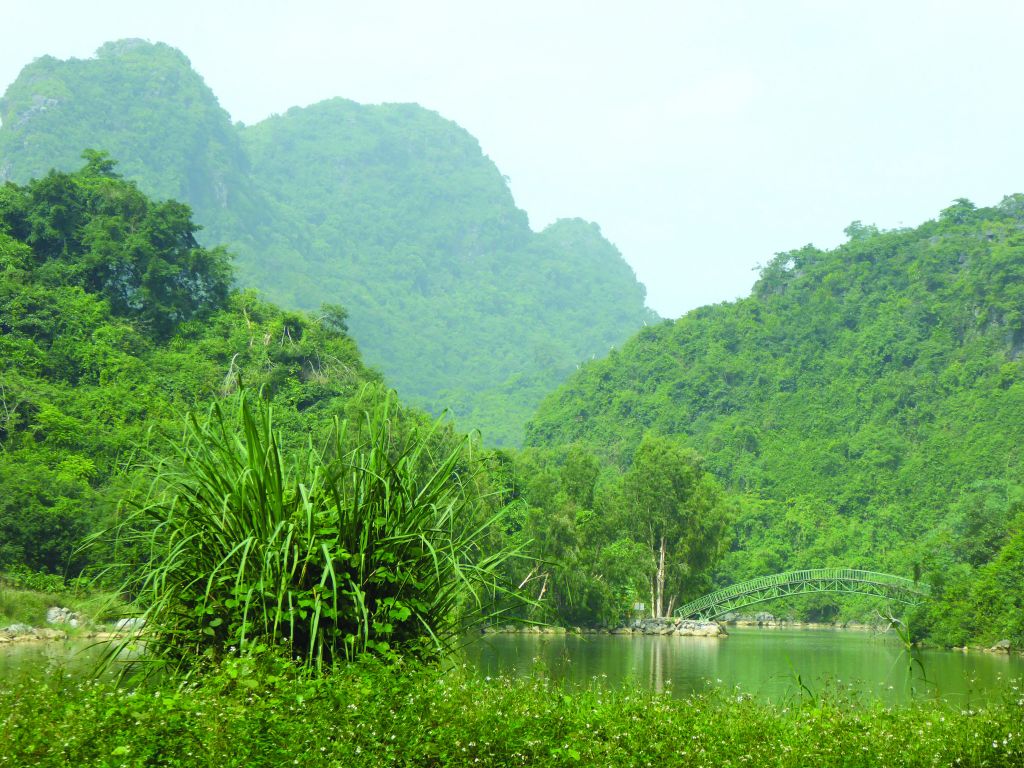 The Red River (Song Hong in Vietnamese) rises in Yunnan, in southwest China, and empties into the Gulf of Tonkin in northern Vietnam. At just 714 miles it is little more than a creek compared with the Mekong or the Yellow River, but what it lacks in length it makes up for in importance. It was a vital commercial artery between Vietnam and China during the French colonial period, and now it looks like becoming a popular way for the more adventurous breed of river cruisers to explore deep into rural Vietnam.
Pandaw's itinerary is actually an amalgam of rivers, combined with two nights afloat in Halong Bay. Ours was an upstream route that started in Halong, then cruised the Thai Binh, Red, Lo and Da rivers. Or rather it would have done, had low water not come early to the Da, forcing Pandaw to switch to its winter itinerary. This meant we spent more time on the Red River delta and never got to Hoa Binh, site of a major battle between the occupying French forces and the Vietnamese in 1951 and 1952.
That was a pity, since the history buff in me was keen to see it, and the route sounded lovely, taking us past the scenic Ba Vi National Park. But Pandaw's website warns that you must be prepared to go with the flow (no pun intended). If that doesn't appeal, this is not the holiday for you.
Neither is it for those with a bucket list of destinations to tick off. Hanoi and Halong aside, this cruise is all about gleaning first-hand knowledge of life in rural Vietnam though tours to markets, homes and workshops in remote towns and villages whose names you can't pronounce.
Our ship was the Angkor Pandaw, a colonial-style river boat that holds just 32 passengers. It looks smart clad in polished wood but my favourite feature was the way the cabins open on to a narrow promenade deck. The atmosphere on board was delightfully friendly and the 21 crew, all from Vietnam and Cambodia, soon got to know our food fads and favourite tipples (more of that later).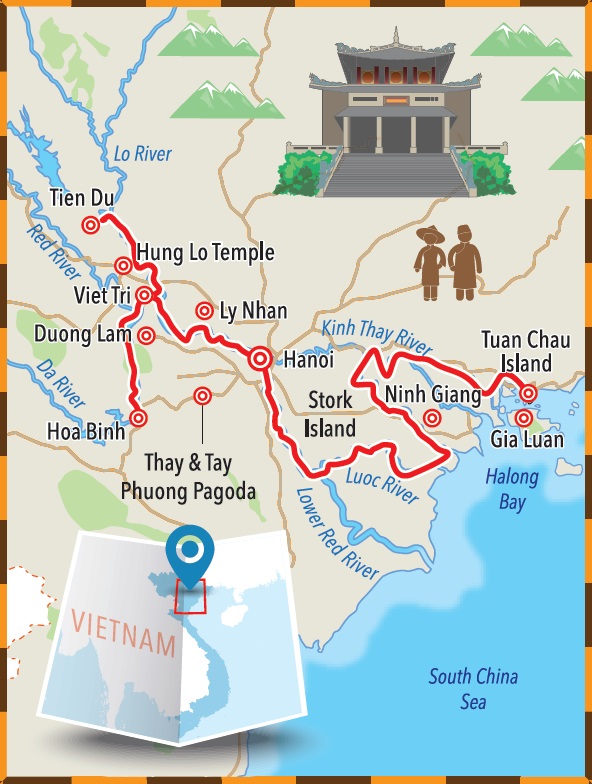 We were accompanied by guides Tifo and Vu, who took turns to explain Vietnamese history, culture and customs. Some of the latter are amusing (restaurants wipe plates and chopsticks with tissues which they throw into the street, so locals reckon you can judge a good place by the litter strewn outside). Others are perhaps a little gruesome to go into here.
Our cruise began in beautiful Halong bay, picking our way through its countless towering limestone islands. We were lucky today, Tifo told us, because the bay is often blanketed in fog – but I suspect that was just to cheer us up as we sought shelter from a biting wind blowing down from China.
To protect the bay's UNESCO status, most of the people who once lived here on floating fish farms have been moved to the mainland. It is sad that a way of life is changing but we visited one of the few families that remain and it's a hard life for them, with no electricity or fresh water on tap.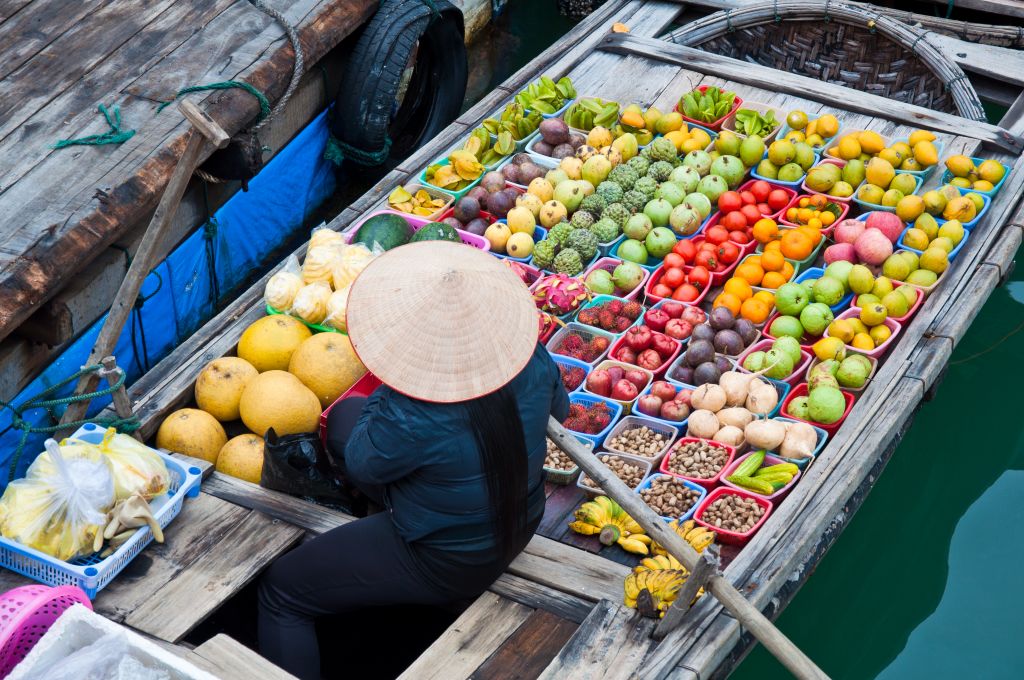 From Halong we sailed inland, dodging barges laden with sand and rocks. There are very few docking areas along these rivers, so Angkor Pandaw usually tied up to the bank and we disembarked across a rickety gangway under the watchful eye of the sailors. On some days we walked straight into a village; on others there was a bus waiting to whisk us off on an excursion.
Each tour was designed to show a different facet of Vietnamese life. In Hung Lo temple near Viet Tri, a village about 50 miles north of Hanoi, we listened to xoan (pronounced "shwan") singing, a traditional form of story-telling that has been passed down through the generations.
In Thanh Ha village, local children joined us to watch a puppet show, an ancient form of theatre started as a way to warn children of the dangers of the river. It was great fun, with serpents, snakes, fire-breathing dragons and a cute but very wicked turtle.
We learned how to make sticky rice cakes and saw clay pots being fashioned in a ceramics factory. In Tien Du village, we met a family making Vietnamese conical hats from palm leaves that are smoothed out over hot coals, before being pieced together over a wooden frame and stitched.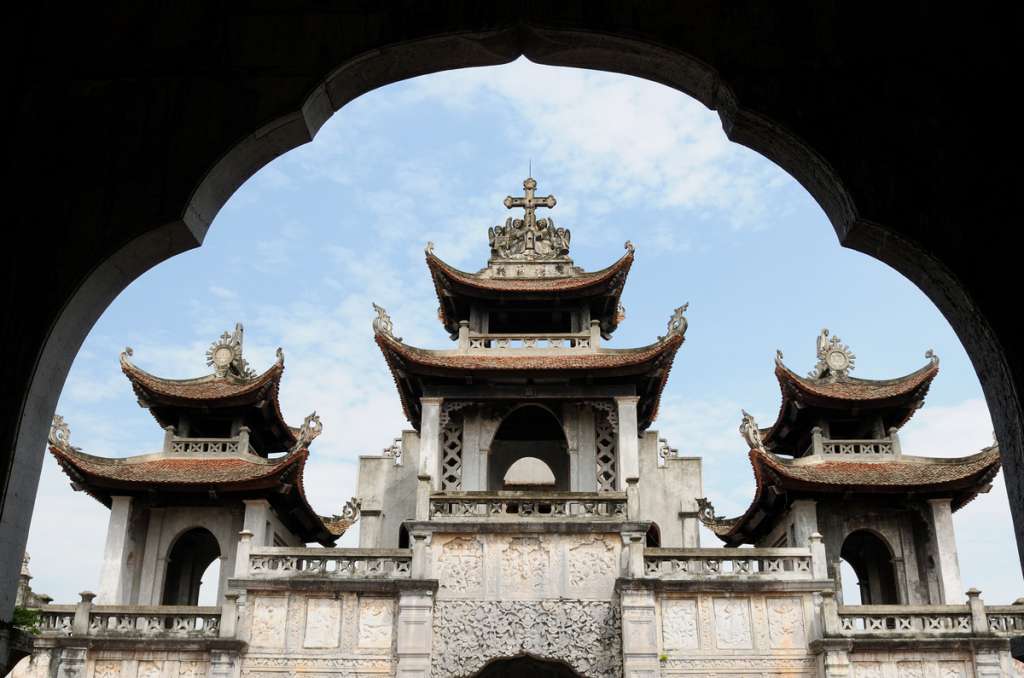 This being the low-water itinerary, we also explored an area known as "Ha Long on Land" because of its towering formations of limestone, and Phat Diem cathedral, which looks like a Chinese pagoda and whose bell can be heard for miles around.
And then there was our day in Hanoi – a fabulously noisy city where some 4.5 million motorbikes swarm through the streets, and crossing the road requires nerves of steel.
A morning tour took in Ho Chi Minh's mausoleum in Ba Dinh Square, where the late leader declared Vietnamese independence in 1945. When the French tried to reclaim their colonial possession they were defeated in battle, at Dien Bien Phu in 1954, but before leaving they stipulated that the country be partitioned. Then the US stepped in, beginning a war that lasted until 1975 when Vietnam became unified under communism.
The country remains one of the world's very few socialist one-party states, but its government has adopted an increasingly Western outlook in recent times, and the economy has boomed as a result.
We took pictures of the changing of the guard (it still happened on the hour, even though Ho was absent, having his annual spruce-up). Then we were taken to the 11th-century Temple of Literature, where about 60 university graduates had come in robes to pose for a group picture. Except they were not really graduates. Vietnamese students, it seems, have their snaps taken in advance so those who fail their exams are not excluded.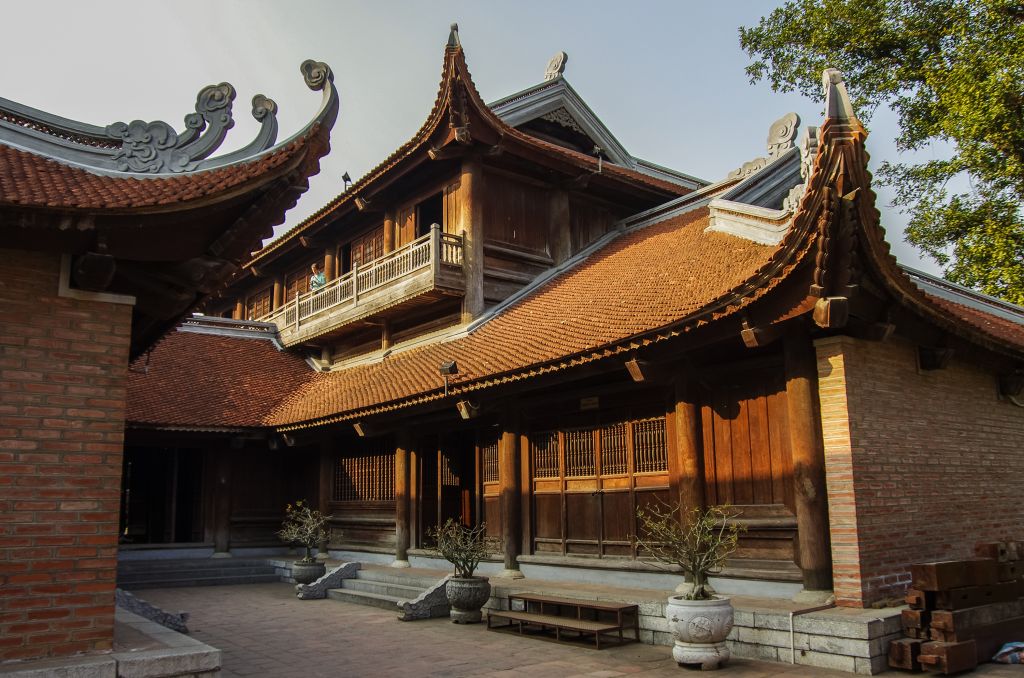 Last stop was the "Hanoi Hilton", so called by the US military because captured airmen were imprisoned there. The building is now a museum, mostly devoted to the terrible way in which Vietnamese political prisoners were treated by the French.
And that brought our adventure to a close. While not an expedition cruise in the usual sense – it's far too comfortable for that – Pandaw's Red River itinerary had been our precious passport to a world barely touched by tourism. That can't last, so my advice is to book now. And if the ship's barman asks you whether it's "beer o'clock yet", I'm afraid you'll have to blame me.
The Basics
● Wi-fi : complimentary
● Tips: included for crew; $3 to $5 per person per day recommended for guides
● Tea and coffee: free and unlimited
● Please visit CIBT Visas for current visa information
Get on Board
Pandaw's Halong Bay and Red River Cruise, 10-nights starting at $3,069.00 pp.
Editor's Note: The post was originally published in March 2017 and has been updated for accuracy and comprehensiveness.