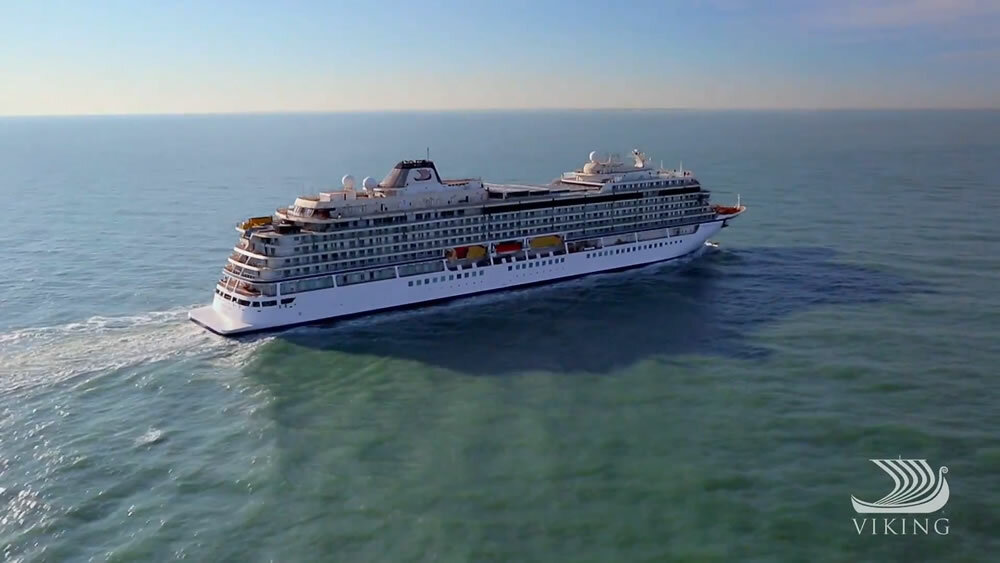 Viking Star completes sea trials
Watch as the Viking Star is put through her paces during sea trials in the open waters of the Adriatic Sea. The intimate 930-passenger ship is the first from Viking Cruises, a sister brand to Viking River Cruises. The cruise ship offers a variety of staterooms and suites, all of which come complete with private
Watch as the Viking Star is put through her paces during sea trials in the open waters of the Adriatic Sea.
The intimate 930-passenger ship is the first from Viking Cruises, a sister brand to Viking River Cruises. The cruise ship offers a variety of staterooms and suites, all of which come complete with private balconies. Viking Star features two swimming pools, one of which is an infinity pool cantilevered off the stern. A spa, complete with a "snow grotto", can be found on-board along with a variety of dining venues, lounges and a theatre.
During nearly a week of intense diagnostics, maritime experts performed more than 80 different tests designed to evaluate everything from Viking Star's engine and propulsion performance to her navigation systems and cabin acoustics.
The vessel has been designed with the environment in mind and so features energy-efficient hybrid engines, hydro-dynamically optimised streamlined hulls and bows for maximum fuel efficiency. Viking Star is also fitted with solar panels as well as equipment that minimises exhaust pollution to meet the strictest environmental regulations.
Captain Gulleik Svalastog said the Viking Star was "one of the most agile, state-of-the-art and seaworthy ships on the water, destined to exceed the expectations of the most well-travelled guest."
Following her sea trials Viking Star returned back to Fincantieri's Marghera shipyard for her final outfitting and interior decorating.
Her maiden voyage will begin on 11 April where she will sail from Istanbul through the Mediterranean and into the Atlantic on her way to Bergen, Norway, where she will be officially christened in the homeland of the Vikings on 17 May. Bergen Mayor Trude Drevland will serve as godmother to Viking Star and will officially "name" the ship during its christening ceremony.