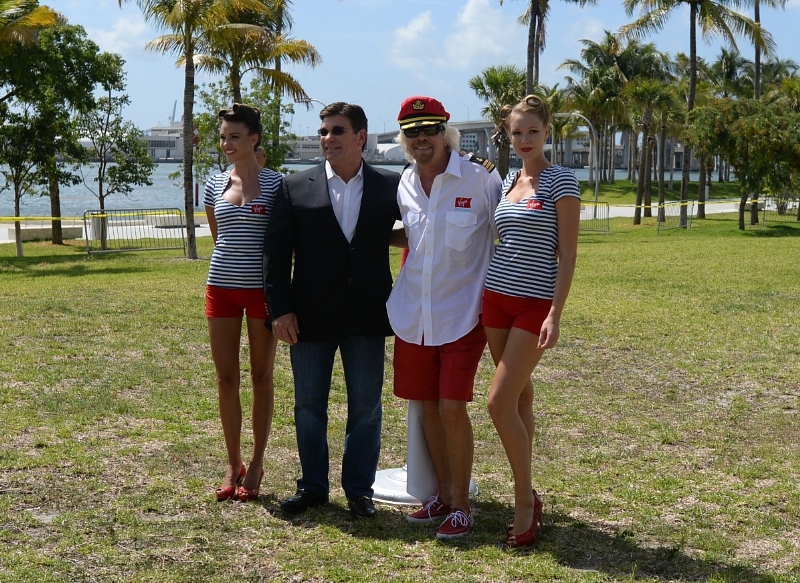 Virgin Cruises orders three mid-sized cruise ships from Fincantieri
Virgin Cruises has signed a Letter of Intent with Fincantieri for three new mid-size ships and has chosen Miami as the home port for its first cruise ship that will be launched in 2020. The announcement was made at a press conference at a waterfront gallery in Miami. Rather than opt for a speedboat arrival to
Virgin Cruises has signed a Letter of Intent with Fincantieri for three new mid-size ships and has chosen Miami as the home port for its first cruise ship that will be launched in 2020.
The announcement was made at a press conference at a waterfront gallery in Miami. Rather than opt for a speedboat arrival to a press conference about Virgin Cruises Sir Richard Branson instead arrived by helicopter through a plume of Virgin-red smoke. He was joined by Virgin Cruises' President and CEO Tom McAlpin.
Virgin Cruises' binding Letter of Intent with Fincantieri is the first part of a two-step process with both companies committed to signing a contract in the fourth quarter of 2015.
Each of the three new 110,000 gross ton, mid-sized cruise ships will feature 1,430 guest cabins to accommodate in excess of 2,800 guests. 1,150 crew members will work around the clock on each ship. The three ships are expected to be delivered in 2020, 2021 and 2022.
Richard Branson said "This is a very exciting day for Virgin and travelers around the globe. We now have the right partners in place to build a world-class cruise line that will redefine the cruising experience for good. The Virgin Cruises approach will appeal to cruisers and non-cruisers alike, and we look forward to being in Miami and delivering an experience for people who want a new way to cruise."
Tom McAlpin added "Virgin is a customer built brand that listens carefully to what customers want and then works hard to deliver for them. We are committed to making waves in the cruise industry, and partnering with Fincantieri and PortMiami sets Virgin Cruises up to do just that. Today's announcement brings together important ingredients in our future success – Miami's vibrant culture paired with the excellent Port infrastructure and Port team; and Fincantieri's expertise in prototyping, their creativity and understanding of our vision."
The first ship will sail out of the port of Miami on a variety of seven-day Caribbean itineraries, departing on a Sunday.
(Photo credit to Virgin Cruises; World Red Eye)