Search for your ideal Cruise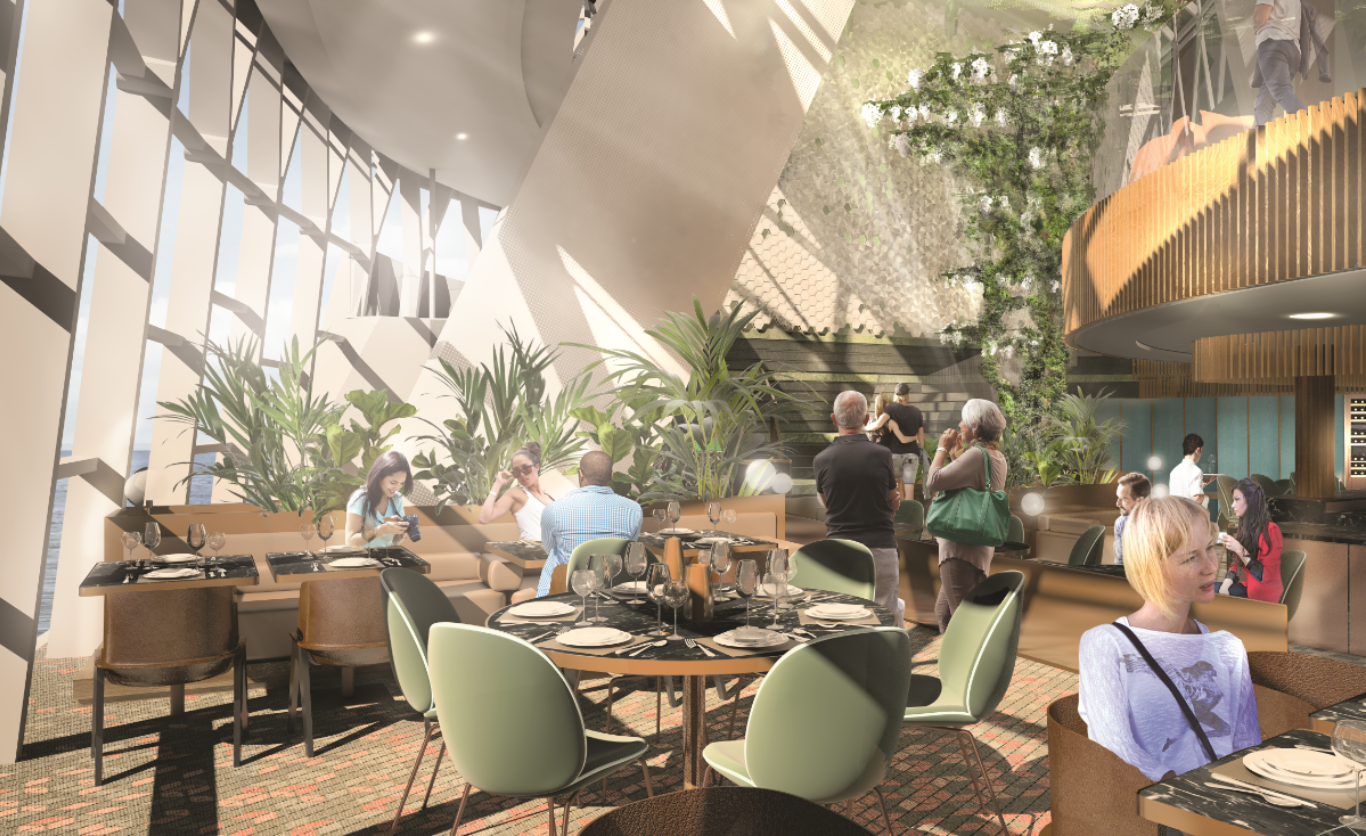 Welcome to Eden – Celebrity's Reimagined Garden of Eden
The latest feature of the new Celebrity Edge class cruise ship was announced last night in New York – and it is claimed to be even more exciting than the revolutionary Magic Carpet revealed in March. Eden, a vast triple-deck space at the aft end of the ship, will be somewhere to relax with a
The latest feature of the new Celebrity Edge class cruise ship was announced last night in New York – and it is claimed to be even more exciting than the revolutionary Magic Carpet revealed in March.
Eden, a vast triple-deck space at the aft end of the ship, will be somewhere to relax with a book, a venue for wine tastings, a restaurant, a cabaret theatre, and a plant-filled greenhouse surrounded by more than 7,000 square feet of glass.
Its design is inspired by the golden spiral , as generated by the Fibonacci Sequence, and represented in nature by the organic symmetry of a rose flower or a snail shell.
A 90-foot long ramp takes guests on a serpentine walk through the space, dominated – like the atriums on Celebrity's Solstice Class ships – by a living tree. A towering Library of Plants, with impressive hanging plant pillars, soars 18 feet above the Eden Bar.
By morning, Eden is somewhere to escape for a coffee and a croissant, looking out on the world outside. In the afternoons it becomes more playful, with seminars and tastings to satisfy passengers' appetite for cocktails and culinary experiences.
Early evening brings Eve at Eden, a sinful fusion of performance art and at dinner, the Eden Restaurant promises a choreographed series of delicious temptations to surprise and delight – along the lines of the soon-to-reopen New York dinner theatre Queen of the Night.
Richard Fain, chairman and CEO of Celebrity's parent company, Royal Caribbean International is the inspirational mastermind who brings innovation to all his ships. He says Eden is "a unique advance in cruise ship design, an experience that is multi-faceted and innovative."
Harking back to the Magic Carpet, he added: "Connectivity to the ocean is one of the most exciting hallmarks of Edge class, and with more glass than any other room at sea, Eden embodies that outward-facing concept."
David Ley, director of Queen of the Night creators Variety Worldwide, said Eden would "break many of the rules" expected of traditional cruise ship entertainment.
Celebrity Edge will carry almost 3,000 passengers on week-long cruises from Fort Lauderdale to the Caribbean. The beginning of construction was marked at a shipyard in France last week by the placing of an 875-ton block in dry-dock. The maiden voyage is scheduled for December 16, 2018.