Search for your ideal Cruise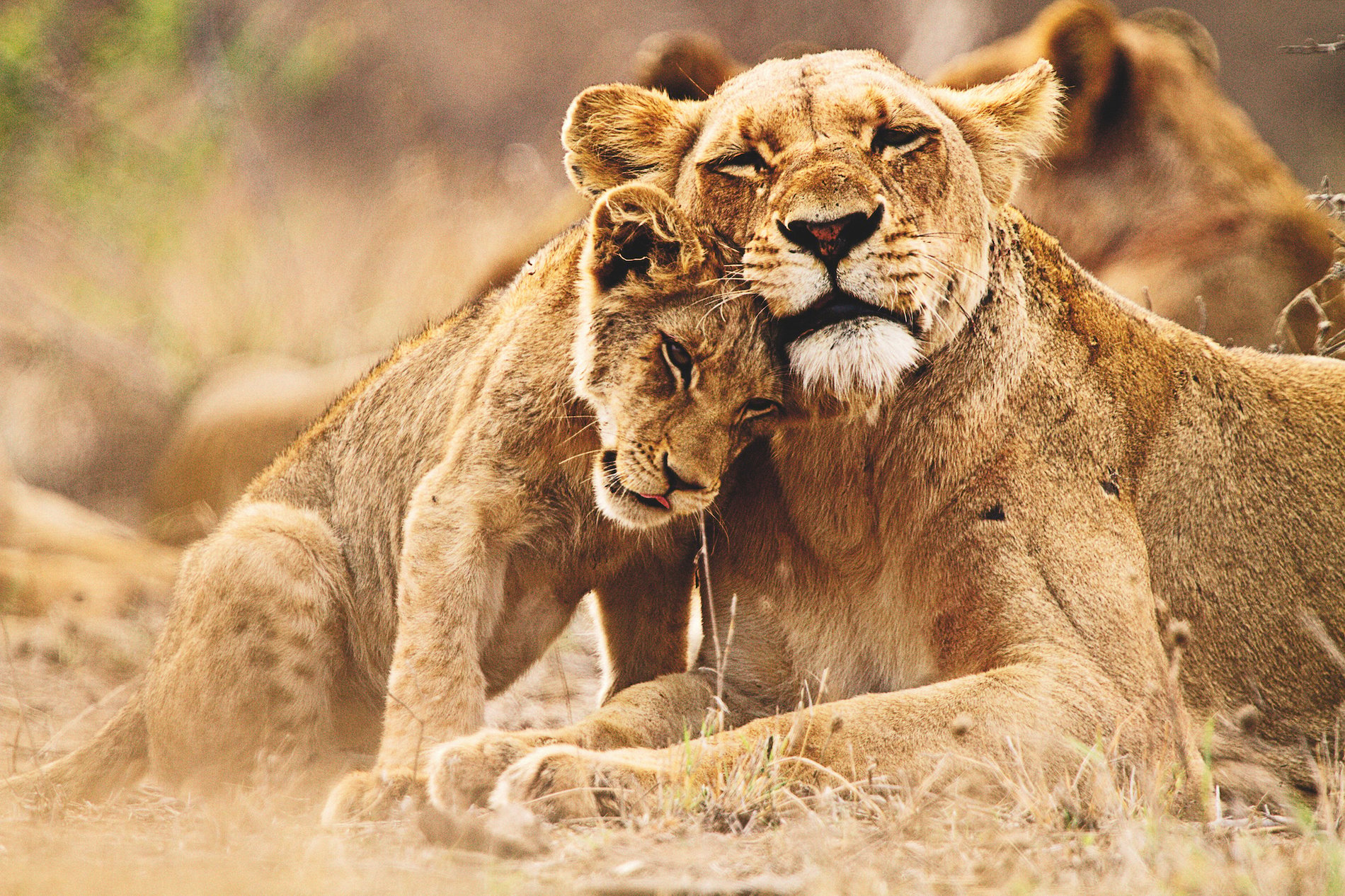 Wildlife Cruises: Guide to Cruises Which Offer Animal Encounters
Wild about animals? The new breed of expedition cruises offers a world of incredible encounters – and you get to enjoy your creature comforts, too
Whether it's getting close (but not too close) to a lioness and her cub, spotting a polar bear in the wild or watching the antics of a penguin colony on the Antarctic ice, wildlife-watching is one of the all-time great experiences – exciting, profound and incredibly life affirming.
Long gone are the days when we had to rely on zoos and safari parks. Today, with new routes and ever more luxurious expedition ships launching all the time, cruising is your passport to the most amazing wildlife encounters on earth.
Whether you want to go whale-watching in Alaska, explore the wonders of the Galapagos, or even tick off the Big Five in Africa, there's an incredible cruise to get you there.
These trips are rarely cheap, but we've chosen a selection that will reward you with a lifetime of golden memories…
I want to see… The Big Five
You'll spot all kinds of wonderful wildlife on an African safari, but everyone wants to see the Big Five: lion, cheetah, rhino, elephant and cape buffalo. If you book with an experienced operator, your chances are better than good – and you can also expect giraffes, zebras and hippos to feature among your holiday snaps, along with antelopes and birds of prey.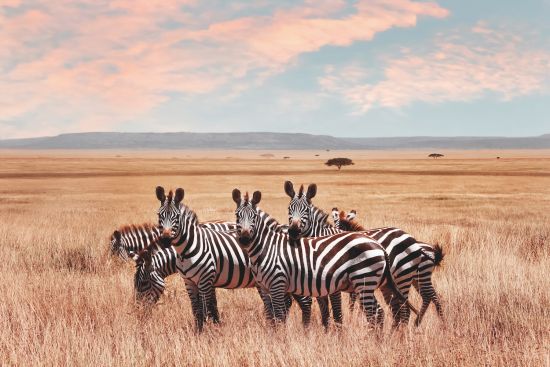 Any safari is an amazing experience, but combine it with a cruise and you truly have the holiday of a lifetime. Hapag-Lloyd's extraordinary 'Wild South Africa – The Cape of Wild Animals' itinerary sails from beautiful Cape Town, South Africa, to Walvis Bay in Namibia, via Durban and Richards Bay.
The programme includes overland excursions to Phinda and Hluhluwe-Umfolozi game reserves, where you're likely to see elephants, giraffes and cheetahs. Lion and zebra sightings are also possible – as is a glimpse of endangered black and white rhinos. The 15-night trip also includes a night safari to see sea turtles. Prices start at £7,524, departing 7 March 2021 (hl-cruises.com).
Another option
Crystal Cruises' 14-night 'Mombasa to Cape Town' cruise visits Zanzibar, Maputo and Durban, with overland trips to private game reserves. Prices start at £5,575, departing 8 March 2021 (crystalcruises.com).
Whales and Bears
Witnessing a huge whale break the surface has to be one of life's most extraordinary experiences, and May to September in Alaska offers a brilliant opportunity to enjoy it, with blue whales, humpbacks, minkes, orcas and belugas all frequent visitors to the area.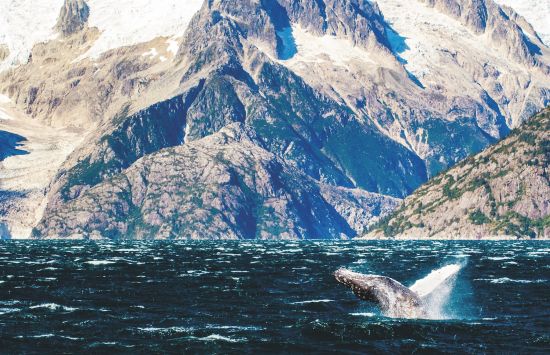 Thanks to environmentally conscious ships that carry fewer than 200 passengers, American Cruise Lines is one of the few operators allowed access to Alaska's spectacular Glacier Bay. American's 10-night 'Alaskan Explorer' cruise, round trip from Juneau, offers the chance to see whales, bald eagles and black bears in the wild. Prices start at £5,774, departing 6 July 2020 (americancruiselines.com).
Another option
NCL's newest ship, Norwegian Joy, offers a 7-day cruise from Seattle to Juneau and Icy Strait Point, where the wildlife outnumbers the population. Prices start at £739, departing 7 September 2019, ncl.com
What to Expect
Early starts: The animals are up at dawn and so are you – at least, if you want the best chance of a sighting. It's not unusual for safari trips to set off well before breakfast, so night owls take note!
No-shows: It doesn't matter how much you've paid for the chance to see your favourite animal, there is no guarantee it will put in an appearance. Even wildlife experts sometimes go home disappointed.
Active days: The natural habitats of some animals can be quite a challenge to reach, so if trekking, hiking and long journeys across bumpy terrain are not your thing, study the itinerary carefully before booking. If one trip sounds too arduous, just keep looking – there's bound to be an alternative that's right for you.
Orangutans
Among the most intelligent of the great apes, orangutans are also the most endangered. They are now found only in the rainforests of Sumatra and Borneo, so any cruise that offers an opportunity to see them is likely to be pricey.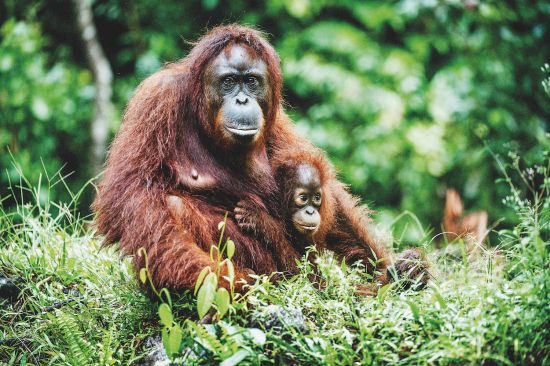 Our favourite is Crystal Expedition Cruises' very special 'Philippines, Borneo & Indonesia Quest' – a 16-night super-luxury voyage calling at some of Asia's most exotic islands. Sailing from Taipei to Bali via Manila, Sandakan (Borneo) and Komodo Island, you'll also get a chance to see the famous Komodo dragon. Prices start at £13,846, departing 29 September 2020 (crystalexpeditioncruises.com).
Another option
Royal Caribbean offers a 15-night cruise on Quantum of the Seas, round trip from Singapore via Borneo, Bangkok and Ho Chi Minh City, including a five-night Borneo land tour that visits sanctuaries for orangutans and sun bears. Prices start at £2,649, departing 2 January 2020 (iglucruise.com).
Iguanas, Sea Turtles and Rare Birds
One of the most important protected ecosystems on earth, and home to thousands of unique native species, the Galapagos Islands are a wildlife-spotter's dream. From prehistoric-looking land iguanas and dancing blue-footed boobies to lumbering giant tortoises and harmless reef sharks, there are amazing sights at every turn. No wonder Charles Darwin found this place so inspiring.
But with so many environmental threats, from climate change and pollution to overfishing and anchor-damage to the delicate seabed, tourist access is tightly controlled and only a very few small ships are allowed to operate here.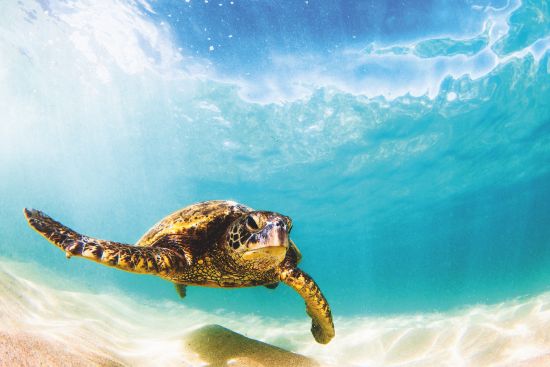 One of them is Silversea's brand new Silver Origin – plastic-free on board – which offers a 7-night luxury cruise from Baltra Island visiting Darwin Bay (good for iguanas, boobies and frigatebirds), Santa Cruz Island (for snorkelling with sea turtles and eagle rays) and Bird Island (home to no fewer than 70 avian species). Prices start at £6,480, departing 5 September 2020 (silversea.com).
Another option
Celebrity Cruises' 7-night 'Galapagos Outer Loop' voyage sails round-trip from Baltra aboard Celebrity Flora – a new 100-guest ship, built for Galapagos cruising, that incorporates sustainable materials in its design and uses no anchor. Prices start at £8,219, departing 7 June 2020.
How to photograph animals
In wildlife photography, good things come to those who wait. Don't just snap the first thing you see – watch the animal before you photograph it and you'll be rewarded with more interesting pictures.
Try to take pictures from the creature's own eye level, even if you have to squat or lie down. You'll get a much more dramatic shot, especially if you get eye contact (but don't try this with anything that might be considering you for dinner).
To capture your subject sharply against a blurred background, use a wide aperture (low f number). This also gives you a fast shutter speed – ideal if your subject is moving.
If possible, take pictures during the 'blue hour' (just before sunrise) or the 'golden hour' (just before sunset).
Your best chance of getting 'the shot' is simply to shoot lots of frames. Don't try to do it by over-editing your images afterwards. Wildlife is meant to look natural, after all.
Glass-bottomed boat rides have long been a great way to encounter tropical fish and all the spectacular sealife that congregates around a coral reef. Most warm-water cruises offer these among their excursion options, so assuming you're already familiar with angel fish, parrotfish and all the rest, here's something a little bit different: swimming with pigs.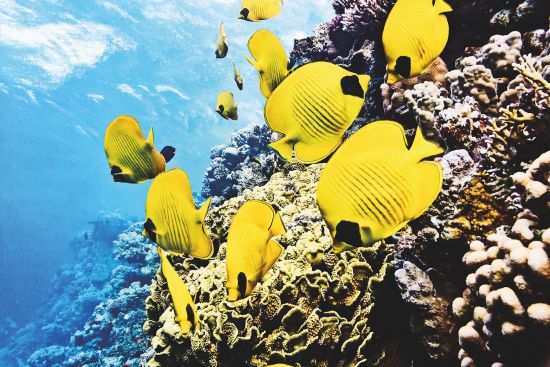 Living wild on a beach in the Bahamas, these cute, gentle porkers will swim up to you in the shallows, and they love having their bellies rubbed. The experience is all part of Royal Caribbean's 7-night 'Western Caribbean & Perfect Day' cruise, round trip from Miami via Mexico, Honduras and the Bahamas.
The trip also includes the chance to swim with dolphins off the island of Roatan, home to the second largest coral reef in the world. Prices start at £901, departing 4 January 2020 (royalcaribbean.co.uk).
Another option
Maritime explorer Jacques Cousteau called Mexico's Sea of Cortez 'a living aquarium', and with more than 900 species of fish, these warm waters are a diver's and snorkeller's dream. Offering excellent value for money, Cruise and Maritime Voyages' 11-night 'Treasures of the Sea of Cortez' cruise, round trip from Puerto Penasco via Cabo San Lucas, invites you to discover some of Mexico's best kept secrets. Prices start at £1,199, departing 20 January 2020 (cruiseandmaritime.com).
Penguins
Flightless birds whose wings have evolved into flippers, penguins are perfectly adapted to the harsh conditions of Antarctica. Their antics are a constant delight to visitors, and you'll be a true penguinologist after Lindblad Expeditions' 35-day 'Epic Antarctic Voyage' from New Zealand to Argentina.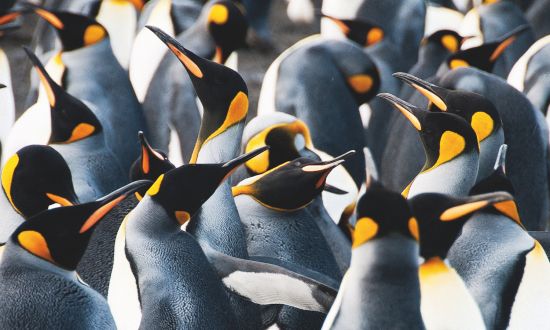 Sailing aboard the purpose-built, 126-guest National Geographic Endurance, you'll get to see 100,000 pairs of king penguins on a single beach – not to mention rockhopper, royal, Adélie and gentoo penguins, all against the backdrop of the White Continent's truly awesome landscapes. Prices start at £37,677, departing 27 January 2021 (world.expeditions.com).
Another option
Poseidon Expeditions' 21-day 'Antarctic Wildlife Adventure' aboard MV Sea Spirit, round trip from Ushuaia (Argentina) via the Falklands, South Georgia and Antarctica, offers an opportunity to see six different types of penguin, as well as albatrosses, elephant and fur seals, and possibly even whales. Prices start at £12,895, departing 7 January 2020 (poseidonexpeditions.com).
Polar Bears and Arctic Foxes
When it comes to spotting the magnificent polar bear and beautiful arctic fox, the clue is in the name – and that means you'll be heading north.
The planet's biggest land-based carnivore, an adult male polar bear can easily weigh half a ton and stand three metres tall. The Arctic fox is tiny by comparison – little more than half the size of a European fox – but this incredibly hardy creature is universally loved by wildlife photographers.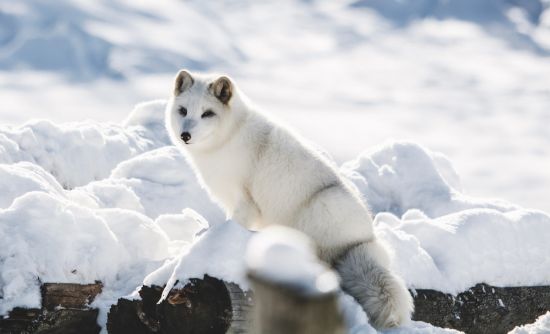 That's why we're so excited about Aurora Expeditions' 'Svalbard Odyssey'. Exploring the dazzling landscapes of the Spitsbergen archipelago, north of Norway, this cruise will be accompanied by legendary wildlife photographers Peter Eastway and Richard I'Anson, who will show guests how to make the most of every photo opportunity.
Sailing round-trip from Longyearbyen, this 11-night itinerary coincides with almost 24 hours of sunlight to help you capture stunning images of polar bears, arctic foxes, reindeer, whales, walruses and millions of migratory birds, including guillemots and puffins. Prices start at £7,030, departing 18 August 2021 (auroraexpeditions.com).
Another option
Hurtigruten's 9-night 'Circumnavigating Svalbard – In the Realm of the Polar Bear' voyage explores all the wonders of Spitsbergen under the midnight sun, with optional extras including hiking, kayaking and traversing a glacier. Prices start at £4,775, departing 6 June 2020 (hurtigruten.co.uk).
Toucans and Sloths
A trip to Central or South America will bring you within spotting distance of the world's greatest abundance and diversity of wildlife, especially if you venture into the Amazon basin. With at least 427 species of mammal, 1,300 types of bird, 378 species of reptile and more than 400 different amphibians, the greatest rainforest on earth can't fail to provide you with an impressive photo album.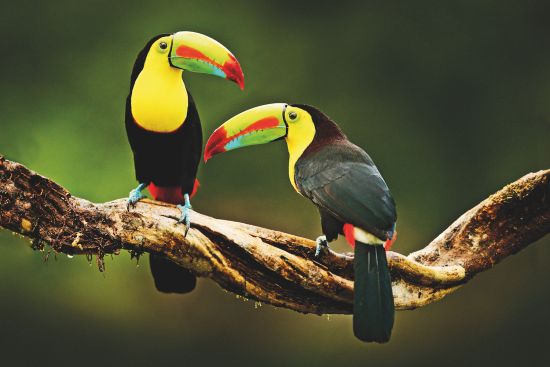 A river cruise with G Adventures is a great way to see the area in all its glory. On their 6-night 'Amazon Riverboat Adventure', round trip from Lima, Peru, you're accompanied by a naturalist guide as you trek through the jungle. Other highlights include a visit to the Pacaya Samiria National Reserve, where you'll see tropical birds and sloths, and a nocturnal boat excursion in search of the elusive jaguar. Prices for this adventure start at £1,279, departing 13 January 2020 (gadventures.com).
Another option
Holland America's 16-night 'Panama Canal' cruise from San Diego to Fort Lauderdale via Mexico, Guatemala, Nicaragua and Costa Rica, costs from £1,879, departing 3 October 2019 (hollandamerica.com).
What to Take
Technical clothing: You're likely to be entering some extreme environments so you need to be properly kitted out. For very cold climates, go for polypropylene outerwear to keep chill winds at bay, with several layers of fine breathable fabric underneath. On safari, muted shades of green and beige are essential, while breathable wet-weather gear is needed for rainforest adventures.
A quality camera: You've paid a lot of money to get here and you're going to see some incredible sights, so don't just rely on your phone to capture them. Having said that, you don't need professional-grade equipment – a good compact camera with
an excellent lens will be perfectly adequate. More important is to ensure you have enough memory cards and a fully charged battery before any excursions.
Binoculars: Although ships often provide spotting scopes on board, that's no substitute for having your own binoculars. With so many models to choose from, don't leave it till the airport – do your homework and shop around before you leave.
Sunglasses: Whether you're heading to the equator or the poles, invest in a pair of well-fitting, polarised wrap-around sunglasses for all-round optical protection. Fashion shades just won't cut it.
Lip balm and sunscreen: It may be below freezing where you're heading, but the sun's rays are incredibly powerful and it's as easy to burn in the Arctic as it is on safari.