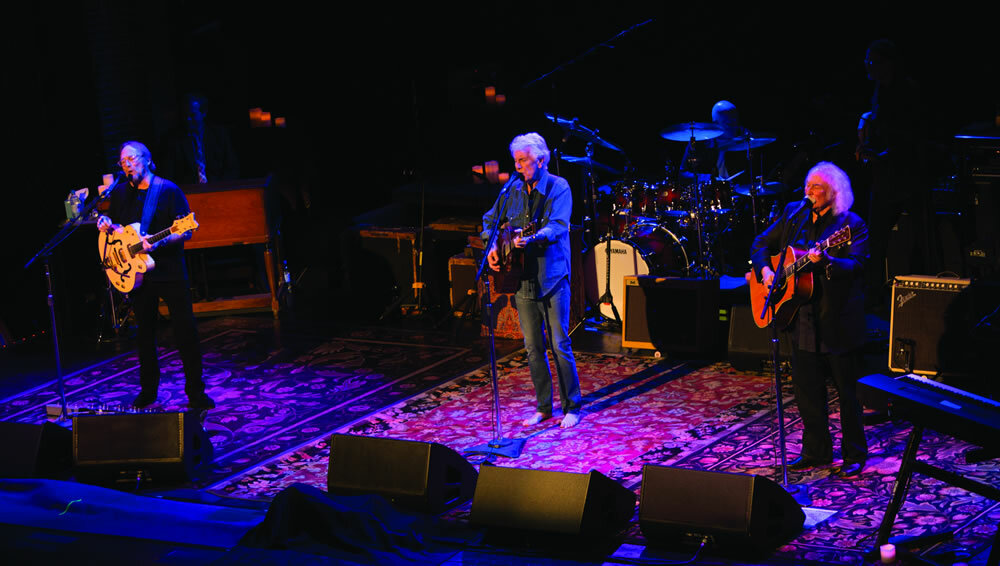 Woodstock at sea on Queen Mary 2
It's Déjà Vu all over again for Crosby Stills & Nash fans on a very special Transatlantic crossing as Barry Cain writes. There were a lot of groovy Santas on the Queen Mary 2 as it skipped the light fandango from Brooklyn to Southampton. Once upon a time, in a pre-Altamont Garden of Eden, these
It's Déjà Vu all over again for Crosby Stills & Nash fans on a very special Transatlantic crossing as Barry Cain writes.
There were a lot of groovy Santas on the Queen Mary 2 as it skipped the light fandango from Brooklyn to Southampton.
Once upon a time, in a pre-Altamont Garden of Eden, these David Crosby aficionados would've been doused in denim and tie-die as they peered through the flowers dangling from their hair to see Crosby Stills & Nash on a festival stage a million miles away.
Now, nearly 50 years later, they get to see them up front and personal in the 1,100-seat Royal Court Theatre. Alas, fading eyesight means the band still seem like a million miles away. And fading denim is prohibited. Gentlemen must wear a jacket, tie optional. Ladies should wear a 'cocktail dress, stylish separates or equivalent '.
I was tempted to do a Hunter S. Thompson and turn up in Bermuda shorts, smoking a spliff and demanding to be admitted, just to find out if there was such a thing as cruise police. Fortunately, the band didn't play on a formal night when sober evening wear was expected to be worn at all times. Imagine it, all that wispy white hair and whiskers slapped in tuxedos and groovin' to 'Long Time Coming'. That would've been too much even for this surreal journey.
A vast majority of CS&N fans are now over 60 and happy to be islands in the sun. When the last baby boomer kicks the bucket, pop will regain the 'ular' it lost when Elvis rubbed rebellion and sex together like a Neanderthal making fire. It will once again become a pleasant diversion and not the all conquering hero it used to be.
But where there's a will (not in a last testament sense) and a pulse, there's a way. The future's bright, the future's silver – of the surfing and cruising kind. Okay, the future may not be as long as it once was but, shit, let's go fly a kite, let's go relive memories when once we went in search of them. They're all that's left of us.
Oh yeah, and let's do it in luxury on the world's most famous ship. Let's take in a CS&N concert after a sumptuous dinner. Then we could go dancing in the Queens Room or boogying in G32, followed by a late light supper before rounding off the evening with a nightcap in a bar overlooking the Atlantic. And then back to the room, catch a movie before bed and have away-from-homensex, the best kind.
Before you know it, you're creating memories again, a new batch for the Woodstock generation. Cruise entertainment has long been the butt of jokes and with good reason. Some of it wouldn't look out of place on a 60s TV special. Whenever I have the misfortune to endure one of these shows, I half expect Norman Vaughan to appear from behind the curtain and do his abysmal "Swinging/ Dodgy" routine.
Our parents' generation, drenched in stardust and war, was prepared to accept that. But we're the new kids in town ; kids brought up on music when it was important and all-conquering. vVhen it changed the world. When it was all we had. Attractive high-kicking dancing girls and pre-rock 'n' roll smoochers on glittery stages are not enough. Oh, it's grand and palatable, but it's ultimately insubstantial. Our generation needs legends, especially of the music kind. And it needs to see them live.
Crosby, Stills & Nash are legends and they performed three times on a legendary liner. CS&N defined an era when guitar­ strumming minstrels fooled arou nd and fell in love with harmony and hippiedom and wrapped their melancholia in hooks that dripped with honey. They were the real deal to a shedload of melancholic hippies. It was the 60s West Coast and you really had to be there. I never got to see CS&N live. Or The Byrds, or Buffalo Springfield or Neil Young or, the one I most regret, pre '68 Hollies. I used to lift the stylus off the Woodstock album before it reached Wooden Ships, in search of speed licks and attitude.
From the sublime to the ridiculous. In the space of 26 hours I watched them perform three concerts. From the ridiculous to the sublime – the last time I saw a band that many times was The Damned at CBGBs in '77.
Now in their seventies, I feared the worst.
This could be seriously bad. I mean, one show I could just about stand. But three? In 26 hours? They shoot horses don't they? I didn't sign up for this.
If they'd have told me in the first place that I'd have to sit through a CS&N concert three times in 26 hours I'd have told them to stuff their dream cruise. And Graham Nash 's opening line didn't bode well. "We've got dozens of new songs …" My heart sank. There's nothing worse than new songs for old fans. This was gonna be torture. He had me at, "…but we decided to play all our hits …" After witnessing two sets of incomparable musicianship and harmonies that have remained remarkably intact and bittersweet, I found myself actually looking forward to the final show. In fact, show is the wrong word. Thanks to the intimate setting, which the band clearly relished , these were parties with ladies in stylish separates hippy dancing in the aisles. Bet the queues for the spa were long the next day.
CS&N don't do dad dancing a laJagger. They never had to. That's why their music and their presence doesn't age. There's more punch than paunch, and you can't say that about some bands half their age. The sets I saw, each one just over an hour, were bursting with smiles and sincerity and songs I hadn't heard in many years – 'Marrakesh Express' (still their biggest UK hit), Teach Your Children', 'Our House' and, obviously, 'Wooden Ships'. And they even throw in 'Love The One You're With' for good measure. The music drifted over the occasionally restless ocean on a journey into the past where a generation turned on, tuned in but never really dropped out.
Crosby, rock's great survivor – he makes Keith Richard look like Justin Bieber – can still belt out the blues from under those74 year-old walrus whiskers that cascade over his top lip. Stills, rock's great survivor with a goatee that makes him look like a French impressionist , has acquired speed licks and attitude. And Nash, rock's great survivor who must have a withering portrait in the attic alongside a decaying set of vocal chords, captivates and caresses with his delectably gooey vocals.
It was a privilege to be there. The passengers were allocated tickets so everybody got a chance to see the hour long shows. The band did a couple of autograph sessions and sold a bit of merchandise and could occasionally be seen strolling around – Graham Nash was spotted taking part in a pub quiz in the Red Lion one night. Their presence made the cruise – already magnificent -just that bit more special. It's what legends do. What did Graham Nash and David Crosby think of the experience? Graham – 'I now have an incredible new respect for the size of this ocean. It's 41 million square miles and still only the second largest ocean. Astonishing. \!We've been going at a clip for days and we're still nowhere near Southampton . The whole thing is surreal.
'I've been on David 's boat but never on a ship like this, I must admit, No, I'd rather take six hours to get to my destination than a week. It's an interesting experience and I hear that people actually live on these ships because it's cheaper than trying to maintain a house or something. It really is a floating city. 'The theatre is beautiful to play in – we provided the rock and the ship provided the roll.'
David – Tm enjoying the hell out of it. I've been a sailor my whole life – the sea, the motion , doesn't bother me. The QM2 is pretty amazing as are the people run ni ng it. I've never been on a cruise ship before – but this isn't a cruise ship – it's an ocean liner. It's very clean, very well done, extremely high grade service. The food is good, which shocked me. And we did three great shows.' New ships have state of the art facilities with theatres that rival Broadway and the West End. They demand to be taken advantage of by the best of the best. Get The Damned on a punk cruise and the average age would be around 55. Spandau Ballet fans on a New Romantic cruise, average age 50. These are prime cruise markets. If you build it, they will come.
And Cunard are doing just that . In October on a Transatlantic crossing, Grammy Award-winning vocalist Gregory Porter and an all-star band celebrated jazz label Blue Note's 75th Anniversary. Meanwhile, other cruise lines are now stepping up to the mark. Bands that have recently played or will be playing on the high seas (mainly on voyages out of Florida) include New Kids On The Block, Kiss, Peter Frampton, Greg Allman, a Righteous Brother, The Association , Huey Lewis & The News and Kool & The Gang. It's been a long time coming.