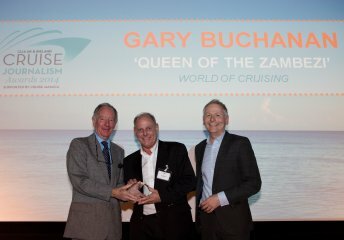 World of Cruising's Gary Buchanan wins CLIA award
World of Cruising's contributing editor Gary Buchanan picked up a prestigious award for his writing at the CLIA UK & Ireland Cruise Journalism Awards last night. Gary received his award from veteran BBC newsman Michael Buerk in the category of Best River Cruise Feature for his article Queen of the Zambezi. More than 300 entries
World of Cruising's contributing editor Gary Buchanan picked up a prestigious award for his writing at the CLIA UK & Ireland Cruise Journalism Awards last night.
Gary received his award from veteran BBC newsman Michael Buerk in the category of Best River Cruise Feature for his article Queen of the Zambezi. More than 300 entries were received for the awards which were presented at The May Fair Hotel in Central London.
Judge Lynn Narraway, managing director of Holland America Line and Seabourn and chair of the CLIA UK & Ireland UK PR Working Group said: "This has been a fantastic year for cruise journalism with over 300 entries to the CLIA UK & Ireland Cruise Journalism Awards. The range of content from ocean to river cruise features across traditional and online media was of a very high standard and we are delighted to be able to honour the journalists who have shown such great support for the growing cruising industry."
You can read Gary's latest reviews of river cruising in Burgundy and luxury cruising in Kerala in the new issue of World of Cruising.