Search for your ideal Cruise
Why cruise on this ship?
American Cruise Lines is pleased to announce the continuation of our modern riverboat series. American Jazz will begin its inaugural season on the Lower Mississippi in August of 2020.
find your perfect cruise
Dining
Main Dining Room
American Cruise Lines' chefs explore the nation searching for exceptional, locally grown menu items. Each ship receives local seafood reports and their menus are adjusted seasonally to best utilise local fruits and vegetables at their peak of freshness. Meals are adjusted seasonally, prepared to order and served in the Main Dining Room where every seat offers a panoramic view of the passing scenery.
Features
Experience: Complimentary
Food type: American
Entertaining
Onboard Music Entertainment
Let American Cruise Lines guide you through the origins and rich traditions of music on America's legendary rivers and waterways. These shores are home to many celebrated styles of music including Country, Jazz, Blues, and Rock n' Roll. On board and ashore, enjoy music inspired by each unique region and learn its impact on the development of music in America.
Jazz - Solo's to Ensembles
Ragtime and Jazz Pianist
Traditional Dixieland Jazz
New Orleans / Mississippi River Influence
Memphis Style Jazz
Country & Blues - From the Heartland
American Heartland Bluegrass
Memphis Blues
Mississippi Blues Choir
Banjo Country Classics
Rock and Roll - Regionally Inspired
50's & 60's Rock n' Roll
Great American Storybook
Doo Wop
Piano Hits
Enrichment
Onboard Experts & Historians
American Cruise Lines carefully selects industry experts to join us on each of our cruises. Their informal presentations, open discussions, and activities bring local history, nature and culture to life through their knowledge and passion for American heritage. These specialists, naturalists, and historians also attend shore excursions to give our guests behind the scenes insight into some of America's most treasured destinations.
Columbia & Snake Rivers
Our onboard experts share tales of characters who helped shape the history of America along the Columbia and Snake Rivers, from Lewis and Clark and their Corps of Discovery to Sacajawea and the legendary John Colter. Learn about the stunning eruption of Mount St. Helens and the leveling of the Columbia River as you transit its many lock and dam systems.
New England
Indulge in the rich maritime history and cultural treasures of New England, with the help of our onboard experts. Through engaging presentations onboard and ashore, learn about early exploration and the history of America's birthplace from the first settlers to the present. Discover the plentiful marine wildlife, the amazing Maine lobster industry, and the region's unique ecology and geology.
Mississippi River
As we cruise this legendary river, our experts will provide you with a deeper understanding of river history, culture, and lore. Learn about the Civil War as you walk the grounds on which it took place. Take part in discussions about the river's role in the development of American music and discover how steamboats played a major part in America's western expansion.
Southeast
From Baltimore to Jacksonville, topics of our onboard experts include a blend of natural and human history. Learn about the underlying geology of the area, coastal culture and ecology, native wildlife, and maritime heritage, including the history of pirates. Discover why many destinations along the way were once winter retreats for America's wealthiest families.
Puget Sound
Our onboard naturalists and historians bring meaning and relevance to each destination. Learn about the unique marine life and the incredible ecosystem of Washington's temperate rainforest, as well as the native art and culture of the region. As we cruise, listen to our onboard expert describe the native wildlife including whales, eagles, and seals from the sun deck.
Alaska
Alaska holds some of the greatest scenery and wildlife on the planet. Seasoned Alaskan travelers, our onboard experts share their knowledge of the area in an entertaining and fun way. While cruising, discover fascinating facts on the region's flora, fauna, geology, and wildlife as well as the history of the native people.
Musically Rich Destinations
Your musical entertainment doesn't end on board; it perfectly harmonizes with the destinations we visit. Nashville, also known as "Music City" is home to the Country Music Hall of Fame and Museum, the Grand Ole Opry, and the Johnny Cash Museum. Memphis is one of America's most renowned music towns and also home to the famous Sun Studios and Graceland mansion. It's also the city that launched the careers of Elvis Presley, B.B. King, and many other legendary Country and Blues musicians. St. Louis is synonymous with the Blues, enough so that there is a specific style of the genre called "St. Louis Blues." It's also the birthplace of Miles Davis, Roosevelt Sykes, and Ike Turner.
Health and fitness
More information to follow.
Kids and teens
Please note that there are no children facilities on board.
Accommodation
Cruise the Mississippi in comfort aboard American Cruise Lines' Queen of the Mississippi, All third and fourth deck staterooms and suites feature sliding glass doors to access private balconies allowing you to experience breathtaking scenery from the privacy of your stateroom as the Queen of the Mississippi makes its way down the river.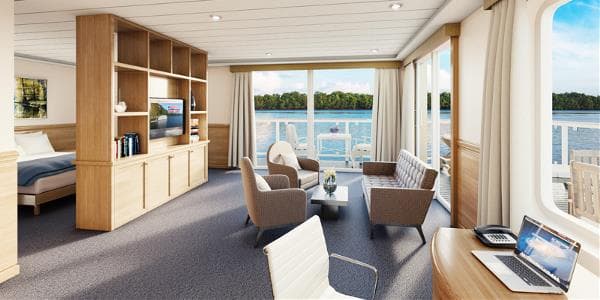 Grand Suite
The luxurious Grand Suite measures over 800 sq. ft. and offers 270◦ of panoramic views through floor-to-ceiling glass windows. Sliding glass doors lead out to a wrap-around balcony complete with a private dining area, the perfect place to enjoy breakfast room service or watch the sun set. Each Grand Suite features a separate bedroom and living area, ideal for gathering with family and friends after an invigorating day of exploration.
Features
King or Twin Configuration
Lounge Area
Shower
Bath
Toiletries Provided
Room Service Available
Suite Benefits
TV
Free Wi-Fi
Safe
Hair Dryer
Desk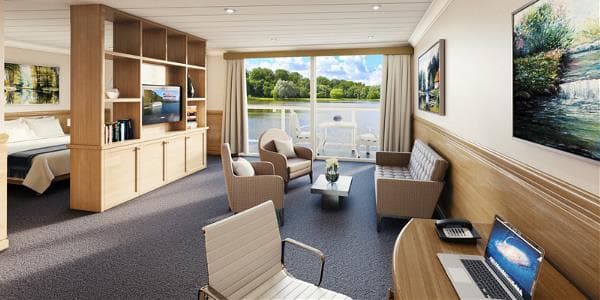 Owner's Suite
Each Owner's Suite offers the finest accommodations with unsurpassed views of the passing scenery. A spectacular 645 sq. ft. of space is your private sanctuary to spread out and make yourself at home. This spacious suite features a full-size bathroom, as well as a separate bedroom and living area. Floor-to-ceiling sliding glass doors let light pour in and allow private panoramic views from every vantage point. An expansive private balcony is a perfect place to savor a calm afternoon or to enjoy breakfast as the sun rises over the riverbank.
Features
King or Twin Configuration
Lounge Area
Shower
Toiletries Provided
Room Service Available
TV
Free Wi-Fi
Safe
Hair Dryer
Desk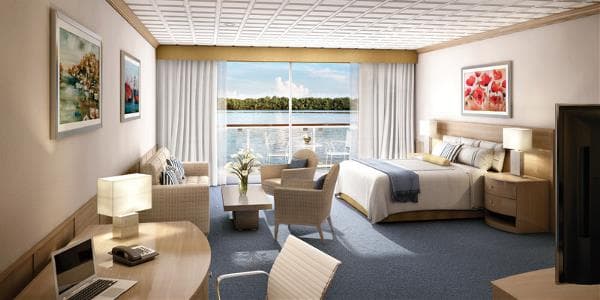 Veranda Suite
With a generous 405 sq. ft. of relaxing space, each Veranda suite includes a private walk-out balcony to enjoy the panoramic views. Considered one of the finest staterooms on any cruise ship, guests will enjoy full-size bathrooms and large living area with sliding glass door.
Features
King or Twin Configuration
Shower
Toiletries Provided
Room Service Available
TV
Free Wi-Fi
Safe
Hair Dryer
Desk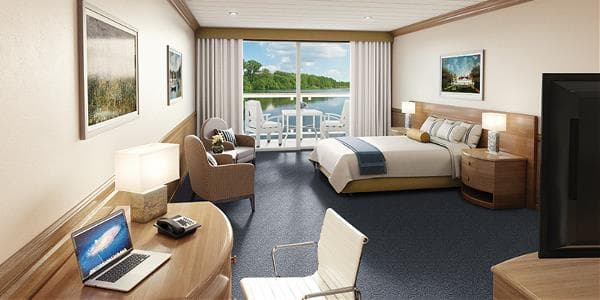 AAM Private Balcony
Located on the fourth deck, these spacious staterooms feature commanding views of the passing river landscapes. At 350 sq. ft., there is plenty of room to enjoy the tasteful comfort of your surroundings. These staterooms have all the comforts of a fine hotel and feature floor-to-ceiling sliding glass doors with a private balcony to offer panoramic views from every angle.

Features
King or Twin Configuration
Shower
Toiletries Provided
Room Service Available
TV
Free Wi-Fi
Safe
Hair Dryer
Desk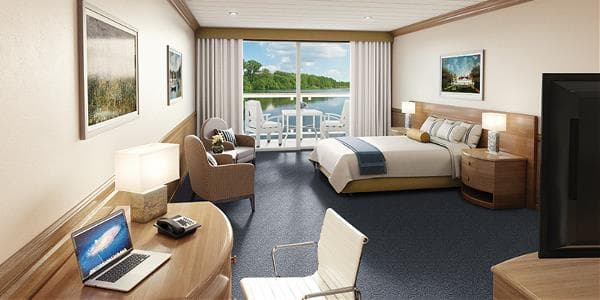 AAC Private Balcony
AAC staterooms are conveniently located on the third deck and offer all of the comforts of a fine hotel. Complete with a private balcony and floor-to-ceiling sliding glass doors, these staterooms provide spectacular views of the Mississippi River and the surrounding landscape. At 316 sq. ft., these staterooms also offer a sitting area, desk and full-size bathrooms.
Features
King or Twin Configuration
Shower
Toiletries Provided
Room Service Available
TV
Free Wi-Fi
Safe
Hair Dryer
Desk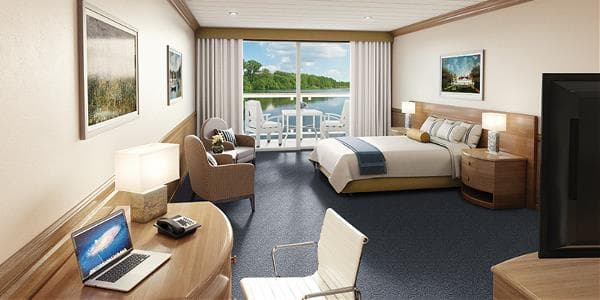 AAL Private Balcony
AAL staterooms can be found on the second deck and offer a luxurious 300 sq. ft. of living space. Each room is equipped with plush seating, full-size bathroom, and a private balcony with large sliding glass doors that offer great views of the Mississippi scenery. These staterooms are the epitome of comfort and relaxation.
Features
King or Twin Configuration
Shower
Toiletries Provided
Room Service Available
TV
Safe
Hair Dryer
Desk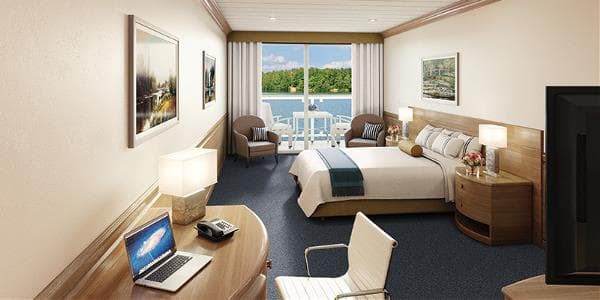 AAR Private Balcony
AAR staterooms on the main deck offer complete comfort with approximately 275 sq. ft. of living space. Enjoy a full-size bathroom, large picture window, and door leading out to a furnished private balcony. These staterooms also feature a large sitting area, ideal for getting together with friends.
Features
King or Twin Configuration
Toiletries Provided
Room Service Available
TV
Free Wi-Fi
Safe
Hair Dryer
Desk
Single Private Balcony
Perfect for the solo traveler, our Single staterooms offer all of the amenities you expect from a fine hotel. At 250 sq. ft., these staterooms have spacious bathrooms and large sliding glass doors that lead to a private balcony.
Features
One Single Bed
Shower
Toiletries Provided
Room Service Available
TV
Free Wi-Fi
Safe
Hair Dryer
Desk
Deck plans

Deck 1
Vestibule
Dining Room
Galley
Powder Room
Ship's Office
AAR Private Balcony Stateroom (1x accessible)

Deck 2
Lounge
Laundry
Bow Terrace
Vestibule
Fitness Room
Yoga/Wellness Room
AAL Private Balcony Staterooms
Single Private Balcony Staterooms

Deck 3
Pilothouse
Chart Room
Vestibule
Owner's Suites
AAC Private Balcony Staterooms
Single Private Balcony Staterooms

Deck 4
Magnolia Lounge
Library
Vestibule
Sky Lounge
Sun Deck
Back Porch Cafe
AAM Private Balcony Staterooms
Single Private Balcony Staterooms

Deck 5
Lounge
Vestibule
Sun Deck
Grand Suites
Veranda Suites
Deck 6