Why cruise on this ship?
The modern American Spirit is for the traveler who pursues the exceptional. Uniquely designed to navigate the inland waterways of Alaska and Puget Sound, the American Spirit brings passengers to some of the most beautiful locations in America.

Dining
American Cruise Lines' chefs explore the nation searching for exceptional, locally grown menu items. Each ship receives local seafood reports and their menus are adjusted seasonally to best utilise local fruits and vegetables at their peak of freshness. Meals are adjusted seasonally, prepared to order and served in the Main Dining Room where every seat offers a panoramic view of the passing scenery.
Main Dining Room
Chandeliers and fine furnishing adorn the space, but what seasoned cruisers appreciate the most is the space. The dining room comfortably accommodates all guests in one seating, so you can dine whenever and with whomever you please.
Features
Experience: Cover
Food type: American
Entertainment
Onboard Music Entertainment
Let American Cruise Lines guide you through the origins and rich traditions of music on America's legendary rivers and waterways. These shores are home to many celebrated styles of music including Country, Jazz, Blues, and Rock n' Roll. On board and ashore, enjoy music inspired by each unique region and learn its impact on the development of music in America.
Jazz - Solo's to Ensembles
Ragtime and Jazz Pianist
Traditional Dixieland Jazz
New Orleans / Mississippi River Influence
Memphis Style Jazz
Country & Blues - From the Heartland
American Heartland Bluegrass
Memphis Blues
Mississippi Blues Choir
Banjo Country Classics
Rock and Roll - Regionally Inspired
50's & 60's Rock n' Roll
Great American Storybook
Doo Wop
Piano Hits Library Lounge
Library Lounge is located on deck 3. Midship Lounge
Midship Lounge is located on deck 2.
Enrichment
Onboard Experts & Historians
American Cruise Lines carefully selects industry experts to join us on each of our cruises. Their informal presentations, open discussions, and activities bring local history, nature and culture to life through their knowledge and passion for American heritage. These specialists, naturalists, and historians also attend shore excursions to give our guests behind the scenes insight into some of America's most treasured destinations.
Columbia & Snake Rivers
Our onboard experts share tales of characters who helped shape the history of America along the Columbia and Snake Rivers, from Lewis and Clark and their Corps of Discovery to Sacajawea and the legendary John Colter. Learn about the stunning eruption of Mount St. Helens and the leveling of the Columbia River as you transit its many lock and dam systems.
New England
Indulge in the rich maritime history and cultural treasures of New England, with the help of our onboard experts. Through engaging presentations onboard and ashore, learn about early exploration and the history of America's birthplace from the first settlers to the present. Discover the plentiful marine wildlife, the amazing Maine lobster industry, and the region's unique ecology and geology.
Mississippi River
As we cruise this legendary river, our experts will provide you with a deeper understanding of river history, culture, and lore. Learn about the Civil War as you walk the grounds on which it took place. Take part in discussions about the river's role in the development of American music and discover how steamboats played a major part in America's western expansion.
Southeast
From Baltimore to Jacksonville, topics of our onboard experts include a blend of natural and human history. Learn about the underlying geology of the area, coastal culture and ecology, native wildlife, and maritime heritage, including the history of pirates. Discover why many destinations along the way were once winter retreats for America's wealthiest families.
Puget Sound
Our onboard naturalists and historians bring meaning and relevance to each destination. Learn about the unique marine life and the incredible ecosystem of Washington's temperate rainforest, as well as the native art and culture of the region. As we cruise, listen to our onboard expert describe the native wildlife including whales, eagles, and seals from the sun deck.
Alaska
Alaska holds some of the greatest scenery and wildlife on the planet. Seasoned Alaskan travelers, our onboard experts share their knowledge of the area in an entertaining and fun way. While cruising, discover fascinating facts on the region's flora, fauna, geology, and wildlife as well as the history of the native people.
Musically Rich Destinations
Your musical entertainment doesn't end on board; it perfectly harmonizes with the destinations we visit. Nashville, also known as "Music City" is home to the Country Music Hall of Fame and Museum, the Grand Ole Opry, and the Johnny Cash Museum. Memphis is one of America's most renowned music towns and also home to the famous Sun Studios and Graceland mansion. It's also the city that launched the careers of Elvis Presley, B.B. King, and many other legendary Country and Blues musicians. St. Louis is synonymous with the Blues, enough so that there is a specific style of the genre called "St. Louis Blues." It's also the birthplace of Miles Davis, Roosevelt Sykes, and Ike Turner.
Health and fitness
Kids and teens
Please note: there are no dedicated facilities for Kids & Teens onboard the ship.
Accommodation
The ship's staterooms are the most spacious in small ship cruising - all over 200 square feet in size, and each with large opening picture windows and a private bathroom.
Your spacious stateroom is a comfortable haven and the perfect place to relax and unwind. Enjoy the ever-changing scenery from your large, opening picture window or from your private balcony.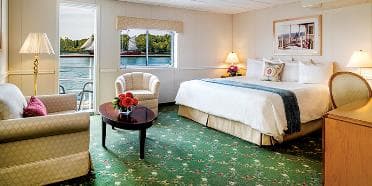 Owner's Suite
Experience complete comfort in this spacious private sanctuary where you can feel right at home. At 350 sq. ft. the Owner's Suite is quite roomy and features a full-size bathroom. Enjoy a large sitting area, a writing desk, closet, and a private balcony offering expansive views from a stunning vantage point.
Features
King or Twin Configuration
Shower
Toiletries Provided
Room Service Available
Suite Benefits
TV
Free Wi-Fi
Safe
Hair Dryer
Desk
AAC Private Balcony
These 283 sq. ft. staterooms are located on the top deck which provides privacy and great panoramic views. The living space is comparable to that of a fine hotel room and offers a writing desk, a closet, a full-size bathroom, and a private balcony.
Features
King or Twin Configuration
Shower
Toiletries Provided
Room Service Available
TV
Free Wi-Fi
Safe
Hair Dryer
Desk
AAL Private Balcony
AAL staterooms are a spacious retreat with all the amenities a modern traveler expects. Each room offers 263 sq. ft. of space encompassing a full-size bathroom, a private balcony, and a large opening picture window
Features
King or Twin Configuration
Shower
Toiletries Provided
Room Service Available
TV
Free Wi-Fi
Safe
Hair Dryer
Desk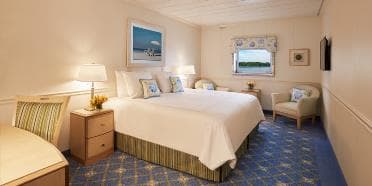 AA Stateroom
AA Category staterooms are the perfect place to unwind after a day of exploration. Each 258 sq. ft. room has a large opening picture window with views of the passing scenery. The room also offers a full-size bathroom and plenty of closet space.
Features
King or Twin Configuration
Shower
Toiletries Provided
Room Service Available
TV
Free Wi-Fi
Safe
Hair Dryer
Desk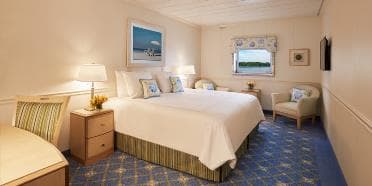 A Stateroom
A category rooms are a quiet enclave for total relaxation. They come equipped with a full assortment of modern amenities and large opening picture windows. Each room is 258 sq. ft. and ideal for cruising the inland waterways of the Northwest.
Features
King or Twin Configuration
Shower
Toiletries Provided
Room Service Available
Free Wi-Fi
Safe
Hair Dryer
Desk
Single Private Balcony
The intimate atmosphere of each Single stateroom is ideal for the solo traveler. At 248 sq. ft. each room has a twin bed, a full-size bathroom, a private balcony, and plenty of room to spread out and make yourself at home.
Features
One Single Bed
Shower
Toiletries Provided
Room Service Available
TV
Free Wi-Fi
Safe
Hair Dryer
Desk
Deck plans

Deck 1
Main Deck
Vestibule

Galley

Dining Room

Category A Stateroom


Deck 2
Passenger Deck

Ship's Office
Midship Lounge

Passenger Deck

Category AA Stateroom

Category AAL Private Balcony (1x accessible)


Deck 3
Pilot House

Library Lounge

Passenger Deck
Exercise Equipment
Owner's Suite

Category AAC Private Balcony

Single Private Balcony


Deck 4