Search for your ideal Cruise
Why cruise on this ship?
Part of Avalon's award-winning fleet of Suite Ships, the Avalon Visionary features two full decks of Panorama Suites with wall-to-wall, floor-to-ceiling panoramic windows that transform the living space into river cruising's only Open-Air Balcony.
find your perfect cruise
Dining
From the first bite to the last "Mmmmm," Avalon frees your tastebuds from the ordinary. At breakfast, lunch, and dinner, try mouthwatering recipes from the region through which you're traveling-or more familiar∘ Western dishes, if that's your preference. With Avalon, they make every meal part of the journey.
Avalon Fresh healthy cuisine options at every meal
Self-serve beverage station with complimentary tea, hot chocolate & premium coffees, including decaf options
Welcome & farewell cocktails with sparkling wine & canapés
Spacious, open-seating Panorama Dining Room
Daily early-riser breakfast
Daily late-riser breakfast
Full buffet breakfast with sparkling wine and made-to-order egg station
Lunch buffet with carving and pasta stations
Al fresco lunch in the Sky Grill
Cocktails with a view on the Sky Deck
Healthy Corner options including low calorie, low fat, high fiber, low cholesterol, and high energy choices
Vegetarian options at every meal, as well as vegan and allergy-free selections
Afternoon Tea featuring tea, coffee, and sweet treats
Happy Hour every evening including featured drink specials
Seasonal cuisine featuring the freshest local ingredients
Chef-prepared onboard meals with regional cuisine and familiar favorites
Four-course dinners with choice of appetizers, soups, salads, entrées and desserts or cheese
Complimentary wine, beer, or soft drinks with lunch and dinner
Complimentary room service for Continental breakfast
Panorama Lounge & Bar with premium spirits, cozy seating, panoramic windows & dance floor
Healthy meal options
Linger over several selections from the Panorama Bistro's tasting menu for a less formal "sit-down" atmosphere
Tastings - sample the destination's famous delicacies
Casual dinner in the Panorama Bistro
Coffee or tea after dinner
Light lunch in the Panorama Lounge
FlexDining flexible dining times with menu & venue options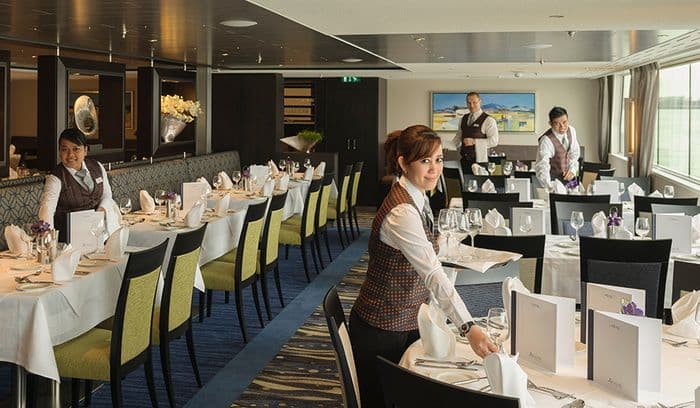 Avalon Waterways Avalon Artistry II Interior Dining Room 3 Service.jpg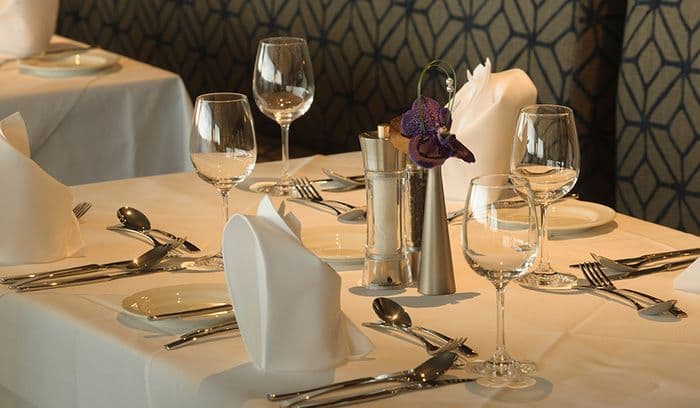 Avalon Waterways Avalon Artistry II Interior Dining Room 2 Service.jpg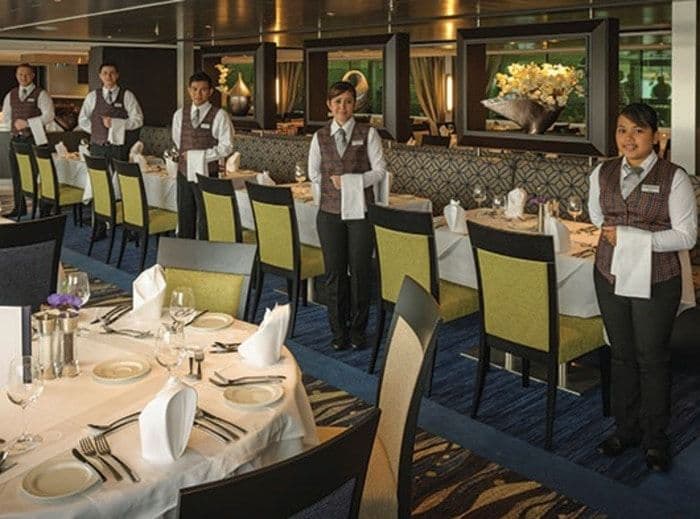 Avalon Waterways Avalon Artistry II Interior Dining Room 1.JPG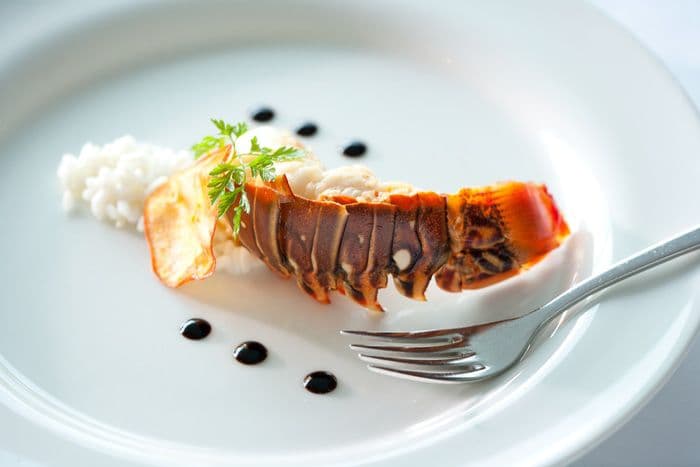 Avalon_Dining Room_26.jpg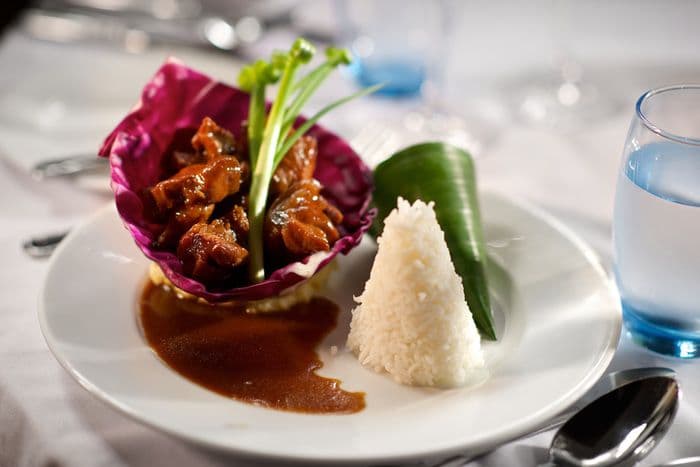 Avalon_Siem Reap_Dining Room_88.jpg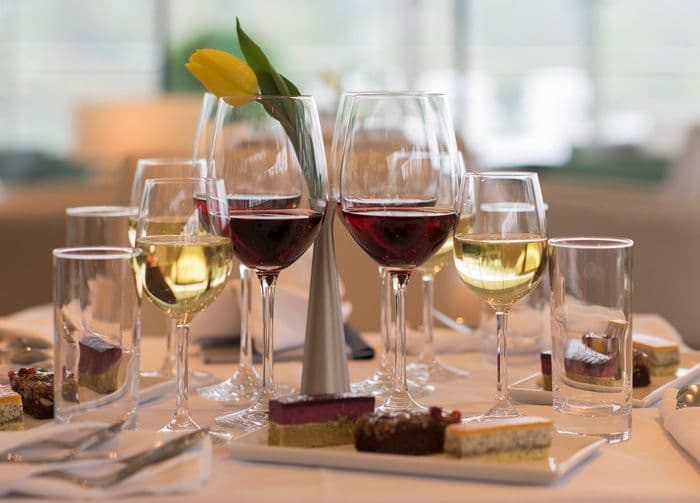 Avalon_Tapestry II_Panorama Bistro_13.jpg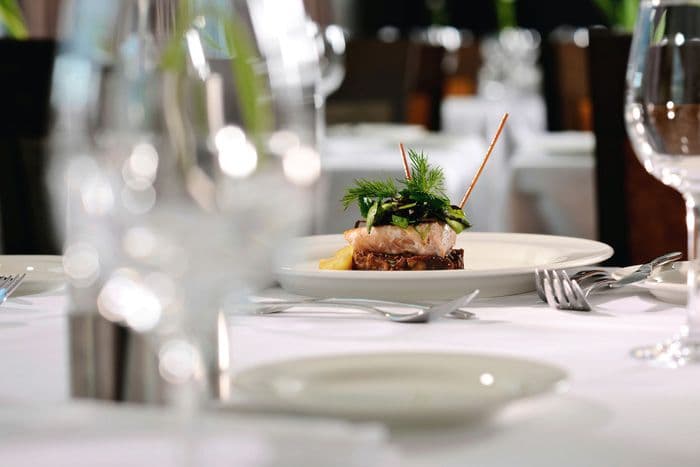 Avalon_Dining Room_58.jpg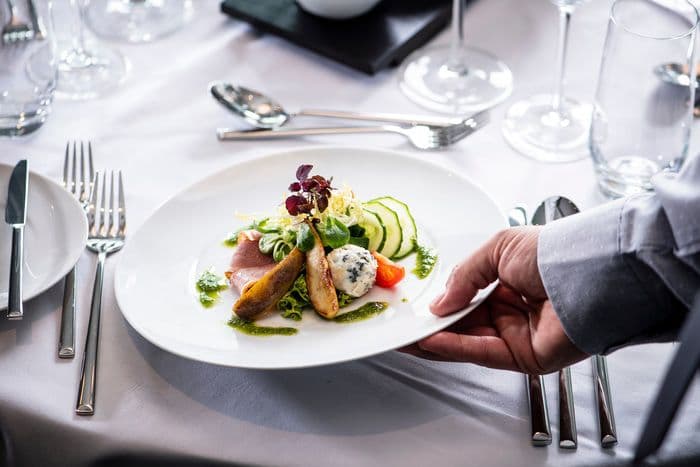 Avalon_Envision_Dining Room_60.jpg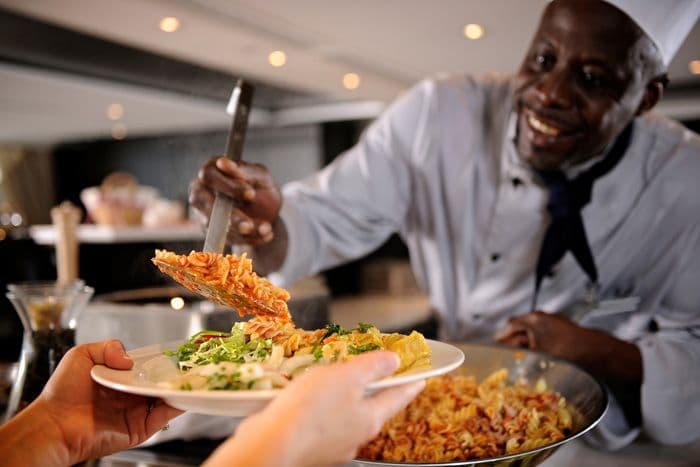 Avalon_Visionary_Dining Room_53.jpg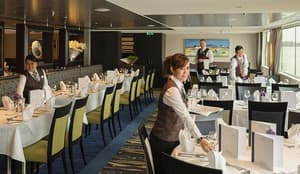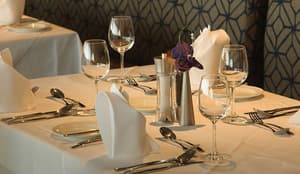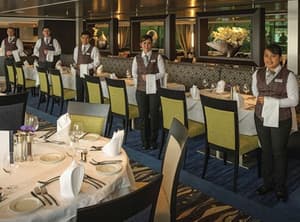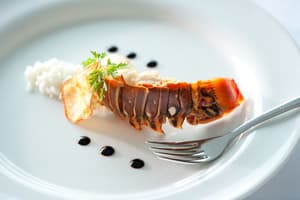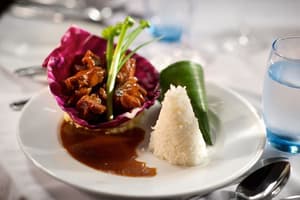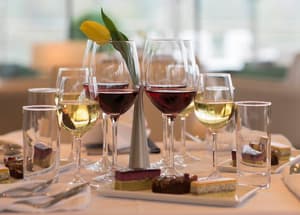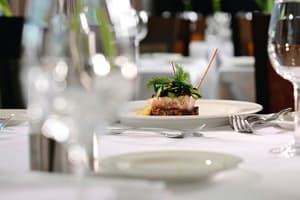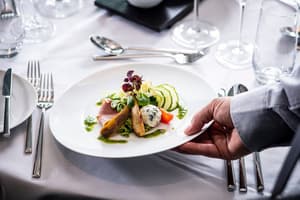 Dining Room
The ship's main venue is the Dining Room situated on the Sapphire deck. With an elegantly simple design, you can enjoy a full buffet breakfast or lunch with special options for those who wish to eat lightly, and delicious four-course dinners in the evening.
Features
Experience: Complimentary
Food type: Classic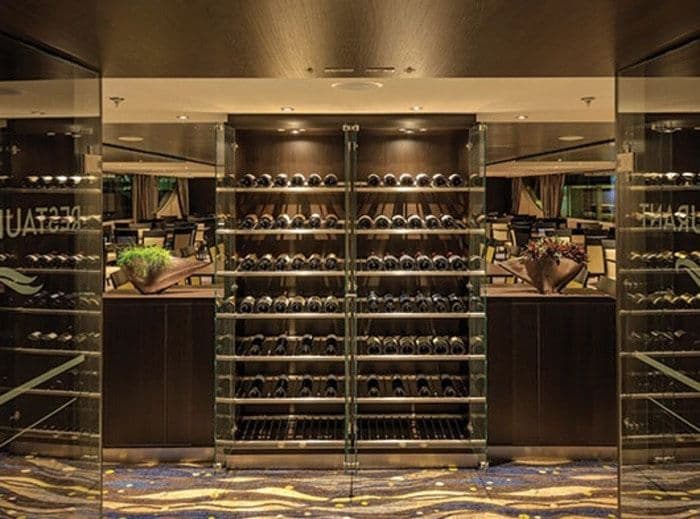 Avalon Waterways Avalon Artistry II Interior Wine Rack.JPG
Avalon Waterways Avalon Artistry II Interior Dining Food.jpg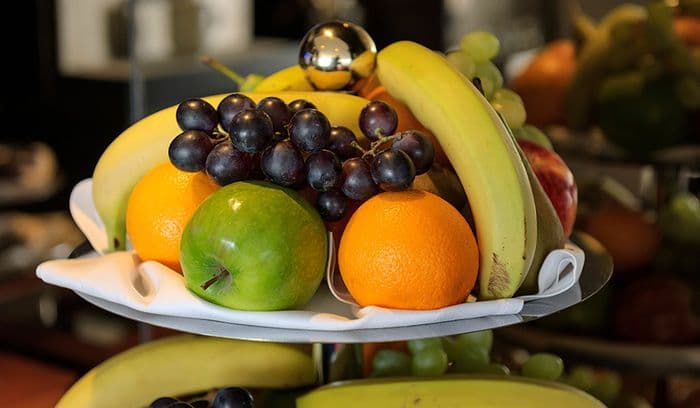 Avalon Waterways Avalon Artistry II Interior Dining Food 2.jpg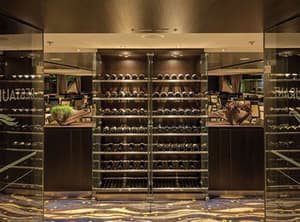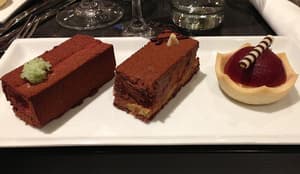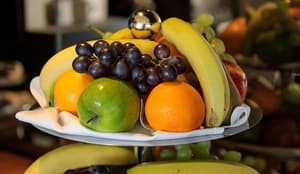 Sky Grill
On a sunny day, enjoy hand carved meats and expansive buffets including fresh salads and amazing homemade soups, all a view courtesy of our Sky Grill.
Features
Experience: Cover
Food type: Varies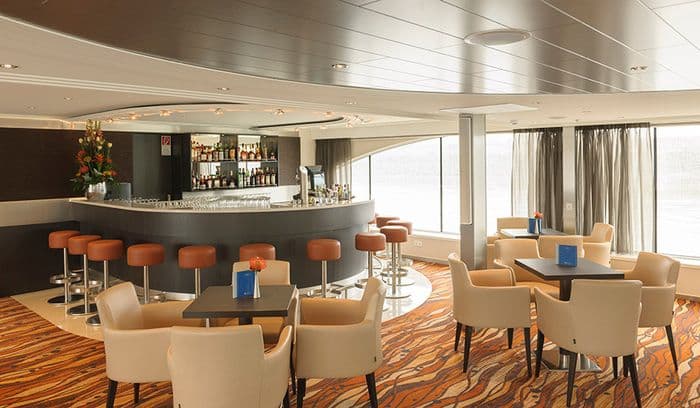 Avalon Waterways Avalon Artistry II Interior Panorama Lounge Bar.jpg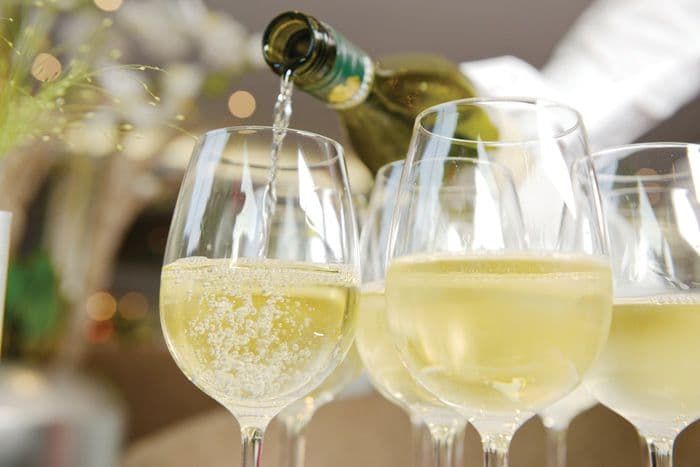 Avalon_Expression_Bar_04.jpg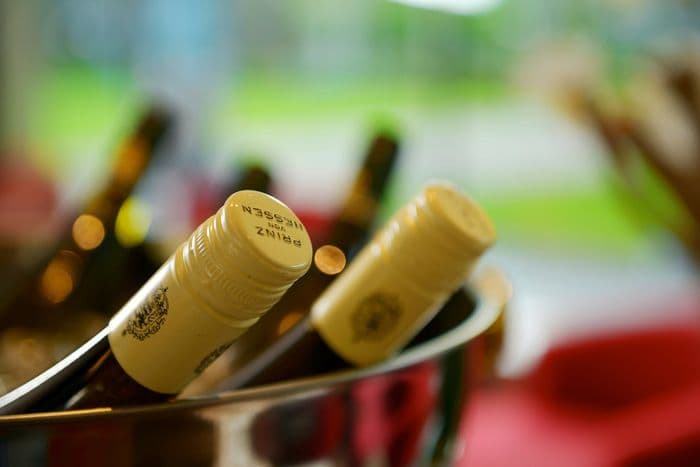 Avalon_Expression_Dining Room_31.jpg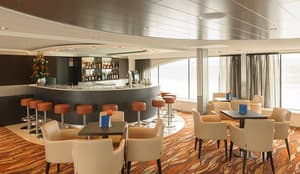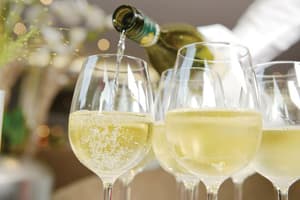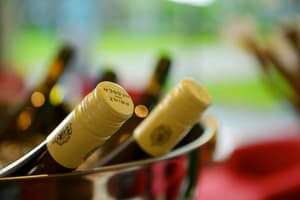 Panorama Lounge & Bistro
The Panorama Lounge & Bistro, with floor-to-ceiling panoramic windows for a stunning view, offers a casual atmosphere for guests to enjoy a variety of regional and tapas-style dishes, hand-paired with local wines.
Features
Experience: Cover
Food type: Cafe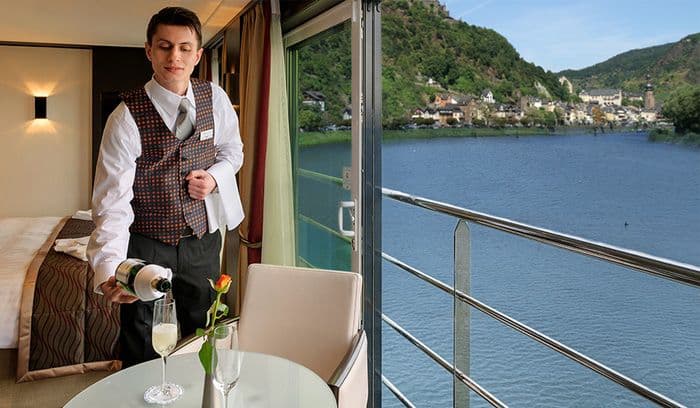 Avalon Waterways Avalon Artistry II Accommodation Turn Down Service.jpg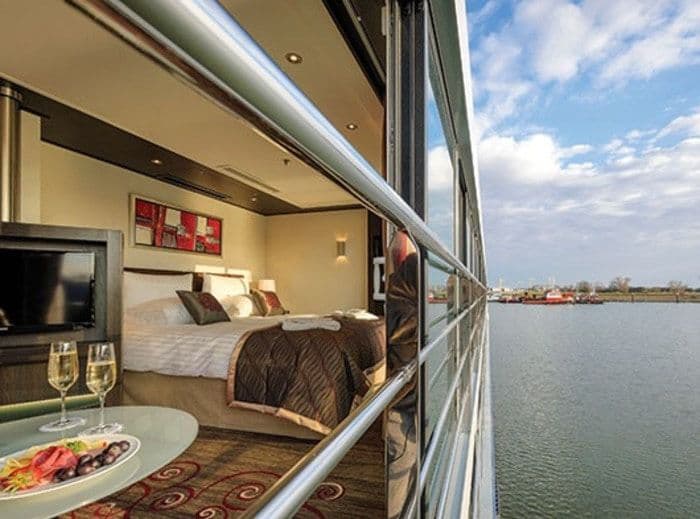 Avalon Waterways Avalon Artistry II Accommodation Royal Suite Outside View.JPG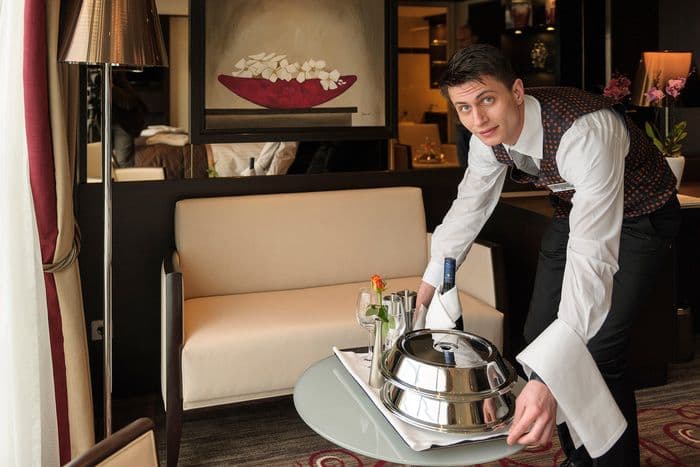 Avalon_Artistry II_Panorama Suite_36.jpg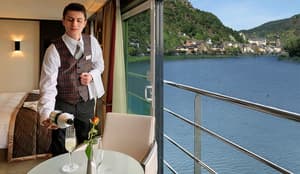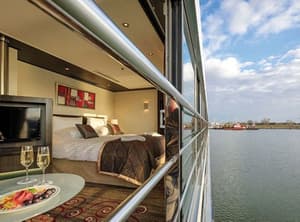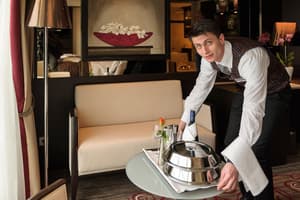 Room Service
Room service is available for Continental breakfast & beverages.
Features
Experience: Cover
Food type: Room
Entertaining
Avalon Waterways want your experience with them to be as rich as possible and have included everything that they know will be important to your cruise enjoyment.
With so many amenities on board, whether you are making the most of happy hour by enjoying a glass of wine or a gin and tonic∘ in the lounge, or having a quiet moment in the Lounge with a cappuccino, there is plenty of space to stretch out and relax on an Avalon ship.
They've designed a cruise experience that includes all the right things...but still leaves room for your own preferences.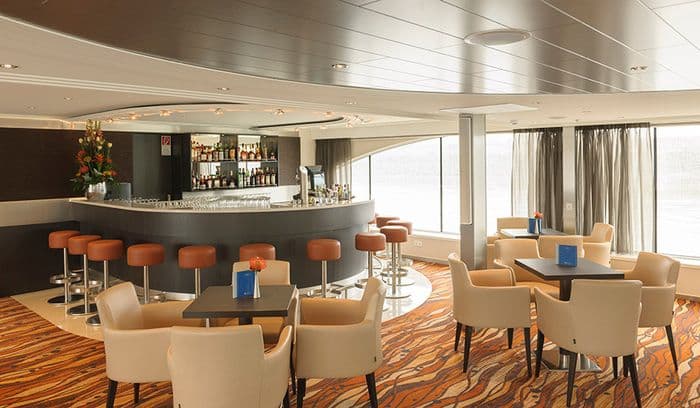 Avalon Waterways Avalon Artistry II Interior Panorama Lounge Bar.jpg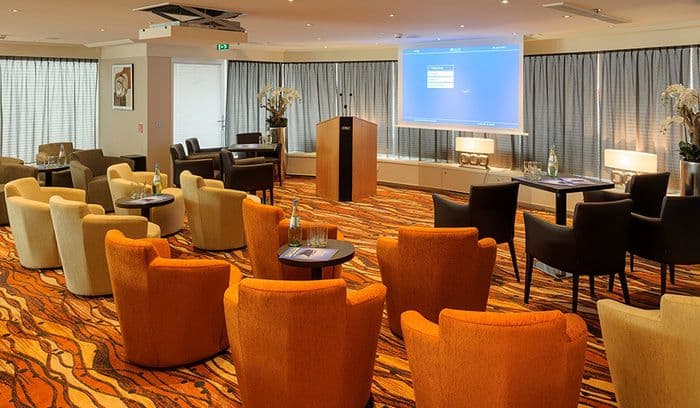 Avalon Waterways Avalon Artistry II Interior Panorama Lounge Movie Screen.jpg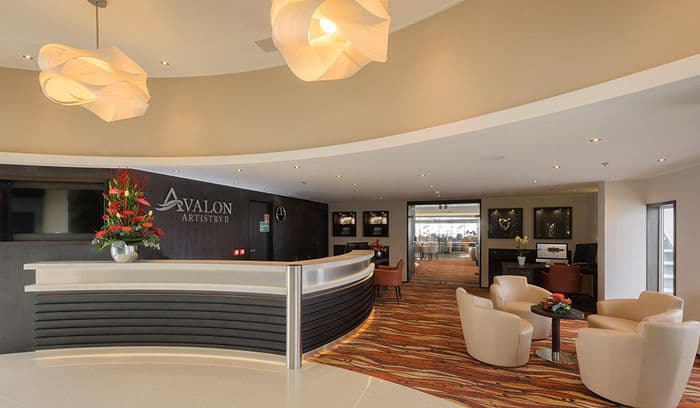 Avalon Waterways Avalon Artistry II Interior Reception.jpg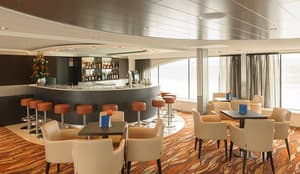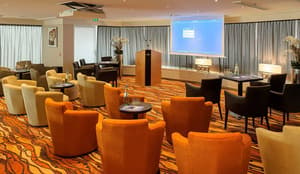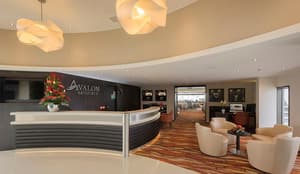 Sky Lounge & Grill
On the Sun deck you will find the Sky Lounge, where you can relax and catch the sun's rays whilst enjoying a drink or snack from the nearby Sky Grill.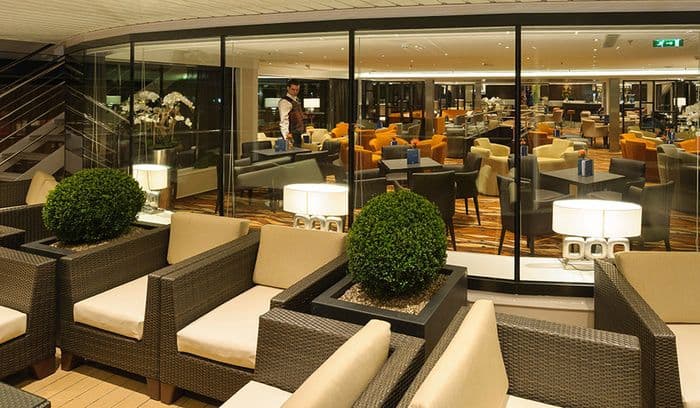 Observation Lounge
The Observation Lounge on the Royal Deck, gives guests a prime view to enjoy the premium spirits.
Enrichment
Avalon Waterways know that no two travellers are alike so they don't assume all their guests will like the same activities and excursions. With more expertly∘ led discovery options than any other river cruise line they make it possible for you to explore each port of call according∘ to what intrigues you most.

Shore Excursions
On shore, Avalon includes a great range of comprehensive sightseeing excursions led by knowledgable Certified Local Guides. They also provide individual personal audio headsets to ensure you still have the freedom to roam through some of Europe's most famous attractions without missing a moment of fascinating commentary.
If you'd like to experience something slightly off the beaten track, they offer unique alternative excursions in select destinations. In many cities they also give you a choice of sightseeing pace: 'Traditional' to see all the major sights, 'Leisurely' available on walking tours when you want to take it slower, and 'Independent' allowing you to explore on your own. Have a chat with your Cruise Director to learn about the available options.
They even provide Nordic walking sticks to put that extra spring in your step!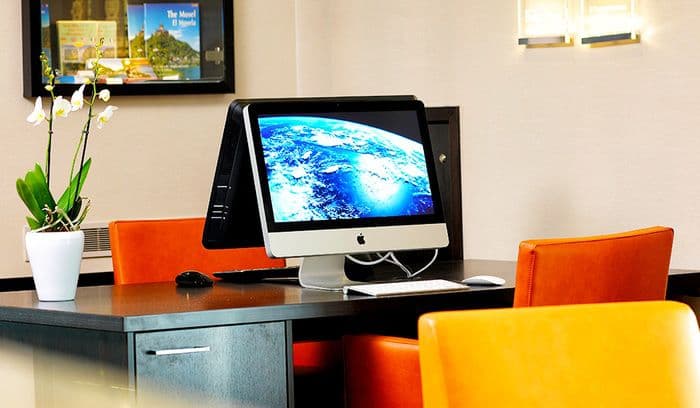 Internet Corner
Complimentary Wi-Fi access and free use of computers or laptops is available to help you stay in touch with friends and family.
Health and fitness
Cruise into total body wellness. Start your mornings with an exercise program on the Sky Deck (weather permitting) featuring stretching∘ and yoga, attend helpful lectures on healthy lifestyles, and enjoy healthy but delicious dining options, crafted daily on board.
Hairdressing Salon
Visit the Hair Salon to pamper yourself with a new style by a professional hairdresser. Other treatments are available.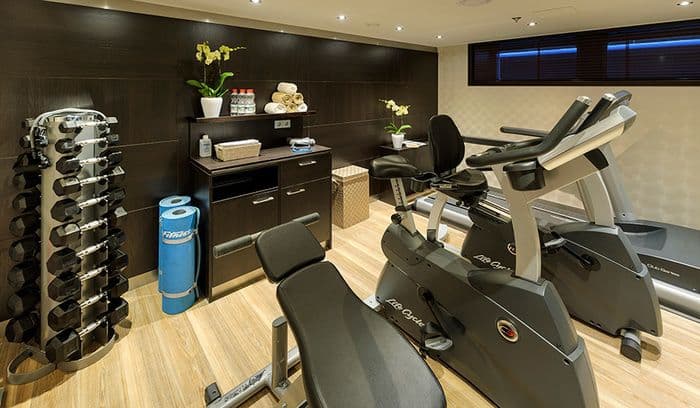 Avalon Waterways Avalon Artistry II Interior Fitness Centre 2.jpg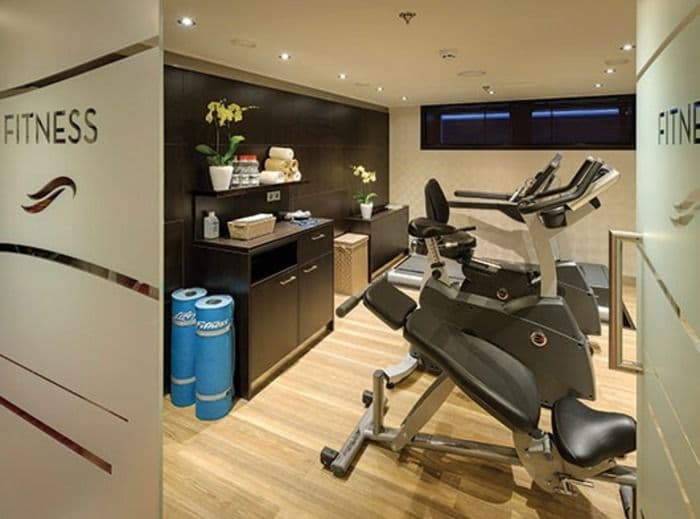 Avalon Waterways Avalon Artistry II Interior Fitness Centre 1.JPG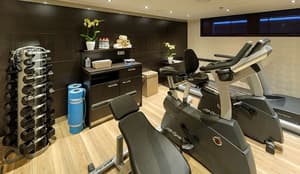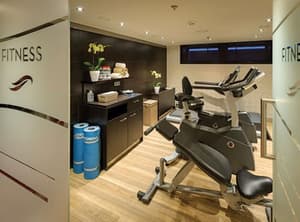 Fitness Centre
The ship is fitted with a fully equipped Fitness Centre for you to release some tension.
Deck Games Area
Relax after a long day and play a game with your fellow guests at the Game area towards the rear of the deck.
Kids and teens
Avalon allow travellers from the ages of 8 and over although there are no children's facilities on-board.
Accommodation
Avalon Waterways are pioneering the look of river cruising. Not only are the staterooms and views 30 percent larger than any other small ship in Europe, providing cruisers a renewed feeling of freedom∘ and space, every component of the experience, from bed and bathroom positioning and colour palette to storage space and sound-proof insulation, was wistfully designed for cruisers to ensure they enjoy all that river cruising has to offer.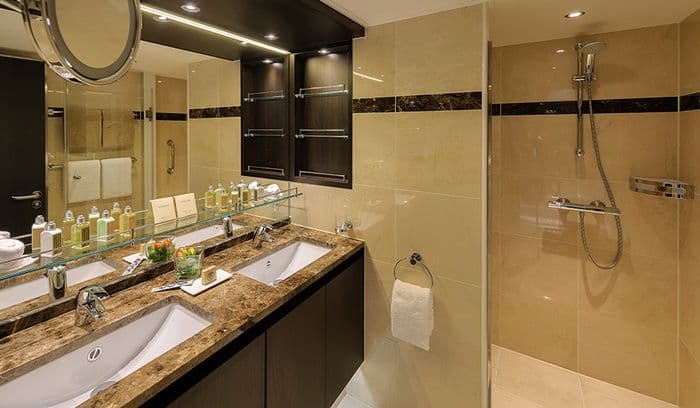 Avalon Waterways Avalon Artistry II Accommodation Royal Suite Bathroom.jpg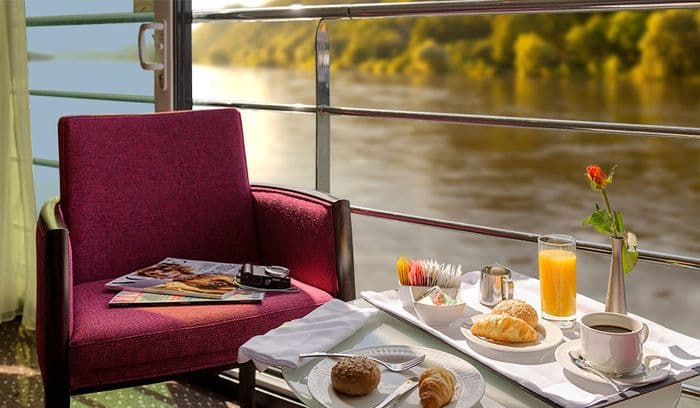 Avalon Waterways Avalon Artistry II Accommodation Panorama Suite Balcony.jpg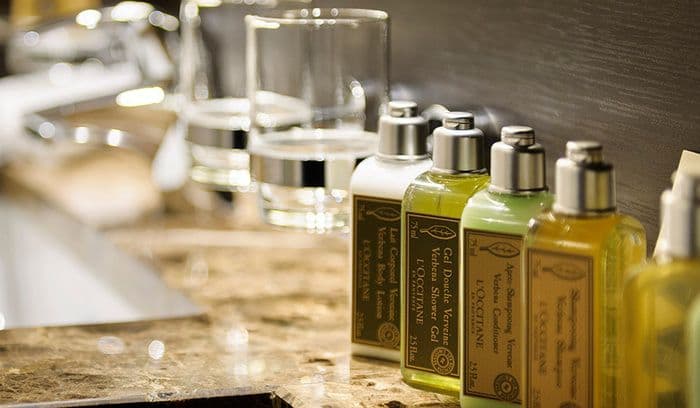 Avalon Waterways Avalon Artistry II Accommodation Occitane Products.jpg
Royal suite.jpeg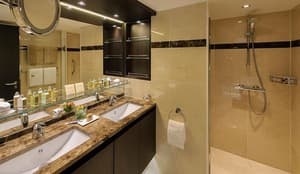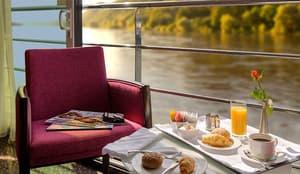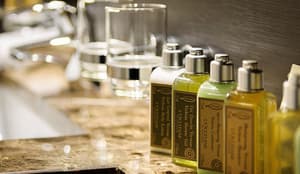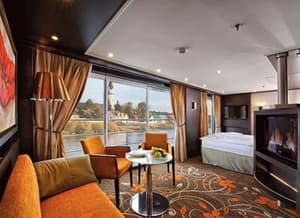 Royal Suite
Located on the Royal Deck
Suite features include:
Wall-to-Wall Panoramic Window with Open-Air Balcony

6-person sitting area
Full shower with glass door
Writing desk and chair
Vanity and lighted makeup mirror
Sofa
Coffee table
Double sinks
Comfort Collection Beds
Luxurious mattress toppers
Egyptian super-combed cotton linens
European-style duvets
Soft & firm pillows
Extra blankets
Choice of bed configuration
Nightly turn-down service
Bedside tables with reading lamps
Hairdryer
L'Occitane bath products
Spacious 3-door closets with shelves for ample storage
Easy under-bed luggage storage
Flatscreen satellite TV with English-speaking channels & over 100 free movie options
Alarm clock
Make-up mirror
Direct-dial telephone
Bathrobes & slippers
Well-stocked minibar
Complimentary water
In-room safe
Individual climate control
Elegant, contemporary design
Large mirror in bathroom
Marble countertops in bathroom
Complimentary Wi-Fi
USB Ports
Features
King or Twin Configuration
Lounge Area
Shower
Toiletries Provided
Room Service Available
Paid Mini Bar
TV
Free Wi-Fi
Safe
Hair Dryer
Telephone
Desk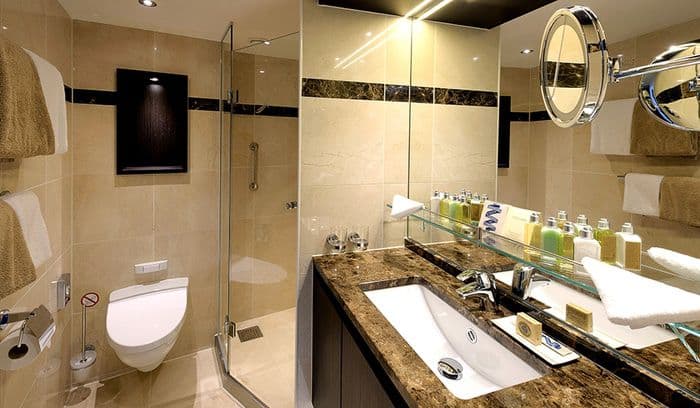 Avalon Waterways Avalon Artistry II Accommodation Panorama Suite Bathroom.jpg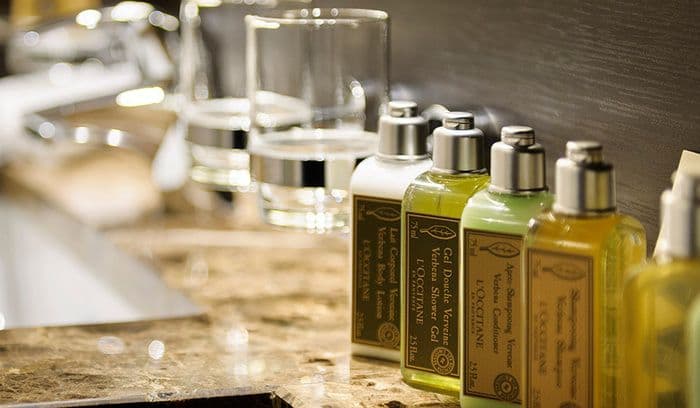 Avalon Waterways Avalon Artistry II Accommodation Occitane Products.jpg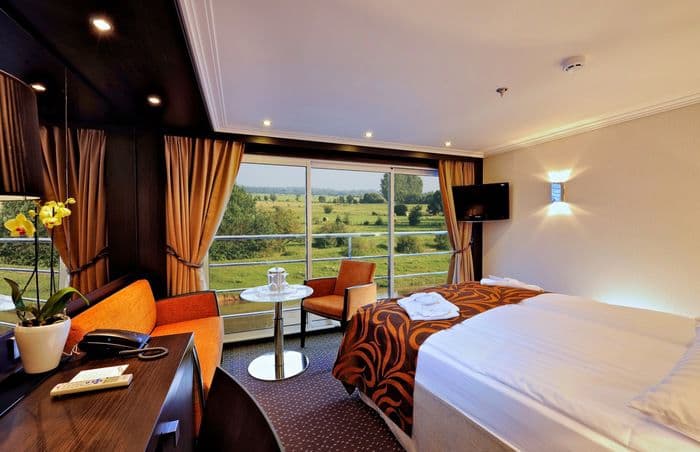 Avalon Waterways Avalon Visionary Panorama Suite.jpg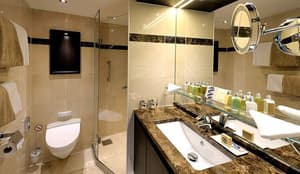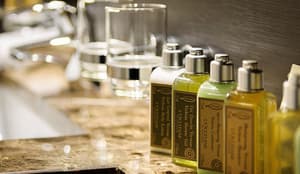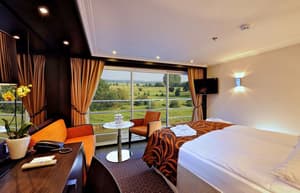 Panorama Suite
Located on the Royal Deck & Sapphire Deck (Forward & AFT)
Suite features include:
Wall-to-Wall Panoramic Window with Open-Air Balcony

6-person sitting area
Full shower with glass door
Writing desk and chair
Vanity and lighted makeup mirror
Sofa
Coffee table
Comfort Collection Beds
Luxurious mattress toppers
Egyptian super-combed cotton linens
European-style duvets
Soft & firm pillows
Extra blankets
Choice of bed configuration
Nightly turn-down service
Bedside tables with reading lamps
Hairdryer
L'Occitane bath products
Spacious 3-door closets with shelves for ample storage
Easy under-bed luggage storage
Flatscreen satellite TV with English-speaking channels & over 100 free movie options
Alarm clock
Make-up mirror
Direct-dial telephone
Bathrobes & slippers
Well-stocked minibar
Complimentary water
In-room safe
Individual climate control
Elegant, contemporary design
Large mirror in bathroom
Marble countertops in bathroom
Complimentary Wi-Fi
USB Ports
Features
Queen or Twin Configuration
Shower
Toiletries Provided
Room Service Available
Paid Mini Bar
TV
Free Wi-Fi
Safe
Hair Dryer
Telephone
Desk
Avalon_Visionary_Deluxe Stateroom_05.jpg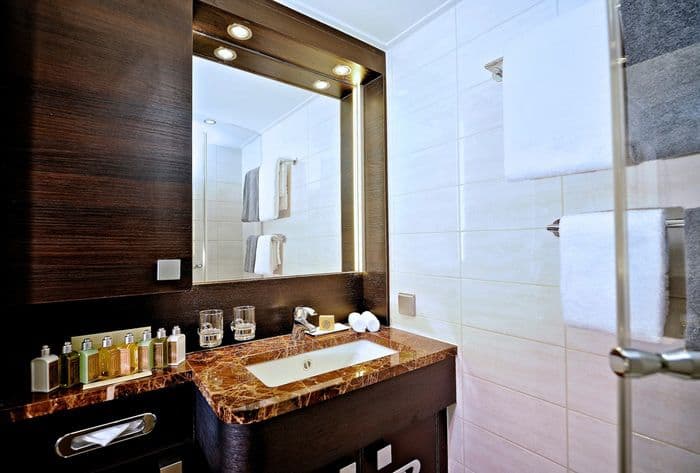 Avalon_Visionary_Deluxe Stateroom_Bathroom_02.jpg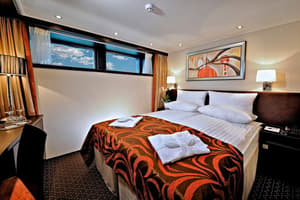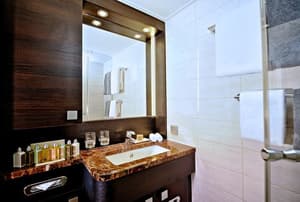 Avalon Deluxe Stateroom
Located on the Indigo Deck (Forward & AFT)
Suite features include:
Two windows
Full shower with glass door
Writing desk and chair
Vanity and lighted makeup mirror
Comfort Collection Beds
Luxurious mattress toppers
Egyptian super-combed cotton linens
European-style duvets
Soft & firm pillows
Extra blankets
Choice of bed configuration
Nightly turn-down service
Bedside tables with reading lamps
Hairdryer
L'Occitane bath products
Spacious 3-door closets with shelves for ample storage
Easy under-bed luggage storage
Flatscreen satellite TV with English-speaking channels & over 100 free movie options
Alarm clock
Direct-dial telephone
Bathrobes & slippers
Well-stocked minibar
Complimentary water
In-room safe
Individual climate control
Elegant, contemporary design
Large mirror in bathroom
Complimentary Wi-Fi
USB Ports
Features
Shower
Toiletries Provided
Room Service Available
Paid Mini Bar
TV
Free Wi-Fi
Safe
Hair Dryer
Telephone
Desk
Deck plans

Sky Deck
Sky Lounge & Grill

Navigation Bridge
Whirlpool

Premium Lounge Chairs and Shade Awnings

Deck Game Area


Royal Deck
Observation Lounge & Bar

Panorama Bistro

Panorama Lounge
Reception

Atrium
Club Lounge

Royal Suites

Panorama Suites (Category P)


Sapphire Deck
Dining Room

Panorama Suites (Category A and B)


Indigo Deck
Fitness Centre

Deluxe Staterooms (Category D and E)