Search for your ideal Cruise
Why cruise on this ship?
Costa Diadema, launched in 2014, is the latest addition to our fleet. It is built for relaxation and fun with lots of on-board activities, scintillating bars, gourmet restaurants and the spa area.
find your perfect cruise
Dining
On your cruise, every breakfast, every lunch, every dinner and every snack will have its own special ingredient: the flavour of Italy that is all around you on a Costa holiday. All the restaurants serve specialities made with top-quality ingredients and prepared with the love of food for which Italians are famous.
Each morning there is a buffet breakfast with traditional Italian items, including a wide range of breads, croissants, sweets and cakes - all homemade - as well as cold cuts, cheese, fruit, yoghurt and cereals. Every day, for both lunch and dinner, a region of Italy will be the special guest at your table, with menus inspired by traditional local cuisine: you can try the famous fillet of beef Rossini on the day dedicated to the Marche region, cappelletti pasta with braised beef from Emilia Romagna, or exquisite Sardinian fregola pasta with fresh vegetables. And for anyone who wants to enjoy the most sophisticated Italian delicacies, the menu offers a selection for a small extra charge: delicious Grana Padano cheese and Parma ham, the genuine Milanese 300 g veal cutlet and the freshest shellfish.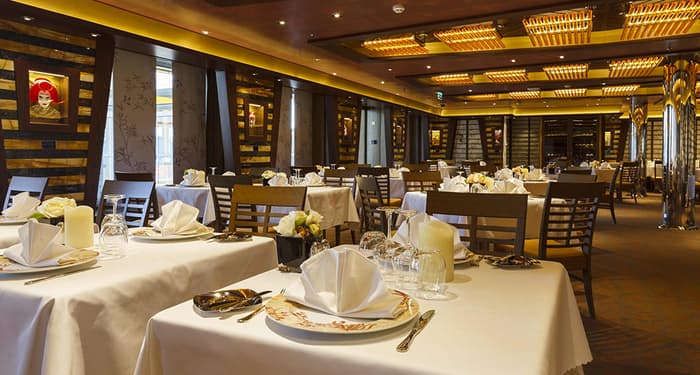 Samsara Restaurant
Samsara's cuisine is the epitome of the philosophy of wellbeing. In this Japanese-style restaurant, you can expect charm, elegance and discretion, both at the table and from the service.
Features
Experience: Cover
Food type: Japanese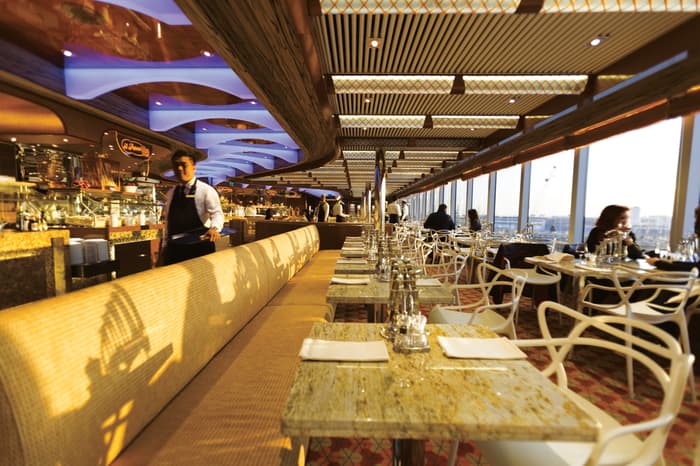 Corona Blu
Costa Diadema's large buffet restaurant on deck 10 is an explosion of colours and flavours. This new buffet is designed to be comfortable and practical. Guests can have breakfast, meals and snacks here at any time of the day. The Focacceria and the Grill mean that there really is something for everyone. In the evening it's the perfect place for a more informal dinner.
Features
Experience: Cover
Food type: Buffet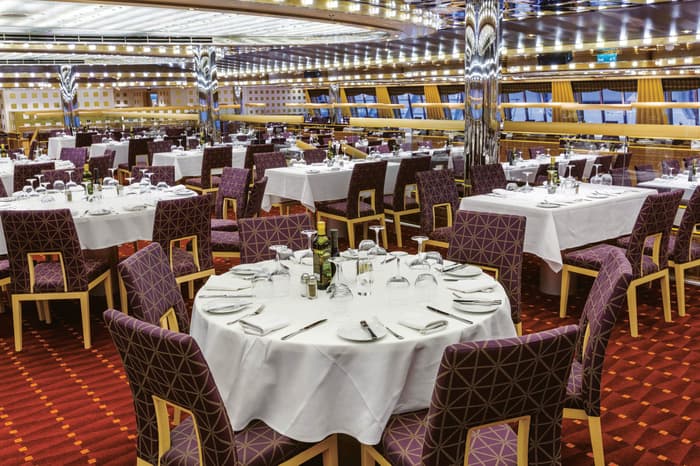 Adularia Restaurant
The Adularia Restaurant stretches along the whole of deck 3. The golden colours are decorated with details in mother-of-pearl. The large windows allow the light in at sundown, creating the perfect mood for dinner.
Features
Experience: Cover
Food type: Classic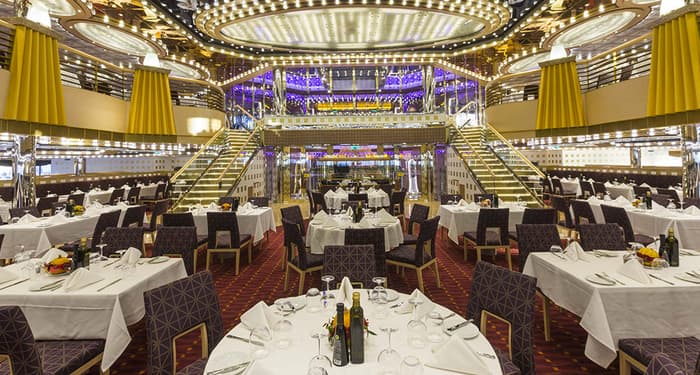 Fiorentino Restaurant
In the Fiorentino Restaurant towards the stern on decks 3 and 4, the colours reflect the shades of the sea that the restaurant looks out over. Take a seat and enjoy the view of the ship's wake at sundown.
Features
Experience: Cover
Food type: Classic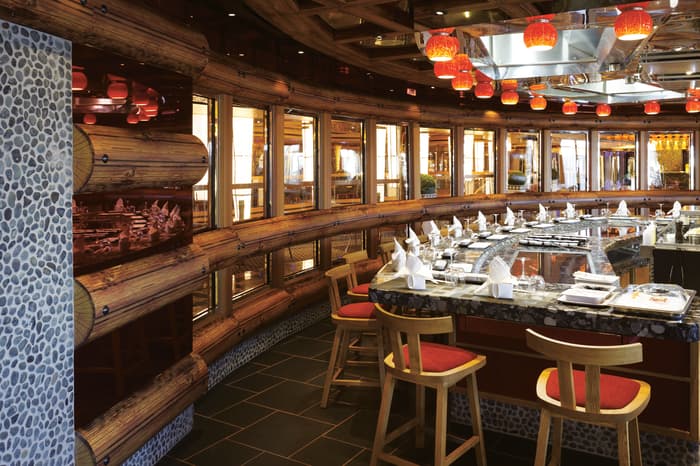 Teppanyaki Restaurant
For those looking for a different kind of evening, come to Teppanyaki, an Oriental-style lounge-restaurant. Here our chefs will make delicious griddled dishes all prepared with acrobatic skill. The whole experience is calming, as guests sit around the table with a chef in the middle who prepares the dishes to order.
Features
Experience: Cover
Food type: Asian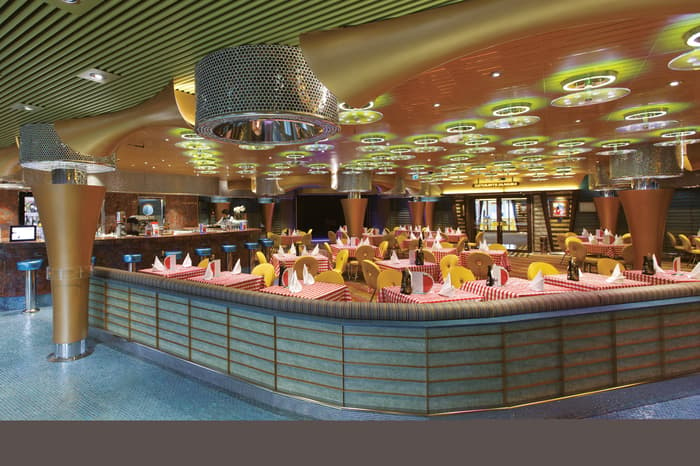 Pizzeria
Going for a pizza is a fun and informal way for guests to enjoy their time on Costa Diadema. Just sit back and enjoy pizza, just like in the best Italian pizzerias, with the special treat of some excellent live music too. Guests are sure to have a great time with the whole family as the pizza makers prepare the hot, crisp pizza. Guests can even enjoy your food outdoors looking out over the sea.
Features
Experience:
Food type: Pizzeria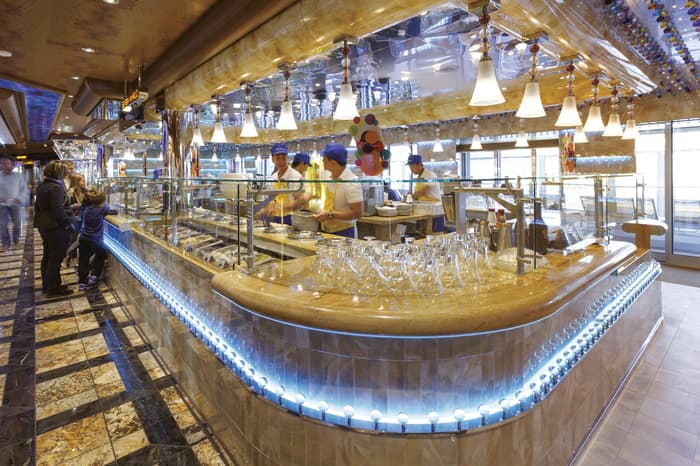 Cream Parlour
Every moment has a new flavour and it always tastes good when in the Ice Cream Parlour. It's a feast for the eyes on deck 5, towards the bow of the ship. Here sweet-toothed dreams come true as guests are invited to choose ice cream amidst delicious surroundings of multicoloured sweets and a chocolate fountain in the middle of the room.
Features
Experience: Cover
Food type: Ice_Cream
Entertaining
There are a thousand facets of fun on board. With Costa, the Italian attitude of a "spectacle becoming art" is all around you. With shows and activities that are always different; you will simply have to choose. Musicians, acrobats, magicians, mime artists and bands are ready to help you discover that shows come in many forms and shapes and all will appear on stage, on board, to enable you to experience some unforgettable moments. At the theatre, for example, where the artists make you laugh, dream, stir your emotions, entertain children, and in the most important moments of the cruise when singers, DJs and dancers perform in the numerous bars and lounges on board. And you too can be a star when you take part in our talent contest: The Voice.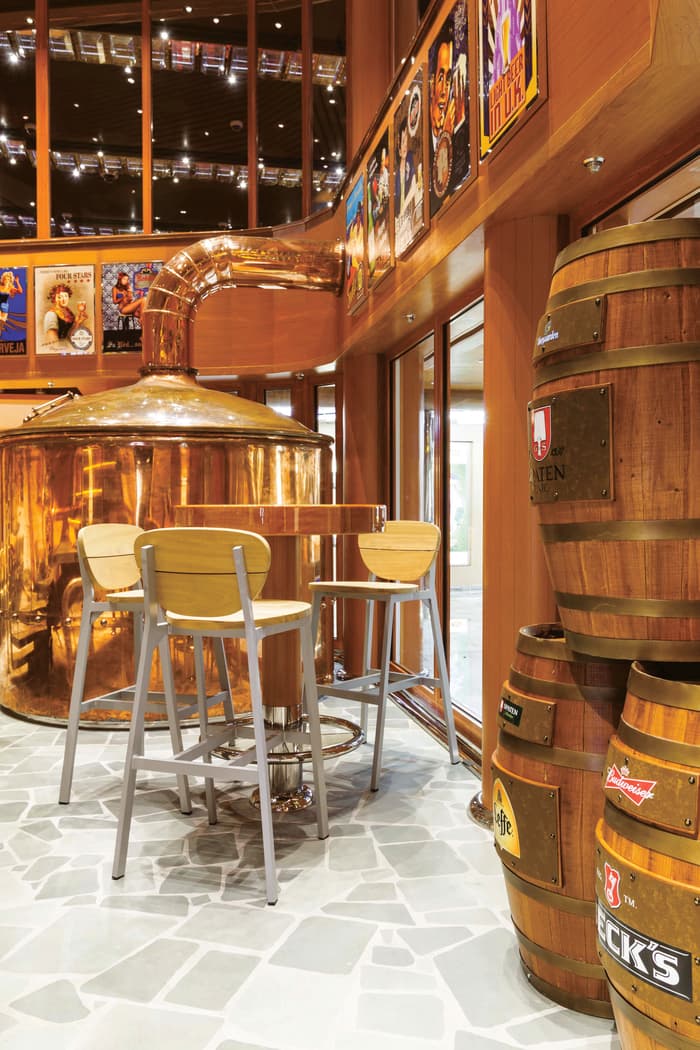 Dresden Green Pub
Sitting in a genuine German pub while out at sea is just one of the extraordinary experiences in store for guests on Costa Diadema. With its wooden furniture, open beams, barrels and copper tanks holding craft beer, the Dresden Green Pub is the ideal setting to raise a toast with friends. Guests can enjoy their favourite lager or bitter on deck 5 too, in the open air looking out over the sea.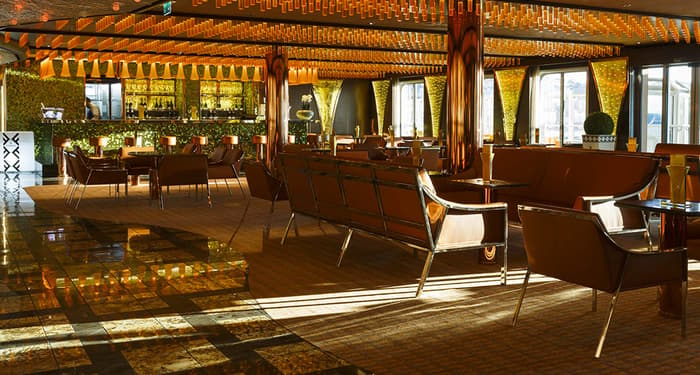 Bollicine Bar
On Costa Diadema everything shines, especially the Bollicine Bar. It's a sophisticated, bright bar, where the shimmering glass that decorates the surroundings is as bubbly as the superb drinks that are served. It's also the perfect place to raise a toast to the holiday or to celebrate a special occasion. The barmen never fails to tempt guests with cocktails of the day that they can enjoy sitting outside looking out over the sea.
Gran Duca di Toscana Wine Bar
Unique, unimaginable experiences for the senses. Selected wines by the bottle or served on tap at the perfect temperature. The very best Italian and French wines, served with cheese and tasty snacks from all over the world. It's the ideal place for pre-dinner drinks in the best company.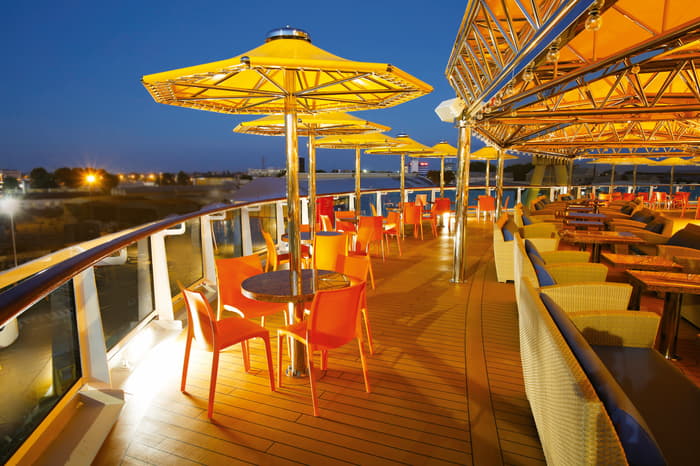 Teodora Bar
Towards the stern on deck 5 guests will find the Teodora Bar, with tables and armchairs lining a large dancefloor, for nights of Latin American music. Here they can relax between one song and the next with a cocktail in hand in the perfect setting. But there's more, the Teodora lounge opens out onto a square overlooking the sea at the stern of deck 5, from where guests can watch the ship's wake to a rhythmic beat.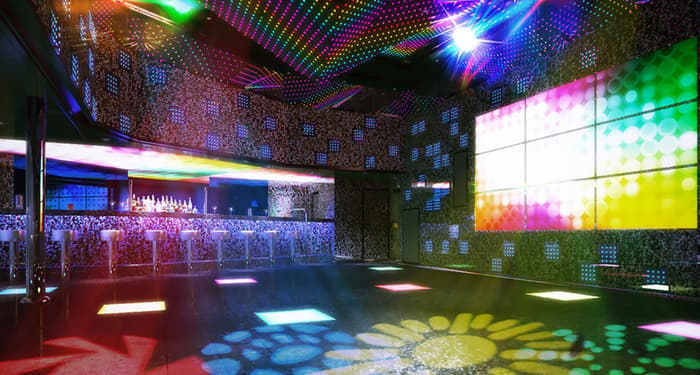 Pietra di Luna Disco
The night comes alive at the disco on decks 11 and 12, where the flashing lights and bright colours are joined by the moon's rays reflecting off the sea. Guests are invited to get their dancing shoes on and boogie the night away to all the latest hits.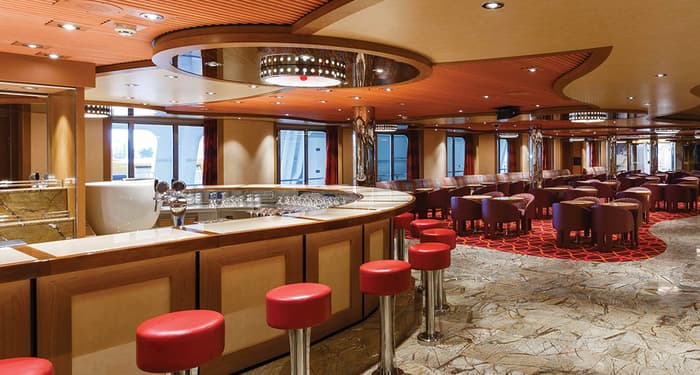 Orlov Grand Bar
The Orlov Grand Bar has a wonderful '50s feel to it. Warm colours alternate with mother-of-pearl and light woods, bringing out the touch of pink in the decorated ceiling, creating the perfect mood for drinks with friends. What makes it even more special is the stage for live shows. Just sit back and relax, and enjoy performances by talented international artists. On Costa Diadema every moment is an event.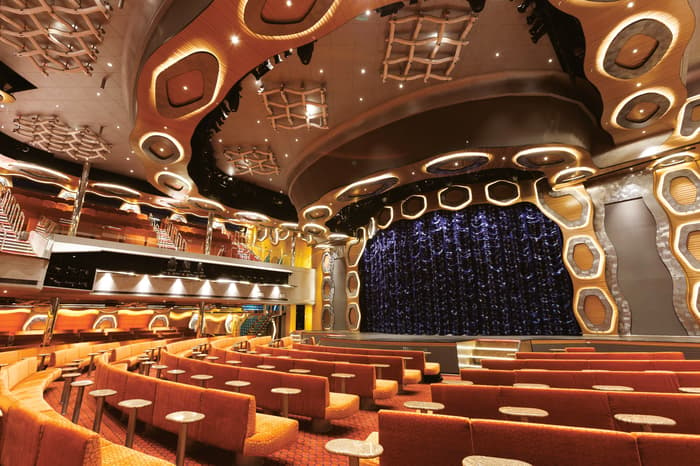 Emerald Theatre
Just like a jewel, the surfaces of the Emerald theatre reflect the light and make the furnishings sparkle - furnishings decorated with details of precious stones. Spread out over three decks, Costa Diadema's glittering theatre is waiting to put on its spectacular shows with international dancers, singers and artists. Every evening the large stage will show guests a different kind of magic that will make every day on-board, unique.
Country Rock Club
The Country Rock Club is the place to be for the real spirit of America and for the best live country rock music. Just like in the real West Coast saloons, guests can order at the bar, take a seat on a high stool and tap their feet in time to the music. Get ready for Costa Diadema's country rock side.
Star Laser
On Costa Diadema the very latest in fun awaits guests on board. How about a laser shooting match or working your way out of a laser maze? Star Laser is a complex Mission Impossible-style course where guests can challenge their friends. The virtual games area is perfect for anyone, both adults and kids. It's the ideal place to organise a private party for a birthday or special event.
Library
Whether it's getting lost in a fantasy world or absorbing new information from non-fiction, guests can explore with free abandon, the abundance of enriching literature on offer in the Costa cruises library.
Casino
Visit the casino if you prefer a more traditional, but no less exciting, bet! Red or black, on which side does your fortune lie? The Costa ship Casino is a fun place for adults, where they can spend some time after dinner and make a bet to try their luck. Professional croupiers are waiting for you at the roulette or black jack tables, or you can also try your luck at the slots. There are all kinds of traditional and electronic games. Bingo involves everyone, so go ahead and purchase a card for the chance to win an interesting prize every time.
Enrichment
Read, speak, express; There is a variety of enrichment activities for guests on-board Costa cruises.
Art Auctions
Fun and fast-paced, this provides guests with exciting opportunities to take home outstanding pieces of well-known, niche and contemporary art works.
Italian Lessons
Embrace the inner charm of this Italian cruise line and learn from the best. Broaden your cultural horizons and linguistic knowledge with Italian lessons on board.
Shore Excursions
Are history and culture your passions, and do you love exploring the cities to discover their beauty and curiosities? Or are you a sporty type who can't resist the thrill of adventure? Or maybe you'd like to immerse yourself in nature and enjoy the wonders of flora and fauna while relaxing? Whatever your desires, we have organised over 2500 shore excursions to satisfy your wishes and inspire new ones. We want to offer you the best of every destination to explore in the way you prefer.
Competent and certified local guides will accompany you in a world of breath-taking itineraries and engaging activities: from trekking to kayak tours, from the food and wine tour to the desert raid, from a city visit to a panoramic walk, while always putting your safety and your wellbeing first. And to offer everyone an unforgettable journey full of excitement, here are the new "Adagio Tours": group excursions dedicated to guests who wish to experience dry land at a relaxed pace, admiring enchanting places and magical attractions, enjoying them, unhurried, to the full. The "Adagio Tours" leave behind the frenetic rhythms and remove the architectural barriers to give each guest the memory of a unique holiday!
Health and fitness
Hippocrates declared that "the human body is a temple and, as such, must be cared for and respected, always." On board Costa ships, there is every opportunity to take this valuable lesson on board, quite literally. So, if you're up for it, don't forget your trainers, because you'll have many opportunities to wear them. Prepare for a jog along the outer decks on an incredible running track and breathe in the sea air which will oxygenate your body and soul. An area of the ship is also on hand for massages, saunas and Turkish baths, for a truly relaxing holiday.
Pools & Spas
Whether it's swimming and splashing around in a pool or relaxing in one of the 4 jacuzzis or spas, guests can do it all, whatever the weather, at the Diana Lido pool, Stella del sud Lido pool area or Samsara Spa.
Features
Spa
Pool
Whirlpool/Jacuzzi
Sports Centre
This ship is packed with activities that are sure to keep the heart pumping with a multi-purpose sports pitch, outdoor jogging and roller skating tracks and a putting green area for guests to enjoy and use.
Features
Gym
Sports Court
Jogging or Walking Track
Samsara Spa
Split between two levels, this 3500 square metre blissful haven of relaxation and tranquillity is fully equipped with a state of the art gym, a Thalassotherapy pool, Turkish bath and UVA-ray solarium, that allows guests to escape at sea amidst the indulgence and rejuvenation.

For that extra special access to serenity, guests can stay in one of the Samsara cabins located within the spa vicinity for unlimited pampering and the ultimate cruising experience.
Kids and teens
On Costa Diadema the exclusive children's area is three decks high. And the Squok Club spaces are very large and well-equipped. Designed with new colours and furnishings, they're equipped with the latest video games with a range of Xbox One consoles and Spin Master games such as the famous Meccano, Spy Gear for secret agents and the Aquadoodle magic carpet. Furthermore, on the new Costa Diadema a special surprise awaits – what little girl has never dreamed of being a princess, at least for one day? For a small extra fee, you can buy the special 'Princess for a Day' package, which includes make-up and hair, a true princess costume to wear all day, two professional portraits and a parade around the ship.
And after playing Captain Hook or Cinderella, they can try out the 'C Wonders', spectacular latest-generation attractions like the fun 4D cinema and the Grand Prix Simulator, suitable for teenagers, to speed along the most famous race tracks in the world in a virtual one-seater. Or on Costa Diadema you can try your luck with Star Laser, the new interactive laser game, the Laser Maze and the Laser Shooting simulator, and if you have a birthday to celebrate, you can hire the whole area for a fun, hi-tech party with lots of new friends!
Accommodation
Every Costa cabin is comfortable and cosy. The perfect place to relax after a busy day of activities, socialising and experiences, both on board and ashore. Costa offers a variety of cabin sizes and locations, so you can select the space that best suits your needs. We have inside cabins, outside cabins with sea view, balcony or suite cabins available, all of which are designed to provide maximum comfort, elegance and relaxation. Your cabin will include:
Air conditioning with adjustable thermostat
Interactive flat-screen satellite TV
Fresh linens changed regularly (sheets and towels)
A minibar and 24-hour room service (for a fee)
Steward service always available
Safe
Wifi available (for a fee)
Hair dryer
Grand Suite
You multiply the privileges when you book a suite: comfortable and exclusive space on board. A place for private emotions which is welcoming and bright, a serene and sweet awakening; this is what you can expect in a Costa suite, with an exclusive package offering attentive touches, big and small. A bottle of sparkling wine to welcome you, a fruit basket replenished daily, Jacuzzi, bath salts, bathrobe and slippers, and, for an extra caress, the pillow menu for you to choose your favourite pillow.
Additional services provided:
• Dedicated butler
• Priority boarding and disembarkation, private VIP area in the terminal
• Every breakfast, lunch and dinner served in the restaurant reserved for suite guests
• "Connoisseur" drinks package
• Front row reserved in the theatre
• Personalised invitations to special events
• Special access for a whole day to the spa area of the ship
Features
King or Twin Configuration
Lounge Area
Shower
Toiletries Provided
Room Service Available
Butler Service
TV
Safe
Hair Dryer
Desk
Balcony Cabins
Right up close to the sea: a room with a balcony overlooking the sea, where you'll feel the warm wind in your hair and smell the intoxicating sweet scent of the salt water. All the comfort of a Costa cabin with your external balcony overlooking the sea. A real treat.

Features
Queen or Twin Configuration
Shower
Toiletries Provided
Room Service Available
TV
Safe
Hair Dryer
Desk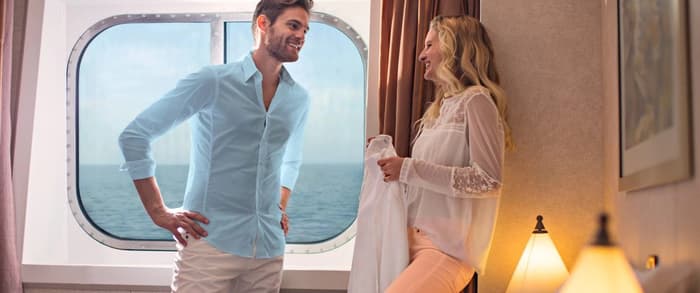 Outside/Ocean View Cabins
A window between sky and sea: Costa's outside cabins offer more direct contact with the all the colours of your holiday. You can see the sea, enjoy the sunsets and sunrises - a warm embrace that makes our cruise even more romantic.
Features
Queen or Twin Configuration
Shower
Toiletries Provided
Room Service Available
TV
Safe
Hair Dryer
Desk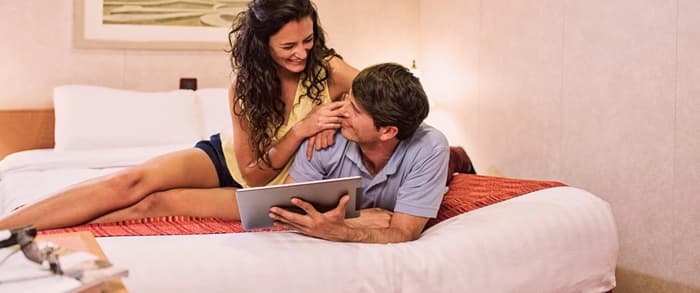 Inside Cabins
A cosy nest: experience Costa comfort and hospitality first hand with this type of cabin, suitable for those who want to spend a little less on their cruise, but who still don't want to miss out on anything, or for whom the cabin is just somewhere to sleep and change, because they prefer to experience the ship to its fullest.
Features
Queen or Twin Configuration
Shower
Toiletries Provided
Room Service Available
TV
Safe
Hair Dryer
Desk
Deck plans

Deck 1 - Excelsior
Ocean View Cabins

Inside Cabins


Deck 2 - Sara
Ocean View Cabins

Ocean View Balcony Cabins

Inside Cabins


Deck 3 - Centenary
Emerald Theatre

Eliodoro Atrium

Bar Eliodoro

Adularia Restaurant

Fiorentino Restaurant

Deck 4 - Perla Di Venere
Emerald Theatre

Orlov Grand Bar

Shopping Gallery & Travel Office

Portobello Market

Dresden Green Pub

Fiorentino Restaurant


Deck 5 - Eldorado
Emerald Theatre

Country Rock Club

Cream Parlour

Sala Carte

Cigar Lounge

Bollicine Bar

Teppanyaki Restaurant

Ristorante Club Diadema

The Promenade

Terrazza Sinistra

La Piazza

Pizzeria

Samsara Restaurant

Casino Golden Jubilee

Gran Duca Di Toscana Wine Bar

Dresden Green Pub

Piano Bar Principe Nero

Cinema 4D

Salone La Buena

Teodora Bar


Deck 6 - Braganza
Inside Cabins

Oceanview Cabins

Balcony Cabins
Mini Suite Cabins


Deck 7 - Conde
Inside Cabins

Balcony Cabins

Mini Suite Cabins

Balcony Suite


Deck 8 - Star of India
Navigation Bridge

Inside Cabins

Oceanview Cabins

Balcony Cabins

Mini Suite Cabins


Deck 9 - Bizantino
Inside Cabins

Oceanview Cabins

Balcony Cabins

Balcony Suites


Deck 10 - Hortensia
Lido Diana

Ristorante Corona Blu

Pizzeria

Grill

Lido Stella del Sud

Inside Cabins
Oceanview Cabins
Balcony Cabins

Deck 11 - Timur
Balconata Diana

Teen's Zone

Squok Club

Solarium

Opernball Disco

Cappella / Wedding Chapel

Virtual World

Library

Bar Stella del Sud & Balconata

Inside Cabins
Balcony Cabins
Samsara Suites

Deck 12 - Stella D'Africa
Samsara Spa

Scuderia Costa

Solarium

Lido Squok

Opernball Disco

Club Allnatt

Balconata Belle Etoile

Inside Cabins
Balcony Cabins
Samsara Suites

Deck 14 - Milleninium Star
Winter Garden

Samsara Spa

Gym

Waterslide entrance

Jogging Track

Sports Court

Solarium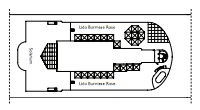 Deck 15 - La Fenice