Search for your ideal Cruise
Why cruise on this ship?
Costa Fortuna is a large, resort style ship that was launched in 2003.
find your perfect cruise
Dining
The excellent quality of the ingredients that are sourced and used in preparing meals and the skilled hands and creativity of our highly trained chefs will turn dinners into special events, where flavours are expertly combined creating culinary magic.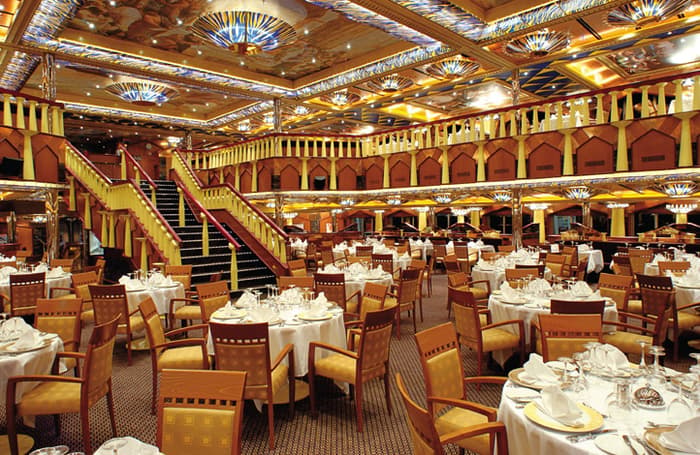 Michelangelo Restaurant
Guests can admire the views of the ocean and the ship's wake as they dine at this traditional restaurant for breakfast, lunch or dinner.
Features
Experience: Cover
Food type: Classic
Raffaello Restaurant
Guests can admire the views of the ocean and the ship's wake as they dine at this traditional restaurant for breakfast, lunch or dinner.
Features
Experience: Cover
Food type: Classic
C.Colombo Restaurant Buffet
Tuck into a pizza or pick from the selection of Mediterranean and American dishes available at the buffet. Perfect for those who want either a light snack bite or a filling, delicious meal.
Features
Experience: Cover
Food type: Buffet
Club Conte Grande Restaurant
Club Conte Grande is the ship's steakhouse restaurant that exclusively serves dinner and not only boasts exceptional food, but also an impressive and extensive wine-list. Reservations are required for this restaurant.
Features
Experience: Cover
Food type: Steakhouse
Pizzeria Pummid'oro
Being on board a Costa ship is a genuine Italian experience. You will feel like you are in Italy. Pizzeria Pummid'oro, where you can eat the most famous Italian dish, prepared strictly according to the original recipe. Spend a casual evening with friends or family. There are as many as 14 pizzas on the menu to suite everyone's tastes, from the most popular Margherita, Napoli, Four Seasons and Calzone, to a real speciality: focaccia with cheese from Liguria. All accompanied by an excellent wine or draft beer. And maybe after your feast, you can finish the evening off in style with a selection of typical desserts. The secret of the Pizzeria Pummid'oro lies in the use of simple and natural ingredients, such as extra virgin olive oil and mozzarella, freshly prepared on board.
Features
Experience: Cover
Food type: Pizzeria
Entertaining
From films, live shows and interactive gaming to dancing, shopping and relaxing, this ship offers an abundance of entertainment that guests can enjoy.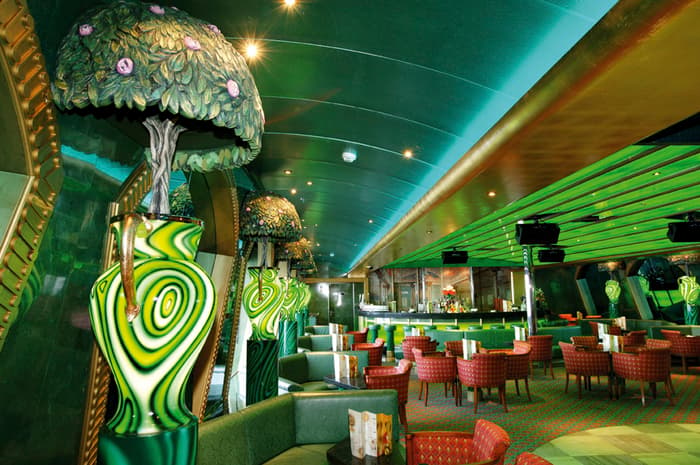 Conte Verde Dance Lounge
Guests can dance the night away to music of the present day, with a drink in hand or, on occasion, watch entertainment performed on the stage.
Vulcania Disco
The ship's main disco, guests can dance the night away to music of the present day, with a drink in hand.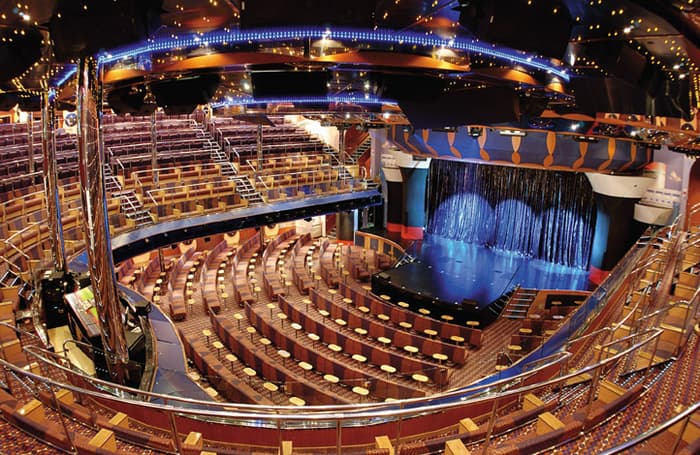 Rex Theatre
Guests can enjoy the wide variety of entertainment held in the ships main theatre. Ranging from impressive musicals to circus acts and many other offerings in between, guests are really spoilt for choice.
Conte Rosso Piano Bar
Offering live music entertainment, this is the perfect venue for guests to come and socialise or relax with a drink in hand.
Virtual World Game Room
For Playstation and gaming enthusiasts, guests can visit 'Virtual World' and play the wide variety of computer and arcade games that are available.
Neptunia Casino
Featuring a large variety of slot machines and games tables, this casino hosts many tournaments for guests to partake in.
Classico Roma Bar
The ship's cognac and cigar bar.
Library
Whether it's getting lost in a fantasy world or absorbing new information from non-fiction, guests can explore with free abandon, the abundance of enriching literature on offer in the Costa cruises library.
Enrichment
Read, speak, express; There is a variety of enrichment activities for guests on-board Costa cruises.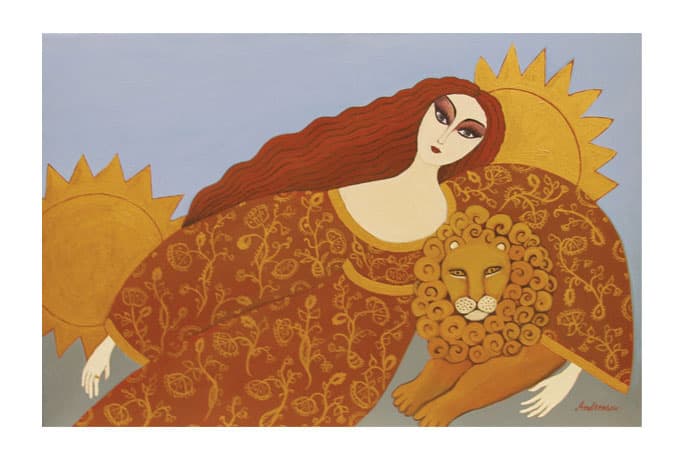 Art Auctions
Fun and fast-paced, this provides guests with exciting opportunities to take home outstanding pieces of well-known, niche and contemporary art works.
Italian Lessons
Embrace the inner charm of this Italian cruise line and learn from the best. Broaden your cultural horizons and linguistic knowledge with Italian lessons on board.
Health and fitness
Designed to allow guests to swim, relax, learn, sweat and rejuvenate, this ship's wellness and sport programme is guaranteed to suit every guests' needs and desires, with an abundance of fun, exercise and new experiences on offer.
Pools & Spas
Whether it's swimming and splashing around in a pool or relaxing in one of the 5 jacuzzis or spas, guests can do it all, whatever the weather, at one of the four available pools such as the the Lido Barcellona pool, Lido Colombo 1954 pool (adorned with a retractable cover), Club Salute Saturnia 1927 pool or at the wellness areas.
Features
Spa
Pool
Whirlpool/Jacuzzi
Sports Centre
This ship is packed with activities that are sure to keep the heart pumping with a multi-purpose sports pitch and outdoor jogging area for guests to enjoy and use.
Kids and teens
Children and young people will never get bored on a Costa cruise. With parties, games at the pool, tasty snacks, dances and tournaments, children and young people will never have a moment to get bored. Costa's entertainers know how to keep them interested with many fun activities. There's a club on board divided into age groups: Mini - 3 to 6 year olds, Maxi - 7 to 11 year olds, Teen Junior - 12 to 14 year olds, and Teen - 15 to 17 year olds. So everyone gets to have fun with their own age group. A cruise ship is a fantastic world to explore in peace while parents relax and enjoy a holiday themselves.
Accommodation
You'll feel at home right away on a Costa holiday. There are cabins to suit everyone in terms of space, practicality and location and you won't have to give up any of the comforts you need to relax. All cabins are all furnished in a modern style, and a full range of facilities together with excellent service means that everyone can just relax and enjoy the cruise. Every Costa cabin features:
adjustable air conditioning with individual temperature controls;

interactive flat-screen satellite TV;

hair dryer;

safe;

steward, always on duty;

minibar and 24-hour room service (charges apply);

Wi-Fi (charges apply);

soap and shower gel;

bed linen (sheets and towels) changed regularly.

And you'll enjoy all these facilities even more thanks to prompt cabin service that anticipates your every need and ensures that your cabin is always clean and tidy. Every morning your cabin and bathroom will be cleaned and tidied. Every evening your cabin will be cleaned to remove litter, change your pool towel and any discarded towels and to make up your bed for the night, close your curtains and turn on your lights to welcome you when you return.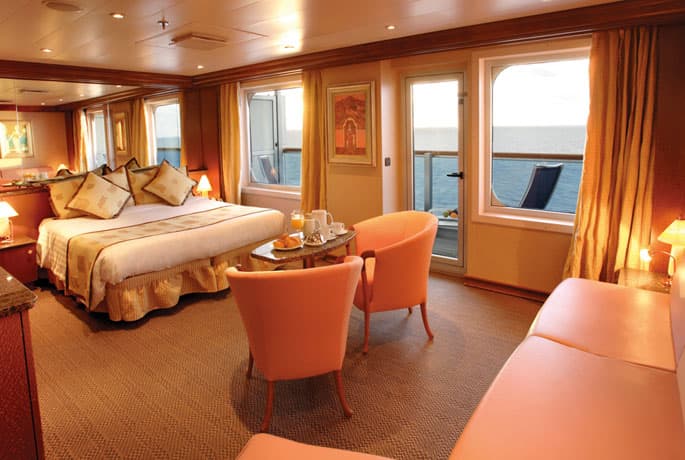 Grand Suite with Ocean View Balcony
You multiply the privileges when you book a suite: comfortable and exclusive space on board. A place for private emotions which is welcoming and bright, a serene and sweet awakening; this is what you can expect in a Costa suite, with an exclusive package offering attentive touches, big and small. A bottle of sparkling wine to welcome you, a fruit basket replenished daily, Jacuzzi, bath salts, bathrobe and slippers, and, for an extra caress, the pillow menu for you to choose your favourite pillow.
Additional services provided:
• Dedicated butler
• Priority boarding and disembarkation, private VIP area in the terminal
• Every breakfast, lunch and dinner served in the restaurant reserved for suite guests
• "Connoisseur" drinks package
• Front row reserved in the theatre
• Personalised invitations to special events
• Special access for a whole day to the spa area of the ship
Features
Queen or Twin Configuration
Lounge Area
Dining Area
Shower
Toiletries Provided
Room Service Available
Suite Benefits
Butler Service
TV
Safe
Hair Dryer
Desk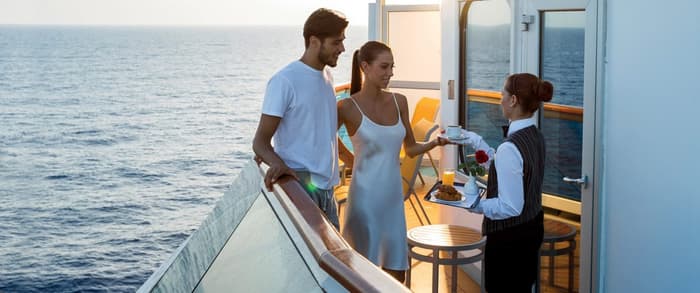 Ocean View Balcony Cabins
Right up close to the sea: a room with a balcony overlooking the sea, where you'll feel the warm wind in your hair and smell the intoxicating sweet scent of the salt water. All the comfort of a Costa cabin with your external balcony overlooking the sea. A real treat.
Features
Queen or Twin Configuration
Shower
Toiletries Provided
Room Service Available
TV
Safe
Hair Dryer
Desk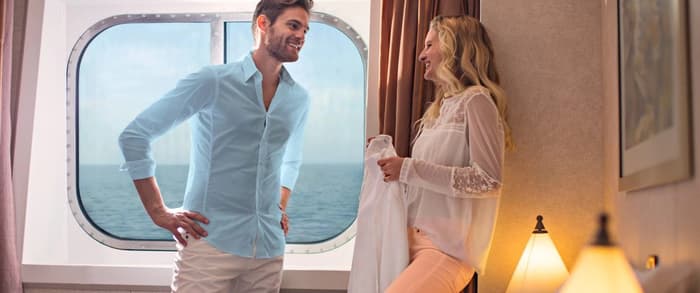 Ocean View Cabin
A window between sky and sea: Costa's outside cabins offer more direct contact with the all the colours of your holiday. You can see the sea, enjoy the sunsets and sunrises - a warm embrace that makes our cruise even more romantic.
Features
Queen or Twin Configuration
Shower
Toiletries Provided
Room Service Available
TV
Safe
Hair Dryer
Desk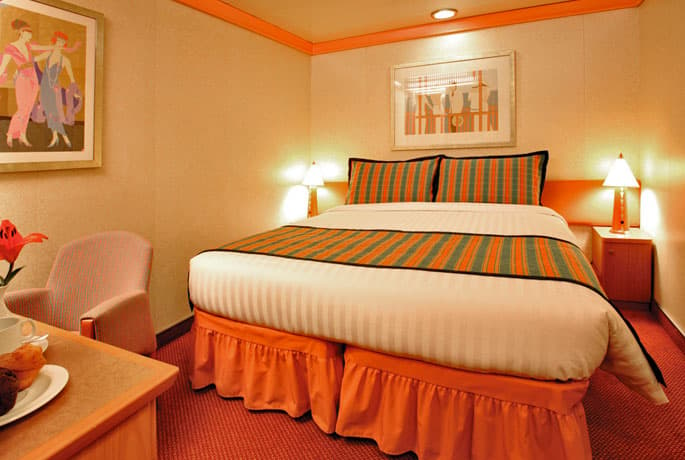 Inside Cabin
A cosy nest: experience Costa comfort and hospitality first hand with this type of cabin, suitable for those who want to spend a little less on their cruise, but who still don't want to miss out on anything, or for whom the cabin is just somewhere to sleep and change, because they prefer to experience the ship to its fullest.
Features
Queen or Twin Configuration
Shower
Toiletries Provided
Room Service Available
TV
Safe
Hair Dryer
Desk
Deck plans

Deck 1 - Rio de Janeiro
Inside Cabins

Ocean View Cabins

Deck 2 - Miami
Inside Cabins

Ocean View Cabins


Deck 3 - Buenos Aires
Michelangelo 1965 Restaurant

Kitchens

Raffaello 1965 Restaurant

Atrium Costa

Deck 4 - Santos
Internet Point

Vulcania 1927 Disco

Chapel

Galileo Galilei 1963 Library

Rex Theatre 1932


Deck 5 - Genova
Salone Leonardo Da Vinci 1960

Conte Verde 1923 Dance Lounge

Conte Rosso 1921 Piano Bar

Virtual World Game Room

Neptunia Casino 1932

Conte Di Saoia Grand Bar 1932

Classico Roma 1926 Bar (Cognac & Cigar Bar)

Card Room

Shop

Shops Gallery

Sala Augustus 1952 (Conference Room)


Deck 6 - Lisbona
Inside Cabins

Ocean View Balcony Cabins

Mini Suite with Ocean View Balcony


Deck 7 - Caracas
Inside Cabins

Ocean View Balcony Cabins

Suite with Ocean View Balcony

Grand Suite with Ocean View Balcony


Deck 8 - Vigo
Ocean View Balcony Cabins

Bridge


Deck 9 - Napoli
Lido Colombo 1954

C.Colombo 1954 Restaurant Buffet

Ocean View Balcony Cabins


Deck 10 - Barcellona
Inside Cabins

Ocean View Balcony Cabins


Deck 11 - Cannes
Club Conte Grande Restaurant

Venus Beauty

Club Salute Saturnia 1927


Deck 12 - Funchal
Sports Courts

Lido Barcellona

Sala Saturnia 1927 (Meeting Room)

Squok Club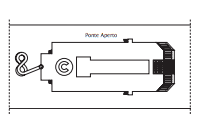 Deck 13 - Las Palmas