Search for your ideal Cruise
Why cruise on this ship?
The Costa Venezia is the first Costa ship built and designed specifically for Chinese guests, entering service in March 2019. Set off on board Costa Venezia, Costa's new flagship that will take you on an unforgettable voyage across three continents. Treat yourselves to all the sensational thrills of a cruise from Europe to the Far East, on an itinerary where beauty and history are all around you, following the ancient routes of merchants and pirates. An unforgettable voyage across three continents, four seas, and eighteen countries: from the Adriatic to the Red Sea, from India to Singapore, from China to the shores of Japan.
find your perfect cruise
Dining
All the restaurants serve specialities made with top-quality ingredients and prepared with the love of food that Italians are famous for.
Casanova Restaurant
In the Casanova restaurant you'll find a menu created by the multi-Michelin starred chef Umberto Bombana.
Features
Experience:
Food type: Italian
Lounge Delle Stelle
On an enchanting balcony with the sea all around you, you can try a vintage wine or exquisite liqueur, as you enjoy the incomparable view of the exotic sky dotted with stars.
Entertaining
We celebrate Venice's most traditional event in grand style. A whole deck of the ship is dressed up for the craziest and most amazing party on the seven seas.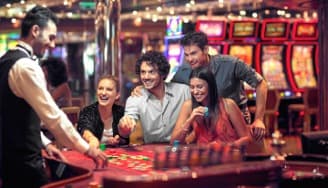 Casino
If you're feeling lucky, the casino's green tables make the perfect start of end to your evening.
Rosso Theatre
Warm and bright Venetian red makes the Rosso Theatre totally unique: every evening it's the place to be for the best entertainment. Internationally renowned artists and unscripted talent shows scatter all their live magic around you.
Lido Deck
See you at the Lido Deck for a social life and a dip in the pool. Revive the glamorous atmosphere of the Venice Lido, one of the most famous seaside resorts of Italy.
Piazza San Marco
The iconic piazza in Venice is an obligatory stop where you can watch the elegant and refined people, sip a spritz or try one of the excellent cocktails prepared by the best barmen in the lagoon.
Designer Shopping
On Costa Venezia, boutiques and shops will offer the best of Italian style: brands and hand-made items that makes "Made in Italy" loved and coveted worldwide.
The Venice Carnival
An entire deck of the ship dresses up to celebrate the most bizarre and intoxicating party of the seven seas in style. Choreography, games, masks, Venetian-style Carnival dances, specialities and many surprises.
Enrichment
Read, speak, express; There is a variety of enrichment activities for guests on-board Costa cruises.
Health and fitness
Water and wellbeing: a thalassotherapy pool, treatment rooms, sauna, steam room, solarium. Costa Venezia's spa is just the right place to take care of your body, socialise and relax.

Salus Per Aquam
Wellness through water: swimming pool for thalassotherapy, massage treatments, sauna, turkish bath, solarium. In the Costa Venezia body care Spa, socialise and relax.
Kids and teens
On Costa ships the exclusive children's area is three decks high. And the Squok Club spaces are very large and well-equipped. Designed with new colours and furnishings, they're equipped with the latest video games with a range of Xbox One consoles and Spin Master games such as the famous Meccano, Spy Gear for secret agents and the Aquadoodle magic carpet. For a small extra fee, you can buy the special 'Princess for a Day' package, which includes make-up and hair, a true princess costume to wear all day, two professional portraits and a parade around the ship.
Accommodation
Every Costa cabin is comfortable and cosy. The perfect place to relax after a busy day of activities, socialising and experiences, both on board and ashore. Costa offers a variety of cabin sizes and locations, so you can select the space that best suits your needs. We have inside cabins, outside cabins with sea view, balcony or suite cabins available, all of which are designed to provide maximum comfort, elegance and relaxation. Your cabin will include:
Air conditioning with adjustable thermostat
Interactive flat-screen satellite TV
Fresh linens changed regularly (sheets and towels)
A minibar and 24-hour room service (for a fee)
Steward service always available
Safe
Wifi available (for a fee)
Hair dryer
Suite
For those who want the best.
Cabin with balcony
Bask in every ray of sunshine with our luxurious balcony cabins.
Cabin with terrace
This cabin is complimented with direct access to deck 5.