Search for your ideal Cruise
Why cruise on this ship?
Explore Europe's majestic rivers aboard this all-suite, butler-serviced ship featuring the largest standard accommodations available. Dine on gourmet cuisine, enjoy premier entertainment and relish the pampering service of an extraordinary staff.
find your perfect cruise
Dining
The Crystal River Cruises™ culinary experience celebrates dining with a savory combination of cuisine and conversation that together foster unique experiences in a relaxed environment of engaging camaraderie. Lavish culinary presentations of Michelin Star-level will be enjoyed in an elegant dining room and several more intimate dining areas.
Crystal Cruises - Crystal Bach - Dining - Waterside 1.jpg
Crystal Cruises - Crystal Bach - Dining - Waterside.jpg
Waterside
Ever-changing scenery and open seating play host to farm-to-table cuisine featuring continental favorites and regionally-inspired menus for breakfast, lunch and dinner, making mealtime an intrinsic part of your experience.
FUEL YOUR DISCOVERY
Enjoy breakfast as charming villages and pastoral life slowly come into view, fueling your anticipation of the day's imminent discoveries; return for lunch between morning and afternoon adventures ashore.
A DELICIOUSLY ELEGANT REPAST
Share tales of the day over superbly crafted dinner menus, allowing the local flavors to play their own role in the memory of each new destination.
Features
Experience: Complimentary
Food type: Varies
Bistro Ravel
A Viennese-styled café serves custom coffees, pastries and charcuterie by day, and wines and tapas at night.
In the morning enjoy fresh pastries, fruits and cereals and for late-risers, a freshly-prepared egg dish. Afternoon selections feature international cheeses, charcuterie, or a variety of warm dishes.

Features
Experience: Complimentary
Food type: Cafe
The Vintage Room
Created for the true oenophile, optional, one-of-a-kind wine dinners feature vintages of regions explored, as well as some of the world's most coveted labels. Menus are crafted to showcase the nuanced flavors of both the wine and food.
A CURATED INDULGENCE
Let us customize a wine-pairing dinner just for you; a rare label of fine wine can elevate the dining experience into the sublime, and vintages of Europe's celebrated wine regions enhance the discovery of destinations visited.
AN EXPERIENCED POUR
Certified by the Court of Master Sommeliers, our wine stewards share the nuanced details of each vintage served all-inclusively at every meal, as well as the wines available for purchase on our Connoisseur Wine List.
Features
Experience: Cover
Food type: Wine
The Pantry
The Pantry is a 24-hour, self-service venue offering specialty coffees, teas, wines and nonalcoholic beverages.
Features
Experience: Complimentary
Food type: Buffet
24-Hour In-Suite Dining
Dine in the comfort of your own suite, 24 hours, a day and savor extensively delicious selections, including Waterside's full menu.
Features
Experience: Complimentary
Food type: Room
Entertaining
Cruises will feature a destination-focused entertainment and enrichment program, including onboard lecture series. There will be a destination expert on each voyage, as well as regional affairs experts on many voyages.
Palm Court
Enjoy a champagne reception and effortless digital check-in in this elegant glass-enclosed social space hosting daytime lectures and evening entertainment including a vibrant piano bar, dancing and cabaret-like performances.
ENRICHMENT
Scenic river cruising days feature sommelier-hosted wine tastings, chef-led culinary classes and destination enrichment lectures hosted by local historians and visiting university professors.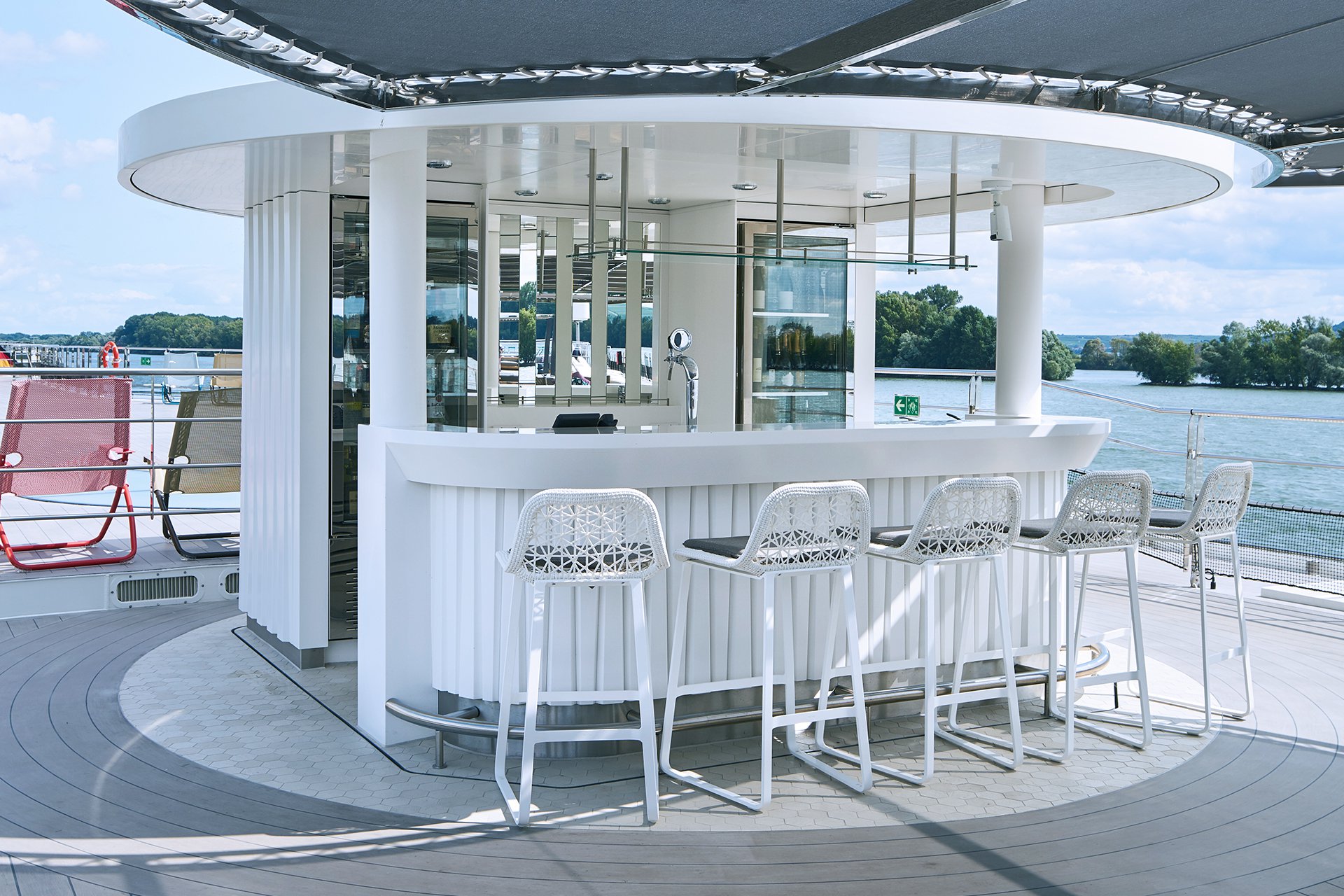 Vista Bar
A Crystal exclusive, the "pop-up" Vista Bar on the open-air top deck is the perfect spot to meet for cocktails, conversation and picturesque views, from the spectacular to the sublime.

Vista Deck
With its 360-degree promenade and comfortable loungers, here is the perfect spot to relax, wrap yourself in a tartan and watch the heart of Europe unfold before your eyes – the rolling vineyards, the castles, the villages and iconic landmarks. Individual audio guides offer a narrative of sights along the rivers.
Enrichment
ONBOARD ENTERTAINMENT AND ENRICHMENT PROGRAMS
• Daily yoga and fitness classes
• Daily choice of electronic international newspapers
• Self-service guest laundry
• Choice of two complimentary curated Crystal Adventures® shore excursions in every port (additional excursions available for purchase)
• Complimentary culinary experience at highly renowned local establishments on many sailings
• Complimentary Nordic walking poles
• Complimentary audio headphones on all organized Crystal Adventures
Crystal Adventures Shore Excursions
Crystal Adventures shore excursions offer unparalleled options for truly personalized discovery. Every Crystal River Cruise™ will feature a choice of at least two guided Crystal Adventures shore excursions featuring cultural, soft and active options in every port, led by a local English speaking guide, via luxury coaches with complimentary personal headsets.
Optional Crystal Adventures, available for purchase, may also be offered from time to time.
Health and fitness
The Crystal Life Spa finds a natural home on the rivers of Europe, as do complimentary yoga classes on deck, fitness centers and swimming pools on every ship.
Crystal Cruises - Crystal Mahler - Fitness.jpg
Crystal Cruises - Crystal Bach - Wellness - Pool.jpg
Crystal Life Fitness
Take advantage of state-of-the-art cardio equipment, free weights, and exercise mats. A full-time Fitness Director leads daily yoga and stretching classes, in addition to active biking and hiking excursions.
Surrounded by picturesque scenery, take in a complimentary yoga class, or choose to jog, walk or stroll on the open-air top deck. (As weather permits.)

A heated indoor pool with a swim-against-the-current feature helps to burn more calories while taking a dip.
Crystal Life Spa
With its dedicated, well-appointed space and private treatment room, the Crystal Life Spa is staffed by experienced, highly-trained professionals.
BEAUTY, FROM THE INSIDE, OUT
Experience INSIDEOUT Beauty™ by DANIELE de WINTER of Monaco, a holistic philosophy and product line favored by celebrity clients and luxury lifestyle brands.
NATURE & SCIENCE
Spa treatments and products combine in-depth knowledge of botanical ingredients with cutting-edge science to deliver health, beauty and anti-aging therapies.
Kids and teens
There are no dedicated children's facilities on board.
Accommodation
The hallmarks of the Crystal brand – service, space, quality and choices – usher in a new era in European river exploration with Crystal River Cruising. With its signature All-Inclusive philosophy, Crystal offers an encompassing luxury experience: butler service for every suite; six-star service and truly exceptional food; unique Crystal Adventures that deliver memorable destination experiences – all working in synch to transpose the World's Best Ocean Cruising to the World's Best River Cruising. Crystal will redefine luxury river cruising.
Two-Bedroom Crystal Suite with Panoramic Balcony-Window
Up to five pampered guests will relish the butler-serviced luxuries in this expansive suite featuring two deluxe bedrooms with en-suite baths, living and dining areas, and suite-wide triple Panoramic Balcony-window.

Master Bedroom
Bed: King size bed (convertible to two twin beds)

King size pillows and fine Egyptian cotton linens

French balcony

Nightstands with wireless charging pad and USB outlets

Walk-in closet with shelving, full-height hanging and removable lower rail

In-closet safe

Arm chair

Vanity area outside of closet

Flat-screen pop-up TV

Bathroom
Double vanity with drawers and towel shelf

Shower with both overhead and hand-held showerhead

Separate Jacuzzi bathtub

ETRO terry robes and slippers

Hairdryer

Power sockets 110/220 V

Living Room/Amenities
Fireplace

Large wall mounted-recessed TV over fireplace

Seating area with sofa

Dining table and 4 chairs

Refrigerator and welcome drawer stocked with Nespresso, cups and glasses

Nespresso Coffee Machine

2 arm chairs

French balcony

Amenities
Nightstands with wireless charging pad and USB outlets

Closet with shelving, full-height hanging and removable lower rail

In-room safe

Writing desk/vanity area

40" wall-mounted, flat-screen HD TV

Refrigerator and welcome drawer stocked with Nespresso, cups and glasses

Nespresso coffee machine

Adjustable height/extendable coffee/dining table

Two-seat sofa (some convert to third bed)

French balcony

Butler Service
Unpacking and packing upon request

Optional Experience Arrangements

In-suite hors d'oeuvres & canapes service

Features
King or Twin Configuration
Shower
Whirlpool Bath
Toiletries Provided
Room Service Available
Suite Benefits
TV
Coffee Machine
Safe
Hair Dryer
Crystal Penthouse with Panoramic-Balcony Window
Discover a new level of indulgence in this gorgeous one-bedroom suite, complete with gracious living and dining area, carved marble fireplace, large dining table and custom upholstered furnishings. Relax and enjoy.

Bedroom
King-size bed (convertible to two twin beds)

King-size pillows and fine Egyptian cotton linens

Two-seat sofa (some convert to third bed)

Beds face forward or aft

Bathroom
Double vanity with drawers and towel shelf

Shower with both overhead and hand-held showerhead

Jacuzzi bath

ETRO terry robes and slippers

Hairdryer

Power sockets 110/220 V

Amenities
Nightstands with wireless charging pad and USB outlets

Walk-in closet with shelving, full-height hanging and removable lower rail

In-closet safe

Writing desk/vanity area

40" wall-mounted, flat-screen HD TV

Refrigerator and welcome drawer stocked with Nespresso, cups and glasses

Nespresso coffee machine

Adjustable height/extendable coffee/dining table

Two-seat sofa (some convert to third bed)

Arm chair

French balcony

Butler Service
Unpacking and packing upon request

Optional Experience Arrangements

In-suite hors d'oeuvres & canapes service

Features
King or Twin Configuration
Shower
Whirlpool Bath
Toiletries Provided
Room Service Available
TV
Coffee Machine
Safe
Hair Dryer
Deluxe Suite with Panoramic Balcony-Window
Bedroom:
King-size bed (convertible to two twin beds)

King-Size pillows and fine Egyptian cotton linens

Beds face forward or aft

Bathroom
Single vanity with drawers and towel shelf

Shower with both overhead and hand-held showerhead

ETRO terry robes and slippers

Hairdryer

Power socket 110/220 V

Amenities
Nightstands with wireless charging pad and USB outlets

Closet with shelving, full-height hanging and removable lower rail

In-room safe

Writing desk/vanity area

40" wall-mounted, flat-screen HD TV

Refrigerator and welcome drawer stocked with Nespresso, cups and glasses

Nespresso coffee machine

Adjustable height/extendable coffee/dining table

Two-seat sofa (some convert to third bed)

French balcony

Butler Service
Unpacking and packing upon request

Optional Experience Arrangements

In-suite hors d'oeuvres & canapes service

Features
King or Twin Configuration
Shower
Toiletries Provided
Room Service Available
Suite Benefits
TV
Coffee Machine
Safe
Hair Dryer
Petite Suite with Panoramic Balcony-Window
Bedroom:
King-size bed (convertible to two twin beds)

King-size pillows and fine Egyptian cotton linens

Beds face forward or aft

Bathroom
Single vanity with drawers and towel shelf

Shower with both overhead and hand-held showerhead

ETRO terry robes and slippers

Hairdryer

Power socket 110/220 V

Amenities
Nightstands with wireless charging pad and USB outlets

Closet with shelving, full-height hanging and removable lower rail

In-room safe

Writing desk/vanity area

40" wall-mounted, flat-screen HD TV

Refrigerator and welcome drawer stocked with Nespresso, cups and glasses

Nespresso coffee machine

Adjustable height/extendable coffee/dining table

Two-seat sofa

Fixed window

Butler Service
Unpacking and packing upon request

Optional Experience Arrangements

In-suite hors d'oeuvres & canapes service

Features
King or Twin Configuration
Shower
Toiletries Provided
Room Service Available
Suite Benefits
Butler Service
Coffee Machine
Safe
Hair Dryer
Deck plans
Deck 4 (Vista Deck)
Sun Deck & Outdoor seating area

Vista Bar

Skylight (above Palm Court)

Canopy - covered outdoor seating area with tables & chairs

Deck 3
Outdoor Seating Area

Palm Court

Dance Floor

Stage

The Vintage Room
The Bistro/Library

Lobby
Pool
Deluxe Suite with Panoramic Balcony
Crystal Penthouse
Petite Suite with Panoramic Balcony-Window
Deck 2
Guest Suites
The Pantry
Reception
Waterside
Deluxe Suite with Panoramic Balcony-Window
Petite Suite with Panoramic Balcony-Window
Deck 1
Fitness Centre
Guest Laundry
Treatment Rooms