Search for your ideal Cruise
Why cruise on this ship?
The Grand Celebration is your world of adventure for two fun-filled days. Immerse yourself in our activity program where you'll find live entertainment and performances, gameshows by the pool, casino events, and delicious food served at all times. Or kick back at your own pace and relax top deck to the sound of gently splashing waves.
find your perfect cruise
Dining
From freshly brewed cups of coffee in the morning to late night cookies and every single meal in between, there's something delicious on board for everyone. Satisfy and surprise your palate with both familiar favorites and exciting new flavors at our variety of fine dining and casual restaurants.
Stellar Prime
Our main dining room features a different menu every day. Feast on freshly-prepared entrees and chef-crafted favorites like Honey Glazed Salmon. Start the day with a hearty breakfast and cap it off with desserts so delightful, that we could only call them "Sweet Endings."
More Info
Attire:
Smart Casual (collared shirts, pants, dressy jeans, dresses)
Dinner Hours:
Option 1: Reserve the early seating at 6:15pm or the late seating at 8:30pm
Option 2: Your Choice Dining offers the flexibility to dine at your preferred time until 9:00 PM. Reservations made online must be confirmed by the restaurant manager once onboard.
No reservations required for breakfast.
Features
Experience: Complimentary
Food type: American
Ocean View Buffet
At the Ocean View Buffet, you'll find options for every meal of the day. Enjoy a selection of breakfast foods or ask our chefs to customize an omelet. Come back and mix it up with dishes from our salad, pasta, or carving stations, as well as made to order pizza! Stay up for our late-night buffet, serving Mediterranean mezze on the first night and Mexican favorites the second.
Lunch:12:30 PM to 3:45 PM
Dinner:7:00 PM to 8:30 PM
Pizzeria: 4:00 PM to 7:00 PM and 9:00 PM to 2:00 AM
Late-Night Snacks:11:30 PM to 2:00 AM
Breakfast: 6:00 AM to 10:00 AM on day two
Features
Experience: Complimentary
Food type: Buffet
Plunge Grill
Take the plunge with your favorite barbeque dish at Plunge Grill. Located poolside, Plunge Grill serves fresh classics when you're done with your dip. This staple spot fires up juicy and tender hamburgers, hot dogs, sausages, and more. Grab a beer and you're in cookout heaven! Late breakfast buffet also available.
More Info
Lunch:12:30 PM to 5:30 PM
Breakfast: 10:00 AM to 11 AM
Beverages from the bar are not included
Features
Experience: Complimentary
Food type: Bbq
Ocean Breeze Bar
On the second day of your cruise, you'll find more than just drinks at the Ocean Breeze Bar. Starting at 2:30 PM, we'll serve up mouthwatering briskets and sausages, all made from meat that's been smoked for over the course of fourteen hours. Enjoy this hearty mid-afternoon meal by the pool or the bar.
While lunch from the Ocean Breeze Bar is included in your cruise fare, it does not include beverages from the bar - even though the food is included, drinks are not included.
Features
Experience: Complimentary
Food type: Fast
Admiral's Steak & Seafood
Admiral's Steak & Seafood pairs delectable specialties with a romantic ambiance. Order a delicacy from the sea and pair it with fine wine, or a succulent steak with exceptional cuts. For an elevated breakfast experience, stop by and order our New England eggs benedict or our signature brioche French toast, along with your favorite bubbly drink from our champagne menu.
Attire: Casual Elegance
No reservations required for breakfast. Serving hours are from 7:00 am - 9:30 am.
Features
Experience: Cover
Food type: Surf_Turf
The Bull Gourmet Burgers
Nothing compares to a juicy, mouthwatering burger done just right. The Bull brings you an array of gourmet selections: premium 10-oz. Angus beef, Mahi tuna, Pacific Salmon, and more. We even have vegetarian-friendly options! Don't forget the sides, we've got onion rings, a basket of shrimp, yucca fries, and so much more.
More Info
Hours: 6:30 PM to 12:00 AM
Features
Experience: Cover
Food type: Bbq
Latitude
Many people love a quick coffee to get them going, and so do we. That's why we have baristas on board to brew up specialty beverages, so you can get your fix on! Grab a cup to start your day. Lattetude also serves up smoothies, hot chocolate, and other treats!
More Info
Day One: 6:30 AM to 12 AM
Day Two: 6:30 AM to 1 AM
Features
Experience: Cover
Food type: Cafe
Grand Cafe
Looking to give in to your sweet tooth? You're on vacation, after all! The Grand Café is open all day long, serving up a wide array of delicious drinks and bites. Take your pick from a variety of hot and iced specialty coffees, teas, smoothies, and freshly prepared juices to pair with freshly baked pastries and handcrafted gelato.
Hours: 6:30 PM to 12:00 AM
Features
Experience: Cover
Food type: Cafe
The Rock Grill
Get ready for a truly unique dining experience at the Rock Grill. This interactive venue is located on Deck 10, offering up delectable bites and great ocean views. Every table is equipped with a lava rock grill, where guests can cook their own meats and veggies. The Rock Grill also features specialty burgers by The Bull, a favorite concept featured on the Grand Celebration.
Features
Experience: Cover
Food type: Bbq
The Crow's Nest Sports Bar
The Crow's Nest is the essential spot for sports that comes with numerous large LCD TV screens, serving of selected beers, cocktails, and classic pub fare. Watch the big game while you enjoy a host of classic pub games, including pool, darts, skee-ball, and vintage arcade games.
Features
Experience: Cover
Food type: Casual
In-Room Dining
With our 24-hour cabin service, you can order a quick bite or a hearty meal whenever you want. Get complimentary goodies such as fruit plates, cheese and crackers, sandwiches, and more. Other items are available for an additional cost, including hamburgers, sodas, and assorted snacks.
Features
Experience: Complimentary
Food type: Room
Entertaining
From morning to night, there's always something exciting brewing on board. Take your pick from a variety of lounges, bars, and dance clubs to enjoy specialty cocktails paired with live music. Or make your way to the theater for a show you'll never forget.
The best way to spend your day on board? On the pool deck, of course! Soak up the sun and gaze up at the pristine blue sky as we make our way to Grand Bahama Island at one of two stunning pools and Jacuzzis.
From jewelry to duty free liquor to a gigantic range of cigars and cigarettes, you'll find everything within our onboard shops. Stop by to pick up a little something for yourself, a souvenir to take back home, or to find the perfect gift for a loved one.
Par-A-Dice Casino
Lady Luck may just be on your side during your 2-night getaway. Try your hand at one of our 13 popular table games to see if victory is in your cards. Slot enthusiasts will find their fill of fun in games such as Wheel of Fortune, Jenga, and Quick Hits.
Nightly Shows
A whole world of entertainment awaits on board your 2-night cruise. Transport yourself to the glitz and glamour of a Vegas-style extravaganza, laugh your heart out at a comedy show, channel your inner diva at karaoke, or slow dance to live jazz music. Sunrise to sunset, every moment is a chance for excitement, awe, and wonder.
Kick off your cruise with a spectacular variety of shows. Witness the talents of an array of performers, including The Grand Celebration and Grand Classica Singers & Dancers, well-known comedians, and astounding magicians.
Join us for an exciting performance by the talented The Grand Celebration and Grand Classica Singers & Dancers! This high-energy show features stunning choreography with hits from around the world. Sing along or sit back and enjoy the unparalleled vocals and moves of our performers.
Comedy Show
Adults-Only Comedy Show
Looking for some late-night laughs? Our Adults-Only Comedy Show is one of the ship's most popular – featuring the stand-up comedic stylings of a variety of popular comedians who have appeared on Comedy Central and HBO. This is a ticketed event and it sells out fast; get your tickets early! *Tickets must be purchased on board
Ocean Breeze Bar
What's a pool day without a couple of tropical drinks? Stop by the Ocean Breeze Bar in between sun soaking and pool dipping to grab a hand-crafted cocktail. Get your tried-and-true favorite or try something completely new – our bartenders are ready to create the drink of your dreams.
Commodore Martini Piano Bar
What goes best with a martini? Live music, of course. Commodore Martini Piano Bar pairs piano hits with the classic drink. Stop by try a specialty martini while enjoying evergreen classics and sing-a-long favorites by our talented pianists.
Encore Lounge
The Encore Lounge has it all. This full-bar and entertainment lounge pairs live music with a wide array of hand-crafted drinks. Grab your new favorite cocktail and hit the dance floor as our Latin band plays all your favorite Salsa hits.
Regal Room Lounge
The Regal Room Lounge is your destination to dance. Live it up on the dance floor to the rhythm of your favorite beats played by live performers. Don't forget to stop by on your first day at sea for an international wine tasting you'll never forget.
Plunge Bar
Let loose at the Plunge Bar! Stop by during the day for Caribbean music and tropical libations. Once the sun goes down, the karaoke starts. Grab a drink, choose your favorite song, and sing your heart out along with your fellow cruisers.
Dancing Martian
Be part of the ship's hottest outdoor venue at the Dancing Martian for the Ultimate Glow Party. You won't want to miss this high energy experience – complete with a DJ spinning pulsating dance music and a spectacular light show.
Enrichment
This is your chance to let the everyday just fade away as you melt into the island music. Enjoy the steel drum band, sail away shows and parties, special drinks, and more as you set sail into an unforgettable getaway.
Grand Bahama Island
The Beauty of Grand Bahama Island is waiting, and we've got a number of ways for you to experience it. Whether you want to feel the rush of a jet ski or jeep tour, or just chill at the beach or go shopping, we have the perfect excursion for you.
"Breathtaking" doesn't even skim the surface. Grand Bahama Island is a haven of gorgeous white-sand beaches, surrounded by crystal-clear waters that stretch for miles. With its vibrant marine life, mysterious shipwrecks, and one of the world's largest underwater cave systems, you'll become captivated by the beauty of Grand Bahama.
Relaxing Beach Days
Sometimes, the best adventures are the simplest. Choose one of our relaxing beach day excursions for the chance to relish in the natural beauty of Grand Bahama Island. Spend your time soaking in the sun on a private stretch of serene, white-sand beach, or opt for some poolside time with a cool cocktail in hand.
Fishing & Sailing
Spend your day exploring Grand Bahama Island's pristine waters by boat. With our fishing and sailing excursions, you'll be able to venture deep into the island's waters and discover a world of marine life you could only imagine. Try your hand at bottom reef or deep-sea fishing, or simply lay back and let the captain do the work with a luxurious day at sea.
Sightseeing Tours
Looking to see the very best of the island? Choose a sightseeing tour and do it all – explore the island's landmarks, national parks, best shopping areas, local markets, and most popular bars. Come back with a tan, some awesome photos, and a souvenir to remember your day's adventure.
Health and fitness
Explore our spa's menu of treatments, designed to transfer guests to a state of pure serenity. Our staff of professionals infuse traditional and nouveau techniques to provide an unparalleled spa experience with lasting results.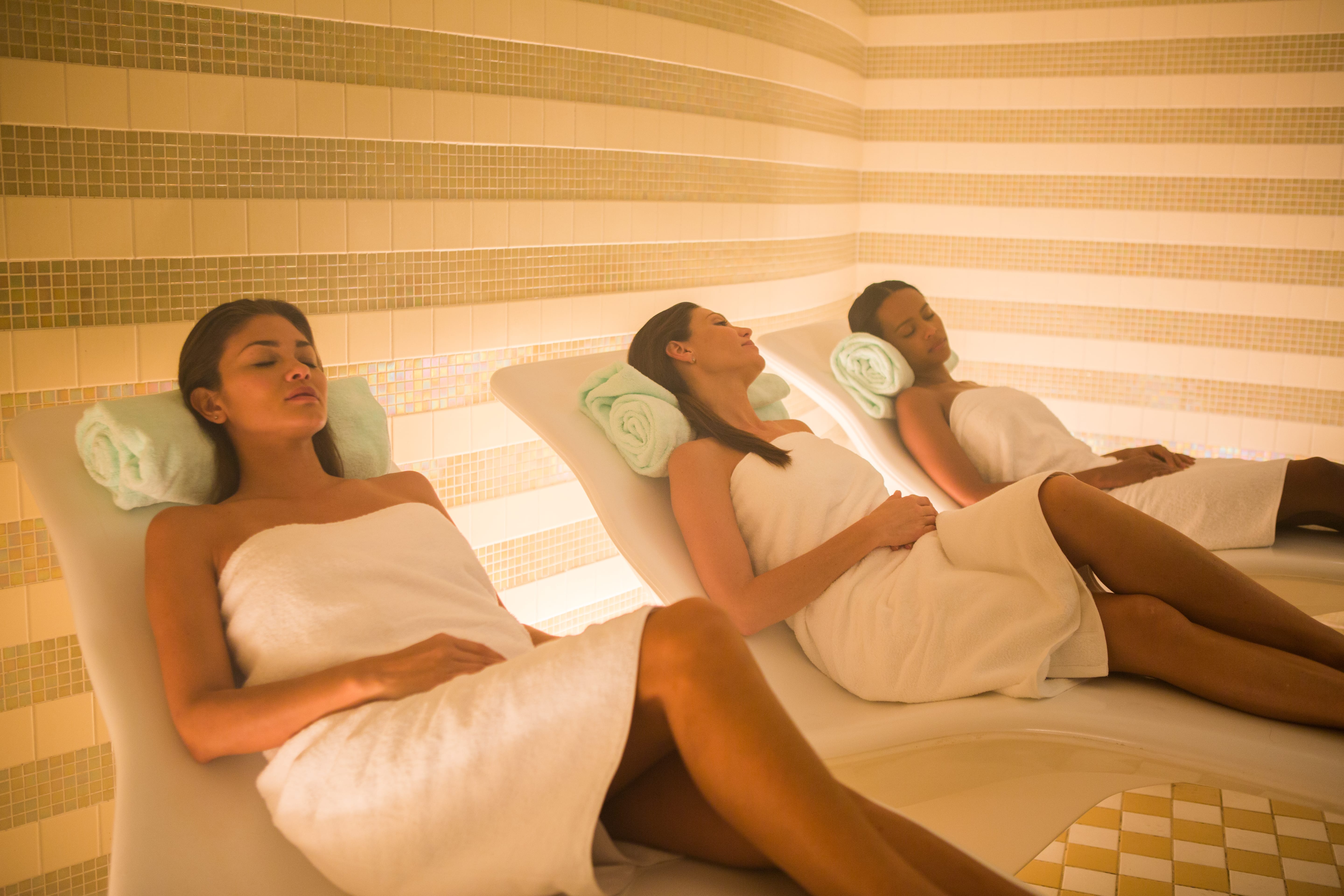 Indulgence Spa & Salon
Indulgence Spa & Salon is your destination for healing and rejuvenation. Release your stress and soak in the therapeutic benefits of aromatherapy and essential oil blends, crafted just for you and your specific needs. Our full-service spa and salon offers treatments of all kinds and caters to both men and women. With the latest state-of-the-art techniques, our talented professionals give each of our guests a personalized experience of ultimate relaxation.
Well-trained professionals
Therapeutic menu of treatments
Innovative massage techniques
Full salon services for men & women
Massages
Relax your muscles and clear your mind with one of our many therapeutic massages. Choose from a premium menu of treatments, including deep tissue, volcano stone, Balinese, and more.
Bahamas Paradise Jacuzzi.jpg
Bahamas Paradise Pool.jpg
Pools & Jacuzzis
Your cruise to paradise features a variety of pristine pools and Jacuzzis. Chill by the main pool for some family-fun under the warm tropical sun, or head to the adults- only pool area, The Oasis, where guests aged 18 and older can lounge in serenity.
Blue Water Bliss
Your getaway's most scenic deck sits right under the sun. Head to the top of the ship for warm sunrays and the most gorgeous views of the surrounding deep blue sea. Pick a lounge chair or flop on a comfy daybed and let the fun begin!
Your day spend at the poolside consists of tropical drinks at Plunge Bar, the sweet sounds of live Caribbean music, a couple dips within the family-friendly pool or the more serene adults- only pool, and tons of exciting activities.
Jogging Track
If you'd rather work up a sweat, take a run around the Sun Deck's scenic jogging track.
Salon
Ready to give your hair a new, refreshed look? Leave it to our hair stylists to give you the tresses of your dreams! Our extensive menu of services includes cuts, blow outs, deep conditioning treatments, coloring, highlights, hair braiding, and up-dos.
Say hello to flawless brows and lashes with one of our professional salon treatments. Treat your eyebrows to tweezing, shaping, and tinting to give them definition. Or make your lashes truly stand out with tinting or extensions.
Make unwanted hair disappear with one of our many waxing services. Our professionals make sure each guest is comfortable throughout their service of choice, whether it be full legs, underarm, or Brazilian. Leave the salon beach ready, with perfectly smooth skin.
Get your hands and toes perfectly primed at our full-service salon. Our well-trained beauty specialists offer every kind of mani and pedi you could desire. Try a classic French, shellac, or dip gel service, or opt for nail extensions for a glam look.
Fitness Centre
Looking to get a workout in during your getaway? Our Fitness Center offers the best motivation – the wide, open sea. Gaze out to the turquoise waves in our scenic gym as you take your pick from an array of equipment and free weights. Treat yourself to a soothing deep tissue massage after you've worked up a sweat to release any and all tension.
Kids and teens
Bahamas Paradise Cruise Line is all about providing a fun getaway for everyone, even the youngest of travelers! That's why we've created interactive kids programs – completely supervised – so that the kids are kept busy with non-stop entertainment, while the adults are free to enjoy the cruise as they please.
Completely supervised
Organized by age groups
Interactive activity programs
Kids Clubs are Open:
3:00 pm to 4:30 pm, and 6:00 pm to 12:45 am
Supervision Hours Included in Cruise Fare:
Day 1: 3:00 pm to 4:30 pm
Day 2: 3:00 pm to 6:00 pm
Accommodation
Our staterooms were created with one thing in mind: comfort. No matter which category you may choose, from Interior to Oceanview to the beautiful Terrace Suites, rest assured you'll find serenity within your stateroom. Enjoy all the right amenities to get you rested and ready for your day's adventure – queen-sized beds that can convert into twin beds, ample living space, and 24-hour complimentary room service for all your late-night cravings.
Terrace Suite
The Terrace Suites are our most popular staterooms, and it isn't hard to see why. Privately tucked away on Deck 11, you'll find only 14 of them four decks above the other staterooms. These suites come in three categories – the Terrace Suites, Deluxe Terrace Suites, and Grand Terrace Suites – all stylishly furnished, boasting ample lounge room, and featuring a scenic balcony. This room category comes with a host of perks, including priority debarkation, a minibar, and a deep spa tub. These suites allow up to four to five guests.
Features
Queen or Twin Configuration
Sofa Bed
Lounge Area
Bath
Toiletries Provided
Room Service Available
Suite Benefits
Free Mini Bar
TV
Wi-Fi (Additional Cost)
Safe
Hair Dryer
Telephone
Desk
Oceanview Stateroom
Spread out and enjoy extra space and tons of natural light in your Oceanview Stateroom. These rooms feature queen-sized beds that may be converted into two twin beds, with the option for extra foldable beds for larger parties. Amenities include a TV, desk, a private bathroom with shower, hair dryer, storage space, and a large window with gorgeous views of the Caribbean Sea. These staterooms allow up to four guests.
Features
Queen or Twin Configuration
Pullman Bed x2
Lounge Area
Shower
Room Service Available
TV
Wi-Fi (Additional Cost)
Safe
Hair Dryer
Telephone
Desk
Interior Stateroom
Lounge in complete comfort with an Interior Stateroom. These cozy rooms feature queen-sized beds that may be converted into two twin beds, with the option for extra foldable beds for larger parties. Amenities include a TV, desk, a private bathroom with shower, hair dryer, and ample storage space. These staterooms allow up to four guests.
Features
Queen or Twin Configuration
Pullman Bed x2
Shower
Toiletries Provided
TV
Wi-Fi (Additional Cost)
Safe
Hair Dryer
Telephone
Desk
Deck plans
Deck 4
Crew Galley
Crew Training Centre
Office
Engine room
Deck 5
Customer Service
Island of Adventure
Cyber Surf
Deck 6
Deck 7
Deck 8
Club Chill
Stellar Prime
Admiralty Club
Commodore Bar Martini Libations
The Helm
Strike a Pose
Aries Conference Room
Splurge
Forget me Knots
Legends Grand Theatre
Deck 9
Kruzers Pool (Ages 3-7)
Ship Shape Fitness Centre
Kruzers (Ages 3-7)
Voltage Night Club
Indulgence Spa & Wellness Centre
Paradice Casino
Legends Grand Theater
Deck 10
Hot Tub
Pool
La Piscina
Ocean View Buffet
Plunge Bar
Deck 11
Dancing Martian
Vibe (Ages 13-17)
Solarium
Santacruz
Deck 12