Search for your ideal Cruise
Why cruise on this ship?
MS Lofoten, was launched in Oslo in 1964, and provides a voyage of real nostalgia with an intimate informal atmosphere.
find your perfect cruise
Dining
Visiting 34 ports, Hurtigruten have an exceptional opportunity to get fresh produce from local suppliers everyday. This means delicious new and fresh ingredients, both from coastal and inland areas.

Based on the season's best ingredients, the chefs create either three-course dinners or lavish buffets. Being a coastal voyage, seafood dominates the menu, accompanied with fresh vegetables and delicately flavoured sauces. Each dinner ends with traditional desserts, like home-made cakes, puddings, berries or sorbet. Breakfast and lunch is served buffet style, while dinner is a set dinner.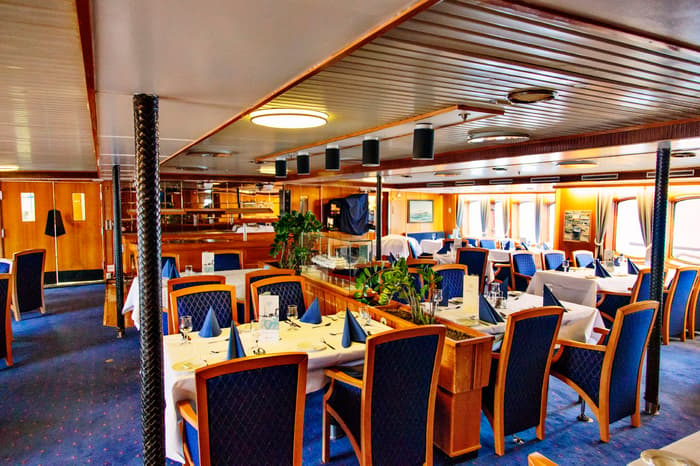 Restaurant
Passengers are requested to go to the restaurant on embarkation to make their table reservation. The usual meal times are: breakfast from 08.00 to 10.00 hours (open sitting); lunch from 13.00 hours (open sitting); dinner from 18.00 hours (set seating). During high season, there may be several sittings, the times of which will be shown on board. Full board begins with a buffet dinner on departure from Bergen and ends with brunch on the arrival day back in Bergen. The food is Norwegian and breakfast is buffet style with a selection of cold meats, cheese, eggs, cereals and fruit. Lunch is the famous Cold Table with a choice of fish dishes, cold meats, salads, a selection of hot dishes, desserts and fruit. Dinner is a three-course set meal; there is not usually a choice of menu. Occasionally the Cold Table may be served in the evening and the set meal at lunch time. All vessels are fully licensed..
Features
Experience: Complimentary
Food type: Continental
Entertaining
The emphasis onboard is on relaxation and discovery, and not the commercial entertainment that is so often a part of conventional cruises. Hertigruten's aim is to get you closer to unique environments and to allow you to share the experience with your fellow travellers. Occasionally there may be some musical entertainment onboard in the evenings.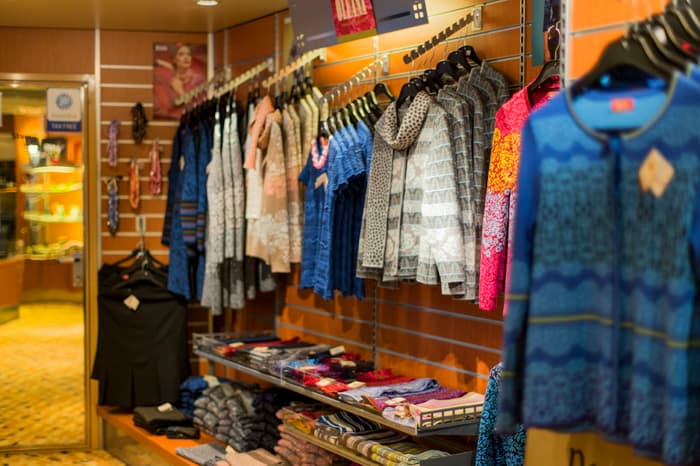 Shopping
Selling souvenirs, knitwear, books, postcards, postage stamps and a limited supply of toiletries.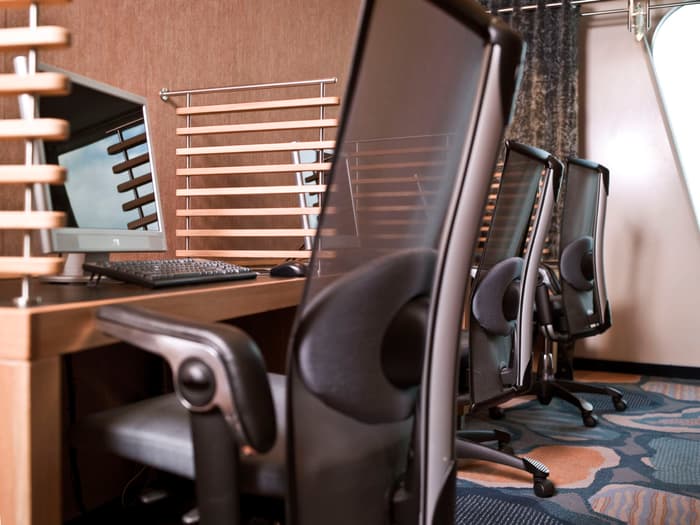 Internet Café
Passwords can be purchased from reception, costs are currently 40NOK for 30 mins, 60NOK for 1 hour and 200NOK for 6 hours (subject to change).

Enrichment
Enjoy a lecture on the ship's deck or in one of the conference rooms and learn something new.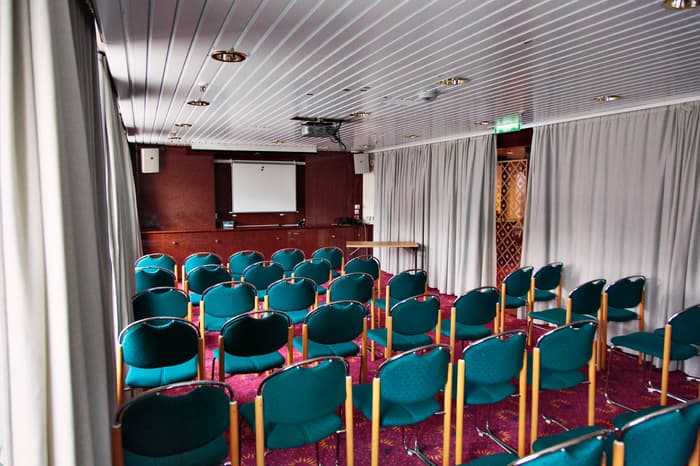 Lecturers
There are often lectures and presentations held on deck out in the fresh air. These lectures and presentations are related to marine and coastal life. For example, there is a performance of "Arctic Circle Ceremony" or "Leaving the Arctic" rituals when crossing the Arctic Circle, cod tongue-cutting demonstrations and training on how to fillet a fish, all of which are led by local fishermen. There are other activities on board, such as hunting for the Northern Lights in winter or sleeping on deck under the midnight sun.

Of course, all of these activities and lectures are voluntary. If you wish to simply relax and enjoy the view of the ever-changing scenery, you are more than welcome to do so.
Health and fitness
Kids and teens
There are no children's facilities available.
Accommodation
Relax in these comfortable cabins. The facilities in Huritgruten cabins vary between ships and the various cabin grades.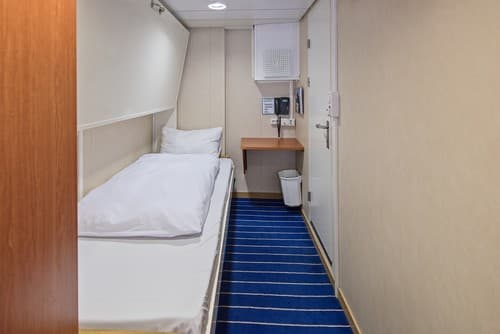 MS-Lofoten-Polar-Innvendig-HGR-128268_500.jpg
Hurtigruten MS Lofoten Polar Inside Single 2.jpg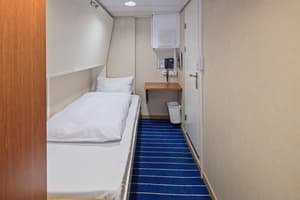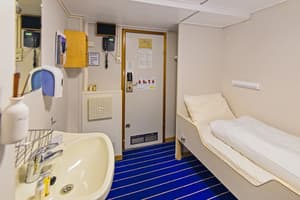 Polar Inside (D1)
Our Polar Inside cabins are situated on the lower deck and offer a cosy atmosphere.
These cabins have washbasin out and shared bathroom/WC can be found in the hallway.
Features
One Single Bed
Toiletries Provided
TV
Hair Dryer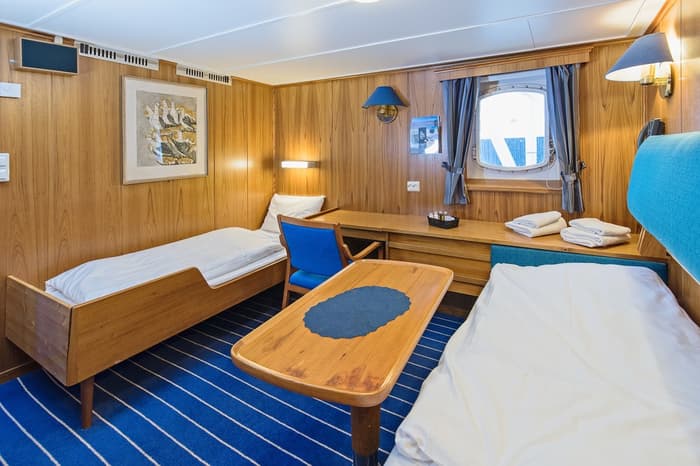 MS-Lofoten-Polar-Outside-HGR-128277_1024.jpg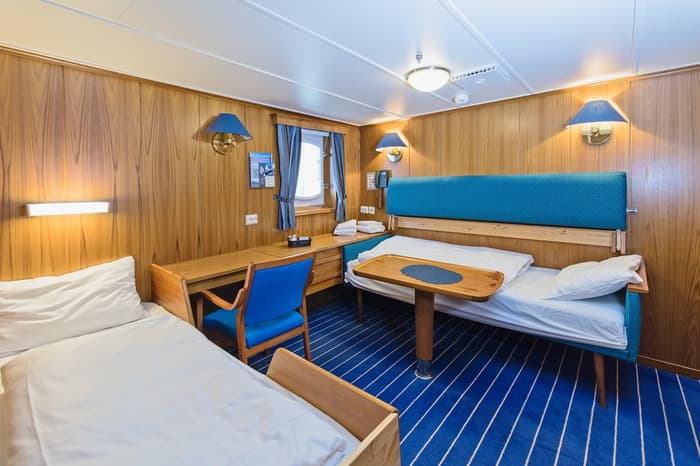 Hurtigruten MS Lofoten Polar Outside Middle Deck.jpg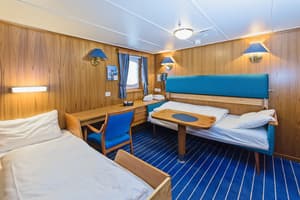 Polar Outside (N2)
The Polar outside cabins on MS ∘ are situated on the upper, middle and lower decks. All have private bathrooms with shower.
These standard outside cabins for up to two people have separate berths
Features
Twin
Pullman Bed
Shower
Toiletries Provided
TV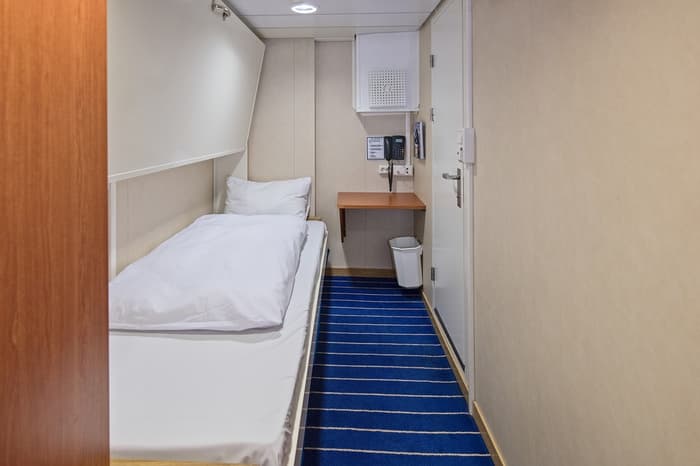 Polar Inside (I2)
These comfortable, standard inside cabins for up to two people on the lower deck have upper and lower berths (bunk beds), one of which converts into a sofa.
Features
Twin
Pullman Bed
Toiletries Provided
Hair Dryer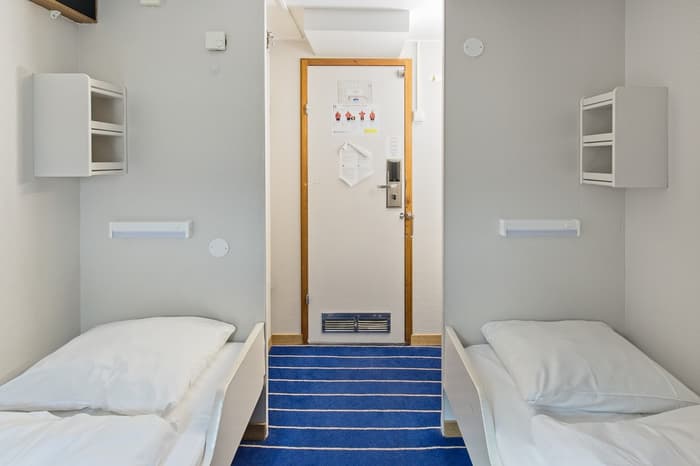 Polar Inside (D2)
Some of these standard inside cabins for up to two people on the middle or lower decks have berths on the floor, while others have upper and lower berths. The cabins have wash basins inside, and a shared bathroom/WC in the hallway.
Features
Twin
Toiletries Provided
Hair Dryer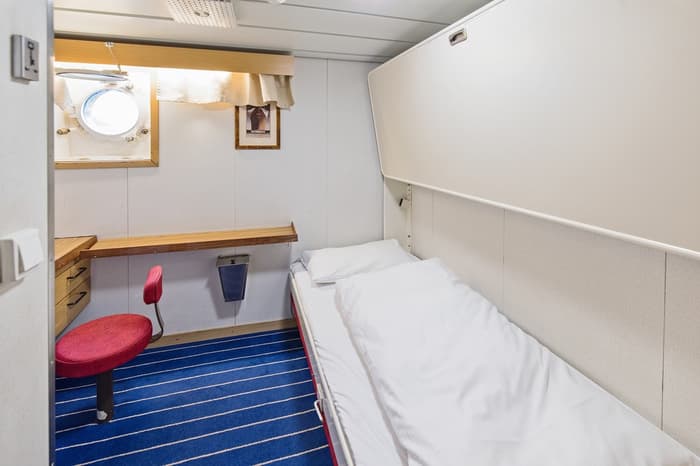 Polar Outside (A2)
These comfortable, outside cabins for up to two people on the lower or upper deck have upper and lower berths. On the lower decks, the cabins have portholes for windows.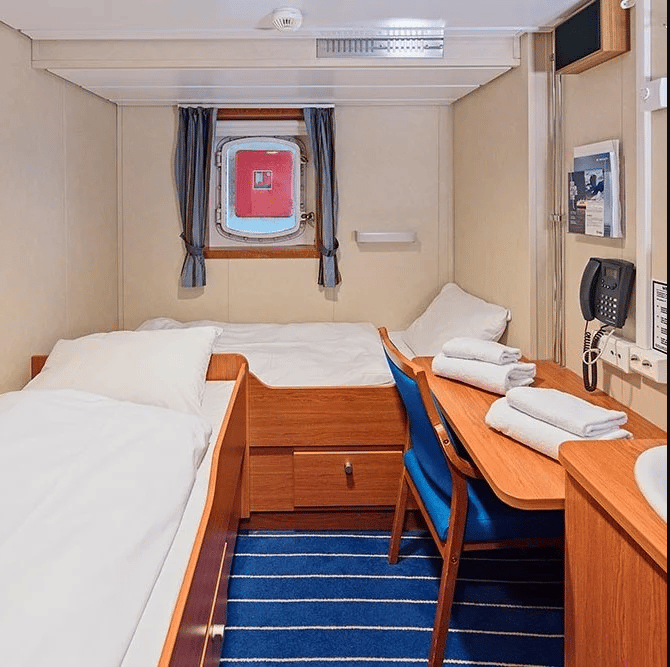 Polar Outside (J2)
These comfortable, outside cabins for up to two people on the middle deck have separate berths, and limited or no view.
Features
Twin
Shower
Toiletries Provided
TV
Hair Dryer
Deck plans

Boat Deck
Panorama Lounge

Outdoor Explorer Deck
Inside Cabins
Saloon Deck
Outdoor Explorer Deck
Bar
Cafe
Shop
Restaurant
Lounge

Deck A
Inside Cabins
Gangway
Reception
Luggage Storage

Deck B
Laundry
Outside Cabins
Inside Cabins
Showers

Deck C