Search for your ideal Cruise
National Geographic Endeavour
Why cruise on this ship?
Expedition ship sailing year round to the Galapagos boasting a wide range of expedition tools to make guests' discovery of the region exciting, as well as interesting.
find your perfect cruise
Dining
Serving regionally inspired meals, Endeavour's dining room offers guests the change to try out new dishes in a casual and relaxed ambience.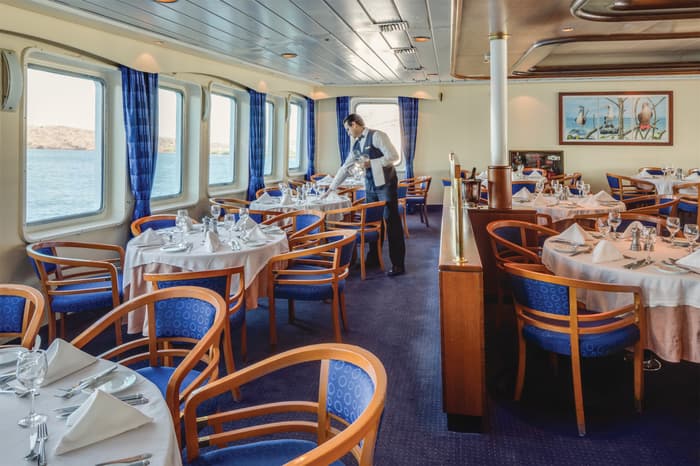 Lindblad Expeditions National Geographic Endeavour Interior Dining Room.jpg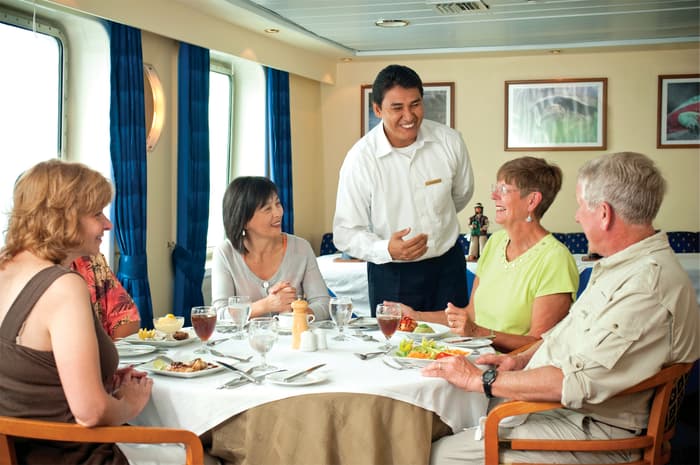 Lindblad Expeditions National Geographic Endeavour Interior Dining.jpg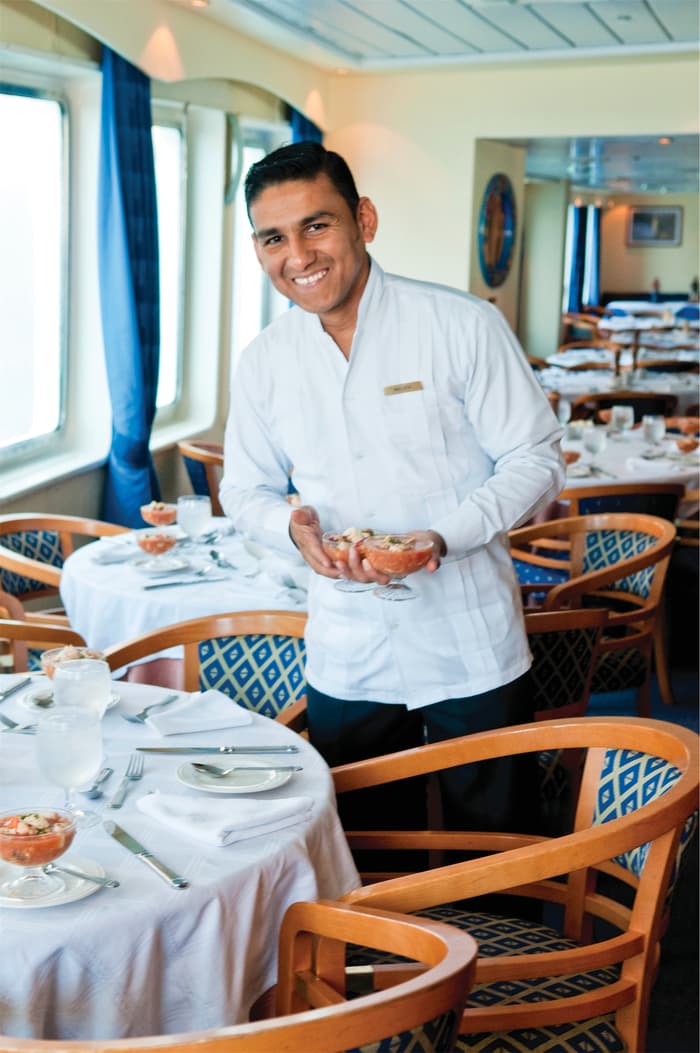 Lindblad Expeditions National Geographic Endeavour Interior Dining 2.jpg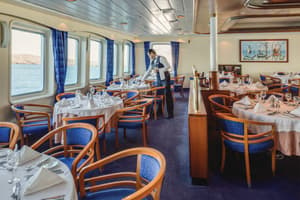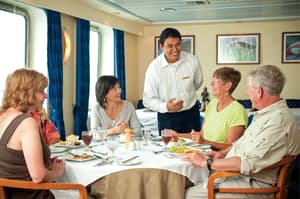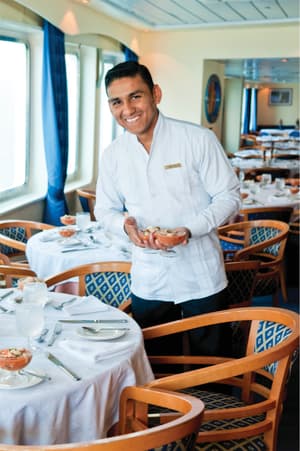 Dining Room
The dining room accommodates the entire expedition community in a single seating, and many tables accommodate an odd number of people to encourage easy mingling. Independent travellers will find a welcome everywhere. Dress is always casual and the general ambience is relaxed and informal.
Every meal is a delight and often a discovery—a window, so to speak, on the region you're exploring. All food served aboard is fresh, local and delicious; sourced from suppliers that share our values of sustainability whenever possible, and often inflected with regional flavours.
Breakfast is served buffet-style, with eggs and other dishes made to order. Enjoy freshly baked pastries, and a bounty of fresh, tropical fruits and fresh-squeezed fruit juices. An early riser continental breakfast is also served each morning, often on deck as conditions permit. Lunch is most often buffet, though occasionally served family style, and there is also an option of a light lunch served on deck. Dinners are plated and served in the dining room, except for the evening when a barbecue is held on National Geographic Endeavour's open aft deck. Whether a meal is buffet-style or served, our gracious wait staff is ever-present to attend to your every need.
During lunch and dinner your expedition leader, naturalists, and any guest speakers aboard will join you for meals, and during breakfast they often sit together to plan the logistics of the exciting day ahead.
Features
Experience: Complimentary
Food type: Regional
Entertaining
Endeavour offers a range of traditional entertainment amenities, including a Lounge, Bar, Library and shop. Some of them have a distinct expedition feels, as the shop sells items made by the people of Galapagos, and the Bridge is open to guests so they can survey the horizon.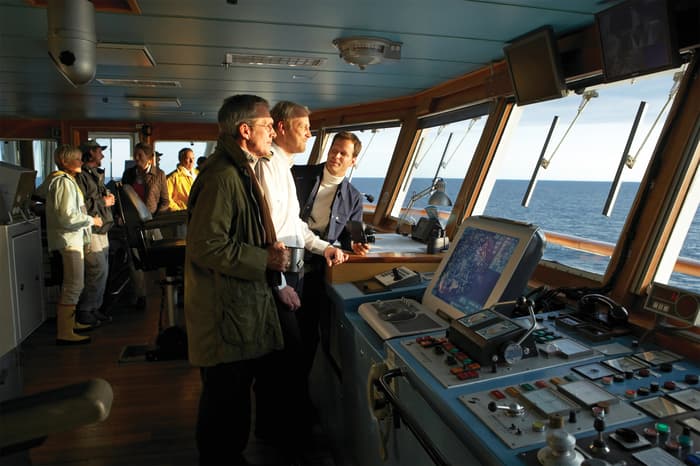 Bridge
You're invited to the ship's bridge to see the calm business of navigation unfold. Ask the watch officer questions about sailing the Galapagos Islands. Or help yourself to the ever-ready binoculars to scan the horizon. There may occasionally be times, such as late at night or due to security regulations, when the bridge must be restricted to shipboard personnel only, but otherwise, you are always welcome.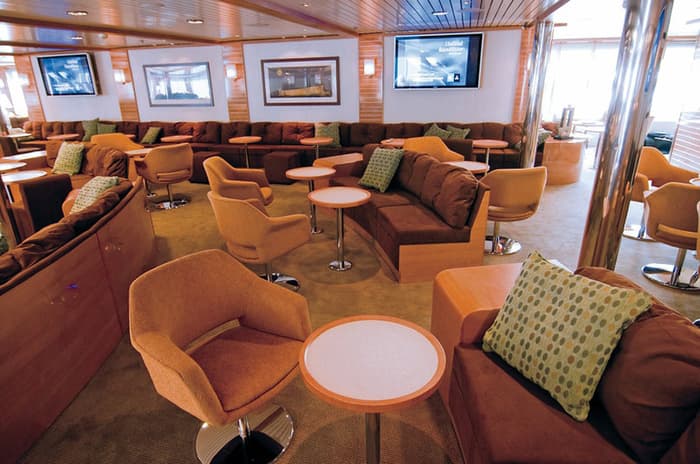 Lounge
The lounge, located on the Veranda Deck, is the heart of the expedition community, where cocktail hour and Recap are held each evening. It's also where you'll gather for lectures, photography talks, and guest speaker presentations. Forward of the lounge is an area that provides information on the conservation of the islands, and where you can view your photos on the photo kiosk. Board games are also available.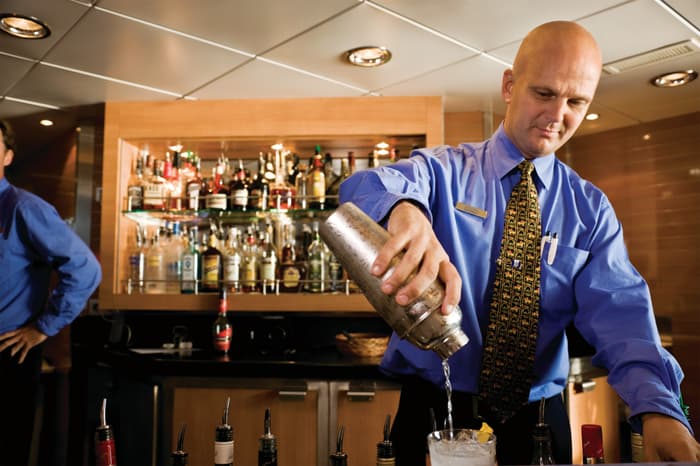 Bar
The bar is typically open from 11 am until one hour after lunch begins and from 5 pm until closing. A variety of beverages are available for purchase including beer, cocktails, a daily speciality drink, spirits, and wine by the glass or bottle. There are also 24-hour self-service beverage stations in the library and the forward lounge with coffee, tea, soft drinks, water, ice, and snacks.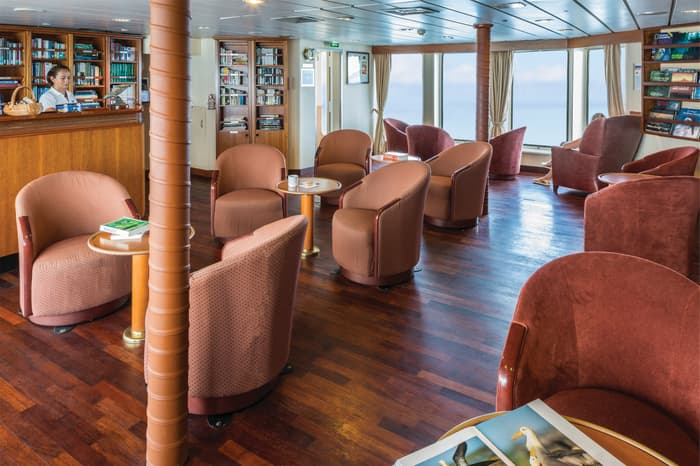 Lindblad Expeditions National Geographic Endeavour Interior Library 2.jpg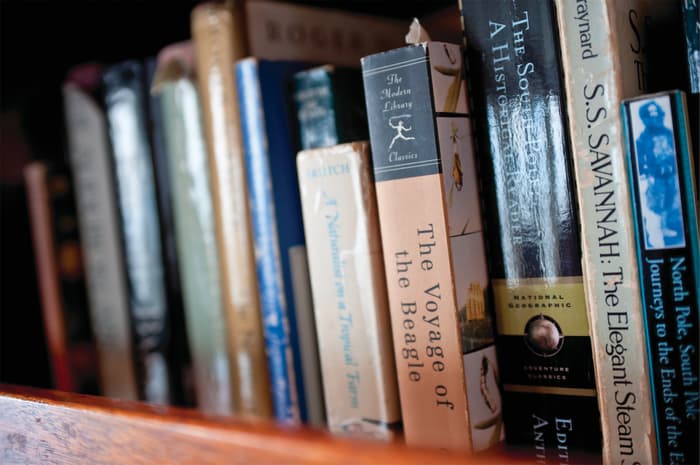 Lindblad Expeditions National Geographic Endeavour Interior Library.jpg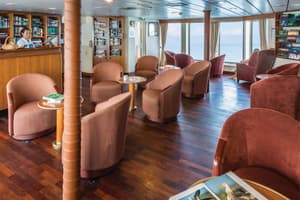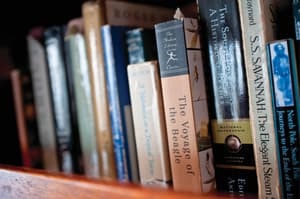 Library
The library, easily the finest library in the islands, is located on the Bridge Deck. It includes a wide range of novels, puzzles, reference, and illustrated books. It's a quiet, cool place to relax, browse maps of the islands, and watch the scenery glide past. It's probably where Endeavour's grand past as a global traveller can be most keenly sensed.
Enrichment
As an expedition ship, Endeavour boast an expansive range of exploration equipment, including: kayaks, glass-bottom boat, snorkelling gear, underwater camera and video microscope. These allow guests to discover the Galapagos visited in more depth and in a more exciting way than a regular cruise would.

Whilst onboard, experts on destinations and naturalists are available to talk to and also give lectures on a wide range of topics associated with the destinations visited.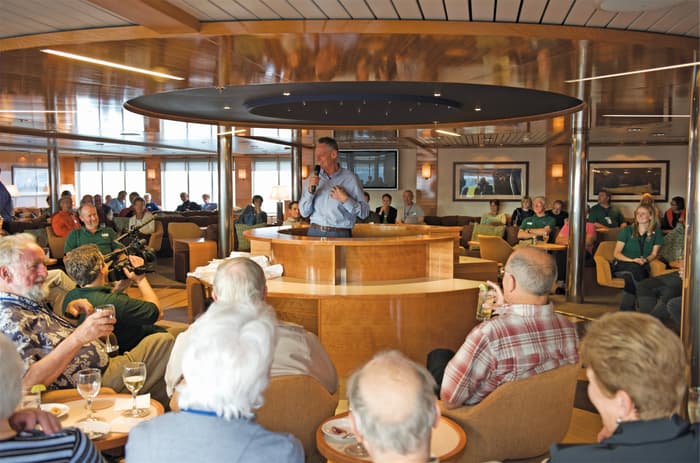 Recap
Taking place in the Lounge, Recap is when naturalists share stories and answer questions about the day's events, and the expedition leader presents the plan for the following day—as guests enjoy cocktails and hors d'oeuvres.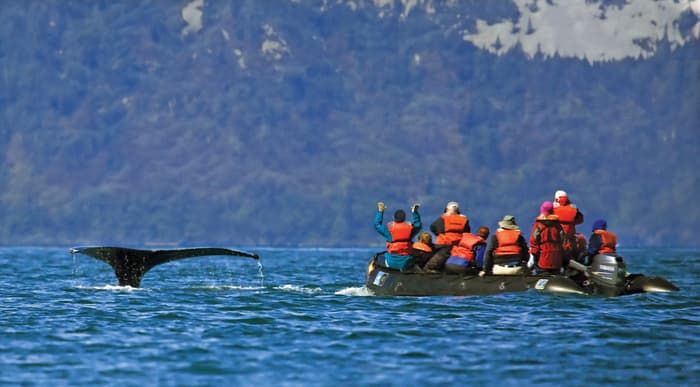 Exploration Tools
ROV: The ROV can dive to 500 feet, far deeper than scuba divers can safely explore, allowing us a glimpse of the deep undersea life that inhabits this Pacific archipelago. While life inhabiting the islands has been well-documented, relatively little is known about the deep undersea here.
Snorkelling Gear & Wetsuits: On the first day of your expedition you'll be fitted with a mask, snorkel, fins, and wet suit. These are yours to use for the duration of the expedition—so there's no need to pack and tote your own gear. The 3mm shorty wet suits allow you to stay in the cool water of Galapagos longer, and protect your skin from the equatorial sun. Guests who own masks with prescription lenses, or prefer to use thicker, full-length wet suits are welcome to bring their own gear. Your undersea specialist will dive at snorkelling sites, shooting video to share during Recap in Endeavour's lounge—it's when you find out the names and more about all the colourful fish you saw that day.
Zodiacs: A fleet of two-person kayaks allow you to paddle along scenic shorelines and explore water-level caves where Galapagos fur seals rest. Our naturalists will help novices with technique, while experts have the opportunity to explore further afield.
Glass-bottom Boat: Explore the undersea while staying dry aboard our glass-bottom boat. A naturalist is always aboard to identify reef fish and other wildlife.
Video Microscope: See the tiny flora and fauna that lives in the rich waters surrounding Galápagos. You'll be able to view this fascinating microscopic life on the high-definition screens in the lounge as your naturalist explains it.
Health and fitness
Endeavour offers a range of traditional health & fitness amenities, including a pool, spa and fitness centre. For a one of a kind experience, the spa also offers guests the opportunity to enjoy a massage on a glass-bottom platform, allowing them to relax whilst admiring the underwater life.
Pool
A small swimming pool located aft of the lounge on the Veranda Deck is the perfect place to cool off on a warm day, or test out your snorkelling gear with help from a naturalist before venturing into the ocean.
LEXspa
The pure wildness of Galapagos is naturally uplifting. Add to that a variety of spa treatments available aboard, and you'll find your expedition relaxing as well as revitalising. Massages, body treatments, facials, and hand and foot treatments inspired by the natural beauty of Galapagos, are all available in the LEXspa.
At some sites explored, a floating, glass-bottom massage platform will be anchored near the shore, offering the singular experience of a soothing massage and a relaxing view of the undersea. You will have the opportunity to sign up for a treatment once on board at reception, or you can simply ask your wellness specialist.
Fitness Centre
Located just aft of the library, it contains a variety of exercise equipment and a sauna. There are several types of cardio equipment as well as free weights. Simply ask the wellness specialist if you'd like a yoga mat, exercise bands, or sets of small hand weights to use in your cabin as well.
Kids and teens
Though National Geographic Endeavour does not have any facilities specially catered to children, she offers a range of daily activities and enrichment programs bounds to interest under-18s.
Daily kids activities include snorkelling and swimming with playful sea lions, hiking among colonies of birds, and sitting together as the community collectively recounts the day at Recap. These are the things you'll remember together. Aboard ship, kids can never get too far away, but they're also able to exercise their own independence. Often "kids' tables" spontaneously form, giving kids the chance to create their own friendships. In other cases, families allow kids to freely join different activities groups by day, then enjoy dinner together every night.
Photo workshops with a Lindblad-National Geographic certified photo instructor using smart phones or point-and-shoots. Hands-on science using the video microscope and learning about conservation projects, plus hands-on nature lessons with our naturalists who are trained to work with kids and are excellent role models. Journals and journaling time. Scavenger hunts. And "certificates of achievement" for various accomplishments. The kids' program is learning disguised as fun. You'll see kids discover hidden talents and gain confidence while having the time of their lives. Kid-friendly menus and movie night with pizza are always a hit, too.
Accommodation
All 56 of Endeavour's cabins feature ocean view, either through portholes, windows, or large windows. Cabins were designed with expedition in mind, with ample drawer space in the desk and beneath the bed(s) so you can store any luggage you may have.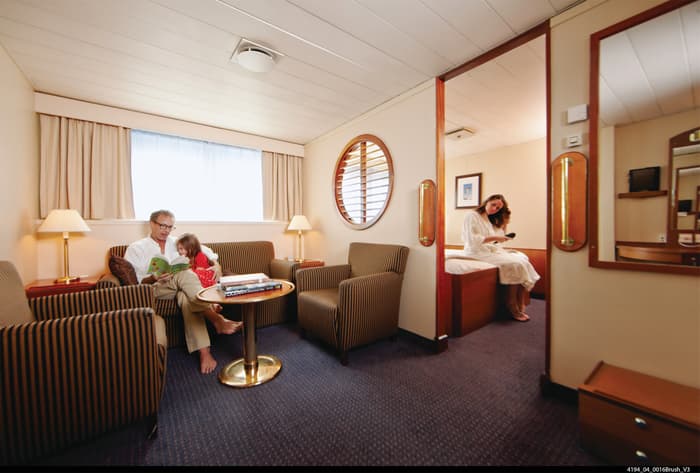 Lindblad Expeditions National Geographic Endeavour Accommodation Suite.jpg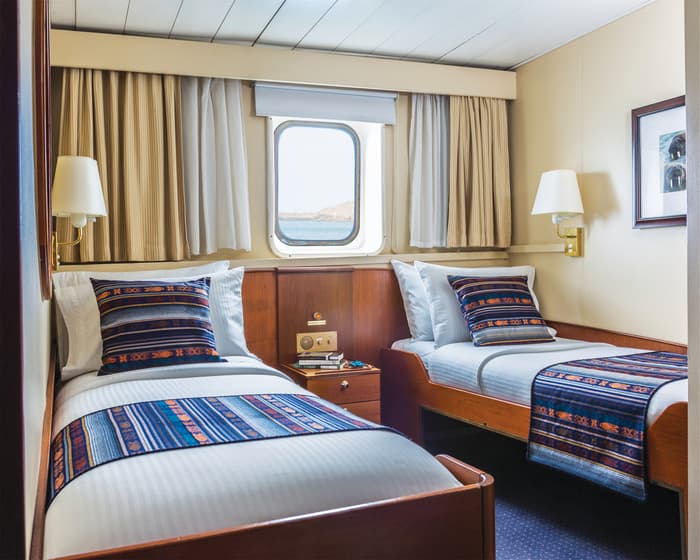 Lindblad Expeditions National Geographic Endeavour Accommodation Category 5 Twin 2.jpg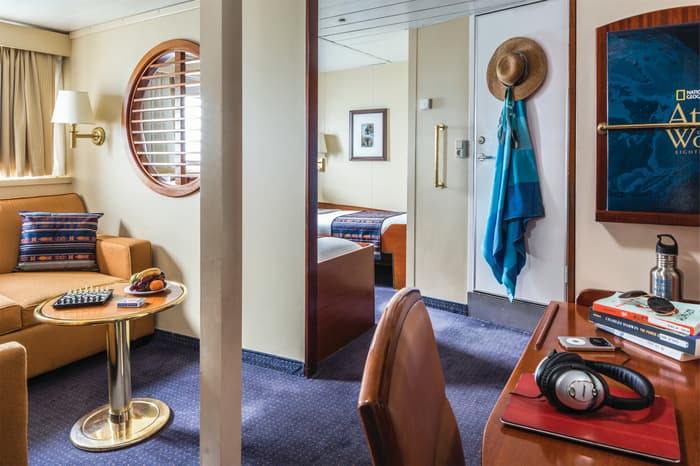 Lindblad Expeditions National Geographic Endeavour Accommodation Category 5 Twin.jpg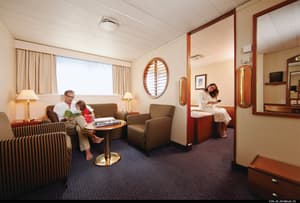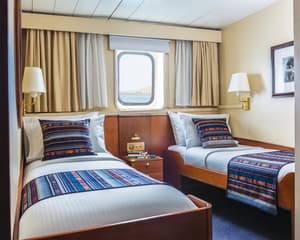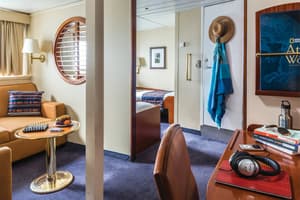 Category 5 Suite
The finest accommodation onboard. Suites have separate sleeping an sitting areas, a large view window and a convertible sofa to accommodate a third person. Every cabin has Wi-Fi access, temperature controls, a chair and writing desk with an Ethernet jack. Beneath every bed is space to store luggage, and for every bed in your cabin you'll find a closet. Botanically inspired hair products and shower gel are stocked in every shower, and a hairdryer and robes are supplied in each cabin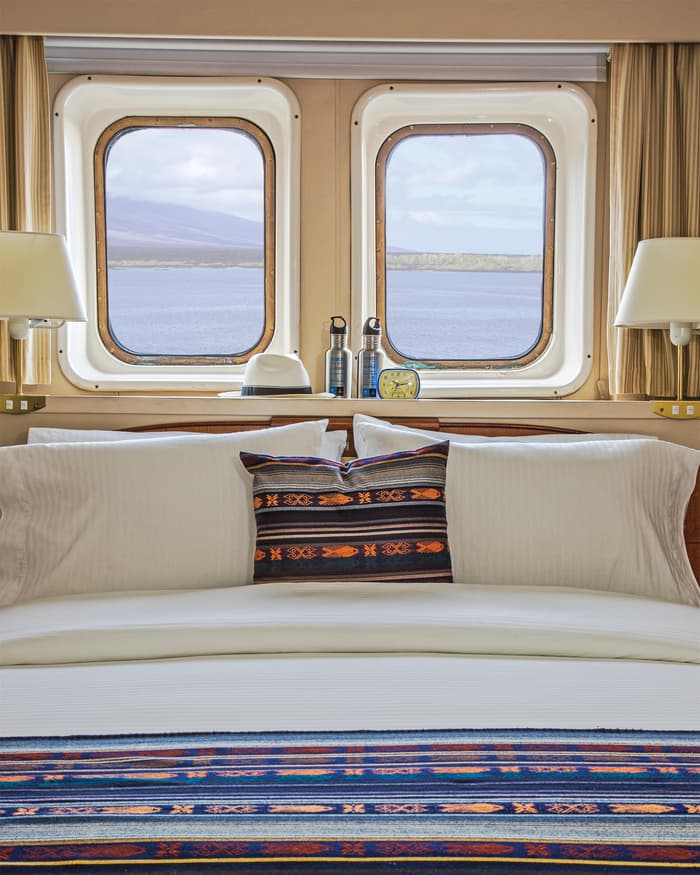 Lindblad Expeditions National Geographic Endeavour Accommodation Category 4 Double.jpg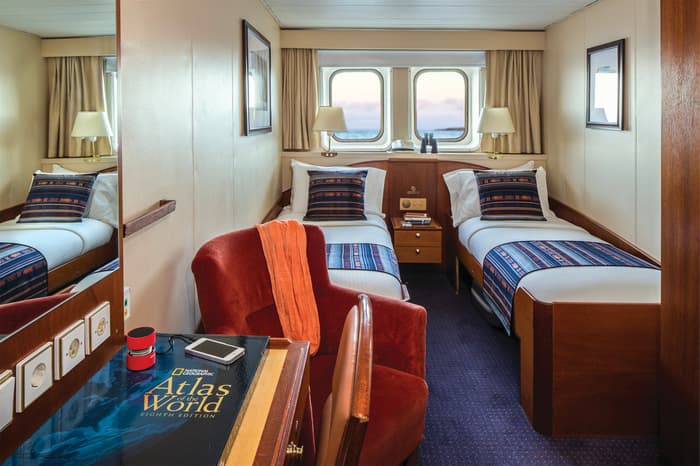 Lindblad Expeditions National Geographic Endeavour Accommodation Category 4 Twin.jpg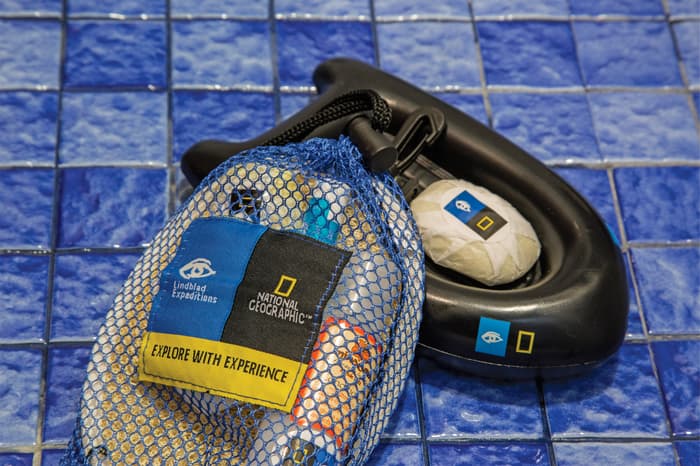 Lindblad Expeditions National Geographic Endeavour Accommodation Category 4 Bathroom Detail.jpg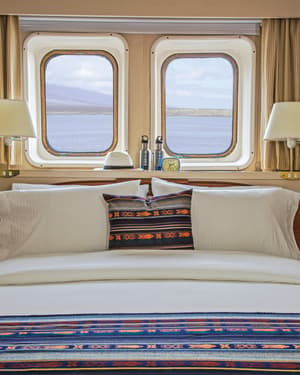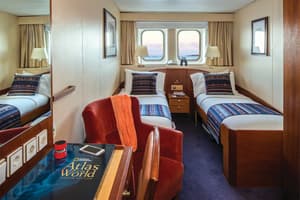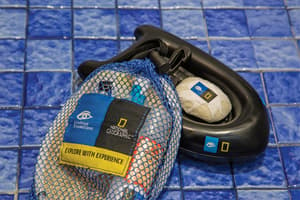 Category 4 Cabin
Conveniently located cabins features two lower singled beds and a writing desk. Every cabin has Wi-Fi access, temperature controls, a chair and writing desk with an Ethernet jack. Beneath every bed is space to store luggage, and for every bed in your cabin you'll find a closet. Botanically inspired hair products and shower gel are stocked in every shower, and a hairdryer and robes are supplied in each cabin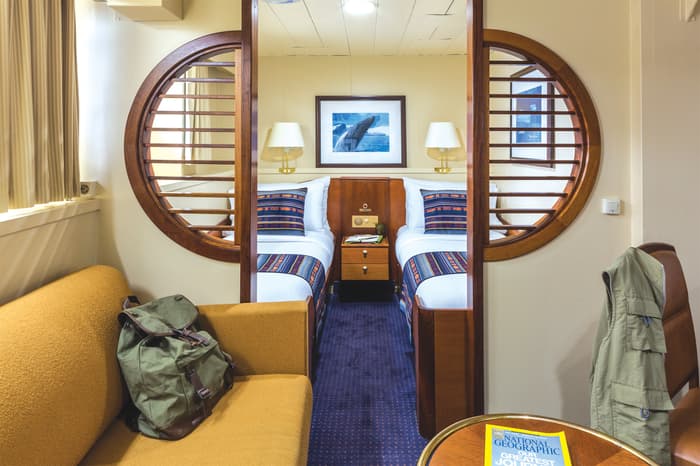 Lindblad Expeditions National Geographic Endeavour Accommodation Category 3.jpg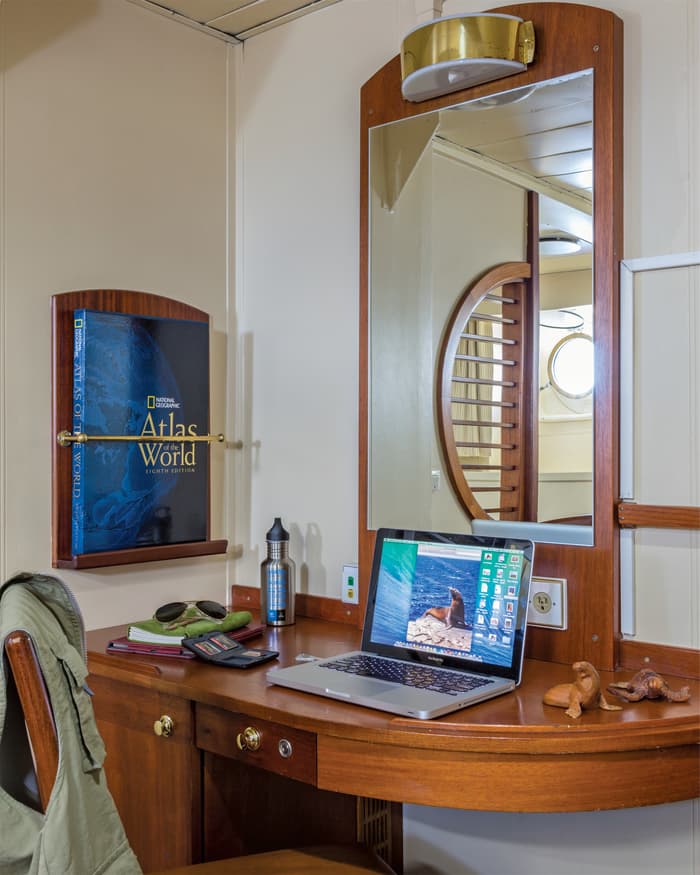 Lindblad Expeditions National Geographic Endeavour Accommodation Category 3 Desk.jpg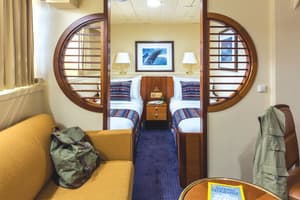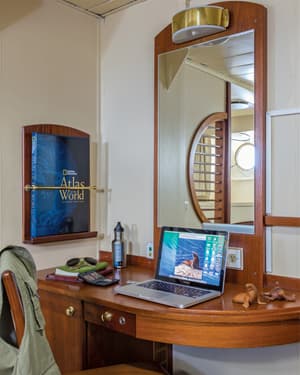 Category 3 Cabin
These spacious cabins accommodate two or three people, all with two lower beds, a sitting chair, a writing desk and two portholes. Each has a separate sleeping and sitting area. Every cabin has Wi-Fi access, temperature controls, a chair and writing desk with an Ethernet jack. Beneath every bed is space to store luggage, and for every bed in your cabin you'll find a closet. Botanically inspired hair products and shower gel are stocked in every shower, and a hairdryer and robes are supplied in each cabin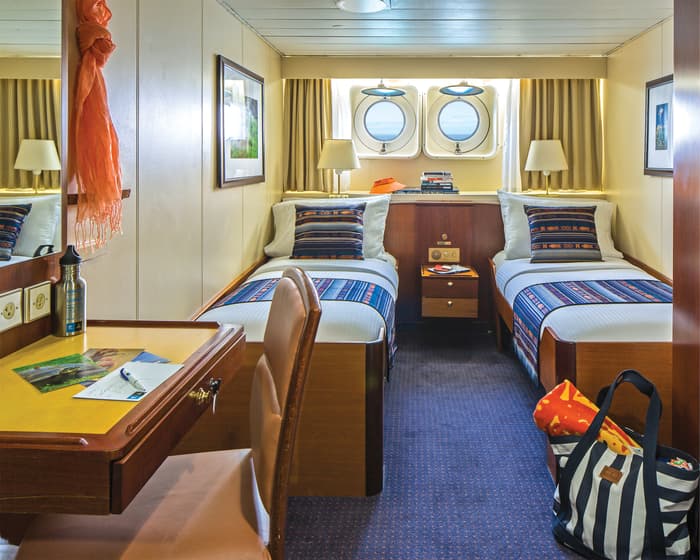 Category 2 Cabin
Cabins have two lower single beds and a writing desk. Upper Deck cabins feature large windows, whilst Main Deck cabins have two portholes. Every cabin has Wi-Fi access, temperature controls, a chair and writing desk with an Ethernet jack. Beneath every bed is space to store luggage, and for every bed in your cabin you'll find a closet. Botanically inspired hair products and shower gel are stocked in every shower, and a hairdryer and robes are supplied in each cabin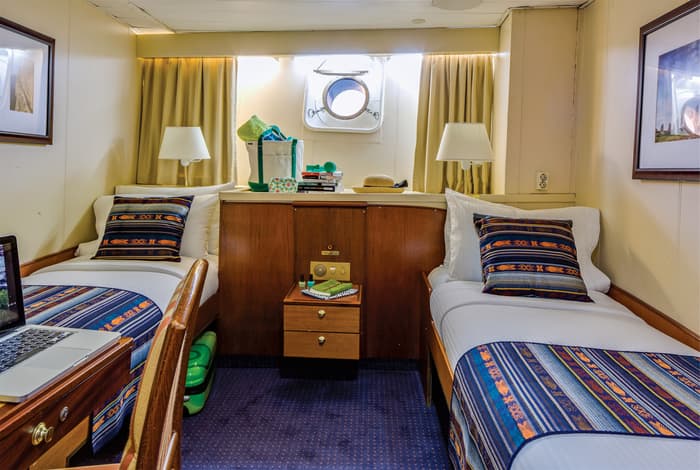 Category 1 Cabin
All cabins feature two lower singles beds, a writing desk and a porthole. Every cabin has Wi-Fi access, temperature controls, a chair and writing desk with an Ethernet jack. Beneath every bed is space to store luggage, and for every bed in your cabin you'll find a closet. Botanically inspired hair products and shower gel are stocked in every shower, and a hairdryer and robes are supplied in each cabin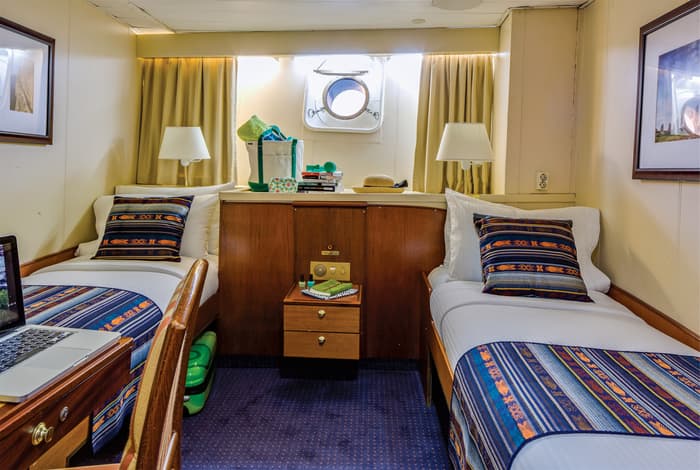 Category 1 Solo Cabin
All cabins feature a single bed, a writing desk and a porthole. Every cabin has Wi-Fi access, temperature controls, a chair and writing desk with an Ethernet jack. Beneath every bed is space to store luggage, and for every bed in your cabin you'll find a closet. Botanically inspired hair products and shower gel are stocked in every shower, and a hairdryer and robes are supplied in each cabin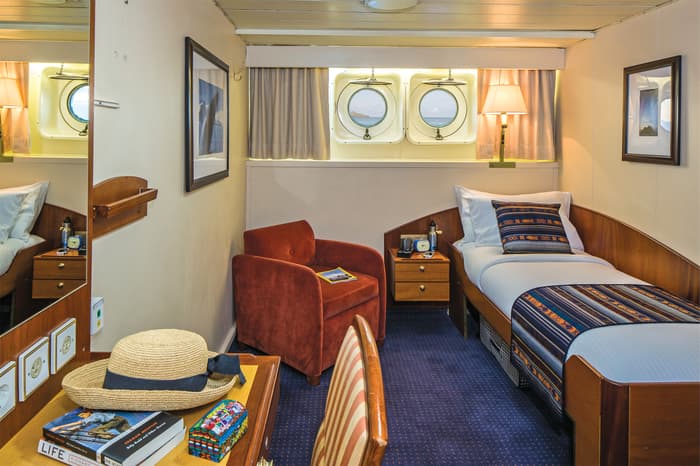 Category 2 Solo Cabin
Cabins have a single bed and a writing desk. Upper Deck cabins feature large windows, whilst Main Deck cabins have two portholes. Every cabin has Wi-Fi access, temperature controls, a chair and writing desk with an Ethernet jack. Beneath every bed is space to store luggage, and for every bed in your cabin you'll find a closet. Botanically inspired hair products and shower gel are stocked in every shower, and a hairdryer and robes are supplied in each cabin
Deck plans

A Deck
Category 1 Cabins

Category 1 Solo Cabins

Category 3 Cabins


Main Deck
Reception

Internet

Purser

Zodiac Boarding

Category 1 Cabins

Category 1 Solo Cabins

Category 2 Cabins

Category 2 Solo Cabin

Category 3 Cabin


Upper Deck
Dining Room

Shop

Category 2 Cabins

Category 2 Solo Cabins

Category 4 Cabins

Category 5 Suites


Veranda Deck

Bridge Deck
Bridge

Sun Deck

Sauna

Doctor

Fitness Centre

LEX Spa

Library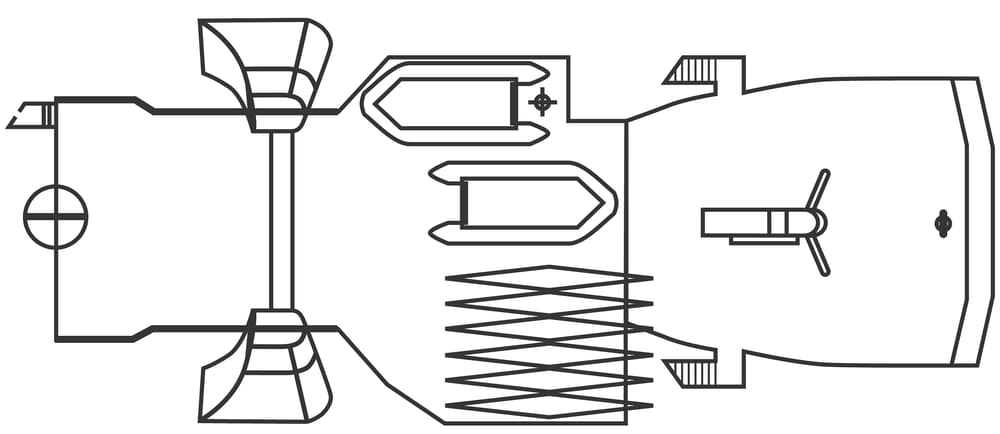 Observation Deck