Search for your ideal Cruise
Why cruise on this ship?
The TRUE NORTH allows discerning adventurers to experience wilderness in surroundings more akin to one of the world's most exclusive hotels! Guests are able to take advantage of a number of lavish vantage points including a sundeck, a forward observation lounge, a lounge and an alfresco bar. The naturalist presents interpretative information on wall mounted screens in the lounge and, an internet café enables convenient communication with the outside world.
find your perfect cruise
Dining
The platform for dining on-board the TRUE NORTH is sustainable, organic and very Australian cuisine. Our menus are also destination inspired and feature the very best of locally sourced ingredients. Modern technique is used to showcase alongside more traditional method.
The galley delivers continuously evolving dishes drawing from an array of different cuisines to ensure that each dining experience is unique to every itinerary.
True North - Dining.jpg
True North - Dining 2.jpg
True North - Dining 1.jpg
True North - Dining - Fish with the Chef.jpg
True North - Dining 3.jpg
On-Board Dining
The Oldest Art Known to Mankind, Oysters and Champagne

A 'Farm to Table' event with a difference - intriguing rock-art points to a nearby harvest of plenty. See the story panels and ponder how life once was. Then join gatherers of more recent times and indulge in succulent oysters collected in the gallery's early morning light. Sample straight from the sea washed down with champagne or savour for a Kimberley sunset and, oysters on the bow.
A crowd-pleaser TRUE NORTH style. Kilpatrick with corn-fed black pig pancetta. Roasted with organic maple syrup until candied and crisp and dressed with home brewed tamarind tomato ragout – then slowly grilled in the shell. Naturals - lightly seasoned with Murray River sea salt, black pepper and citrus juice. Kimberley Sunsets drizzled with salmon roe, sour cream, lemon juice and vodka.
Fish with the Chef
It's not very often that you find an opportunity to accompany your chef as he or she hand-picks the evening's fare. It's even more-unique to stand side by side as you negotiate with an un-negotiable mud crab, or an aerial barramundi or a marauding mackerel. Hear their stories, witness skill beyond the galley and, make your own contribution to the menu. Land the catch of the day and then stay alongside as the chef demonstrates the processes involved – from the sea to your plate, a dining experience that practices what TRUE NORTH preach - sustainable, organic and very Australian.
And the food style is to "let the fish do the talking" – only highlighting with ingredients that accentuate the natural sweetness and flavours of the fillet. Perhaps for lunch – seared barramundi, Broome mango & mud crab millet, roasted macadamias and mint salad.
Chat with the Chef
Sunset drinks on the beach are always a feature of a TRUE NORTH itinerary. And here waits yet another opportunity to spend time with their masters of Australian cuisine. As the chef prepares fish in the smoker and sizzle mud-crabs in the coals - share the flavours of the day and drink-in the stunning colour of days-end.
Delicate finger-mark bream smoked with Raft Point lemon grass mixed with melaleuca paper-bark and red wine oak chips. Freshly caught mud-crab baked on red gum coals and served ceviche on the beach.
Then spend some time again when the chefs introduce the five component cheese board served mild through to most robust and complimented with fine Australian wine. Benefit from personal tasting notes and learn history and technique.
Take Away Something More
The galley door is always open and guests on the TRUE NORTH are always encouraged to spend time with the chefs. You might encounter freshly prepared breakfast items like jams, marmalade, artisan honeys, or oil infused bread rolls made daily for the lunch and dinner settings. See butchery or fish mongering, jus and stock creation, curing, smoking, gently pressing and marinating with a Cryovac machine or cooking with a thermo regulated water bath. Watch them roll pasta, discuss how they prepare sashimi or simply take a photo to remind just how much you indulged whilst on-board the mighty TRUE NORTH.
The Proof is in the Pudding!
Take a seat next to a fellow-adventurer as the last of day's light dances on a horizon never obscured.
Invitation is extended by hand-crafted marri and immaculate settings whilst in the galley the chefs ready to plate what they started to prepare no less than 72 hours previous.
They have brined shoulders of lamb, cooked sous-vide with goose fat and herbs, slowly roasted and then chilled, pressed and portioned ready to serve.
Confit garlic and thyme roasted lamb rumps sliced medium-rare, resting on wild mushroom potato puree and sticky lamb jus. With peppery watercress, yellow bean and hazelnut salad to finish.
Later, double-skin glasses are placed before one and all - topped with a disc of tempered white chocolate and five dots of burnt raspberry coulis. A drizzle of warm Kimberley honey then reveals cold-pressed seasonal nectarines and vanilla bean from Papua New Guinea.
Features
Experience: Cover
Food type: Varies
Entertaining
Mingle with like-minded travelers in our public areas or enjoy a moment to yourself in our ample deck space.
Enrichment
There are fins, masks and snorkels available on board for use during the swim stops.
Specialist Guides
Every TRUE NORTH itinerary features an on-board biologist. The biologist leads a team of six guides - one for each adventure boat. When joining a shore party, you will always benefit from informative commentary concerning the culture and natural history of the featured destination. The biologist also presents entertaining interpretative sessions in the ship's lounge.
Nominated departures also feature specialist guides with specific or local knowledge.
Dr Andy Lewis
Dr. Lewis developed his interest in the marine environment while living on the remote north-west coast of Western Australia as a teenager. He moved to north Queensland in 1987 and enrolled in marine biology at James Cook University, completing his bachelor of science in 1989 with a double major in marine biology and organic chemistry.
In 1990, Andy worked in the Natural Products laboratory of the Chemistry Department, extracting bio-active compounds from soft corals and other coral reef organisms and testing these for suitability as future pharmaceuticals. After a year in the lab, Andy began his honours degree in marine biology, studying the reproductive biology of tropical cephalopods. He graduated at the end of 1991 with first class honours.
Andy started his PhD research in 1992 at JCU under the supervision of Professor J. Howard Choat. His thesis investigated the population dynamics of reef fishes, and their responses to coral disturbance. Over the course of 4 years, Andy made more than 220 voyages to his study sites on the outer Great Barrier Reef in his power catamaran, diving in all months of the year and amassing more than 800 hours on SCUBA. The thesis was complete in 1998 and resulted in 4 publications in international journals of marine biology.
At this time, Andy moved with his family to Magnetic Island on the Great Barrier Reef, and set up his own consultancy firm, Reef EcoTours. Initially the business began with delivering coral reef education programs to groups of tertiary students from the USA. The firm continues its relationship with several US universities, however it has now expanded into teaching programs for Australian private high schools, as well as dedicated reef ecotours for independent travellers at several locations along the Great Barrier Reef. In the last decade, Andy has logged more than 2,000 hours guiding snorkel groups in the coral reef environment. Andy also has a keen interest in underwater photography, and is actively involved in using his extensive image library to raise awareness of coral reef conservation issues.
Andy began working with True North Adventure Cruises in 2006, and now provides specialist marine ecology expertise on all cruises that visit tropical coral reef environments, including the Coral Atoll Cruise to the Rowley Shoals, the Adventures in Paradise cruise to Eastern Papua New Guinea, and the Archipelago Adventure to the Louisiades Islands. Andy takes guests to the best snorkelling locations and provides in-water commentary on the marine life, followed up with an evening image review and ecological discussion in the comfort of the True North's bar lounge. Andy also makes a guest appearance on several of the Kimberley Wilderness, West Papua and Sepik cruises each year.
Dr Gerald R. Allen
Dr. Allen is the author of more than 400 scientific articles and 35 books. He served as Senior Curator of Fishes at the Western Australian Museum in Perth between 1974 and 1997 and is an international authority on the classification of coral reef fishes. Since leaving the Museum he has served as a private consultant, primarily involved with coral reef fish surveys in Southeast Asia for Conservation International. Gerry definitely has an "old school" approach, spending as much time in the field as behind a desk looking through a microscope. He received a Ph.D. in marine zoology from the University of Hawaii in 1971 and since then has logged well over 12,000 hours of scuba diving in all tropical seas, especially the vast Indo-Pacific region.
Underwater photography is a consuming passion and hundreds of his photos have appeared in a variety of international publications. Originally from the USA, Gerry and his wife Connie have resided in Australia for over 40 years. They have two married sons, Tony and Mark, who also live in Perth. Gerry is a past President of the Australian Society for Fish Biology, an honorary foreign member of the American Society of Ichthyology and Herpetology, and recipient of the K. Radway Allen Award for Outstanding Contributions to Australian Ichthyological Science.
Dr Mark Erdmann
Dr. Erdmann is senior advisor for Conservation International-Indonesia's marine program, with a primary focus on managing CI's marine conservation initiatives in the Bird's Head Seascape in West Papua. Mark is a coral reef ecologist (Ph.D. University of California, Berkeley) who has lived and worked for the past 21 years in Indonesia. During this time he has logged over 10,000 scuba dives while surveying marine biodiversity throughout the region. He has published 112 scientific articles and 4 books, including most recently the 3-volume set "Reef Fishes of the East Indies" with colleague Dr. Gerald Allen. Erdmann was awarded a Pew Fellowship in Marine Conservation in 2004 for his work in marine conservation education and training for Indonesian schoolchildren, members of the press, and the law enforcement community. Though his work is now largely focused on the management of marine protected areas, his continuing research interests include reef fish and mantis shrimp biodiversity, genetic connectivity in MPA networks, and coral reef restoration techniques, and he maintains a research associate position with the California Academy of Sciences.
He is also active on the boards of a number of local NGOs within the Coral Triangle, including Yayasan Kalabia, Reef Check Indonesia, El Nido Foundation, and the Asian Conservation Foundation. Mark now lives with his wife Arnaz and three children (Mica, Brahm and Cruz) in New Zealand, and maintains a deep personal commitment to do whatever is necessary to ensure his children will be able to enjoy the same high-quality underwater experiences that continue to provide the inspiration for his dedication to the marine environment.
Natalie Hill
Originally from New Zealand, Natalie relocated to Australia in 2000 and spent 10 years working as a zookeeper at the Currumbin Wildlife Sanctuary on the Gold Coast. Whilst at Currumbin Natalie cared for a range of Australian fauna and delivered venomous snake and crocodile behavior presentations. Natalie developed a keen interest in threatened species conservation and as the zoo's senior herpetologist helped to pioneer Queensland's first captive breeding facility for endangered frogs. Natalie working on breeding programs for the Eungella tinker frog (Taudactylus liemi) and the spotted tree frog (Litora spenceri) and released over 200 frogs back to the wild. With a passion for conservation Natalie gained field skills as a research assistant or volunteering for conservation organisations such as the Australian Wildlife Conservancy, Queensland Parks and Wildlife's Threatened Species Unit and Amphibian Research Centre and internationally at the Madras Crocodile Bank & Centre for Herpetology and also with India's Global Venom Initiative. In 2011 Natalie moved to the Northern Territory and worked as an aquarist at the Territory Wildlife Park and as a marine turtle guide for SeaDarwin. She also worked as a field assistant on various conservation projects including threatened species surveys in Arhnem Land and freshwater sawfish (Pristis pristis) and shark (Glyphis glyphis) research in the Adelaide River. In 2014 Natalie joined the Department of Parks and Wildlife Crocodile Management Team catching problem crocodiles and educating the community about crocodile safety. You may even see Natalie on your TV screens from time to time. She has worked on National Geographic's Monster Fish series, Australia's Top 60 Dangerous Animals and Totally Wild.
Natalie began working as a naturalist on the True North in 2017 and uses her extensive knowledge of Australian flora & fauna to share her passion for conservation. Her favourite quote is "In the end we will conserve only what we love; we will love only what we understand; and we will understand only what we are taught." (Baba Dioum, 1968.) She remains an active member of the Crocodile Specialist Group – a network that researches crocodile conflict with humans and, she also continues her involvement with the Global Venom Initiative – a group that provides anti-venom solutions for developing countries.

Dr David Williamson
Originally from Western Australia, David relocated to Queensland to undertake a Bachelor of Science degree in Marine Biology and Zoology at James Cook University (JCU). After completing his undergraduate degree, David spent several years working for the Australian Institute of Marine Science (AIMS) and in the marine science consulting industry on projects throughout Australia, Asia and the Pacific Islands. He later returned to JCU to undertake further studies and research toward his doctorate degree, in which he examined the ecological effects of marine park management in the Great Barrier Reef Marine Park.
Since completing his PhD in 2009, David has been employed as a Research Fellow at the ARC Centre of Excellence for Coral Reef Studies at JCU. His current research focuses on the ecological and fishery effects of marine reserves, the impacts of acute and chronic stressors on marine ecosystems, larval dispersal of reef fishes and the connectivity of populations.
David began working with True North Adventure Cruises in 2015. His extensive knowledge of marine and terrestrial ecosystems, combined with his public speaking and university lecturing experience, ensures that he consistently delivers informative and entertaining interpretation for our guests.
True North - Enrichment - Helicopter.jpg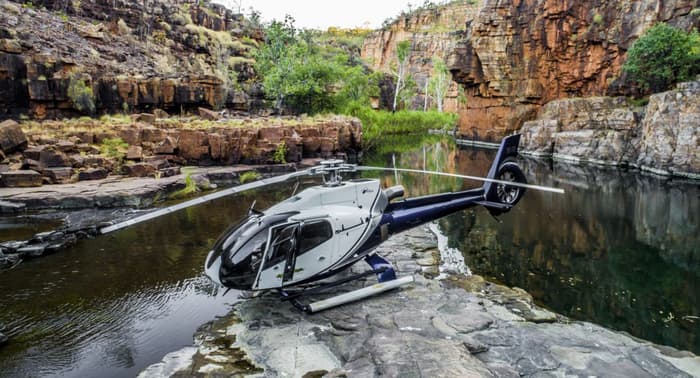 True North - Enrichment - Helicopter 2.jpg
True North - Enrichment - Helicopter 1.jpg
True North - Enrichment - Helicopter 3.jpg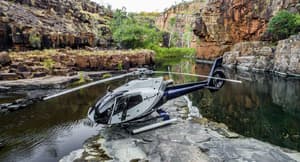 Helicopter
Adding another dimension to the adventure, most itineraries on the TRUE NORTH feature an on-board helicopter!
Carrying guests in air conditioned comfort, the helicopter provides unique opportunity to witness grandeur; unique opportunity to fish billabongs that have never been fished; unique opportunity to discover your very own wilderness!
Now it's not uncommon for our guests to embark with some uncertainty about flying in a helicopter – however it's always a different story when the time comes for disembarkation.
"Wow – who would have thought, I have never been in a helicopter before, now I can't get enough. I can't speak highly enough about the whole operation, I felt completely safe and I could not have hoped to have seen all that I saw if we didn't have a helicopter on-board."

A typical reaction from a first-time flyer on-board the TRUE NORTH.
The helicopter helps you to climb mountains and volcanoes in air conditioned comfort. Even if you are not as spritely as you once were – the helicopter will deliver you without fuss to the most inaccessible locations.
See ancient rock art without leaving your seat. Glide over impenetrable jungle and swoop on historic and cultural highlights. Take someone special on a sunrise flight or join the entire guest compliment for an unforgettable heli-picnic.
The helicopter - another TRUE NORTH icon!
Specifications
The ultra-quiet EC130 B4 incorporates latest technology as defined by EUROCOPTER's new generation of helicopters. It has a maximum gross weight of 2.4 tonnes and offers a generous cabin that comfortably accommodates a pilot and 6 passengers on individual leather seats.
Featuring air-conditioning and large cabin windows, it is perfectly suited for aerial expeditions.
Heli-ops are supervised by Rob Colbert who is the chief pilot at Skyhook Helicopters. Rob has been working in and flying around the Kimberley for more than 20 years and he has been associated with the TRUE NORTH for much of that time. He has a keen interest in fishing, local history and indigenous culture. He has developed entertaining commentary for all of the TRUE NORTH heli-flights.
Cultural Experiences
Rock Art
Discover the history and culture of the first Australians and view some of the oldest art known to mankind. The northern Kimberley is home to the controversial Bradshaw art (or Gwion Gwion) and further south see pristine examples of Wandjina art.
The Traditional People of West Papua
West Papua lies at the confluence of the Indian and Pacific Oceans and has a fascinating history extending back over 40 thousand years. The TRUE NORTH is the perfect platform to discover the influence of Melanesians, Islamic Sultans, Dutch traders and Portuguese mariners. Meet traditional Indonesians on Banda Island and the Melanesia people on Gam and Waigeo.
The Land of The Unexpected
The TRUE NORTH first visited untamed Papua New Guinea in 2005. Since that time we have continually refined our itineraries to ensure that they are filled with only the highest quality experiences – the highlight being countless encounters with the overwhelming hospitality of those who are fortunate to call this untouched paradise home. Witness rarely seen ceremony on the Sepik River.
Diving & Snorkeling Aboard the TRUE NORTH
Please note that diving and snorkelling activities may be offered on your upcoming adventure. It is therefore important that you familiarize yourself with the following guidelines concerning equipment:
Snorkelling equipment (mask, snorkel & fins) is available for complimentary use on-board. However, bringing your own equipment is the best way to ensure a perfect fit.
We recommend that divers bring an appropriate exposure suit. A short sleeve/leg wetsuit may be a good idea for snorkellers who get cold easily and a rash shirt provides excellent sun protection. Exposure suits may be available for sale on-board however we cannot guarantee that we will have your size in stock.
Divers are provided with cylinders, weight belts and weights.
Divers normally bring their own personal dive equipment including regulators, BCD and wetsuit.
TRUE NORTH has limited dive equipment (BCDs, regulators and dive computers) available for hire on-board. Please confirm arrangements in advance.
It is highly recommended that divers bring their own dive computer. THE SHARING OF DIVE COMPUTERS IS NOT PERMITTED.
Divers MUST dive with a safety sausage. If you do not bring your own you will be required to purchase one on-board.
Night dives MAY be offered. If you intent to night dive, you MUST bring your own primary light source. A secondary or back up light source is also recommended. Dive lights may be available for sale on-board however stock levels cannot be guaranteed.
Divers MUST provide proof of certification on-board.
True North - Fishing onboard.jpg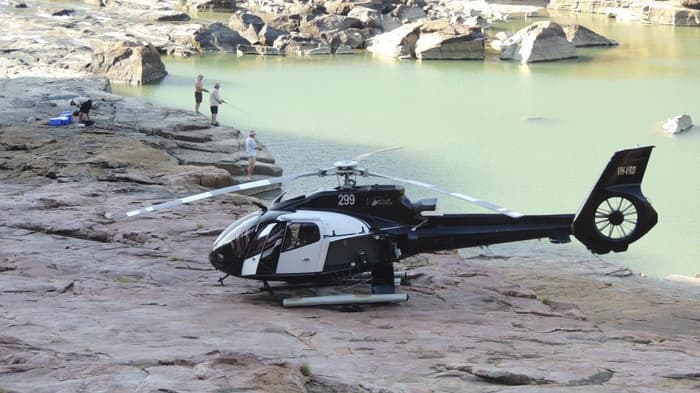 True North - Fishing onboard Helicopter.jpg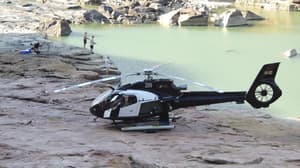 Fishing On-Board The True North
A Guide Just For You
If you're looking for experienced and knowledgeable fishing guides look no further than the guides on-board the TRUE NORTH. Regardless of whether you are a beginner or an 'expert' you will benefit from local knowledge that ensures unequalled opportunity from the remote Kimberley to untouched West Papua and, the rarely fished islands of the Eyre Peninsula.
Our sailing schedule offers access to an array of species. You will be presented with convenient opportunity to do battle with some of the world's most revered sports-fish including the iconic barramundi, the elusive mangrove jack, finger mark bream, golden snapper, jewfish, pink snapper, delectable whiting and even mighty sailfish!
On The Water
With six adventure boats (not zodiacs) accompanying the True North, guests have greater opportunity to do "what they want, when they want." The luxury of so many tenders also means that we can always allocate craft to different fishing styles and, to varying degrees of experience. Fish in comfort and receive the individual attention that the True North is famous for.
In The Air
The on-board helicopter also adds a unique dimension to fishing on the TRUE NORTH. Heli-fishing is one of our most popular activities - fly over stunning wilderness in air-conditioned comfort to an otherwise inaccessible location! Who could pass up the opportunity to fish where perhaps no one has fished before?
Nothing But The Best
The TRUE NORTH carries a full complement of high quality fishing equipment. Rods, reels and hand lines are provided for your complimentary convenience however keen anglers are welcome to bring their own gear (6-8kg bait casting outfits are recommended). Lures are available on a replace if lost basis.
Catch Of The Day
Our chefs love to be a part of the fishing action – when the 'hunters and gatherers' return to their home away from home, they will delight in preparing your catch for lunch or dinner. And our chefs particularly enjoy mud crabbing – not only will they show you how to prepare unforgettable fare; they will also be right by your side when you do battle with these cantankerous adversaries!
Everyone Is Invited
From the "never fished" to the "I've caught 'em all" our guides encourage all on-board to join in the fun and multiple adventure boats always allow opportunity to enjoy a wide variety of fishing styles in small groups of equal ability!
And ladies please take note - fishing is not just for the men! In fact, on the True North it may just be the other way around! Things might start a little slowly but in our experience, once that first fish is in the esky – there's no stopping the fairer sex! You may just surprise yourself – one of the common guest reactions is "I've never given fishing a thought – now I can't get enough!"
We'll Be Back!
Everyone on the TRUE NORTH is conscious of the fact that fishing in a wilderness area is a privilege. The TRUE NORTH is fully licensed for fishing and fishing regulations are strictly observed.
We never take more than a 'taste' and fishing operations are always conducted with the utmost care and respect. Wherever possible we practice 'catch & release' techniques and, we never permit any activity that might degrade fish habitat.
True North - Enrichment - Adventure Boats.jpg
True North - Enrichment - Adventure Boats 2.jpg
True North - Enrichment - Adventure Boats 1.jpg
Adventure Boats
The TRUE NORTH operates 6 dedicated adventure boats.
Our adventure boats are 20' runabouts. We have deliberately chosen this configuration to provide greater comfort, practicality and safety.
Our boats are much more comfortable than rubber boats. They feature ample seating and when the boat is not under way, it is possible to stand-up and walk around. This is a definite advantage when engaging in activities such as fishing, snorkelling, diving and photography. Our adventure boats are fully surveyed by the Australian maritime authorities which means the wearing of life jackets is not required and, we also believe that they are much safer than rubber boats when operating in crocodile country!
Health and fitness
Located on the Oceans deck, the Mini Spa suite has a massage room and sauna. Our Balinese Spa Supervisor also provides hair, face and nails treatments.
Kids and teens
Aboard the Variety Cruises ships there are no recreational facilities for children and reservations for those under the age of eleven are not advised.
Accommodation
Retreat to your cabin sanctuary all offering windows or portholes connecting you with Mother Nature's wonders.
True North - Accommodation - Explorer Class Cabin.jpg
True North - Accommodation - Explorer Class Cabin Complimentary.jpg
Explorer Class
Features
Approximate dimensions 3m X 4m (Ensuite 2m X 1.75m)
King size bed (can be split into singles if requested)
Large viewing windows
Spacious ensuite featuring twin basins and viewing windows
Original artwork in the cabin
Plenty of storage for clothing and other personal items
Amenities fridge
Writing desk and chair
Wall-mounted TV and DVD player
Personal aircon unit
Satellite phone
Features
King or Twin Configuration
Paid Mini Bar
TV
Media/Entertainment Station
Safe
Hair Dryer
Telephone
Desk
River Class
Features
Approximate dimensions 3.5m X 3.5m (Ensuite 2m X 1.75m)
King size bed (can be split into singles if requested)
Spacious ensuite with viewing window
Large viewing windows (2)
Plenty of storage for clothing and other personal items
Wall-mounted TV and DVD player
Personal air conditioning unit
Satellite phone
Features
King or Twin Configuration
TV
Media/Entertainment Station
Safe
Hair Dryer
Telephone
Desk
Ocean Class
Features
Approximate dimensions 2.5 to 3m X 3m (Ensuite 1.5m X 1.75m)
Roomy twin single beds
Spacious ensuite
Large portholes allow plenty of natural light
Drawers and closet space to store clothing and other personal items
Wall-mounted TV and DVD player
Personal air conditioning unit
Satellite phone
Features
Twin
TV
Media/Entertainment Station
Safe
Hair Dryer
Telephone
Desk
Deck plans
Upper Deck
Explorer Class
Bradshaw (1)

Dampier (2)
Durack (3)
Parker King (4)
Main Deck
River Class

Prince Regent River (5)
Mitchell River (6)
Berkeley River (7)
Drysdale River (8)
Hunter River (9)
King George River (10)
Ocean Class
Camden Harbour (11)
Lacepede Islands (12)
Lower Deck
Ocean Class


Koolama Bay (13)
Montgomery Reef (14)
Jackson Falls (15)
Kings Cascade (16)
Imperieuse Reef (17)
Atlantis Bay (18)