Search for your ideal Cruise
Why cruise on this ship?
The MS Volga Dream entered service during the spring of 2007 after a comprehensive two-year renovation.
find your perfect cruise
Dining
The single sitting dining room offers the best of traditional Russian cuisine and international choices, accompanied by complementary wine and soft drinks.
Every day a delightful buffet lunch or set menu choice is served in the restaurant. Dinner is a served four or five course meal. Onboard there is also a luxurious lounge and bar where a pianist plays each evening and afternoon tea is served each day.
Entertaining
The MS Volga Dream has plenty to keep you occupied between trips ashore. A diverse range of onboard activities include cooking demonstrations, Russian language lessons, documentary films, Tchaikovski and Rachmaninov piano concerts, matrioshka paining classes [painTing] and Russian costumed dinner with vodka tasting.
The special pride are the speakers who are genuinely connected to Russia by their present professional interest. You will learn about Russia's modern history, lifestyle, education and employment and will have plenty of opportunities to ask questions and receive comprehensive answers.
Health and fitness
There are no dedicated health or fitness suites available aboard this ship.
Kids and teens
There are no dedicated Kids / Teens area available aboard this ship.
Accommodation
50 staterooms are located over four decks and range from Standard Cabins to Deluxe Staterooms. On the upper 2 decks - Promenade and Sun, you will find spacious Junior Suites and luxurious forward looking Owner's Suite, which has a private terrace and separate exit to the open deck.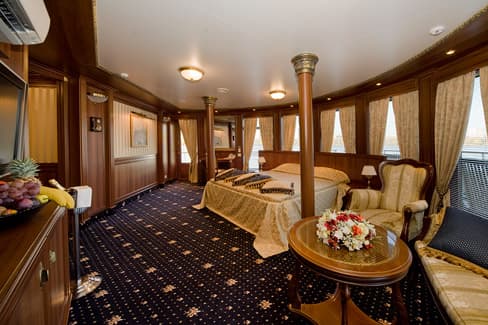 Owners Suite
Owner's Suite features the following amenities:
Private wrap around terrace

Large picture windows

Private bathroom with shower

Spacious closet

Air conditioning

Direct dial telephone

Satellite television (flat-screen TV)

Private electronic safe

Minibar

Radio

Hair dryer

Bathrobes and slippers

220V outlets

Welcome fruit basket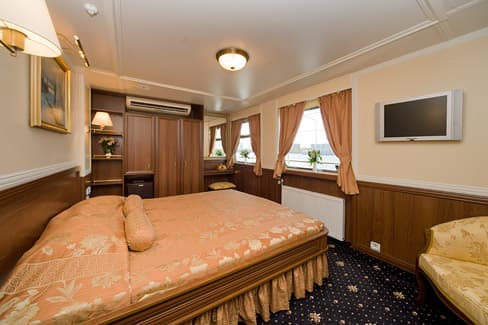 Deluxe Junior Suite
Deluxe Junior Suite features the following amenities:
Large picture windows

Private bathroom with shower

Spacious closet

Air conditioning

Direct dial telephone

Satellite television (flat-screen TV)

Private electronic safe

Minibar

Radio

Hair dryer

Bathrobes and slippers

220V outlets

Welcome fruit basket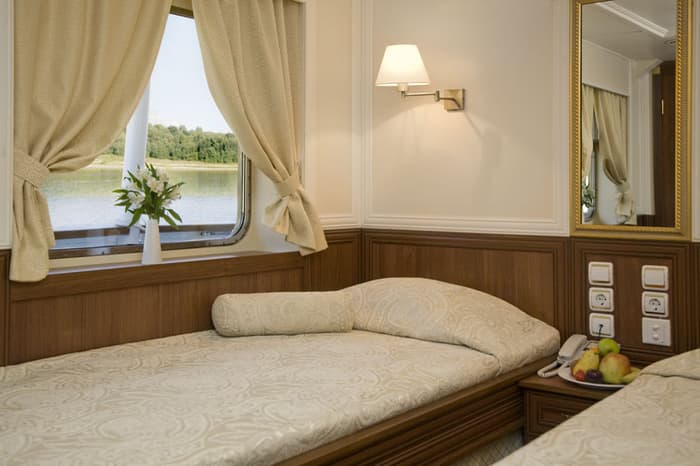 Deluxe Stateroom
Deluxe Stateroom features the following amenities:
Large picture windows

Private bathroom with shower

Spacious closet

Air conditioning

Direct dial telephone

Satellite television (flat-screen TV)

Private electronic safe

Minibar

Radio

Hair dryer

Bathrobes and slippers

220V outlets

Welcome fruit basket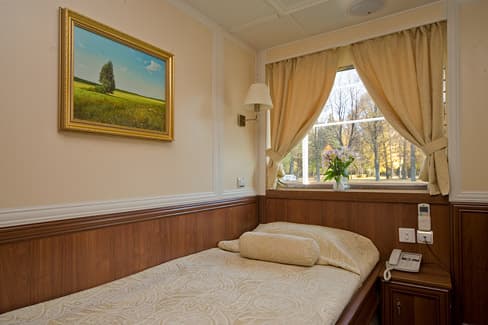 Deluxe Single
Deluxe Single features the following amenities:
Large picture windows

Private bathroom with shower

Spacious closet

Air conditioning

Direct dial telephone

Satellite television (flat-screen TV)

Private electronic safe

Minibar

Radio

Hair dryer

Bathrobes and slippers

220V outlets

Welcome fruit basket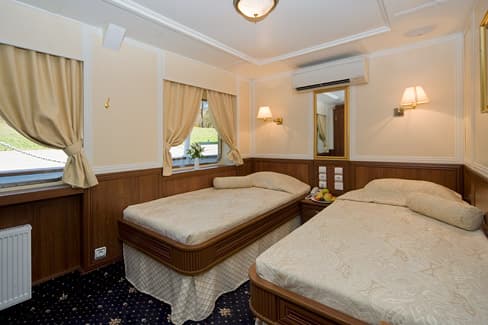 Superior Stateroom
Superior Stateroom features the following amenities:
Large picture windows

Private bathroom with shower

Spacious closet

Air conditioning

Direct dial telephone

Satellite television (flat-screen TV)

Private electronic safe

Minibar

Radio

Hair dryer

Bathrobes and slippers

220V outlets

Welcome fruit basket

Standard Cabin
Standart Stateroom features the following amenities:
Porthole windows

Private bathroom with shower

Spacious closet

Air conditioning

Direct dial telephone

Satellite television (flat-screen TV)

Private electronic safe

Minibar

Radio

Hair dryer

Bathrobes and slippers

220V outlets

Welcome fruit basket

Deck plans

Sun Deck
Ladoga Bar

Neva Lounge & Bar

Deluxe Junior Suite

Junior Suite

Deluxe Stateroom

Deluxe Single


Promenade Deck
Library

Owners Suite

Junior Suite

Deluxe Stateroom

Standard Single


Main Deck
Fitness Centre

Reception

Coffee Station

Boutique

Restaurant

Superior Staterooms


Cabin Deck