Search for your ideal Cruise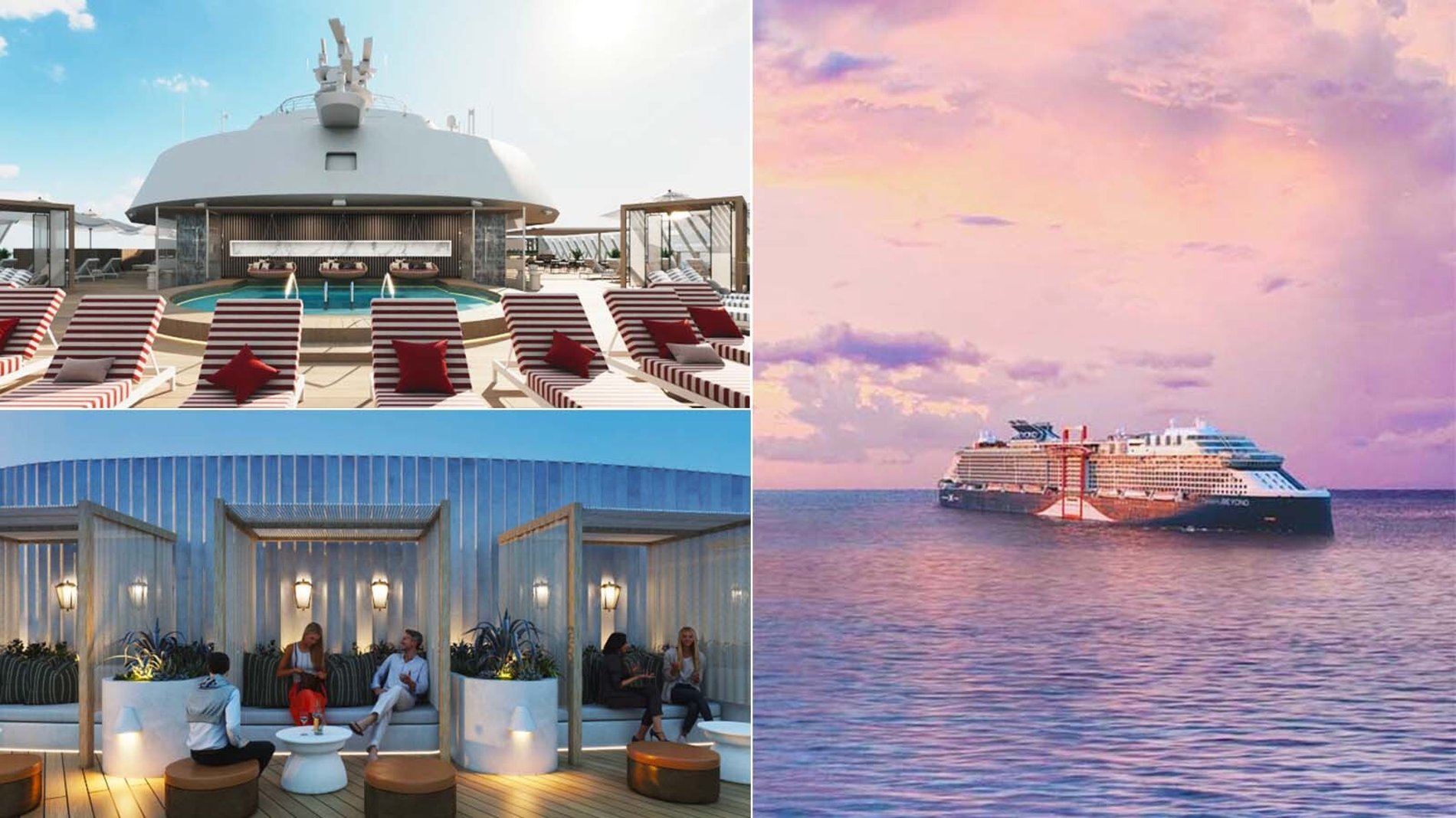 What's the best first cruise to go on? Embark on Celebrity Cruises' Celebrity Beyond
Celebrity Cruises spoils you for choice with another luxurious ship offering, Celebrity Beyond. Perfect for those who are new to cruise, join Celebrity Beyond on her maiden season – a journey of firsts.
Step foot on the latest cruise ship and try something new with Celebrity Cruises' Celebrity Beyond – a perfect introduction to cruising.
Celebrity Beyond offers you buckets of space onboard and goes, well, beyond all expectations.
Of course, Celebrity Cruises is a luxury cruise line, so for first-time cruisers, Celebrity sets the bar high by delivering opulence in abundance.
Step onto the floating platform of the Magic Carpet for unrivalled views, take a sip of your favourite cocktail at the terraced Sunset Bar or go for a dip in one of the two pools at the Rooftop Garden – spoiled much?
Discover why Celebrity Beyond is the ideal first cruise and marvel at the features onboard.
Celebrity Beyond staterooms
Let's start with the important thing – your stateroom. Whether you are a singleton or a couple you can find a plush base to call home for the duration of your cruise.
From the AquaClass Sky Suite, Edge stateroom, Ocean View stateroom to the accessible inside stateroom, you can enjoy included Wi-Fi, tips and drinks alongside in-room amenities such as pure cotton bathrobes and towels, four plush pillows, a Celebrity Cruises branded shopping bag, housekeeping twice a day and impeccable service – all topped off with a staff to guest ratio of almost 2:1.
- READ MORE: How to book a cruise for the first time with Celebrity Cruises -
Solo travellers can take advantage of the single staterooms that Celebrity Cruises offers.
The Edge Single Stateroom features an expansive infinite veranda, with the interior measuring 184 square feet and veranda at 42 square feet.
Take a moment to reflect and enjoy the private views that your veranda brings, looking forward to your solo adventure.
Alternatively, you and a partner can opt for the biggest suite onboard – first cruisers, go big or go home, right?
The AquaClass Sky Suite epitomises wellness and boasts a carefully designed interior and unrivalled views at 319 square feet and a veranda measuring 79 square feet.
Sink into your king-sized cashmere bed and admire the impressive view from your floor-to-ceiling sliding glass doors, content in the knowledge that The Spa is located close by for all your pampering needs.
If you can drag yourself away from the ultra-comfy bed, then stretch out on your in-room yoga mats and make the most of included fitness amenities such as a boxing bag and gloves as well as resistance bands, workout bench, medicine ball and more.
Your wellness journey continues just in your suite, with shower amenities made from eco-conscious ingredients as well as wellness offerings available on your TV which you can observe while nibbling on a selection of savouries delivered straight to your door every afternoon.
In fact, if you fancy a snack at any point you can call upon complimentary 24-hour room service – eat up!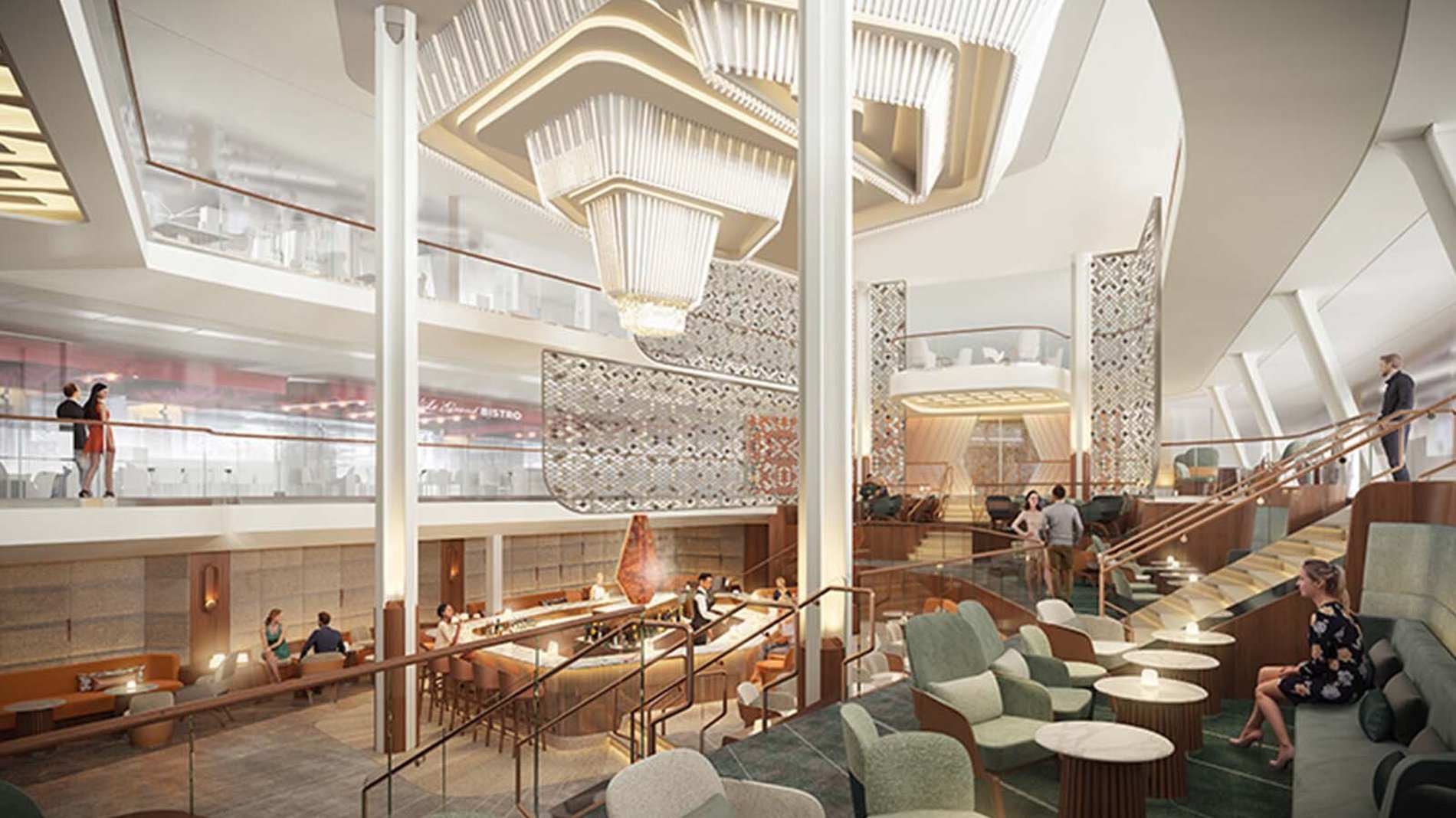 Celebrity Beyond entertainment
Evenings onboard Celebrity Beyond are exciting and varied – we don't blame you if you want to try everything at once.
Using the glimmering Grand Plaza as your epicentre for navigation onboard, step onto The Magic Carpet – an iconic floating platform that rises 13 stories above sea level – and admire the unique view as you get closer to sea.
- READ MORE: What to expect on your first cruise with Celebrity Cruises -
An array of plush seating welcomes you so grab a glass of wine or beer at the bar, settle in and listen to the lilting tunes of a live musician amongst the waves.
For more great views visit Eden, a venue that boasts three stories of expansive windows, ensuring you never lose sight of the sea.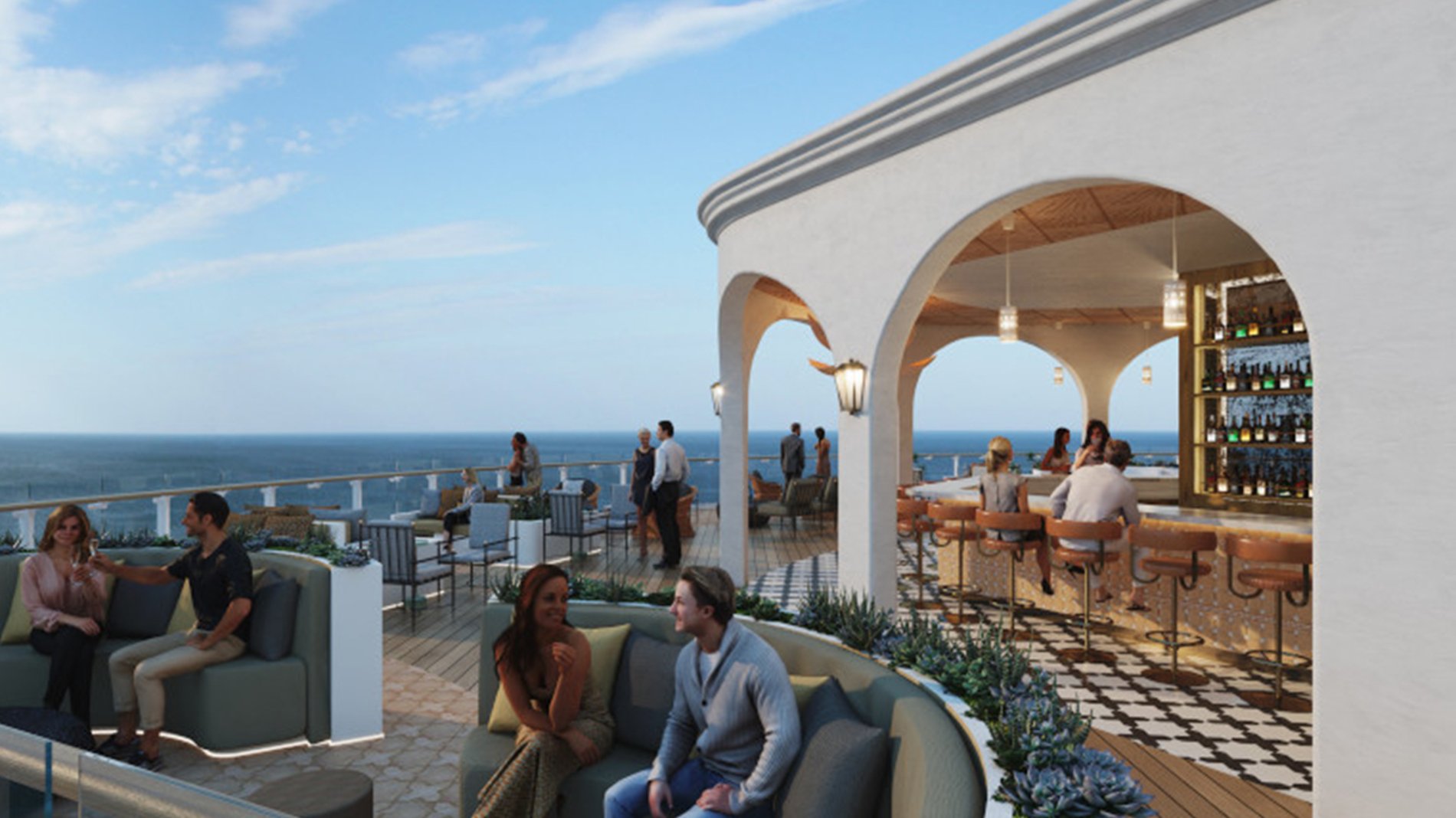 Savour a sandwich or a warming bowl of soup to eat at the alfresco cafe which surrounds Eden.
Whether you are meeting up with a newfound friend or celebrating a birthday or wedding – this space is a stunning backdrop to a variety of events.
You can also meet up with friends in the evening at the aptly-named Sunset Bar, where you can enjoy a cocktail or refreshing beer.

Meanwhile, the Theatre on Beyond provides a great selection of performances that utilise technology to make the visual aspects even more stunning.
For those late nights onboard, choose between dancing the night away at The Club or get your adrenaline pumping at the Vegas-style Casino with over 2,000 slot machines.
Celebrity Beyond restaurants
Arguably the most fun part about exploring a ship is sampling all the delicious food onboard.
Now Celebrity Beyond certainly doesn't hold back when it comes to food offerings, featuring 12 cafes, bars and lounges, four main dining restaurants, four complimentary casual dining venues and two exclusive restaurants – take your pick.
What's more, the menus have been created by the Michelin-starred chef, Cornelius Gallagher, who takes inspiration from the array of destinations visited.
- READ MORE: What to expect from Celebrity Cruises' newest ship in 2022 -
Main restaurant offerings include Cyprus restaurant, which serves up tasty Greek-inspired food and the Cosmopolitan restaurant which offers new American cuisine with a global influence.
For a special occasion onboard – or if you just fancy it – treat yourself to a speciality restaurant. Or if you are a Suite Class guest you can enjoy additional restaurant offerings such as Luminea.
A must-visit is Le Petit Chef, where you can watch in wonderment at tiny, animated chefs rustling up each course on the screen at your table before you're served the very dish they are making – a once in a lifetime dining experience.
So, try something new for 2022 and experience all these amazing features and restaurants first-hand.