David Fiske grasped a rare opportunity to enjoy a couple of child-free nights on board Anthem of the Seas with the aim of finding out what families can expect.
For one summer only, Independence of the Seas has made way for her newer, younger sister, Anthem of the Seas.
Families will love SeaPlex® and children will enjoy battling against their frazzled parents on the dodgem cars. Kids aged over five years can ride as a passenger while those taller than 3ft 6in and aged over eight can be let loose behind
the wheel. Bumper cars make way for circus skills training sessions, roller skating, basketball and football activities in the same versatile space. Three SeaPods on the upper deck contain tennis, air hockey and foosball tables while a fourth is home to Microsoft Xbox® consoles for gamers of all ages.
Daredevils should try Ripcord by iFly®, a skydiving simulator. Children as young as three years can fly – prepare for the most adorable photographs. Be warned, teenagers and adults look far less photogenic thanks to the 100 mph winds!
North Star is another fun family activity – for those taller than 3ft 6in – that gently elevates groups of up to 14 to the dizzying height of 300 feet above sea level, affording magnificent views over the length of the ship and the ocean beyond.
Time-tested Royal Caribbean family favourites can be found on-board including the FlowRider® surfing simulator (for guests taller than 4ft 4in), the rock climbing wall (for guests aged over six),  Challengers Arcade for video games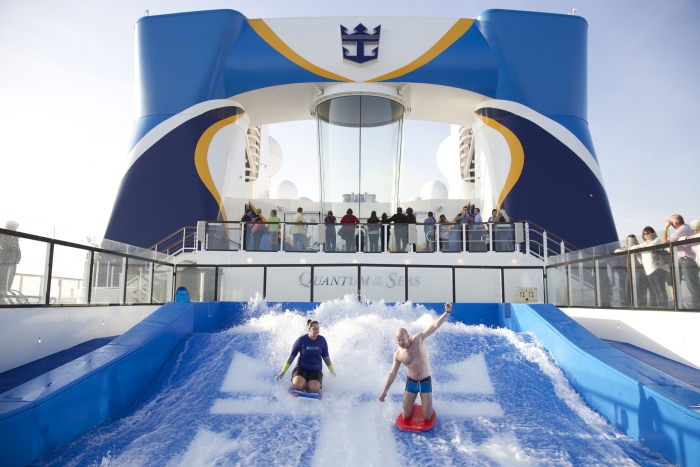 , and the H2O Zone splash area. This neutral, compact area is particularly underwhelming when contrasted with the expansive, vibrantly colourful space on-board Independence of the Seas.
The two-storey Adventure Ocean® complex offers designated spaces for the Aquanauts club (ages three to five years), Explorers club (ages six to eight), and Voyagers club (ages nine to 11), while  teens have their own separate trendy space called The Living Room.
There is a lack of entertainment available for those aged under three years other than parent accompanied 45-minute Royal Babies and Tots play sessions, or the Baby Splash Pool in the H2O Zone that caters for non-toilet trained children – a rarity on cruise ships. Entertainment does not get better than at Two70 where breath-taking and immersive technology-driven shows will mesmerise adults and children alike. High-energy production shows, including We Will Rock You the musical, will thrill families.
Revolutionary high-speed internet is available for a fee and is a must for gadget-laden families whose cabins resemble small branches of Currys. Those with deep pockets and a craving for more cabin space should opt for a larger family cabin, a palatial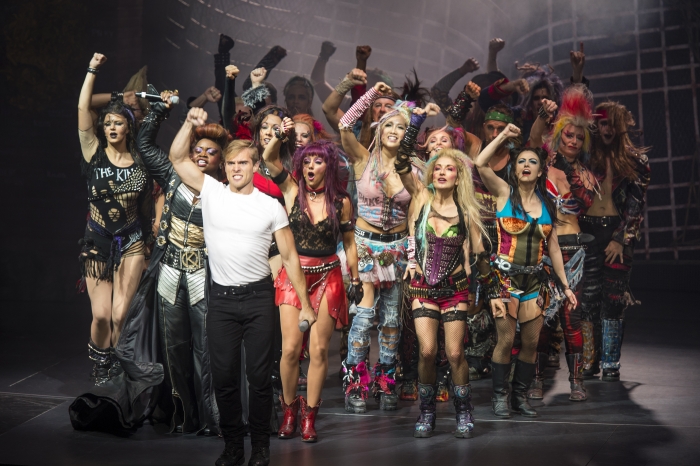 suite or a Family Connected Stateroom where three cabins transform into one living space. Located inside the cabins are WOWband watch-style bracelets. Children will find these more fun to use than their SeaPass® cards although they can only be used to make on-board purchases and to access staterooms. SeaPass cards are still required to activate the lights in the cabin, to register at the muster drill, and to embark and disembark the ship.
Dynamic Dining replaces the traditional Main Dining Room and each night families can choose to dine at The Grande, Chic, American Icon Grill, Silk, or Coastal Kitchen (suite guests only), at a time that suits them. Dynamic Dining Classic, of which 36% of guests booked onto within the first month of it being offered, blends the variety of Dynamic Dining with the familiarity of a set dining time, the same tablemates and the same waiters each night.
Chargeable venues are plentiful but could send costs spiralling for families. At Johnny Rockets an Original burger, fries, a slice of apple pie and an Original Shake for four will cost over $43 including gratuities (around £28.50) while a gastronomic flight of whimsy for four at Wonderland will set you back an eye-watering $180 (around £118) plus drinks. Johnny Rockets has lost its nostalgic charm in a switch to a fast food takeaway outlet from an iconic 50's-style sit-in restaurant.
Overall, Anthem of the Seas delivers a radical cruise experience to British families boarding in Southampton but at a cost that will be too much for some. Gadget geeks will love the innovations but traditionalists will miss some of the classic aspects found on older Royal Caribbean ships.
It is clear that the Quantum-class ships have established new precedents, particularly in terms of décor, entertainment and technology, but I believe there is still room to better-fuse these with the more traditional aspects Royal Caribbean are renowned for. Perhaps Harmony of the Seas, launching in the Mediterranean in April 2016, will strike a harmonious balance between the two.